Hey Everyone!!
Happy Friday to you all!
I'm so excited to be sharing our back deck with you guys today! It has taken us quite some time to get to this point! We have lived in this house for 8 years now and it seems as though each year we have worked on and/or added to this space. It has always been a work in progress, but this year, I think we have finally reached the point where we can say that the back deck is DONE!!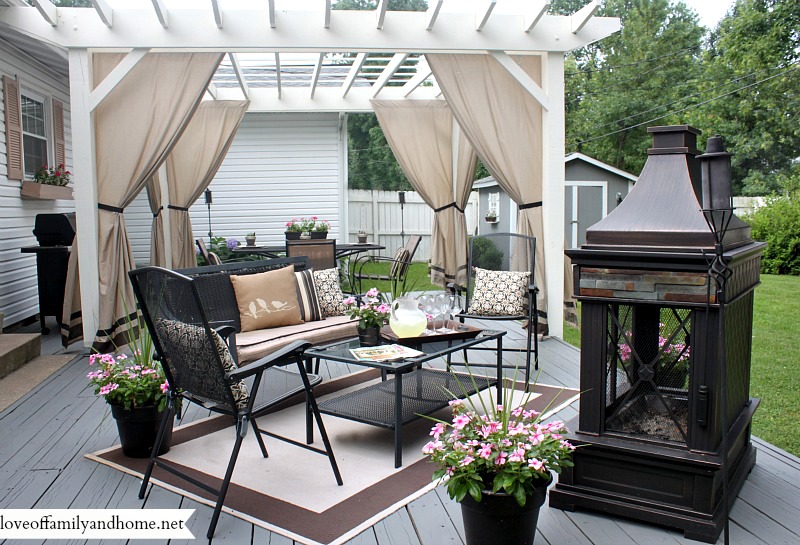 Well, what do you think?! Do you love it as much as I do?! 
Are you ready for a little tour?
We basically have the back deck split up into two separate entertaining areas. The first, is the one you see in the picture below.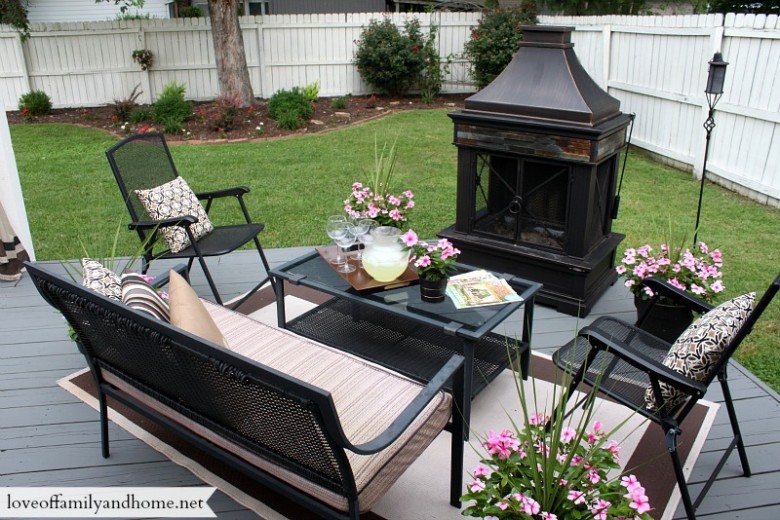 This space is mostly used for lounging & relaxation. It is the perfect spot to sit & enjoy a glass of lemonade or tea, read a book, and/or visit with family & friends. I love how cozy this spot is!
We have had the loveseat & the coffee table for several years now & added the two chairs last year. In addition, we also added some throw pillows last year as well. All of the pillows that you will see in this space were purchased at Lowes.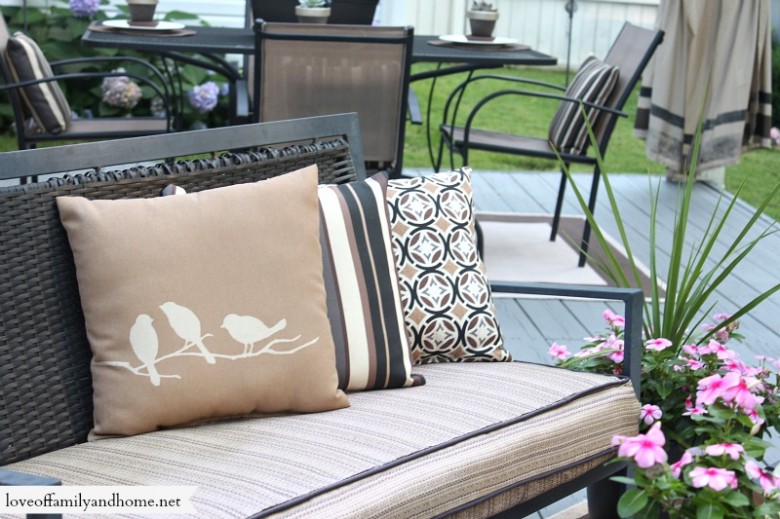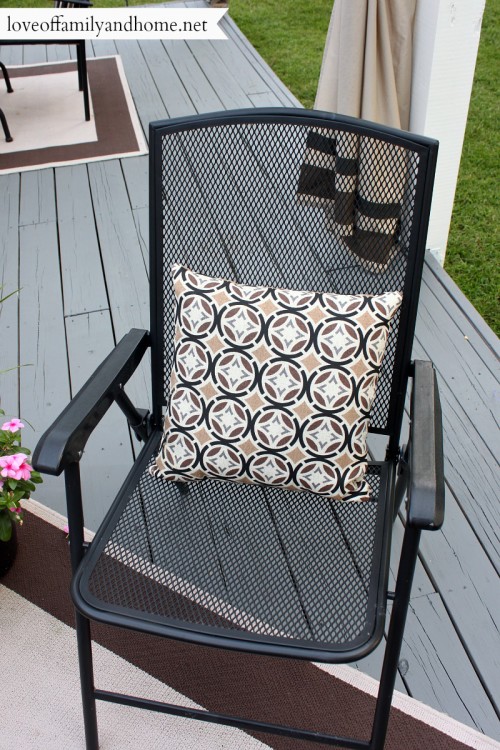 One major addition to our back deck was this outdoor fireplace that my husband bought me for Mother's Day…..LOVE him!!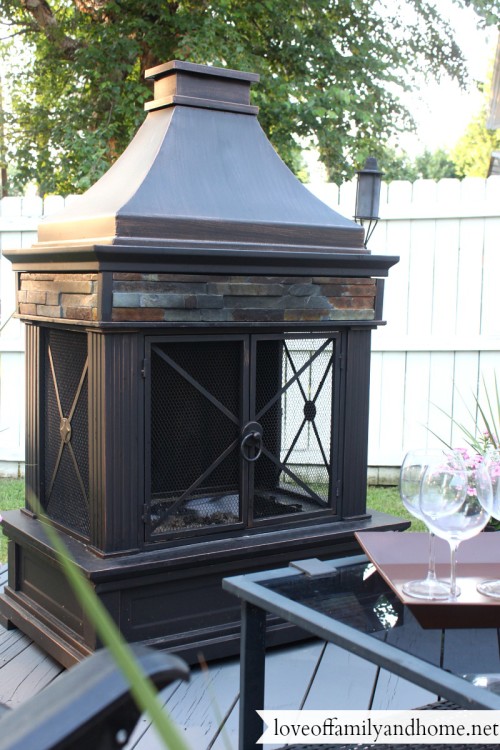 It is also from Lowes. I have been wanting one for quite some time now & I am absolutely smitten with this one! It is the perfect size for our space! I just love sitting by a fire on those cool spring & fall nights! 🙂
The biggest addition that we made to the deck this year was the pergola!! Oh, how I have been dreaming of a pergola on this back deck for  years now! I am ecstatic that we finally managed to mark this project off our to-do list! It really made such an incredible difference to the space!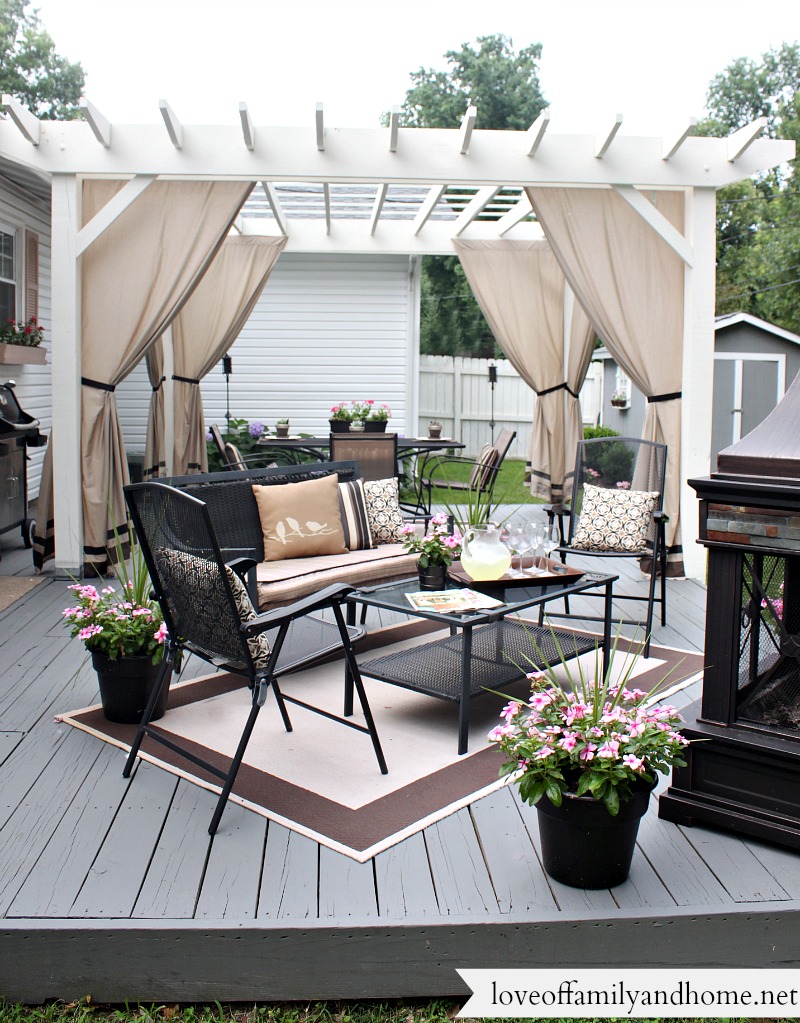 My dad & my husband worked so hard on this project & I am thrilled with the results! If you follow along on Instagram and/or Facebook, you know that this project was actually started back in May. After the construction part was complete, we took about a month off from the project & then just recently (in the last week or so) went back and painted it. Let me tell you….painting this thing was a nightmare!! So many little details! I'm so happy to have it finished!!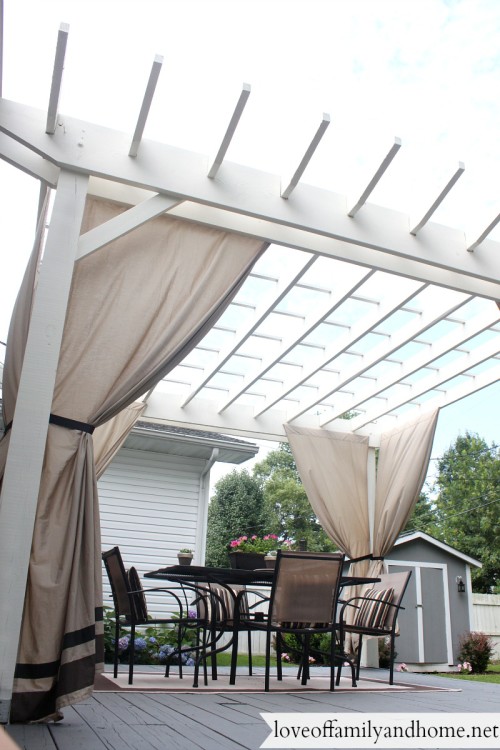 If you read my post on Wednesday, then you know that my mom & I made these outdoor curtains for the pergola. I shared a complete tutorial HERE. I absolutely love the way they turned out. They  add a little drama to the space & really make the second entertaining area, the dining area, feel more like a room!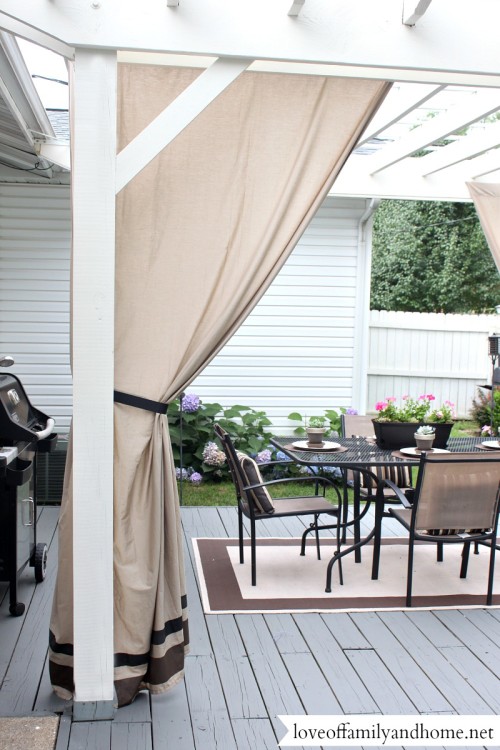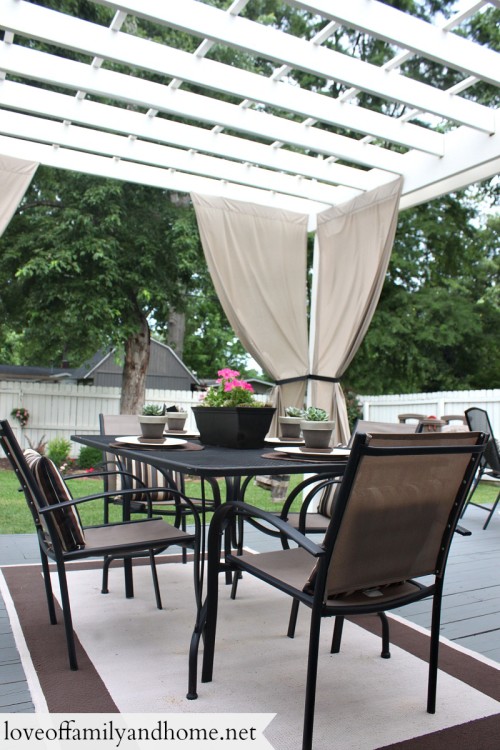 The dining room table we have had for quite some time now. Last year, we replaced the chairs & added the rug. Both the rug you see here & the rug you saw in the first space are from the Better Homes & Gardens line at Walmart.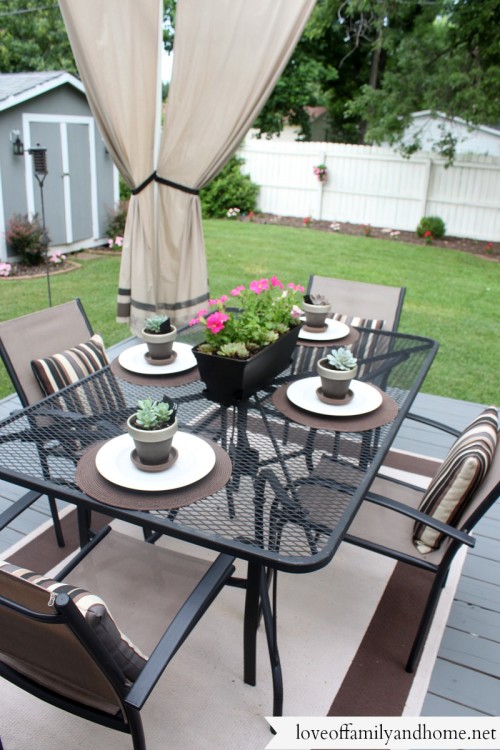 I added a little window box to the center of our table to serve as a centerpiece.  It was a different color when I first bought it, but I just spray painted it to match the decor. I filled it with soil, added some petunias, & filled in all the gaps with succulents.  I am obsessed with succulents right now!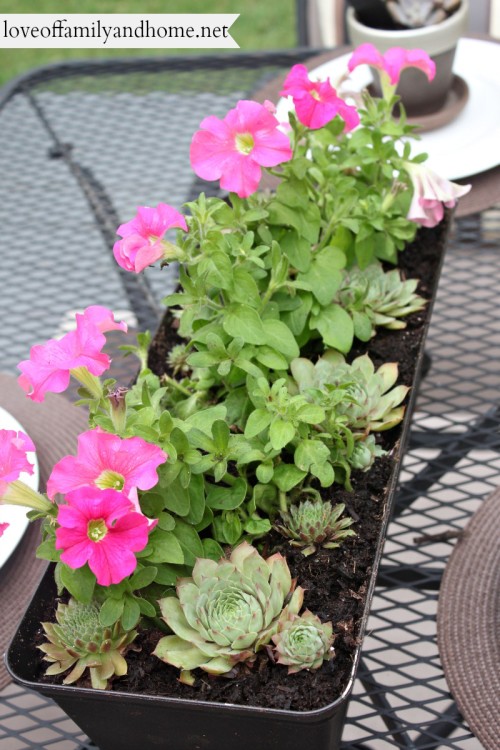 Can you blame me? Aren't they are just perfection?!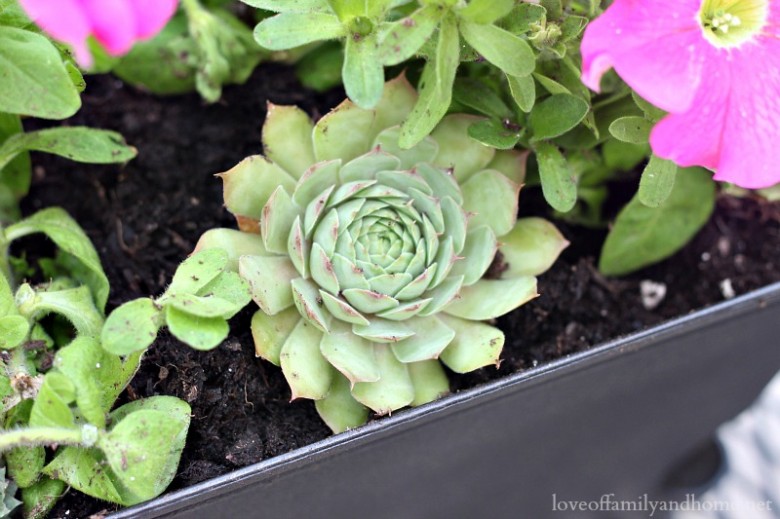 Here is a closer look at our chairs. We purchased them at Garden Ridge last year. The throw pillows, again, are from Lowes.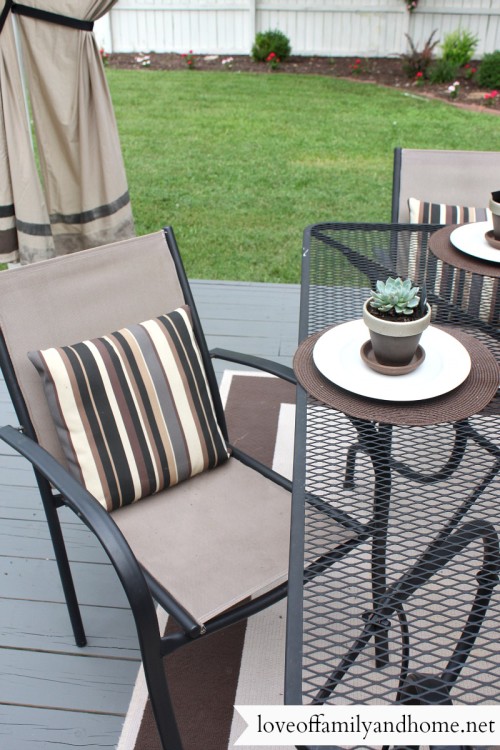 I shared these adorable Monogrammed Succulent Place Settings on the blog earlier this week as well. Each table setting has a different potted succulent with a monogrammed chalkboard. You won't believe what I made the chalkboards out of! For a tutorial, click HERE.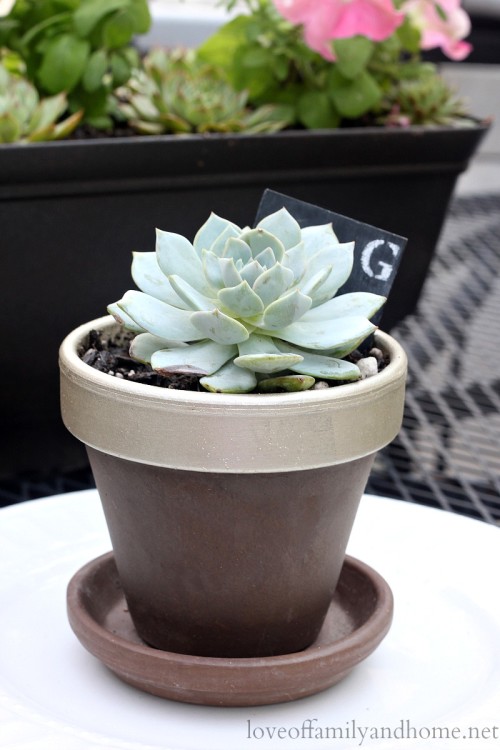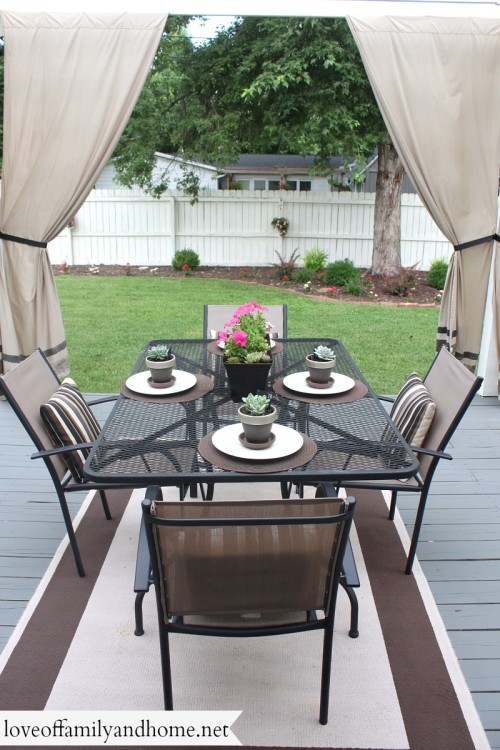 And now that I've walked you through all the little details of the space, I'm just gonna quit talking and let you enjoy pictures. Sound okay?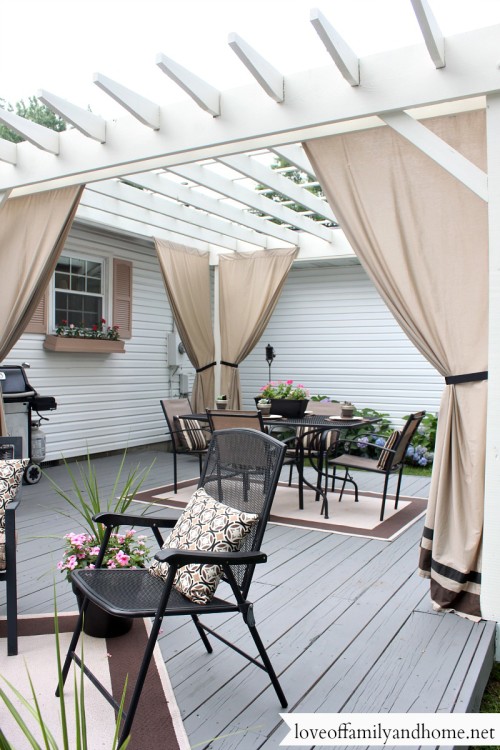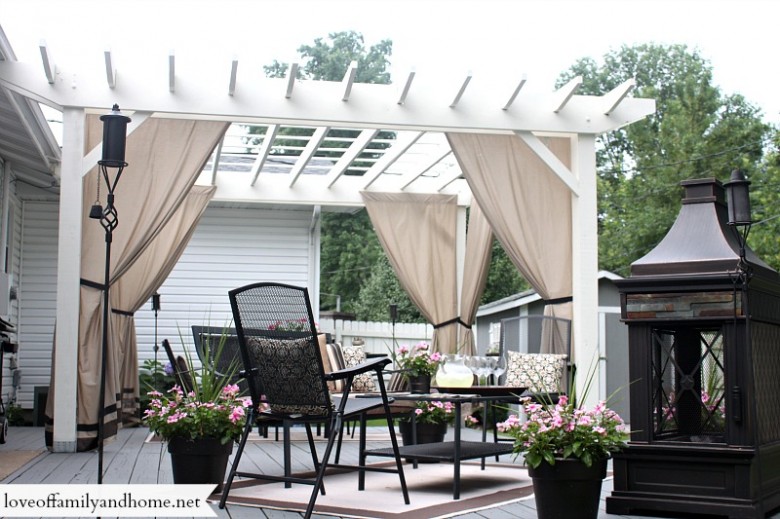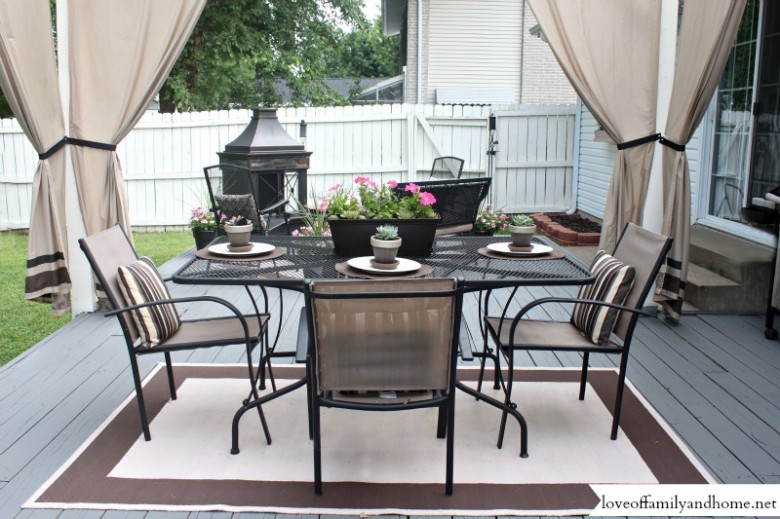 Here is a look at our little backyard shed. This thing has undergone a couple different makeovers. You can read about the first one HERE. I re-painted it last year to coordinate with our deck. This little shed has so much character & really is one of my favorite things about our backyard.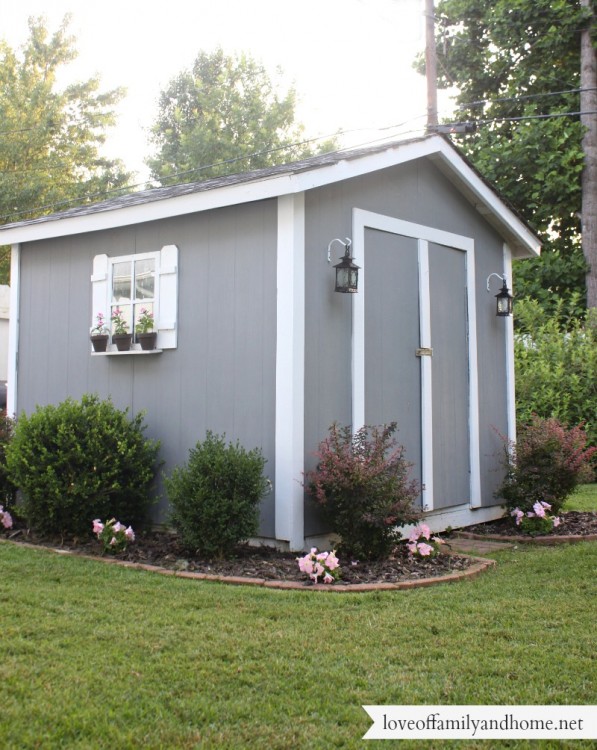 This little "window" on the side is actually a mirror that has a shelf on it. I always add a few potted plants to the shelf each year. I just love the way it looks and how it gives the illusion of a real window!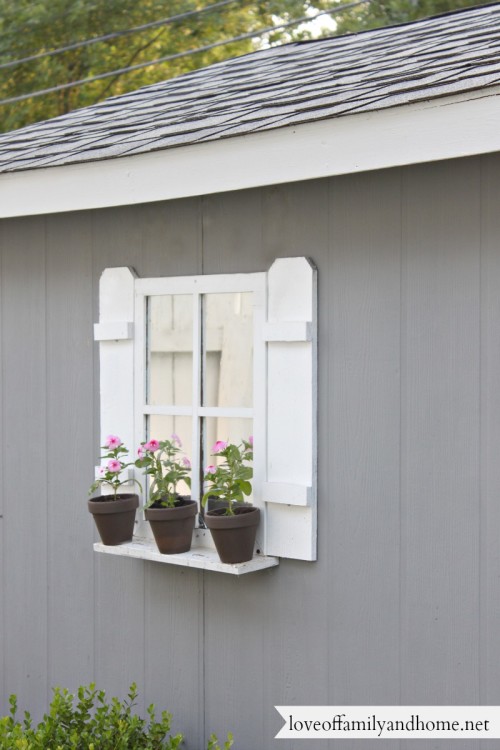 I also adore these little lanterns hanging on the front of the shed. They looks so cute lit up at nightime.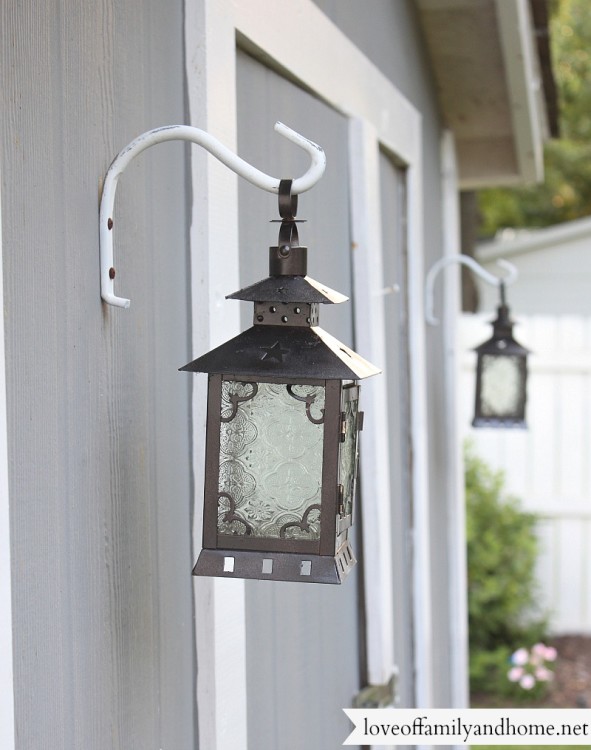 And just for fun, I thought I would include a little "before & after" photos of this space. Here is a look at our back deck from two years ago and a shot of what it looks like today….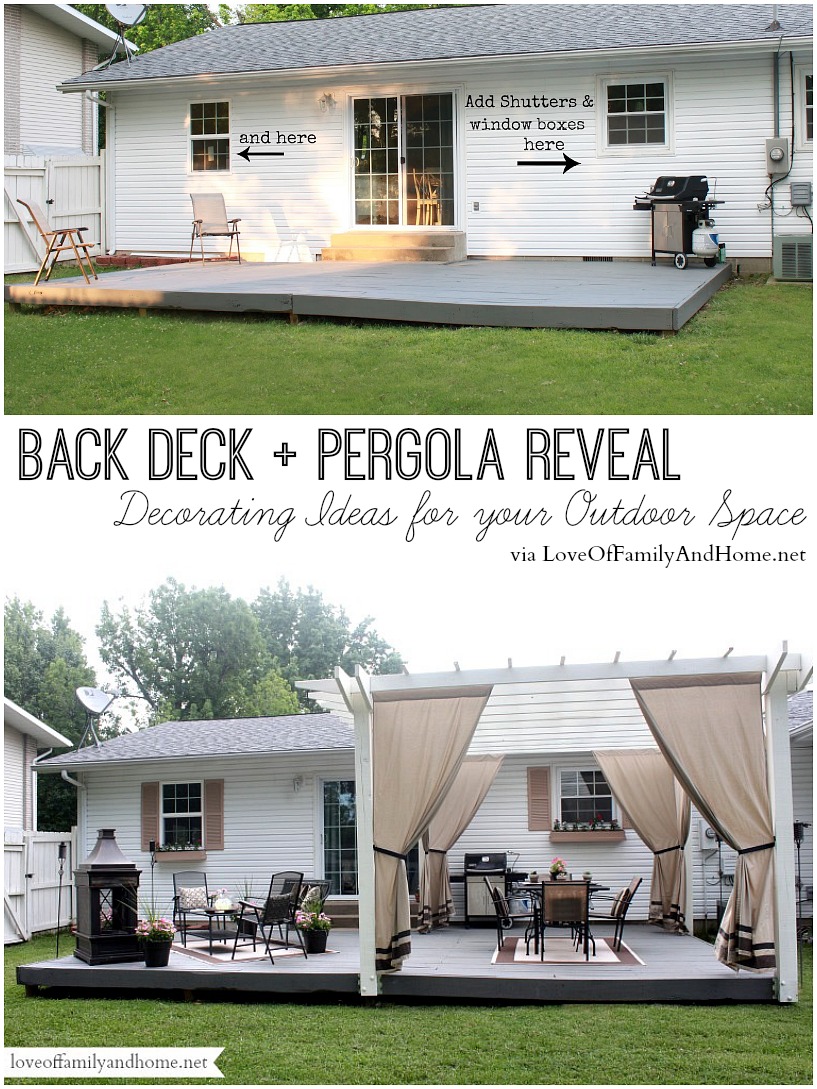 And here is a shot from last year…..
This year….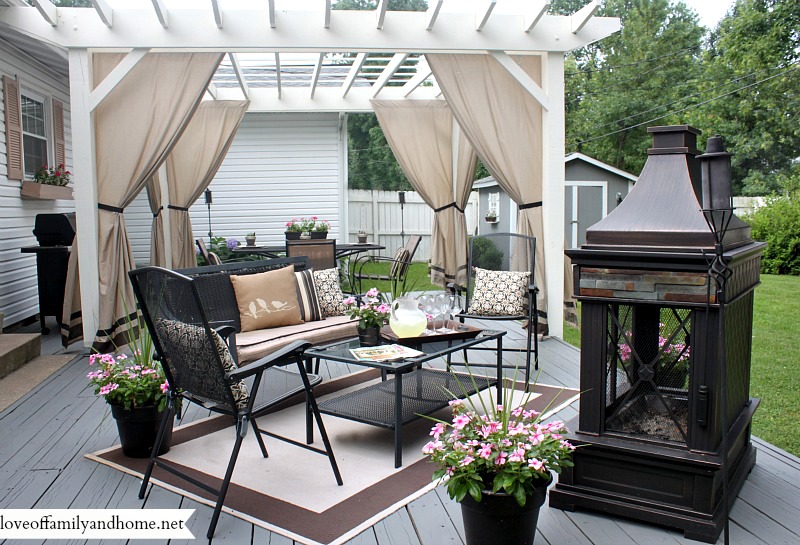 Quite the improvement, right?! It's so neat to look back at previous photos to see how far we've come!
I'm so excited to use this space & do some entertaining this summer! Now, who want to come over for a little barbecue?! 🙂
I hope you enjoyed the tour of our backyard space! Have you made any updates to your deck or patio this summer? If so, leave a link in the comments section below! I'd love to check it out!
As always, thanks so much for stopping by!!
Have a fabulous weekend y'all!
Weekend Wrap-Up Party at Tatertots & Jello
Best DIY Projects of July at Beneath My Heart
Before & After Party at Thrifty Decor Chick