Hey Y'all! How the heck are ya?
It's been a while since I dropped in to chat. The thing that I'm dropping in for today is actually pretty comical because, well……this room has been done for AT LEAST a year. The "after" photos that I'm getting ready to share of my master bedroom…..I bet I took these at least 6 months ago. I had good intentions y'all. I promise. There's just this little thing called life that tends to get in my way from time to time. I know I don't need to go into details because I know each one of you mama's out there understand where I'm coming from. Between coralling the troops here at home, attending different sporting events, and running a business…..well, it's just crazy. Sometimes just managing to shower is an accomplishment. Ya know what I mean?! I'll just leave it at that.
Anyway, I realized I never got around to sharing pictures of our completed master bedroom. And if you know me…..no room is ever really complete. They are almost always a work in progress and always subject to change. However, I'm quite fond of this room and don't have any intentions of changing it anytime soon. Here's a look back at the "before." There wasn't anything wrong with this space, just a little too monochromatic for me. I was ready to brighten things up, add some sort of wall treatment, change up my furniture a bit, and add a little bit of farmhouse style to the space. You can read my inspiration post HERE.
And here is how our bedroom looks today……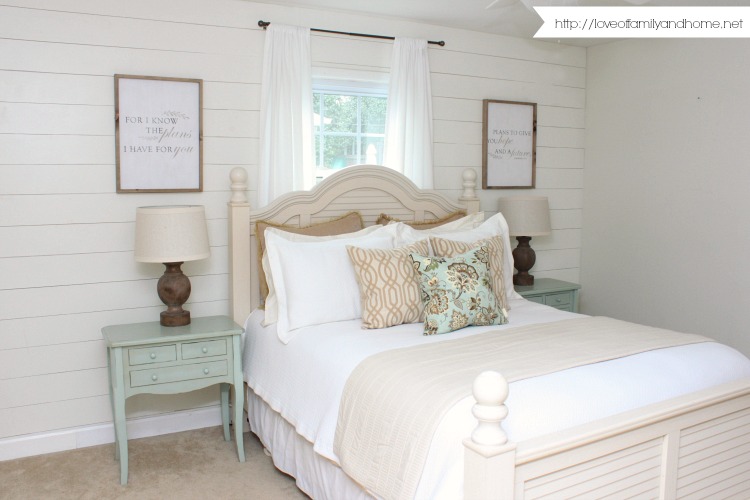 So much brighter, yes? Here's another view….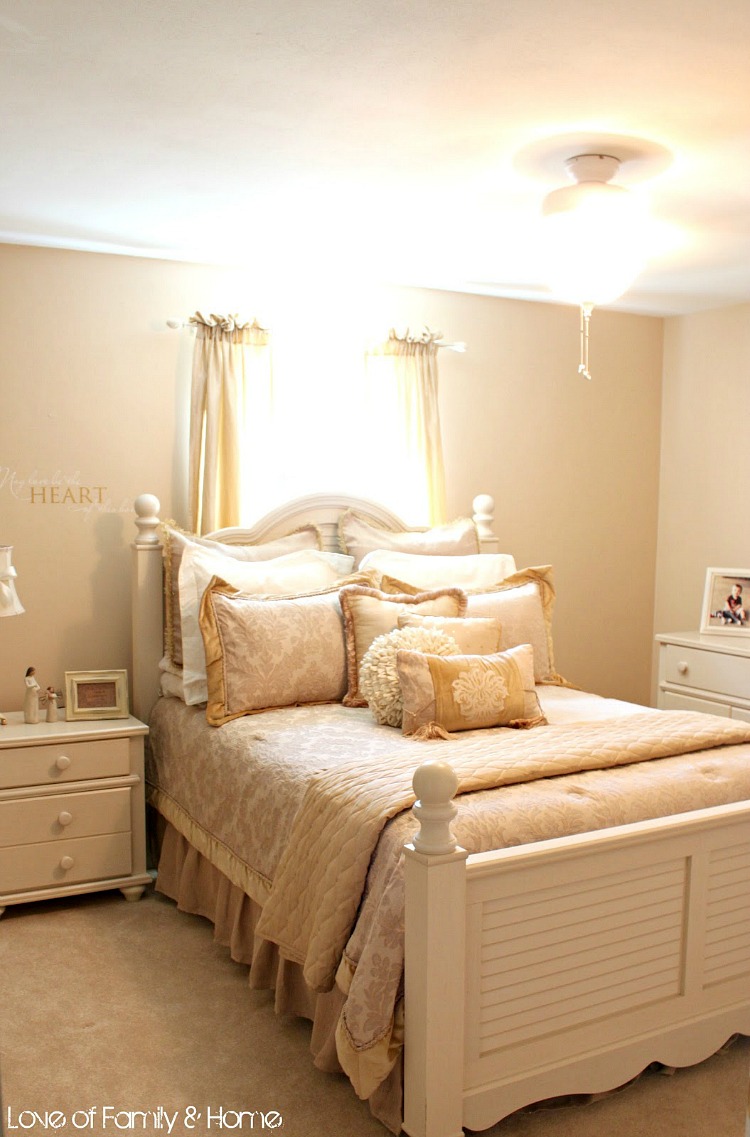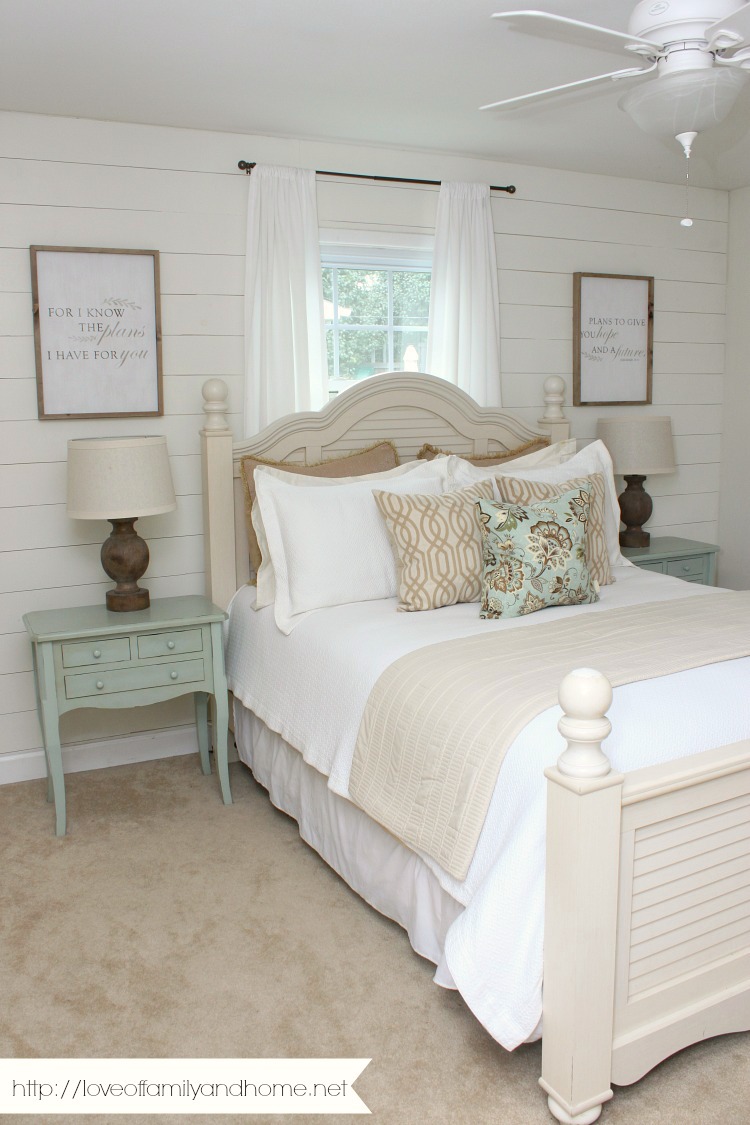 It's hard for me to remember back when I first started this makeover, but I'm pretty sure it all started with the bedding. I decided to go with a plain white matelasse bedspread. I found this particular one & the coordinating shams at Target. My reason for going with a plain white bedspread was simply because I knew, that if I ever wanted to change things up in this room it would be easy to do. I could swap out my throw pillows & coverlet and go with a new color scheme pretty easy.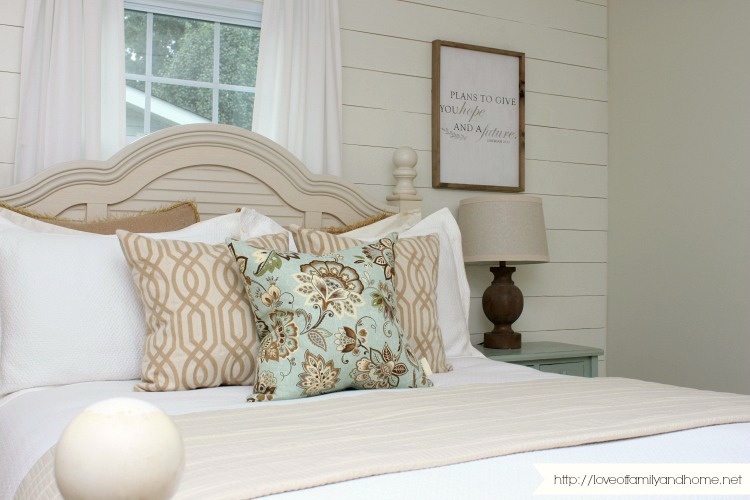 For now, I'm pretty happy with this color combo. I fell in love with the sage-y mint color of this front pillow and decided that it would be my accent color for the room. The throw pillows are from TJ Maxx.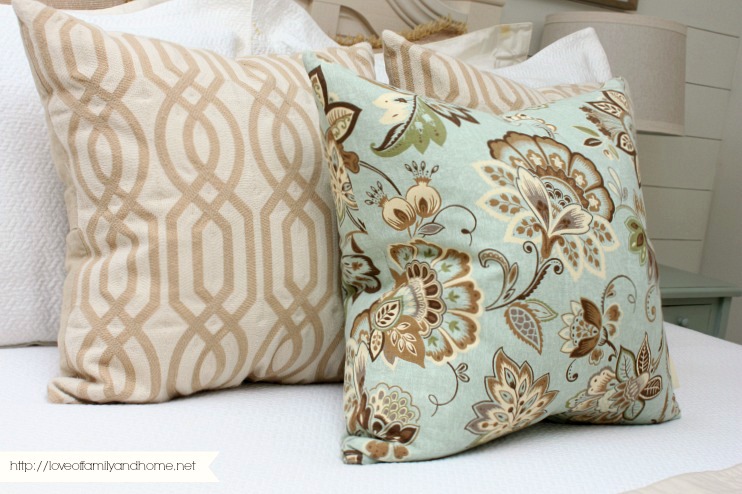 After the bedding, came the wall treatment. This goes to show you how old this room makeover is…..back when we did the wall, it was referred to, on the internet, as a "plank wall." Now, with the Fixer Upper on HGTV all the craze, I believe most people would refer to it as "shiplap."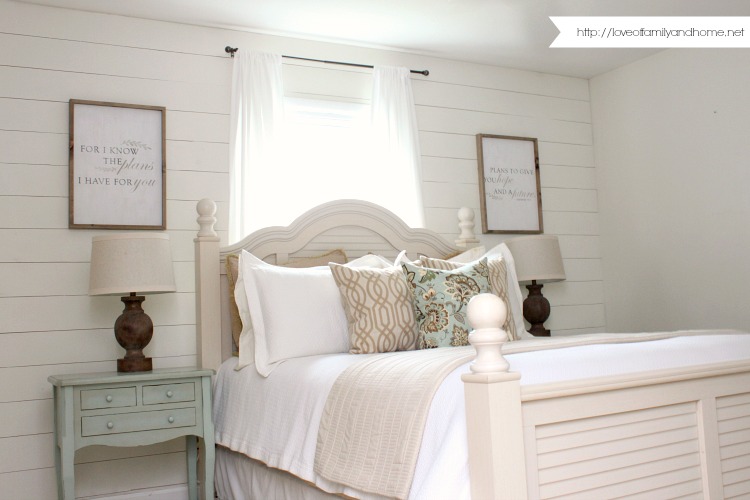 Either way, I LOVE it! It may just be my favorite part of the room! It just the right amount of farmhouse style to the space. If you're wondering how we achieved this look, I will refer you to Shelley, at House of Smith's. We followed her tutorial (HERE) to a tee and it worked beautifully!
Previously in this room, we only had one nightstand and I really wanted to add another. Since our bedroom suit was purchased way back when we got married, finding the exact match just wasn't in the cards, nor did I really want it to be. I said earlier that I wanted to change up the furniture a bit in this space and that was mainly because I was tired of everything being so matchy-matchy. I thought this was the perfect opportunity to change things! I got lucky enough to find these side tables from Kirkland's which happened to coordinate perfectly with my throw pillows!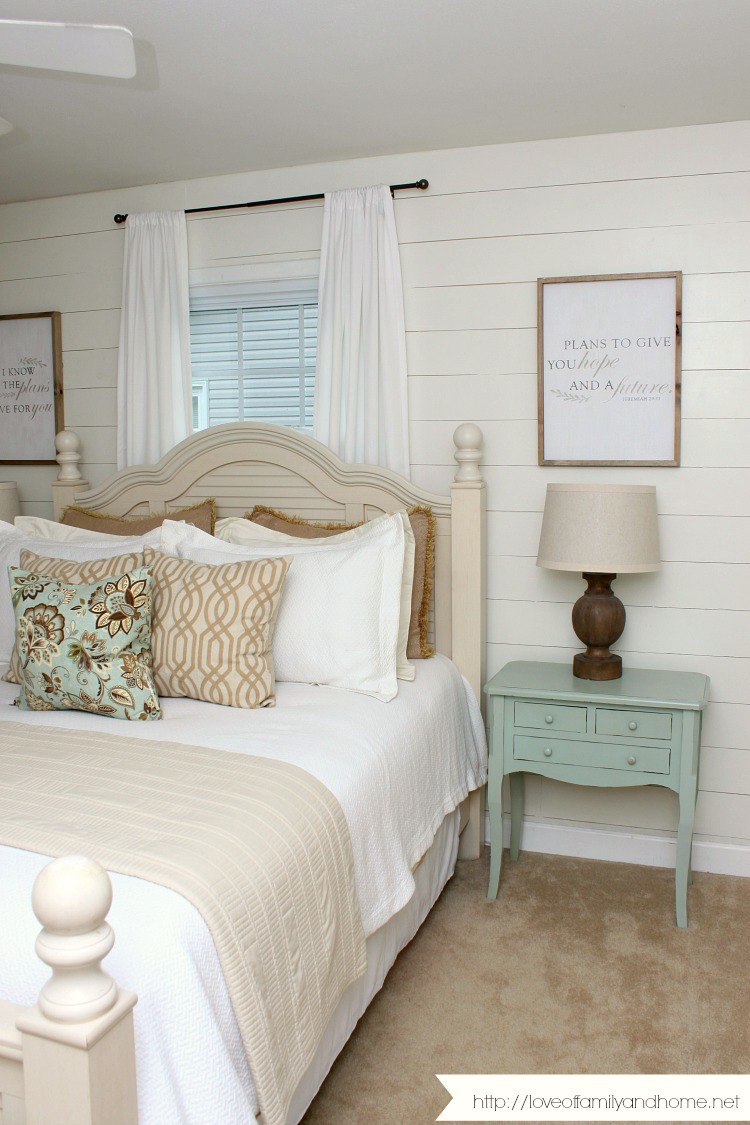 Again, these nightstands were purchased several months (maybe even a year) ago. I do not believe they are still available on the Kirkland's website. The two framed artwork pieces above the nightstands came from Hobby Lobby. The lamps were purchased at Lowes.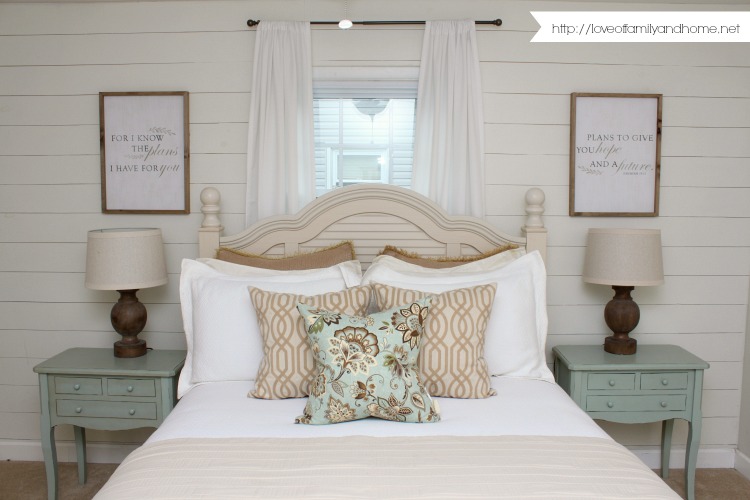 I still have wants and needs for this space. I'd like to add some baskets under the nightstands for some additional storage and I'd like to add some wood blinds to the window to play off some of the other wood tones throughout the room. However, I'm pretty happy with this space for the most part and I don't see any major overhauls in its future! 🙂
I have some other small makeovers that I'd like to share with you soon. Now that we've made it through the busy holiday season at the store, I just might get around to it. And…I might not. No promises people! Lol!
Thank you all for following along with this blog no matter how sporadic my posts are. I appreciate you all and I hope you enjoyed our farmhouse style master bedroom makeover!
I hope you all had a very Merry Christmas and hope that your 2018 is off to a great start!
If you missed it, or if you'd like to see pictures of our Master Bathroom, you can click HERE.