Hey Y'all!
I decided that today is the day…..
I'm finally ready to show you all my new & improved laundry room!! 🙂
If you haven't visited for a while & you are wondering why I am making over this space again, you can read all about that HERE.
Now without further ado….let's take a look at my new space in all its made over glory! Shall we?!
Well, what do you think?!
I'm kinda loving the way this room turned out!! All & all it was a pretty easy makeover! The board & batten was already in place from the previous makeover, so all I had to do was paint the walls above. I told you in this post, that the wall color is "Aqua Inslet", and it is from the Better Homes & Garden line of paints at Walmart. I was really happy with the application & quality of this paint. I will definitely consider using it again for future projects.
I kept my white shelf that I already had in this room. It's from Hobby Lobby & I purchased it several years ago when we first moved into our house. A lot of the same accessories remained as well….
I have had several inquiries about where I got the little "wash & wring" tub you see in the above photo. My mom actually bought it for me a LONG time ago! She ordered it from a catalog called "Tender Heart Treasures" and after Googling it, it appears as if they may have gone out of business! 🙁 Anyway, once upon a time, the little tub used to be dark blue, but I gave it a little facelift with some pink spray paint!
If you read my post about why I decided to makeover this space, you know that these prints (scroll down to see 2nd print) from IKEA were to blame! It was pretty much love at first site….I HAD to have them!!
Ever since the last laundry room makeover, I had wanted a rug for this space. But after searching high & low, I decided to make one instead. This particular rug was cut out of a vinyl flooring remnant, painted, & then stenciled. To read more about this project & see a step-by-step tutorial you can click HERE.
This little trio of goodies adorns the other side of my white shelf. The tall one is actually a vase and I found it at IKEA as well. The pink tinted bottle is from Dollar General & the pink oil burner is from Big Lots.
Here is a shot of the other IKEA print. It is my favorite of the two! I just love cherry blossoms! 🙂
This time around, I decided I would replace the 1970's light fixture that was in this room too! I traded in the old fixture for this adorable white chandy that I got on clearance at Lowe's! It was originally $159 & I got it for $32.00!! Big shout-out to my girl, Kasey Doerner, for letting me know about this fantastic bargain! 🙂 Thanks Kasey!! I LOVE it!!
This thing puts off SO MUCH MORE LIGHT than the previous fixture & makes such a huge difference in the room!
Here are a few more shots of the room as a whole…..
The curtains were another project I completed for this space. They are made out of a white, flat sheet that I purchased at Walmart & I painted the stripes on using Frog Tape. If you wanna know more, just click HERE. The "laundry" sign above the window was purchased at Hobby Lobby. It was originally black, but I painted it to match the decor.
And because a room reveal post isn't complete without some fresh flowers, I had to pick up this pink mum I saw while I was at Lowes yesterday! Isn't pretty?!
So, that's it!! I hope you enjoyed the tour!!
If anyone is looking for me, I will be busy trying to find some clothes to wash!!! Let's face it….that won't be too hard with 3 boys in the house!! 🙂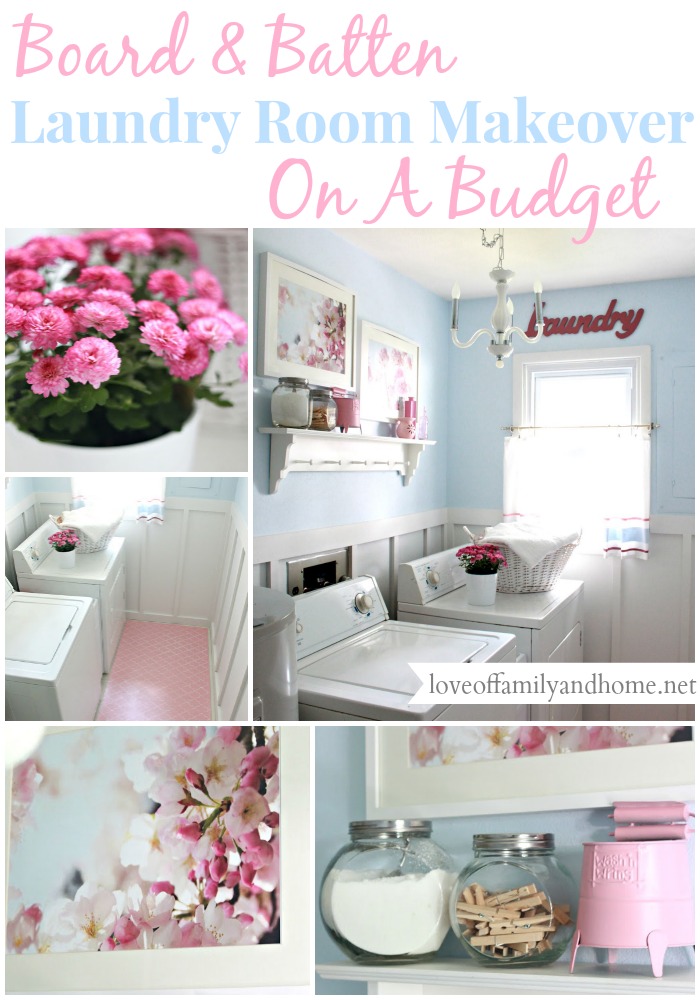 Does your laundry room need a pick-me-up?!
What was your favorite part of this room makeover?!
Thanks so much for stopping by!!
Have a great day!
Linking up here….
Weekend Wrap-Up Party at Tatertots & Jello