Hey Y'all!
Happy Monday! I hope everyone had an amazing weekend! 🙂
If you haven't noticed, I've had a hard time sticking to a normal blogging routine ever since the store opened. I hate that….like, really hate it! But there's this crazy thing called life that keeps me from chatting with you all each week. Between working two days a week as a nurse, running the store 4 days a week, launching the online store, being a mom to my two crazy boys, being a wife to my amazing husband, volunteering at church, cleaning house, doing laundry….well, you get the idea. I've come to the conclusion that there just aren't enough hours in the day. If I could just go without sleep….THEN, maybe, I might accomplish all that I would like to accomplish in 24 hours!
But something AMAZING happened last week! The stars aligned just perfectly & I was able to not only get a day off of work, but completely clean my house! Then as I finished up with the cleaning, the sun came out & there was the most beautiful natural light coming into my living room & kitchen area. And I thought to myself…."Grab the camera!" So, I ran to my camera bag, pulled my old DSLR out & literally, had to brush the dust off of it….that's just sad y'all!
Then, I started snapping pictures.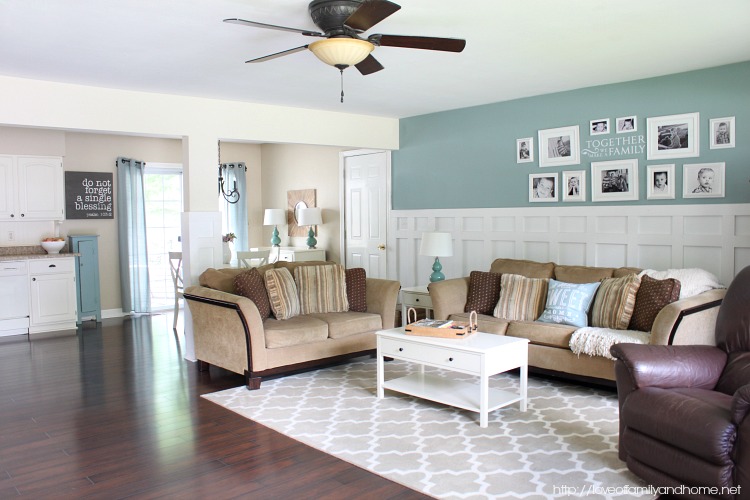 You see, we accomplished a pretty major renovation to this room last spring….as in LAST YEAR people! LOL! I told you I'm behind on this whole blogging thing….a year behind to be exact! 😉
Those of you who have been following this blog for sometime can probably spot the difference pretty quickly. Those of you who are new here…
Hi there! Welcome, thanks for joining us! 🙂
How about a little "before" photo to help you out…..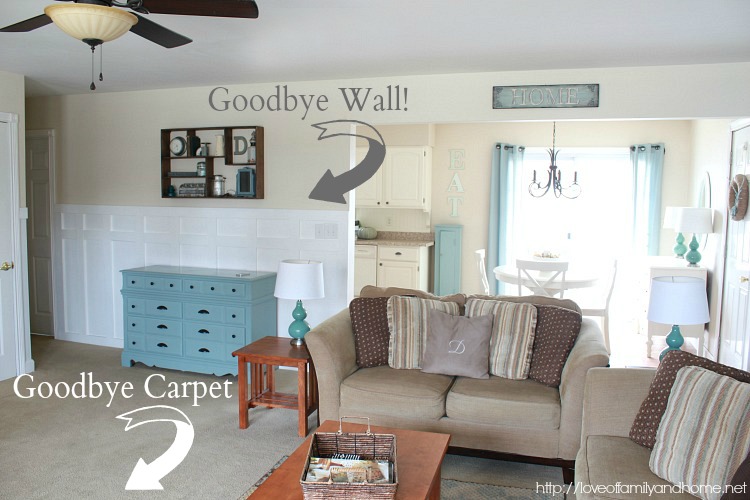 Hallelujah! I finally got rid of that nasty carpet!!
Oh yeah…and we knocked out a wall in the process! 🙂
You see, this wall has served me well for decorating purposes. I've created numerous vignettes & mantel displays here.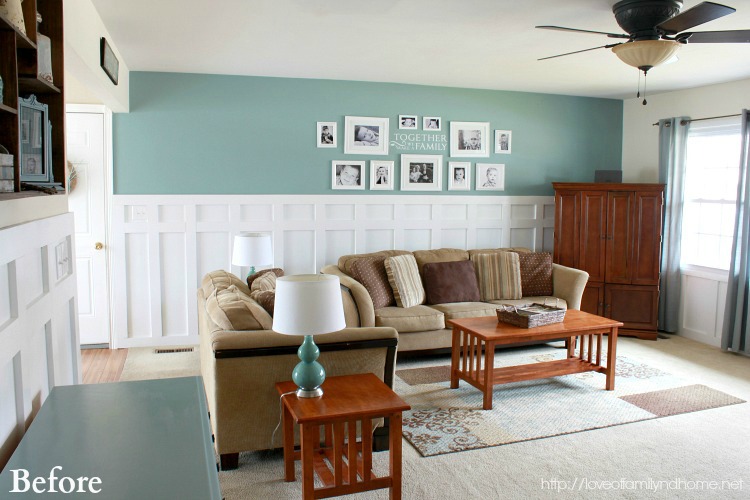 But, the thought of having an open floor plan…..well, I really didn't even have to think twice about it! I was SOLD!!!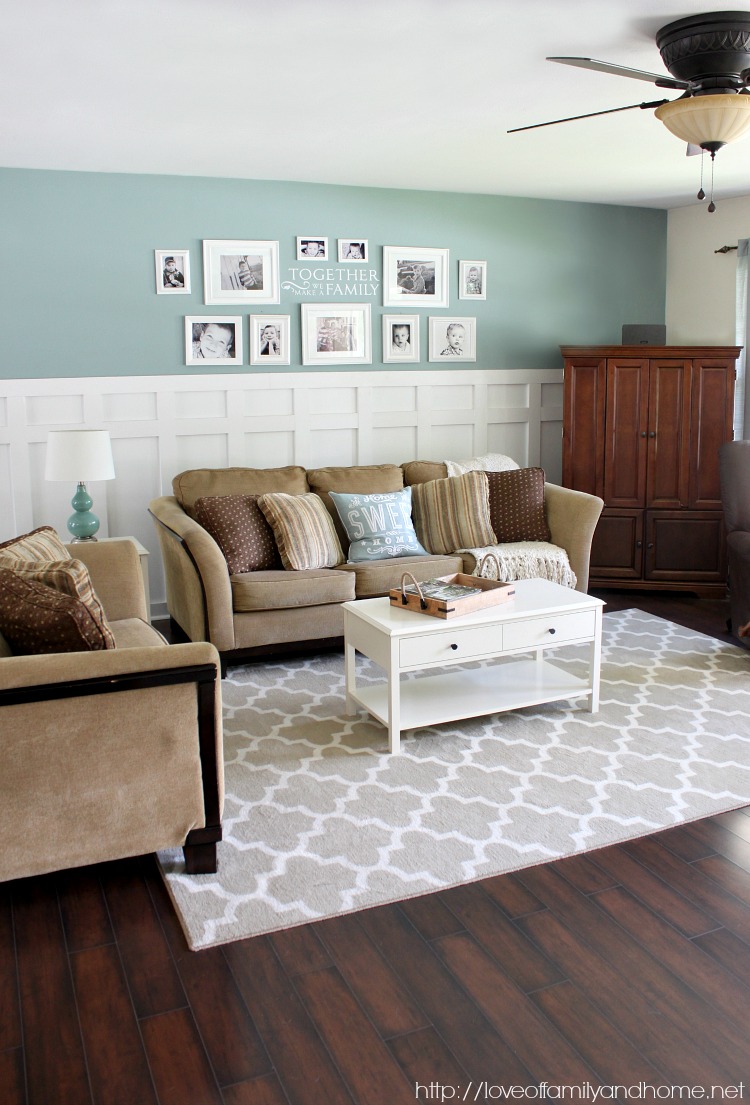 By removing the wall between the kitchen and living room, we were able to create an open floor plan & completely modernized our dated ranch home. It truly made the whole space feel so much bigger! And I'm in love with all of the natural light that floods into our kitchen now!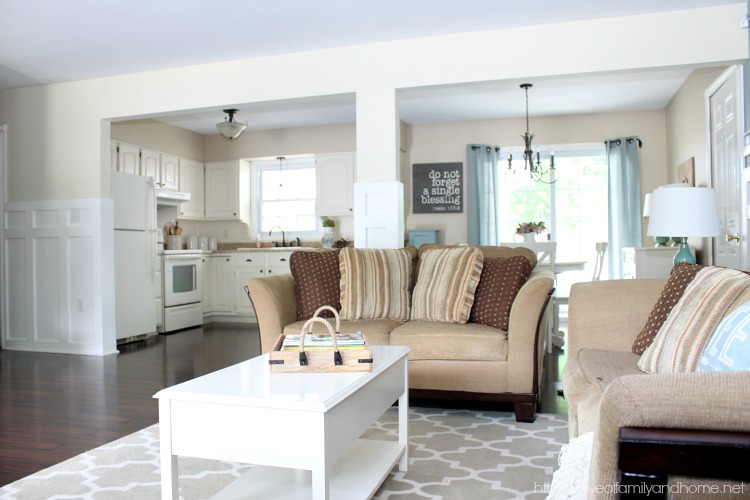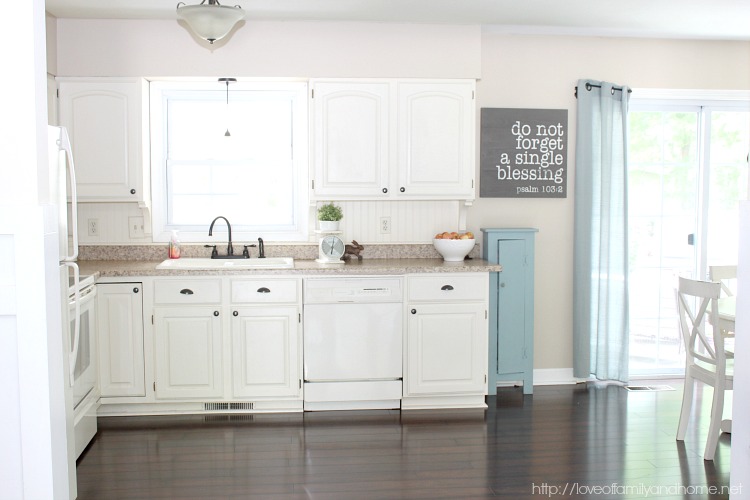 After the new flooring went in, naturally I had to get a new rug for the living room.  And because the old coffee table & end tables totally clashed with the new wood floors,  I had to replace those as well. 🙂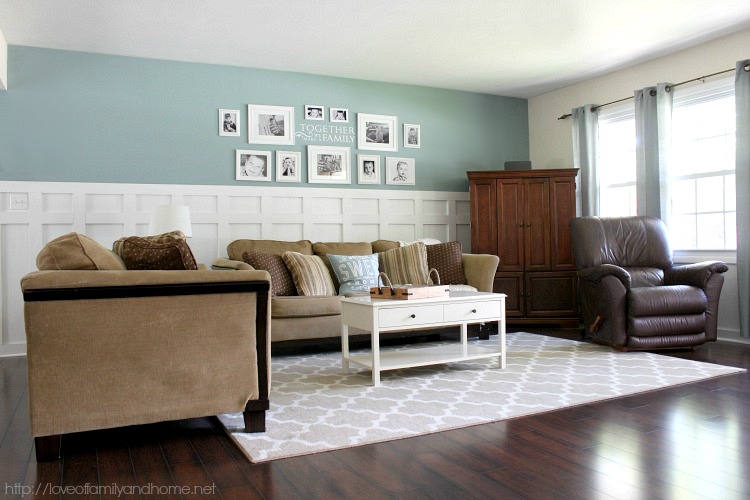 Isn't funny how one home improvement project leads to several subsequent projects & purchases?
Every.Single.Time.
Speaking of subsequent projects & purchases…..I still wanna get rid of that pesky recliner in the corner! 😉
Here are a few more before & afters from our mini-remodel. 🙂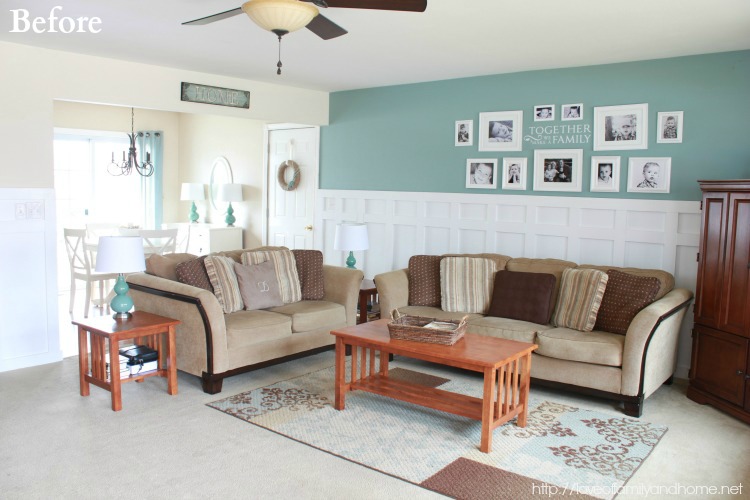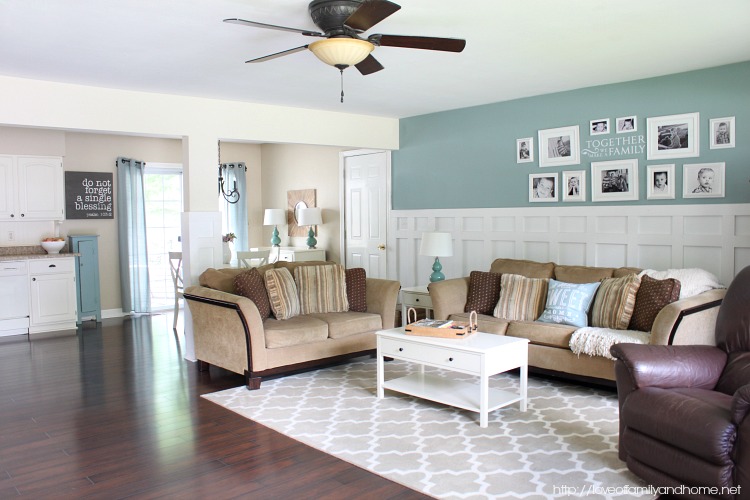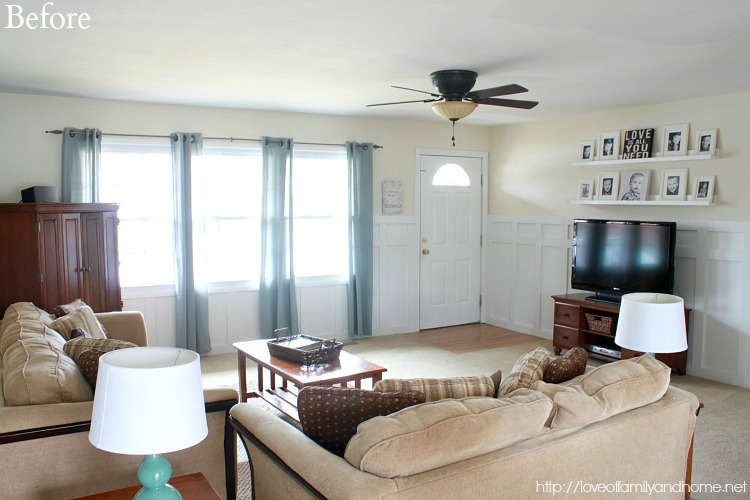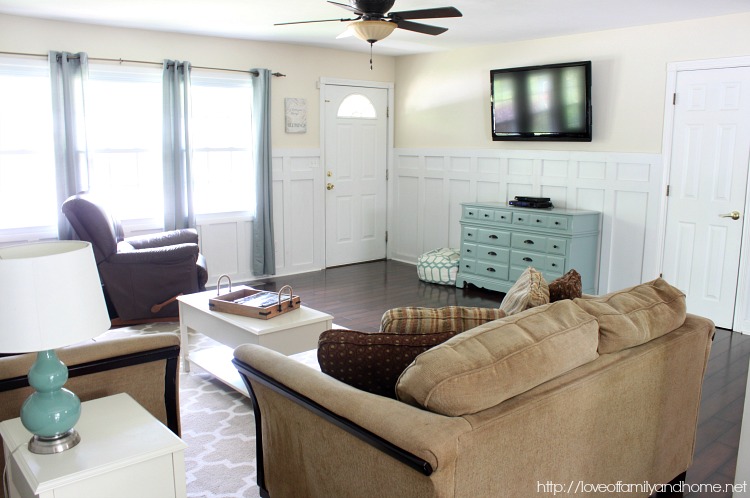 I really didn't want to give up my Craiglist dresser (you can read about that makeover HERE), so we moved it to the wall that TV was on & it became our new entertainment center. Then we mounted the TV to the wall. We love the new set-up!
Here's a peek down the hallway….you can catch a glimpse of my master bedroom! That is another space I need to blog about!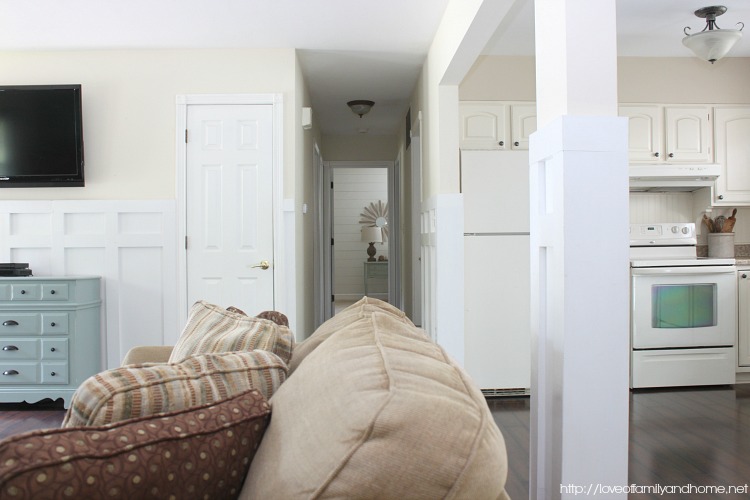 There are still a few things I am wanting to do in the kitchen area. I'd love to either build or just buy a kitchen island to go in this space. Now that the wall is gone, we have the perfect spot for one & I would love the extra counter space! With the new island, I would love to add a beautiful new light fixture to hang above it! Wouldn't that be nice?!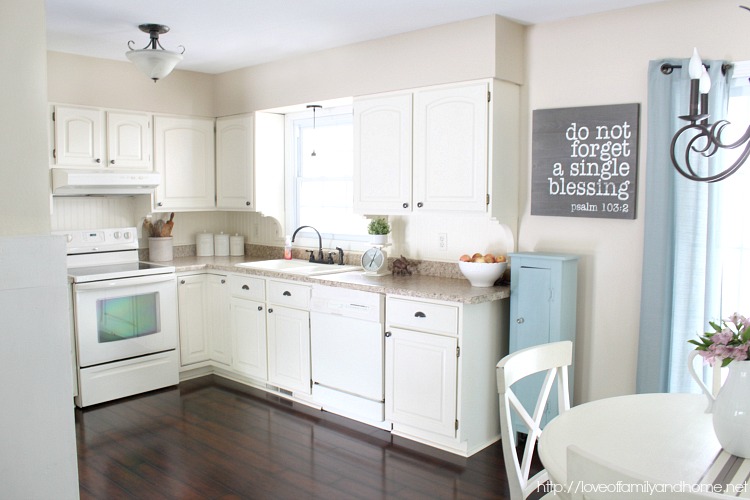 I'm also searching for the perfect rug to go under my kitchen table. I'm thinking I may have found one, but I'll keep you posted! Hopefully that will lead to another blog post in the near future! 🙂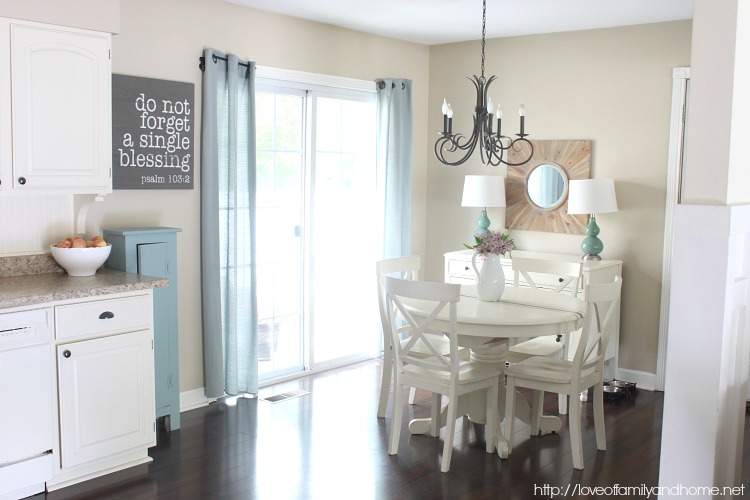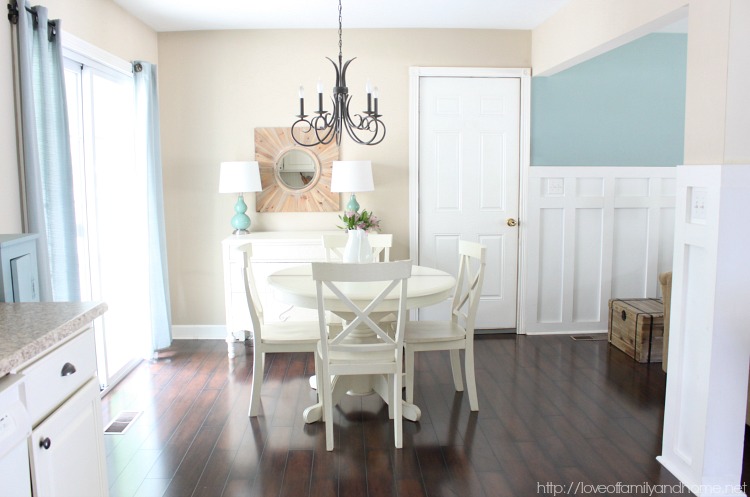 Our kitchen table was another Craiglist find several years back. I recently re-finished it & added the grain sack design. I still love how it turned out! You can see the tutorial HERE.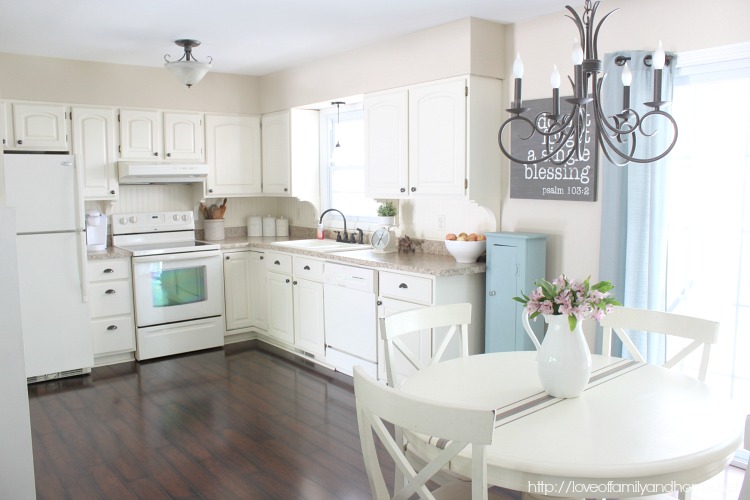 We have done so much work to this home. Over the past 10 years, slowly, but surely we've turned it into a space that we love. If & when we ever move, it will be the hardest move I will ever make.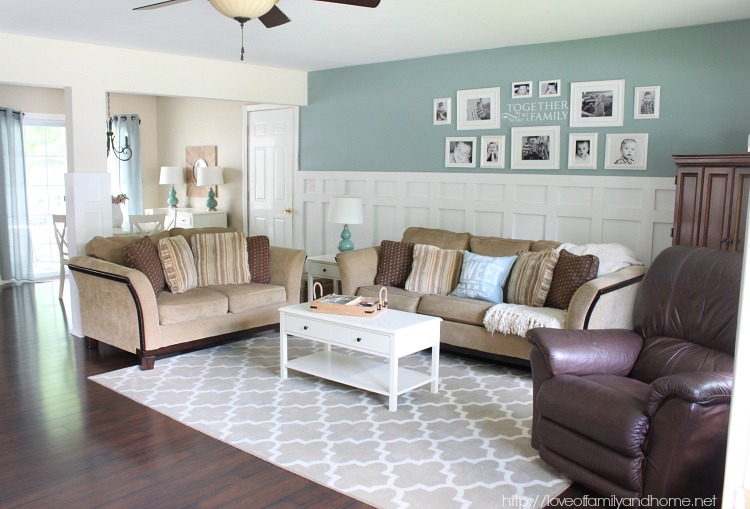 Even though it's small, we've found ways to make it bigger & by doing a few remodels here & there. By doing so, we've been able to stay here for a lot longer than we ever thought we would.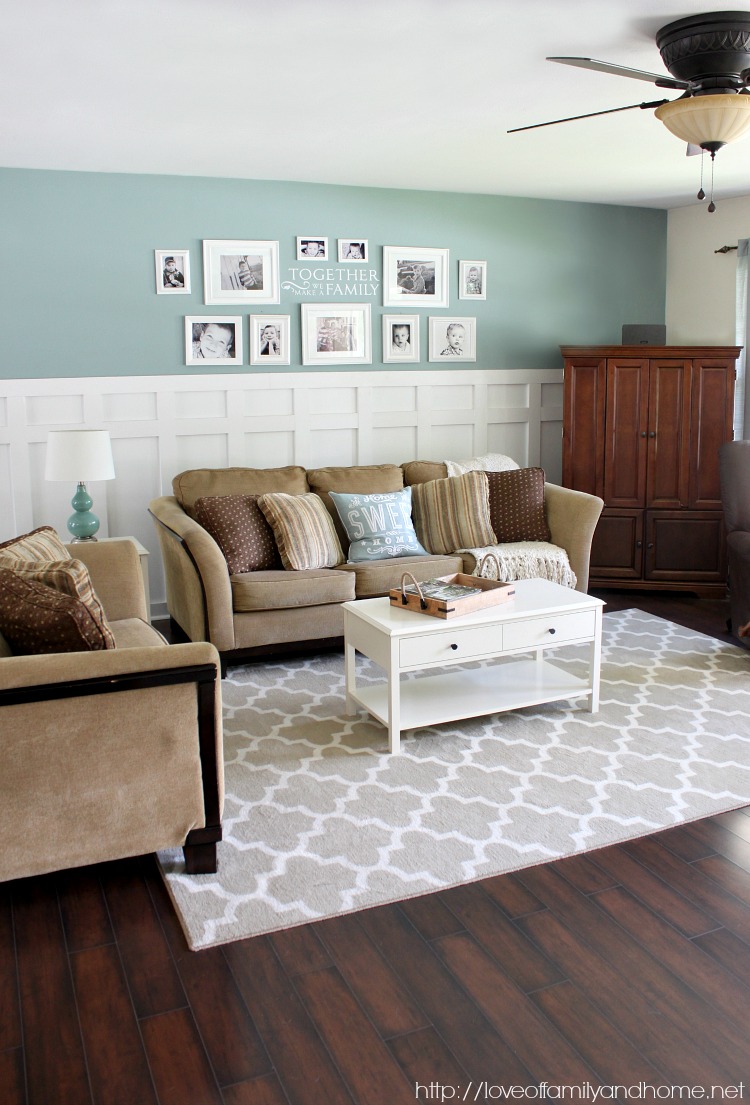 It's definitely no mansion, but it has served our family perfectly. We brought both of our boys home from the hospital to this house, had several birthday parties & small get-togethers in the backyard, & filled it with TONS of memories!!
It's definitely our Home Sweet Home.
Thank you for taking the time to visit it today! 🙂
I hope you all have a wonderful week!
Source List:
Rug – Target
Coffee Table – Target
End Table – Target
Home Sweet Home Pillow – TJ Maxx
Lamps – Lowes
"Do Not Forget A Single Blessing" Wall Hanging – Love of Family & Home Store (available in-store only)
For more information on paint colors, check out the FAQs page on the navigation bar above. For more information regarding our kitchen, including how we painted our kitchen cabinets, info on our countertops, installation of beadboard backsplash & corbels under cabinets, check out the posts HERE and HERE.
To Tour The Rest of Our Home Click HERE.
We want to thank everyone for all the support you've shown us since we launched the online store on Wednesday! To show our appreciation, we'd like to offer you a coupon for 10% off your total purchase! Just enter code: WEAREOPEN10! at checkout! Happy Shopping!!
Linking up here…
Tutorial & Tips Tuesday at Home Stories A to Z
Wow Us Wednesday at Saavy Southern Style
DIY Projects & Party Time at The 36th Avenue
Link Party Palooza at Tatertots & Jello
Inspiration Gallery at Design, Dining, & Diapers
Frugal Friday at The Shabby Nest
Sunday Showcase Party at By Stephanie Lynn