Hey Y'all!
Happy Tuesday!  Did you have a good weekend?!
If you follow along on Facebook and/or Instagram, you know that my weekend was BUSY!!  Friday afternoon I made a trip to St. Louis for my little sister's bachelorette party (stayed up WAY too late) and then Saturday morning I jumped back in the car, drove home & and went into full party planning mode for the bridal shower.  Sunday morning another huge winter storm made its way into our area. Needless to say, it put a little damper on the shower festivities, but since my sister lives 6 hours away and my mom & I had put in several hours of party preparation the show HAD to go on!  Despite the weather, things turned out beautifully & we even had a pretty good turn-out for the shower!
Today, I thought I would share all the party details with you!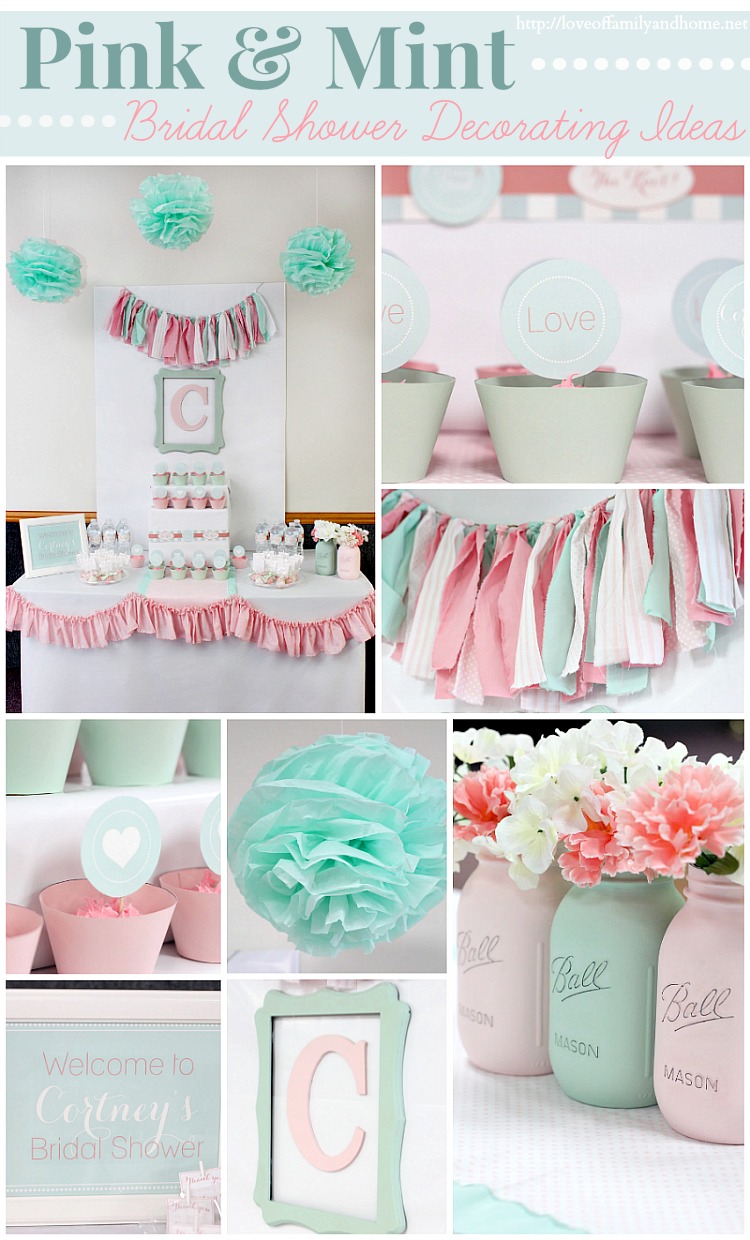 My sister's wedding is in May & she decided to go with a yellow & gray color scheme. But….since I just did a Yellow & Gray Baby Shower, we decided to switch things up a little bit for her bridal shower. I came across this beautiful, printable party package from Ooh La Lovely on Etsy & quickly figured out the direction I wanted to go!  The pink & mint is such a pretty & feminine color combo…don't you think?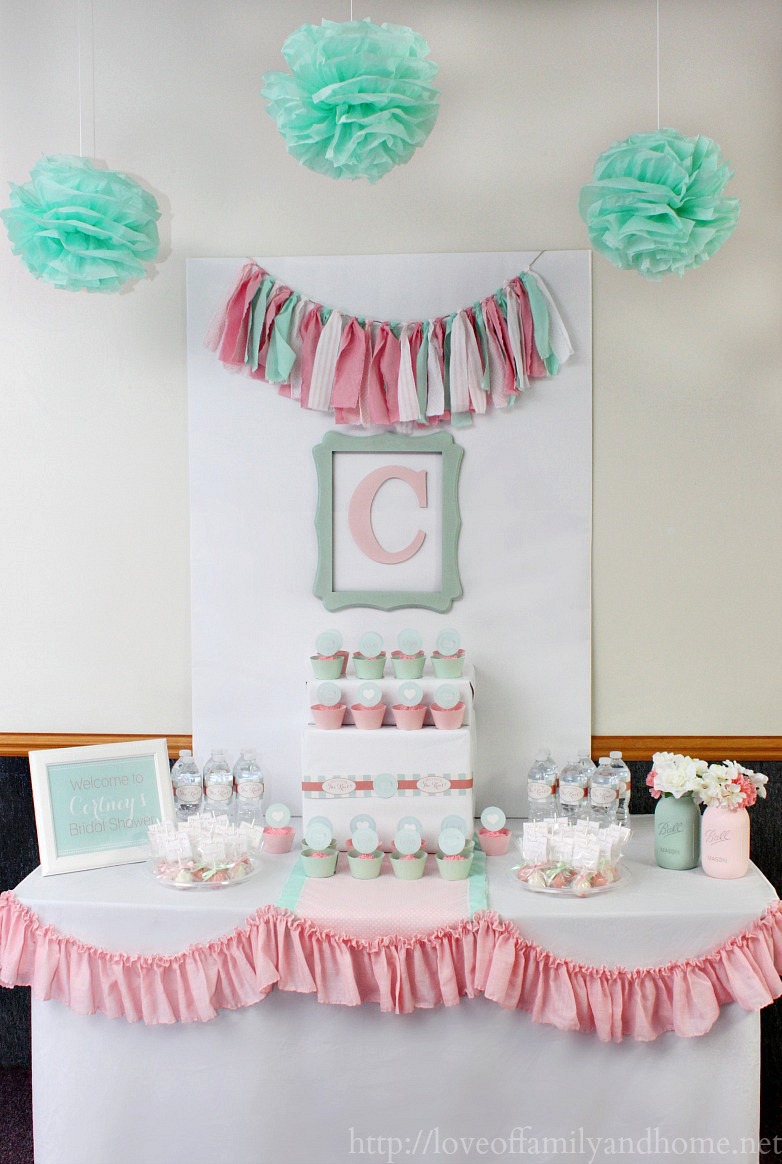 For the cake table backdrop, we combined two cardboard display boards & taped them together. Then we wrapped them in white wrapping paper & used sticky tack to attach it to the wall. My mom picked up a frame (on clearance) & monogram at Hobby Lobby. We painted them to match the party decor & then attached them to the backdrop using hot glue. A fabric garland was added to the top of the display using a combination of fabrics my mom found at JoAnn Fabrics. We just cut the fabric into strips (2 inches wide) and tied them to a piece of jute. The garland was also attached to the backdrop with hot glue.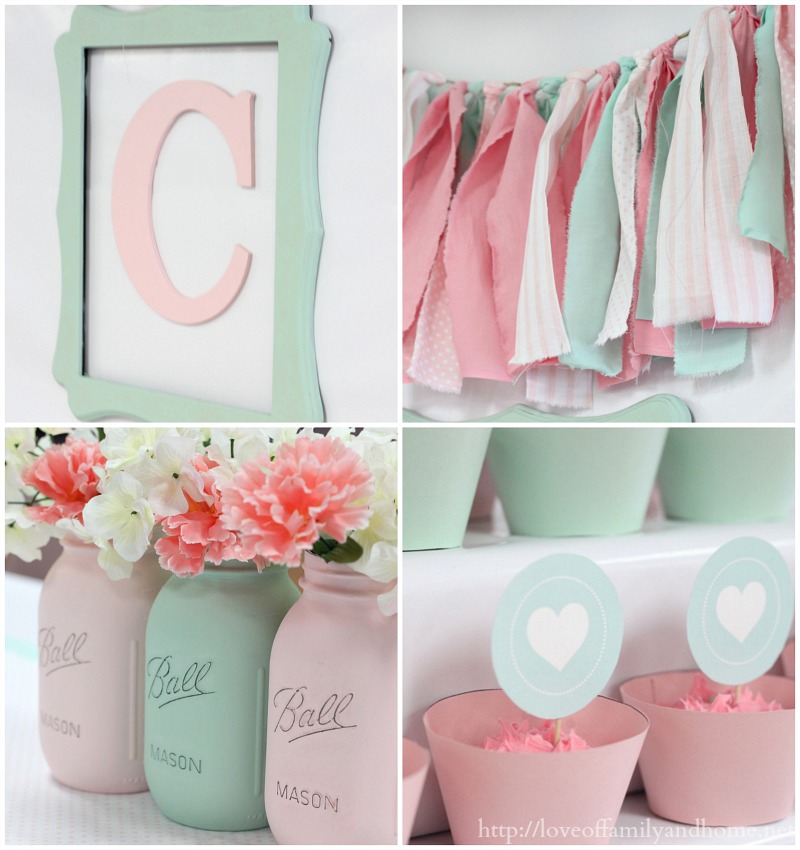 For the cupcake display, I wrapped a couple of cardboard boxes & stacked them on top of each other.  Then, I added the cupcakes & all of the cute party printables to the table display.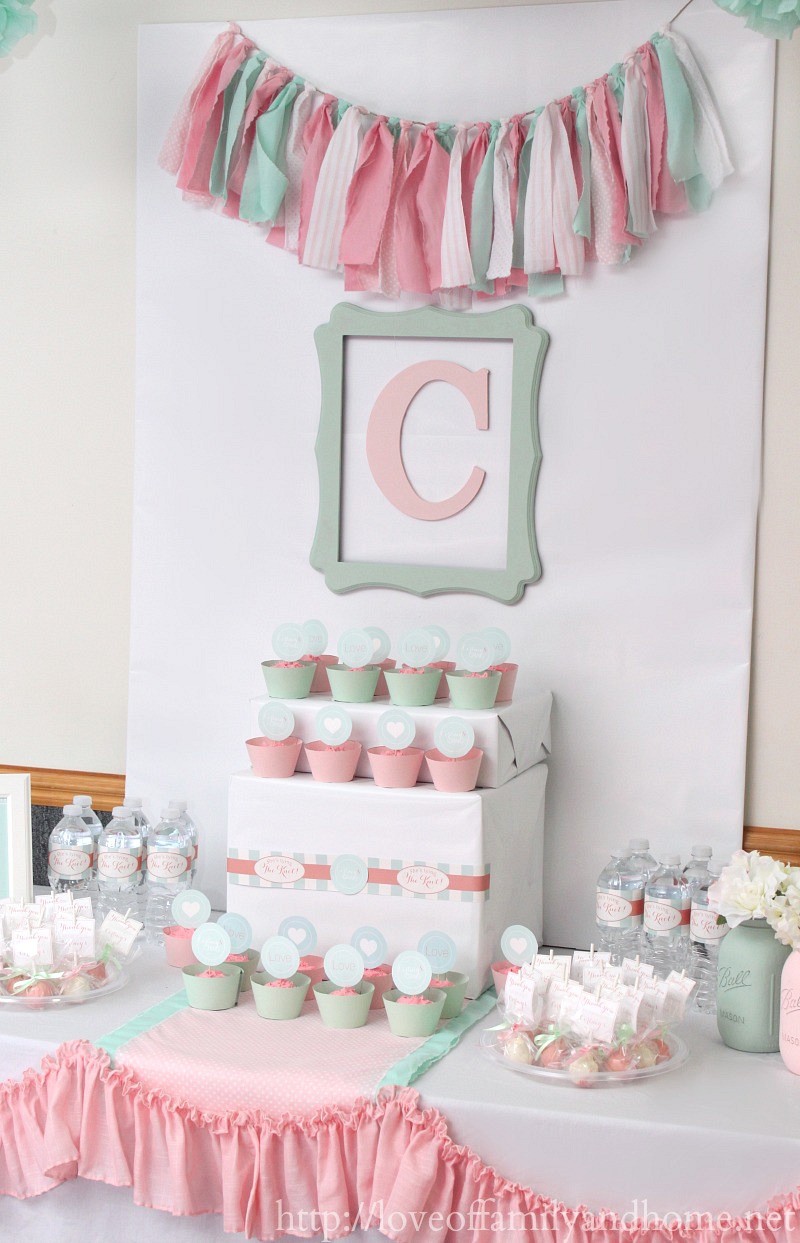 Painted mason jars & a few artificial flowers from the dollar store made up our table centerpieces. I posted a sneak peek of the mason jars on Instagram & Facebook & had several questions about them. I plan on sharing a quick & easy tutorial with you all next week on how we made them!  They really added the perfect amount of color to the tables & were so inexpensive!
We also added a small table runner to each table (again using fabric from JoAnn's). My mom literally whipped these up in a matter of minutes the morning of the shower! So jealous of her sewing skills!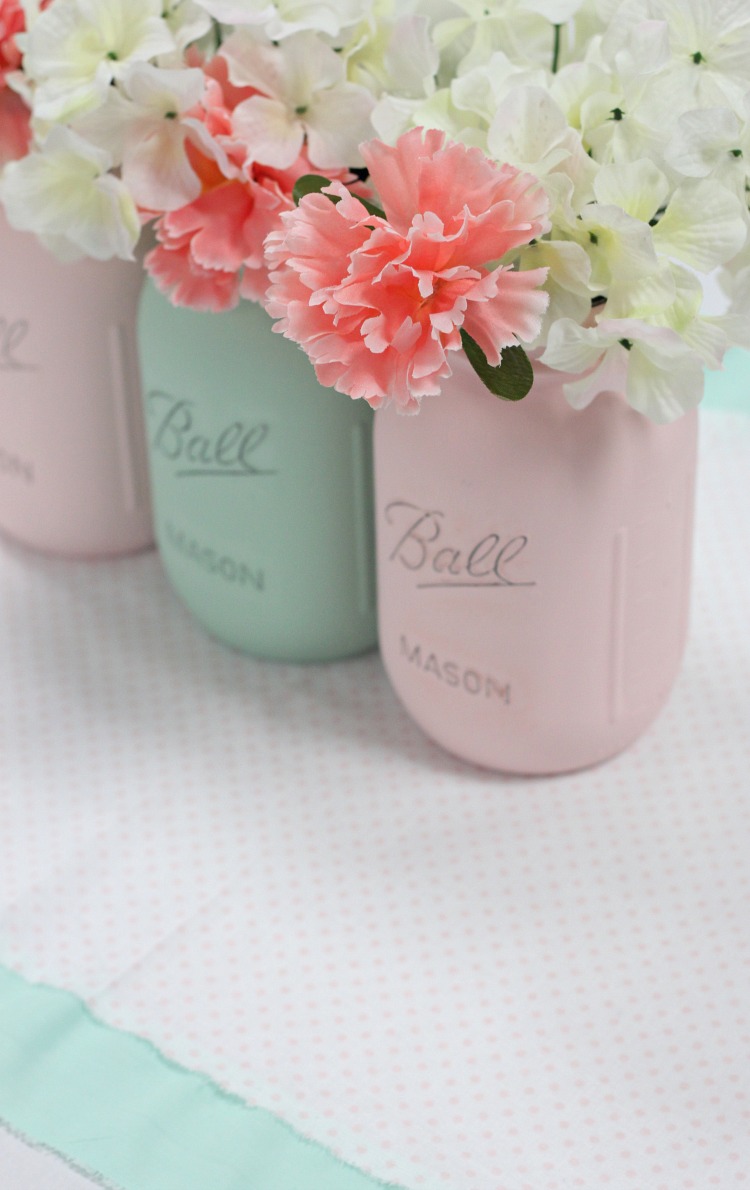 And because no bridal shower would be complete without a few sweet treats, my mom whipped up a few for the shower!  She made cupcakes & cake pop party favors for all of the shower guests.  This was the first time she had ever made cake pops & she got rave reviews! She just purchased two boxes of Pillsbury Funfetti Cake Pop Kits & followed the directions on the box to make the adorable party favors you see below. We also used the "thank you" tags that came in printable package to make them extra cute! 🙂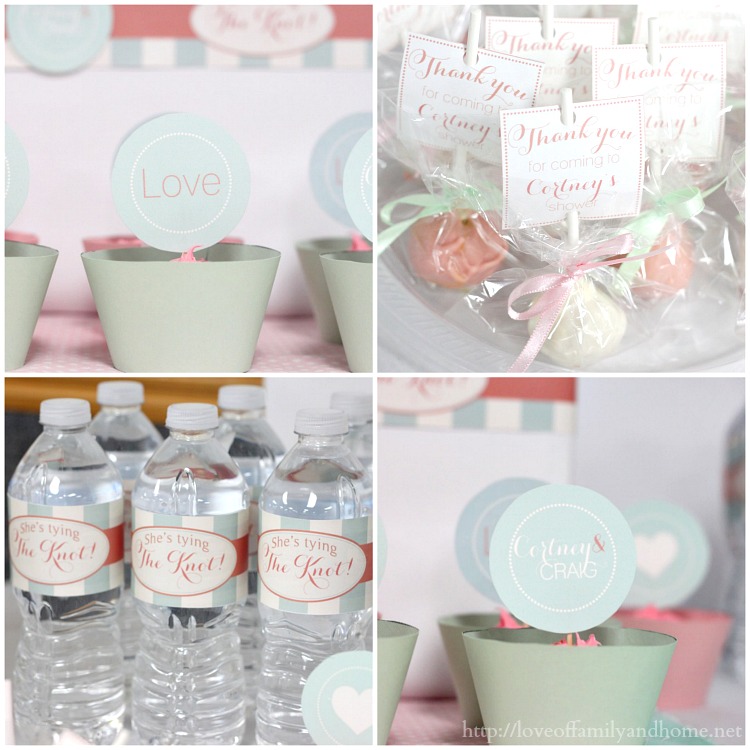 The bride was showered with lots of fabulous gifts & even had an adorable back-drop for photos. My mom had the bi-fold screen that you see behind her. We painted it white & then lined the screen using the fabrics that my mom had purchased and then topped it off with the printable "Bride-to-Be" Banner that came in our party package.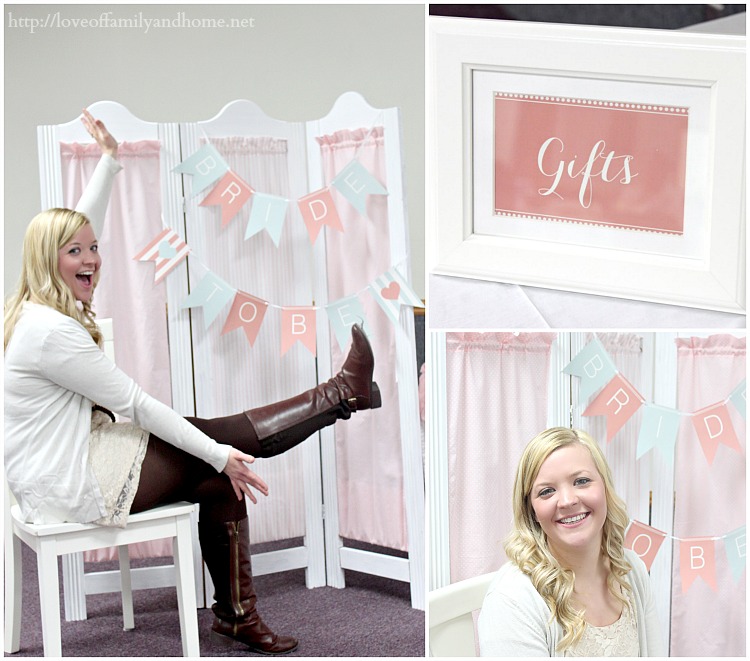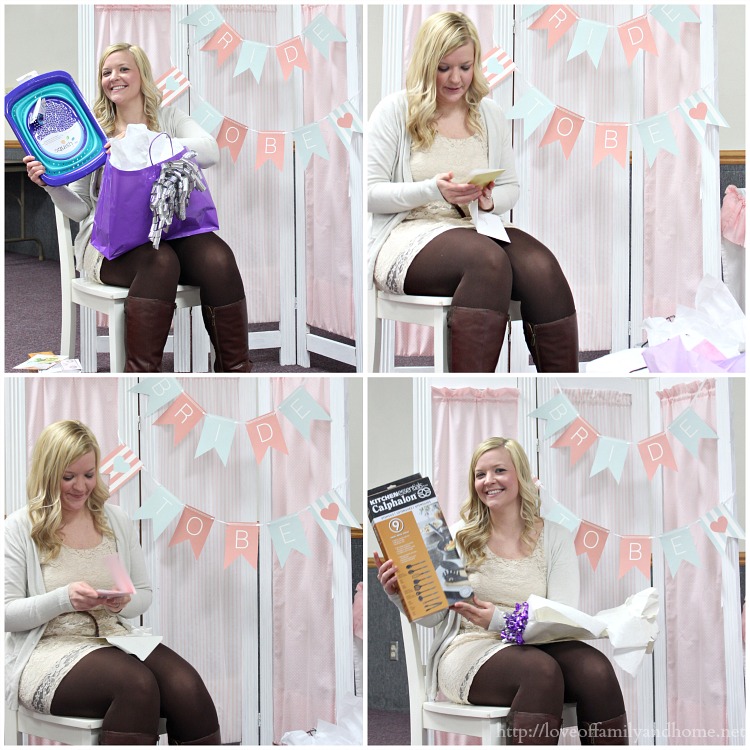 When all the festivities were wrapping up, we took a minute to take a few pictures with family….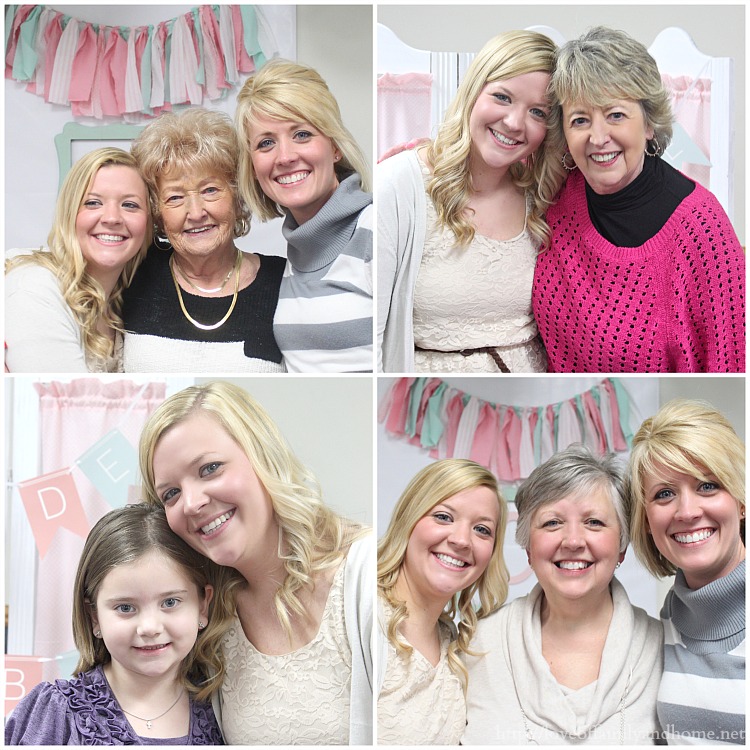 Three generation shot with me, my sister, my mom, & my grandma.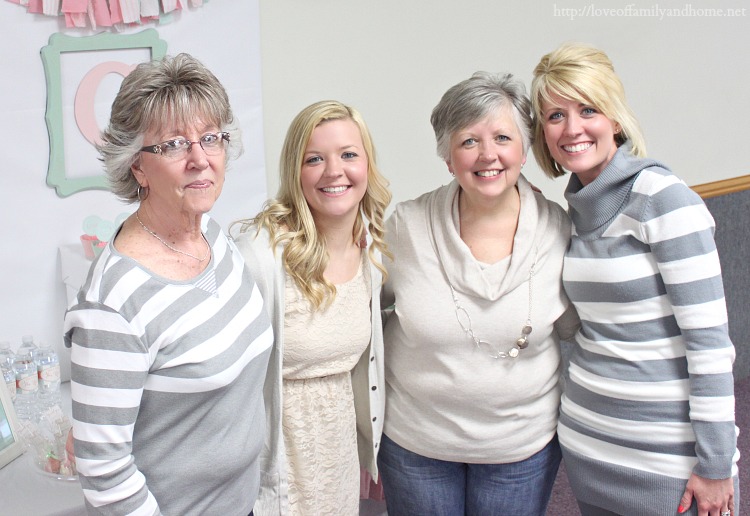 There were a few items in the party package that we didn't use for the party, but I still wanted to share them here because they are so cute! Recipe cards, thank you cards, straw flags (because I forgot to order the paper straws for the shower), & Favorite Memory of the Bride cards. To see the full package, click HERE.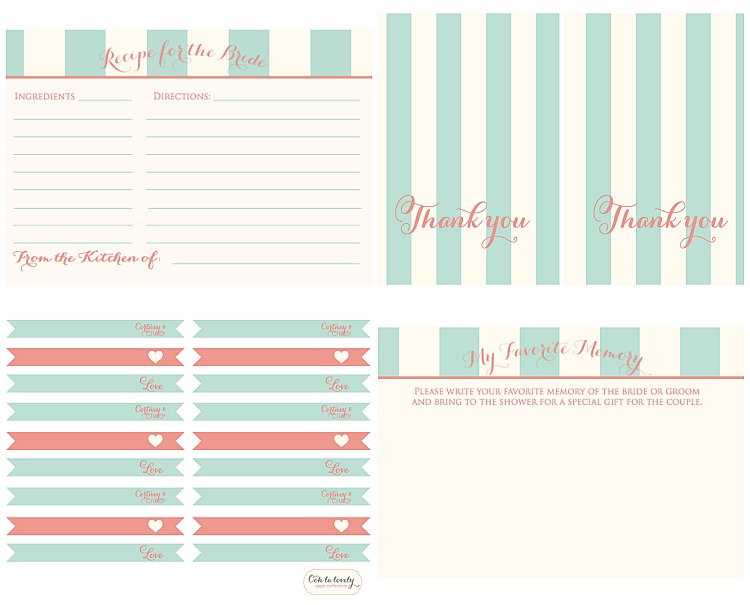 And that pretty much wraps up the Pink and Mint Bridal Shower….

Now for the next couple of months we will be in full wedding mode!!
I'm sure I will have lots upcoming wedding decor posts to come! 🙂
For more party planning ideas, be sure to check out my Project Gallery!  
Party posts are located on the bottom of the page! 
Thanks so much for visiting me today!
Have a terrific Tuesday!
Linking up here…
Wow Us Wednesday at Saavy Southern Style
DIY Projects & Party Time at The 36th Avenue
Link Party Palooza at Tatertots & Jello
Inspiration Gallery at Design, Dining, & Diapers