Hey Friends!!
Happy Wednesday to you all! I hope you guys are having a great week!
My best friend from high school is pregnant with twins and some friends & I decided to throw her a baby shower this past weekend.  I had the pleasure of doing all the decorations for the shower & I was so happy with how it all came together.  I thought I would share some the details with y'all today! 🙂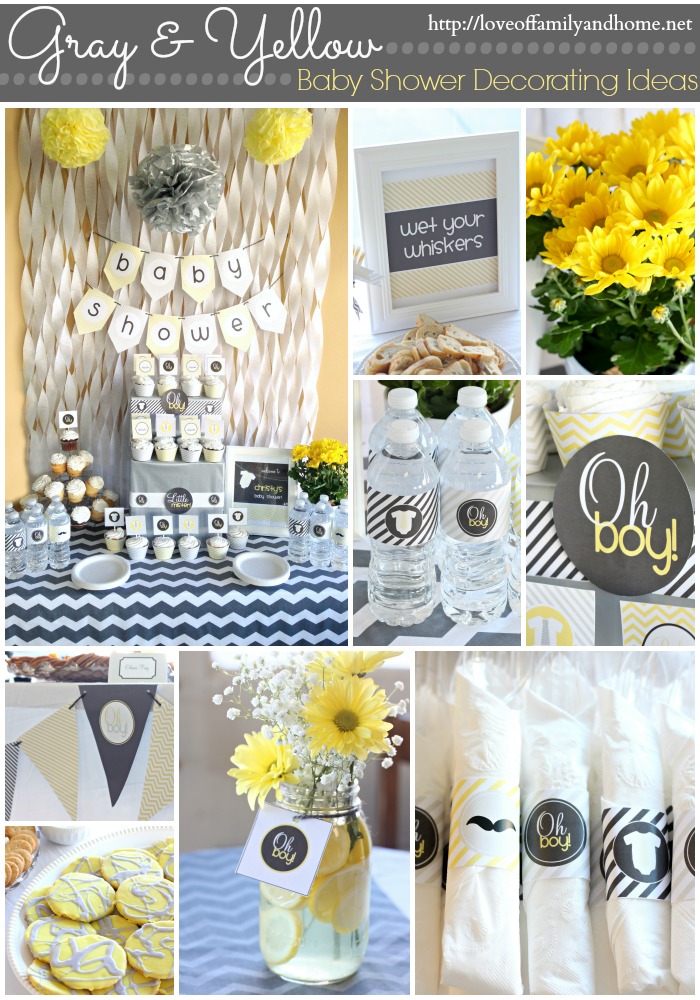 After we decided to throw the shower, another friend of mine took care of sending out the invitations. The invite was gray & yellow, so I decided to just run with that color scheme for the party too. I came across this printable baby shower package from Tania's Design Studio on Etsy and fell in LOVE! It was exactly what I was looking for! All of the printables that you'll see in this post are from this package.
Here is a full shot of the cake & goodies table…..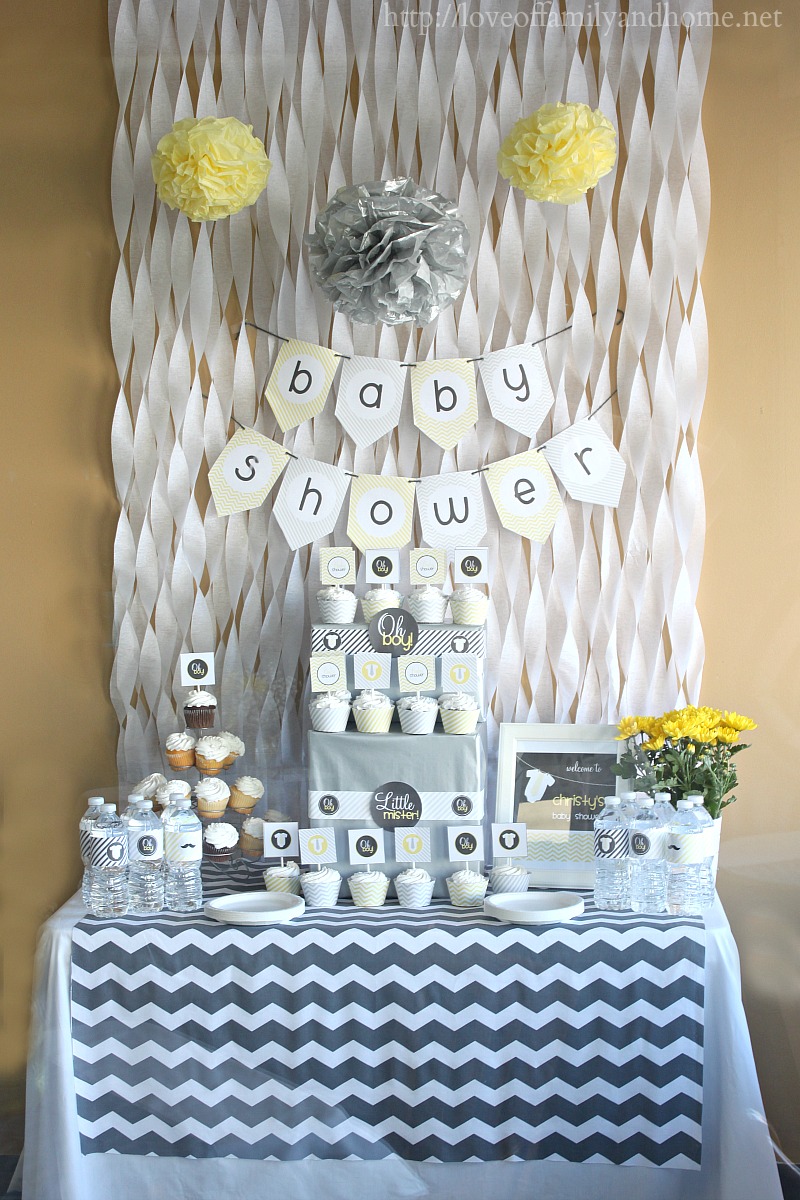 The backdrop for the cake table was made with white crepe paper/party streamers. I actually got the idea for this from my friend Taryn at Design, Dining, & Diapers. This was such a cheap & easy way to create a neutral backdrop for the table display….it was however, a little time consuming! 🙂 The "baby shower" banner hanging on the backdrop was again, from the party package I purchased off of Etsy as well as all the other printables you see on the table.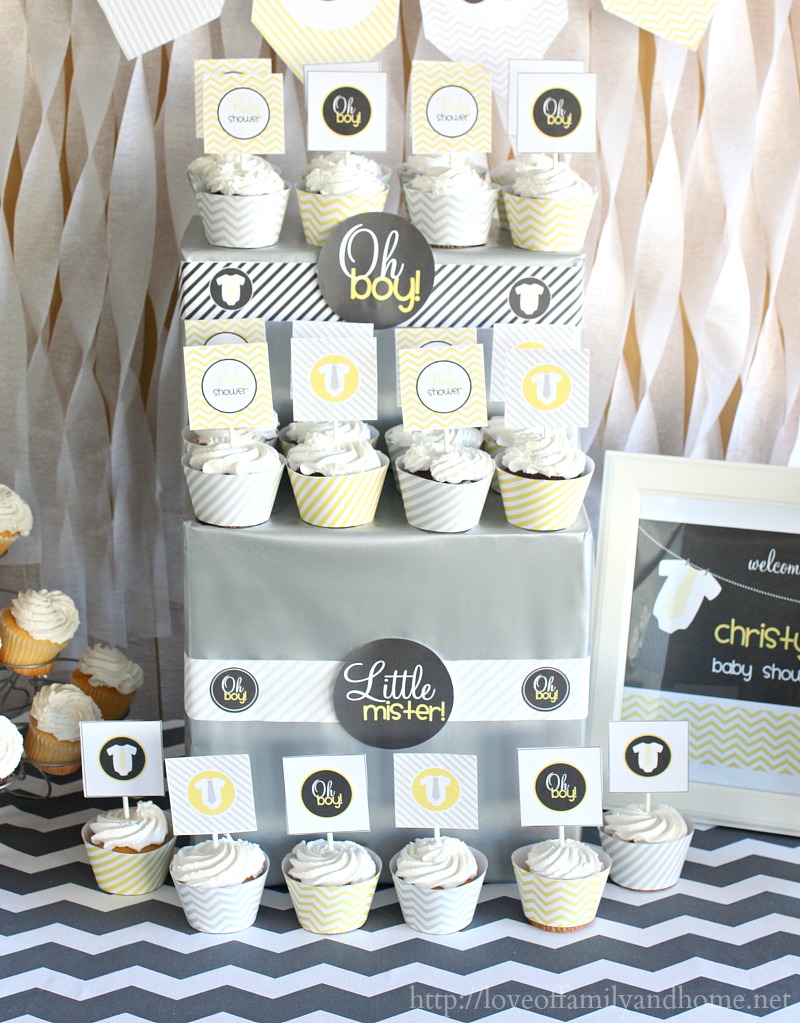 For the cupcake display, I just used two cardboard boxes & wrapped them with a plain silver wrapping paper that I purchased at Walmart. I always like add the party printables to the boxes to coordinate with the rest of the decor. The white table cloth used for the cake table was actually just a twin size, flat white sheet also purchased at Walmart for just $5.00. The chevron fabric was purchased at Hobby Lobby. I love the color  & pattern that it added to the table. And last but not least, the tissue paper pom-pons hanging from the ceiling add the finishing touches to the display. My mom was gracious enough to help me decorate for the shower. She made the pom-pons for me. If you'd like a tutorial, you can click HERE.
A few close-ups of all the table details….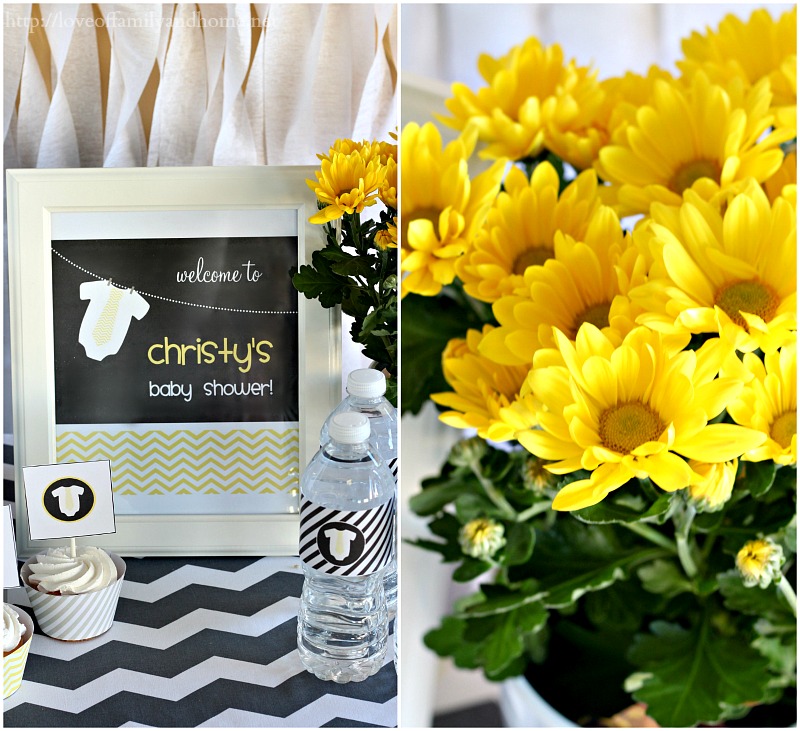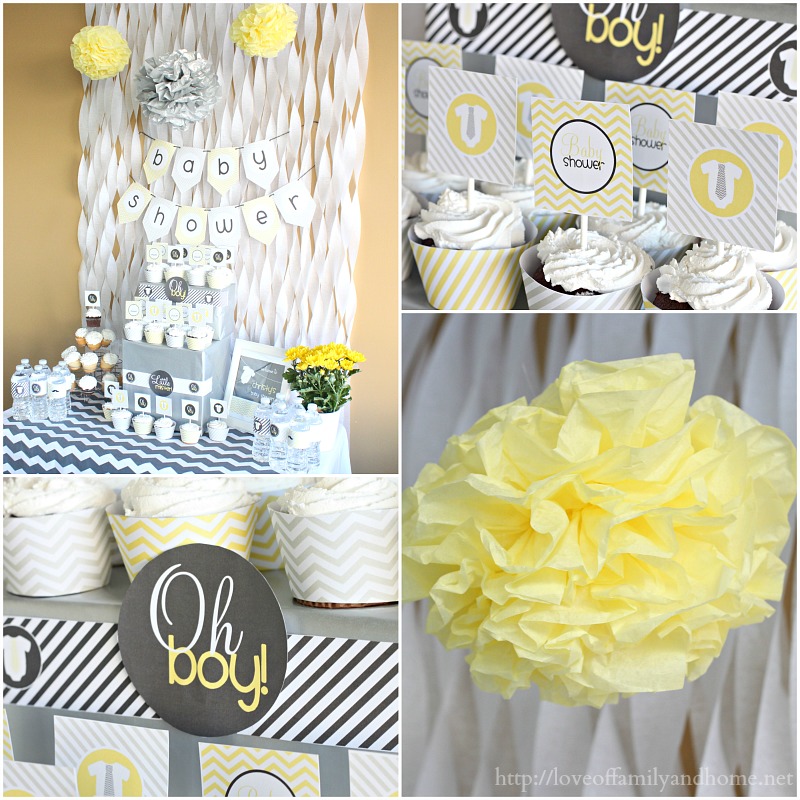 The guest table centerpieces may have been my favorite thing about the shower.  They were so simple, but oh so sweet!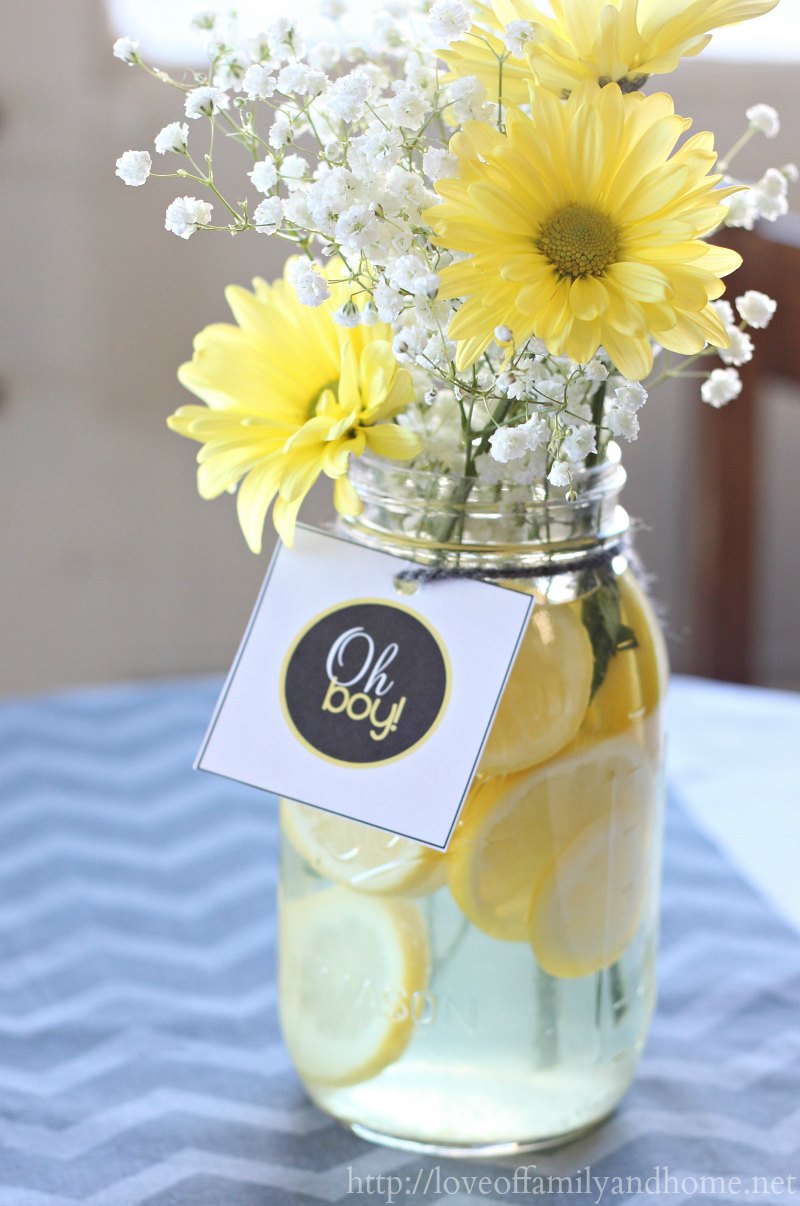 We used mason jars that we already had, filled them with water, & added a handful of lemon slices to the water. Then we created small arrangements inside the mason jar with baby's breath & yellow mum daisies. The daisies & baby's breath were purchased at one of our local grocery store floral departments for just $5.00 a bunch. Then we just used the cupcake toppers from the party package, punched a hole in it & tied it around the neck of the mason jar for a little added detail. Cheap, easy, & beautiful! 🙂
We had very small tables, very mismatched tables for our shower guests to sit at. To make everything look more uniform, we again used white sheets from Walmart as tablecloths. We were able to get 3 tablecloths out of just one $5.00 sheet!  Then, we added a gray chevron table runner  (fabric from JoAnn's) to each table, and lastly our floral centerpieces.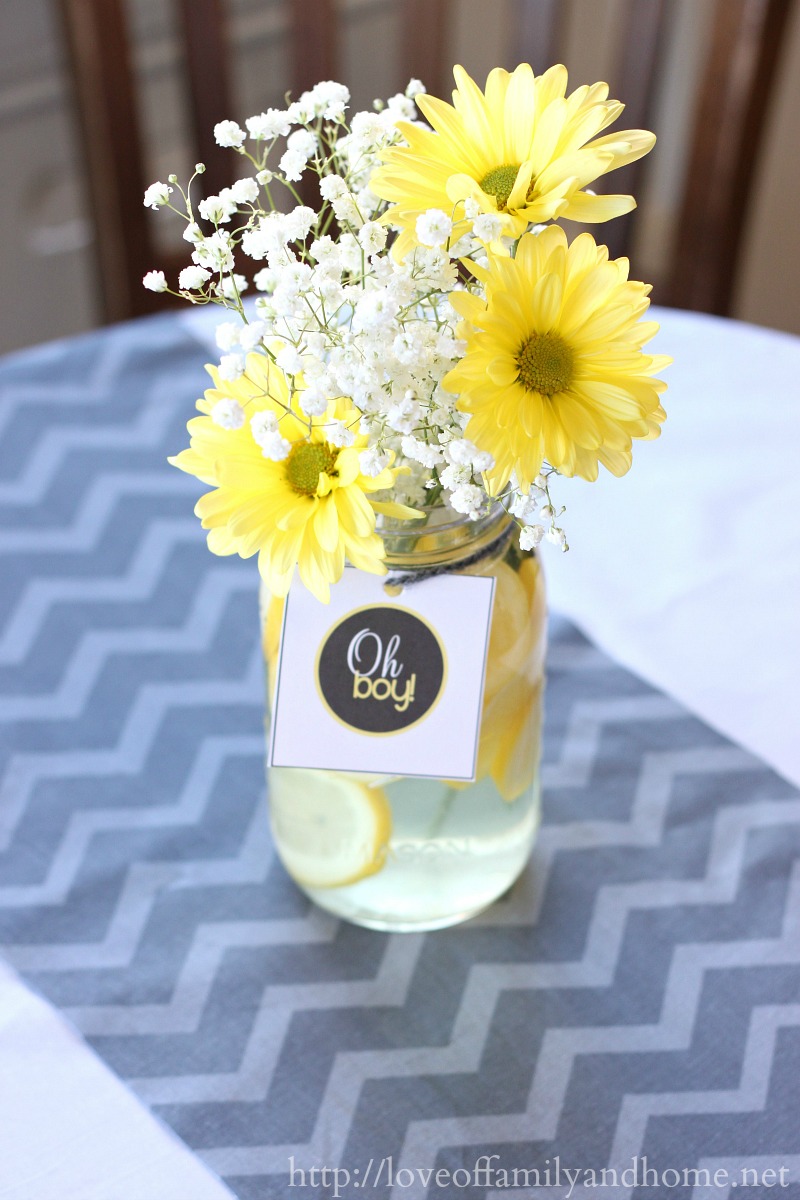 The food table was cover with yet another, $5.00 Walmart sheet & then decorated with the printables from the party package and few floral centerpieces. We had lots of yummy appetizers for the shower and served chili as well.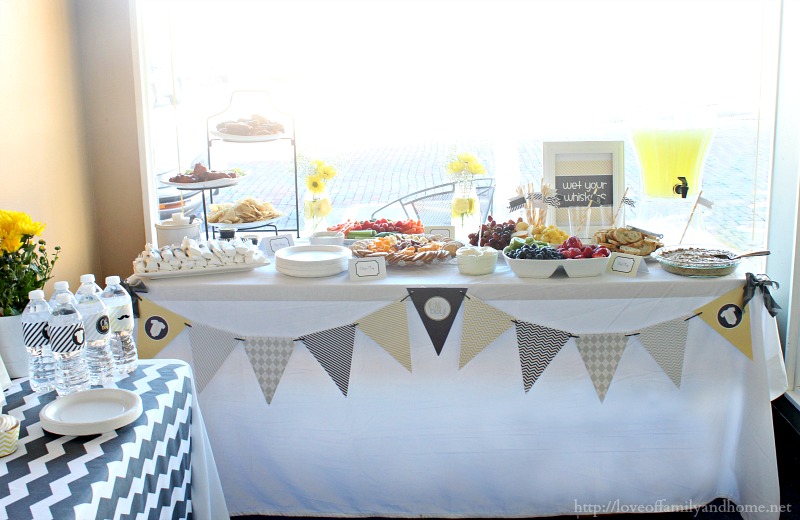 We had bottled water & lemonade for our guests to drink. I purchased some adorable yellow striped straws (also from Etsy) to tie in with the shower decor. The party package also came with straw flags for even more cuteness….love all the little details! 🙂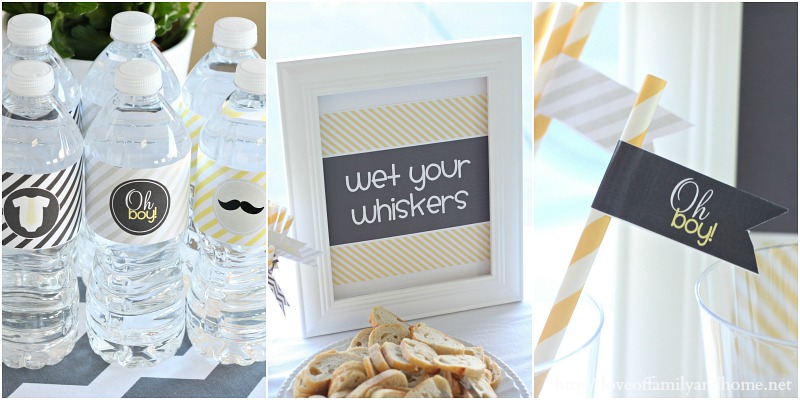 Coordinating napkin rings…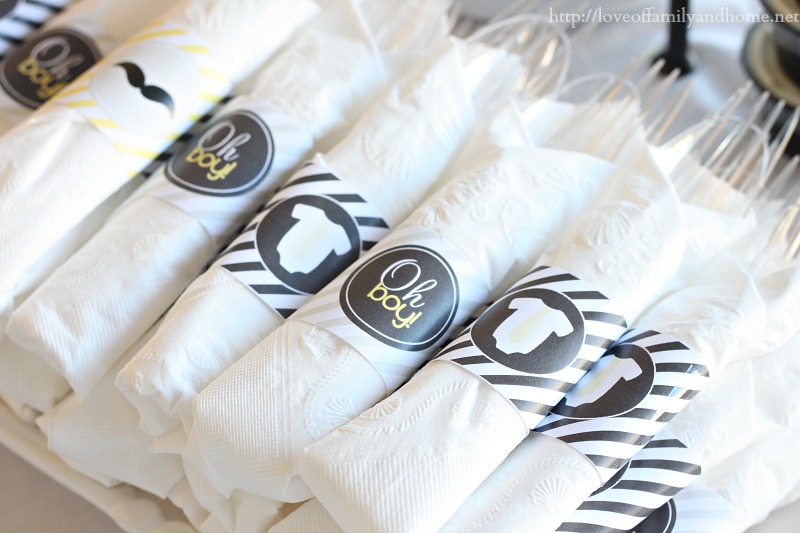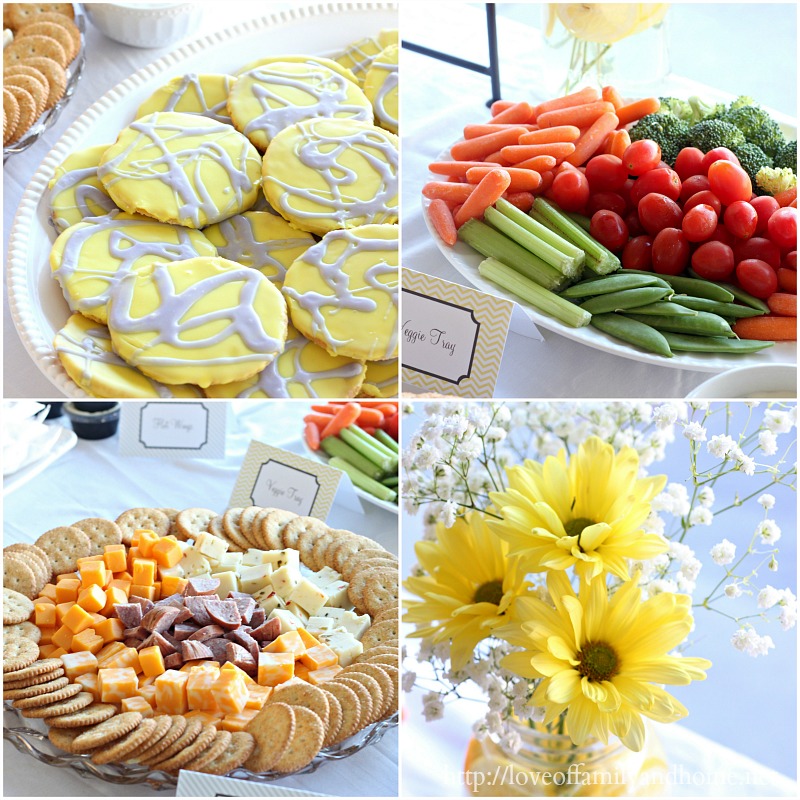 Christy showered with lots of gifts for her soon-to-be arriving twin boys!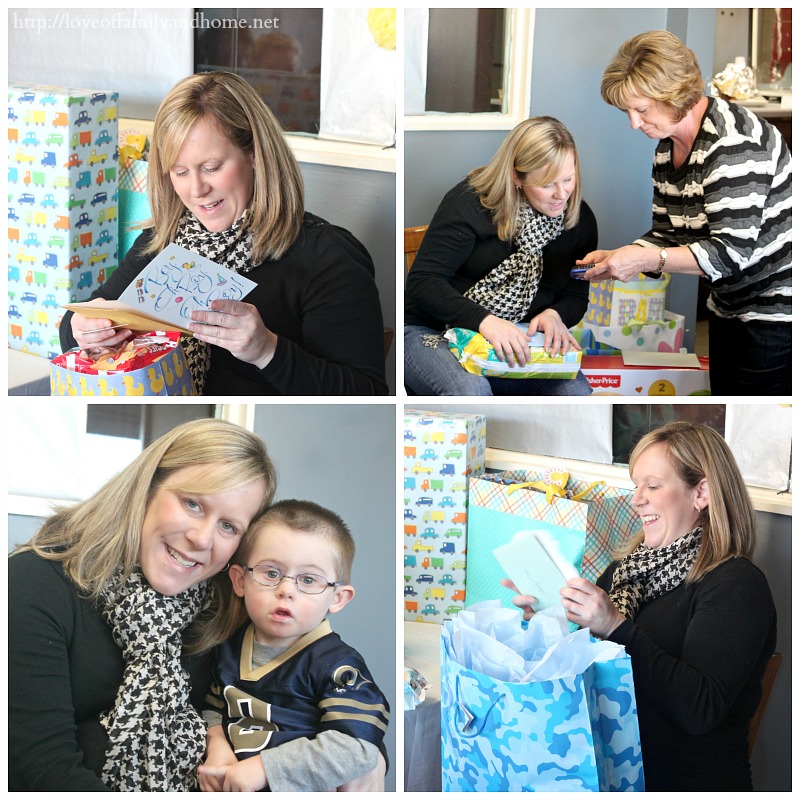 I love that shot of Christy & her son, Owen in the bottom left hand corner. He is such a cutie pie!  I'm not sure however, that he understands how is world is about to change in just a few weeks! Christy is gonna be one busy momma with three little boys, but I know that they will all be the best of friends! To see the baby shower that we threw for Christy when she was pregnant with Owen, you can click HERE.
Everyone was asked to bring 1 package of diapers for their "entrance fee" to the shower.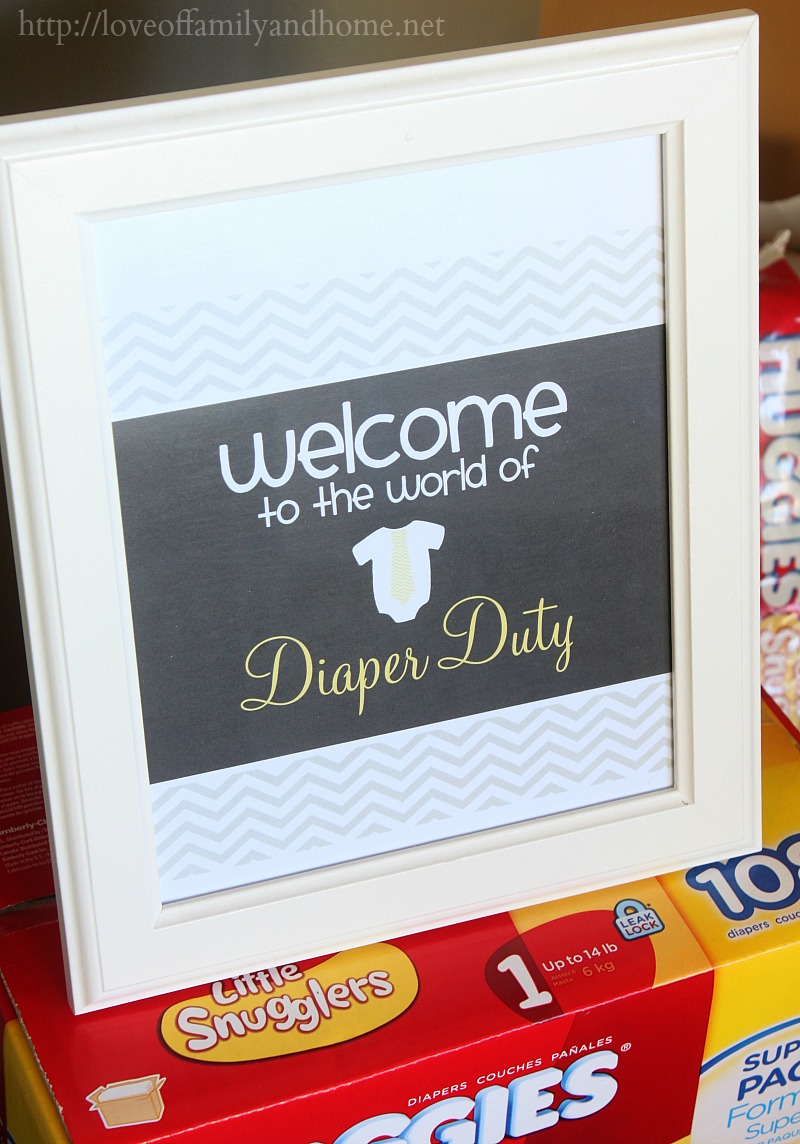 We figured with two babies, that Christy will be going through LOTS of diapers!!  It was a great way to get her stocked up & ready for the arrival of her little ones!
And for some added shower fun, and because our party package was SO awesome that it came with photo booth props, I thought "why NOT do a photo booth?!"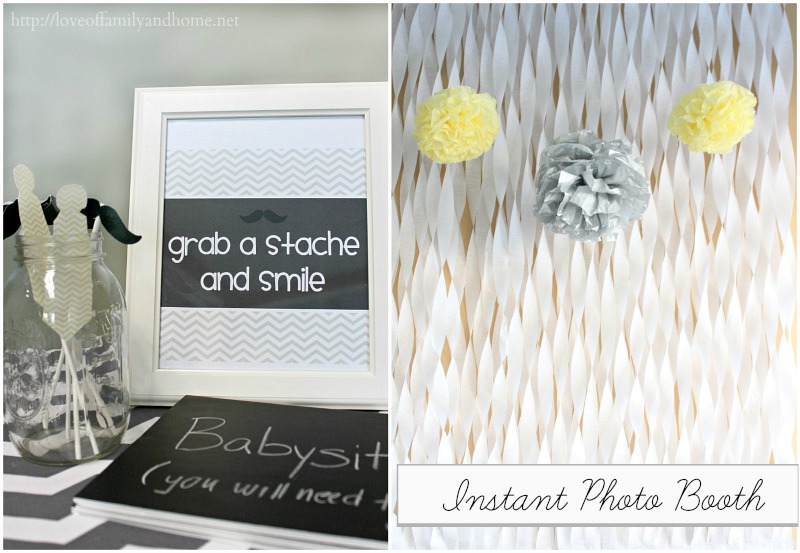 We simply moved the cake table & used our party streamer backdrop to create an instant photo booth for our shower guests!  I picked up a package of chalkboard foam boards from Walmart & asked the shower guests to write a little message to Christy & her family. It made for some really cute photos & lots of  fun memories!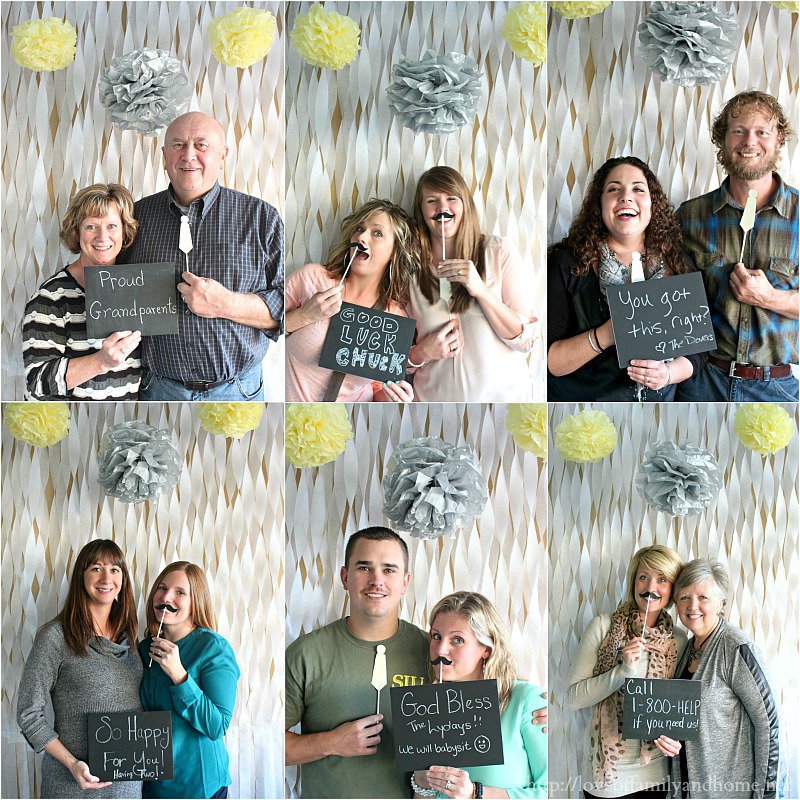 So that's a wrap on the gray and yellow baby shower decorations!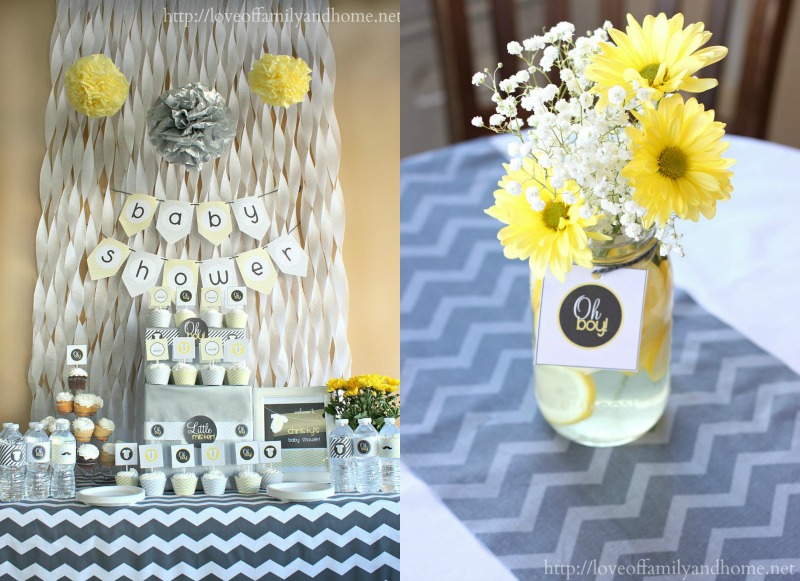 I hope you enjoyed!
For more party ideas be sure to check out My Project Gallery!!
In other news, hopefully my blog posting will get back to normal very soon! I may or may not have put up my Christmas tree this past weekend & started some Christmas decorating! 🙂
Details coming soon!!
Have you started decorating for Christmas?!
Linking up here…
Transformation Thursday at The Shabby Creek Cottage
Inspiration Gallery at Design Dining & Diapers
Link Party Palooza at Tatertots & Jello