Hey Y'all!
Happy Hump Day!
So…the weather has been absolutely GORGEOUS here in the last week! Temperatures have been in the 70's most days & the nights have been cool & crisp! We've been opening our windows at night & enjoying the fresh air! It's been absolutely marvelous! 
With the change in the weather, I have been itching to do some fall decorating! The last few weeks of our summer took a toll on all of my flowers & so the first order of business was to spruce up things outside! That being said, I've been working on the front porch the last couple of days & decided that I needed a new wreath for the front door. I have been wanting to make a burlap wreath for our front door for some time now…..basically, ever since I saw Laura's wreath! Jealous much?!
Anyway, I thought a burlap wreath would be perfect for fall, so I finally picked up some things to make one of my own! I'm so happy with how it turned out that I thought I would share it with you today! It was super easy to make & I hope that after reading this tutorial that you'll try your hand at a Burlap Fall Wreath too!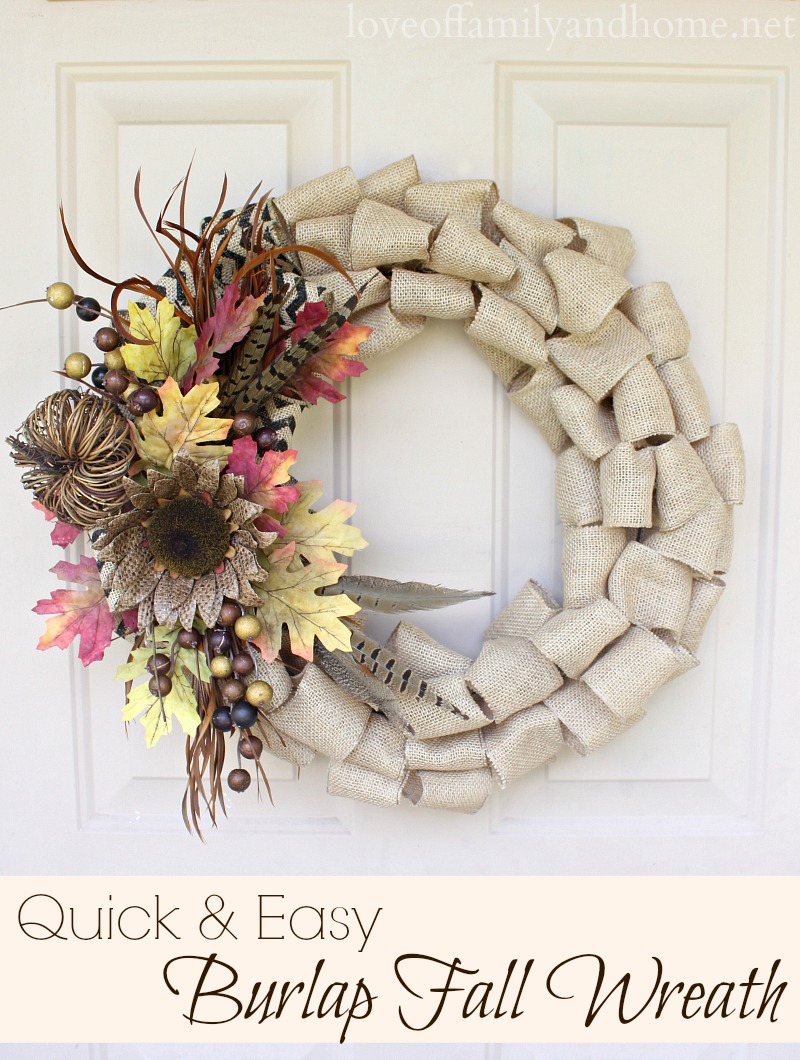 Well, what do you think?! 
You like? Wanna make one for yourself?
If so, here's what you'll need: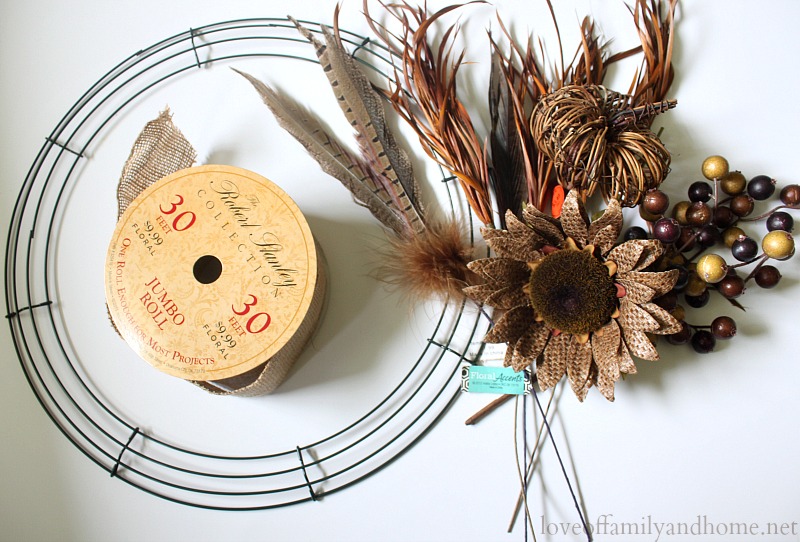 Supplies:
16″ Green Wire Wreath Form
2.5″ Burlap Ribbon
Fall Picks
Pipe Cleaners and/or Floral Wire
Hot Glue (not shown)
Jute (not shown)
Chevron Burlap Ribbon (optional, not shown)
Pick a starting point on the wreath form & attach your burlap ribbon using a pipe cleaner and/or floral wire. Once attached, begin by making loops in the ribbon by inserting it into the three openings on the wreath form. Always start at the inside of the wreath form & work your way out.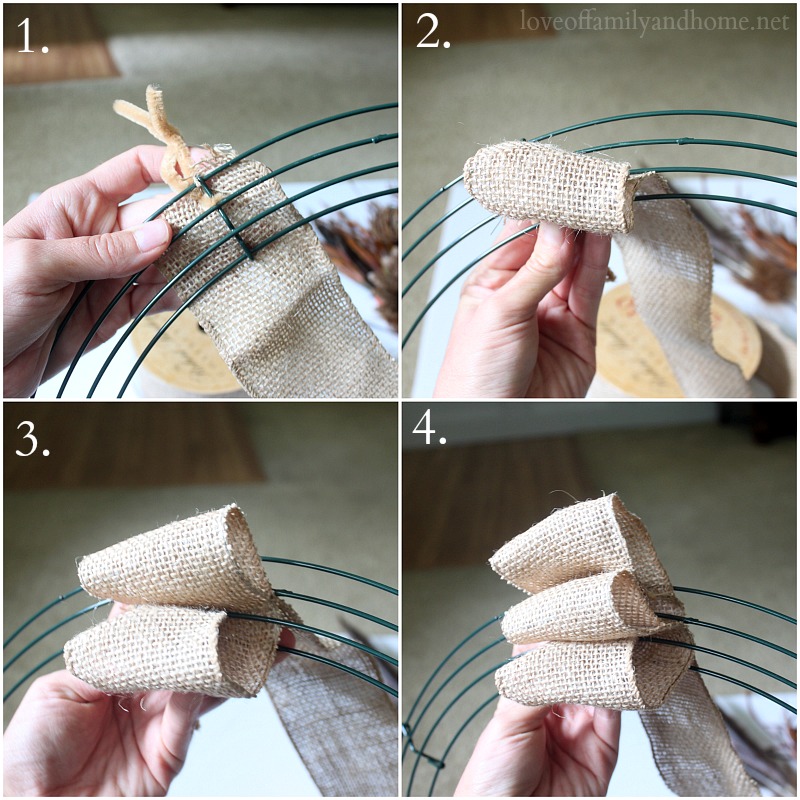 Then, you will basically repeat these steps all the way around the wreath form. After you complete each row, push it over to make room for the subsequent rows. The wire wreath form is divided into sections. I always did three rows of loops in each section. This kept the loops tight within the wreath form & ensured that they wouldn't fall out.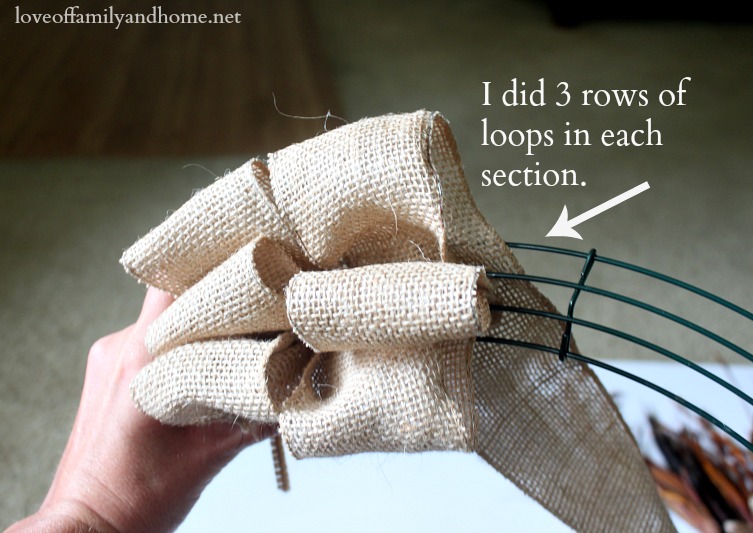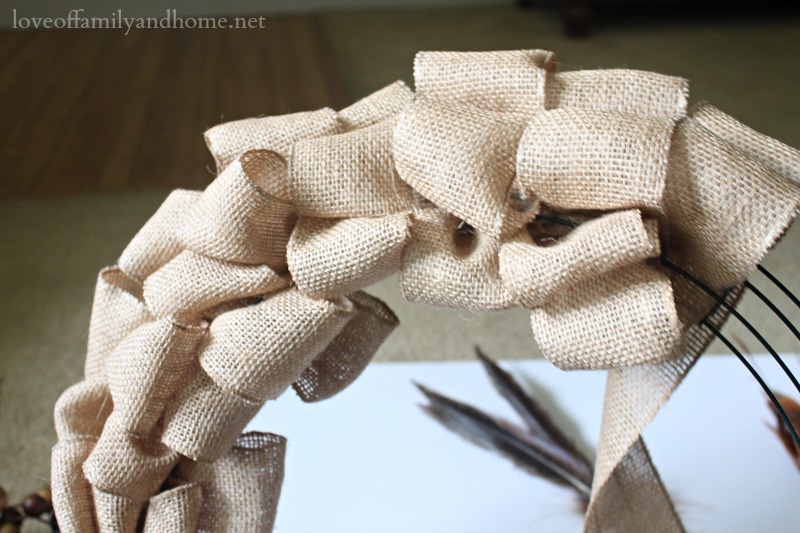 I spool of burlap ribbon I was using, was 10 yards (or 30 feet) long. It got me about 3/4 of the way around the wreath form & then I ran out. I had picked up a black chevron burlap ribbon to possibly add as a bow when the wreath was finished, but because I was out of the plain burlap, I decided to improvise. I attached the chevron burlap ribbon (again, using a pipe cleaner) & started looping it inside the openings of the wreath form until the wreath was full.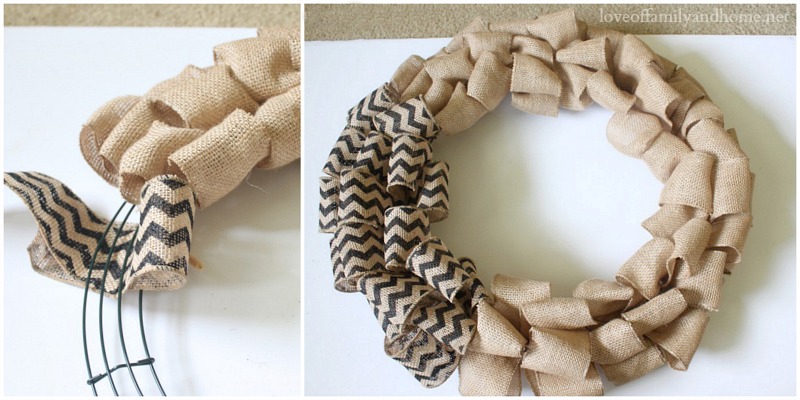 I decided that instead of adding a chevron bow, I would just have some black chevron ribbon loops instead! It actually worked out perfect! Looking back, I think a full size bow would have been too much anyway!
Then I began adding my fall picks to the wreath. Using some jute twine, I tied the picks to the green wire wreath form.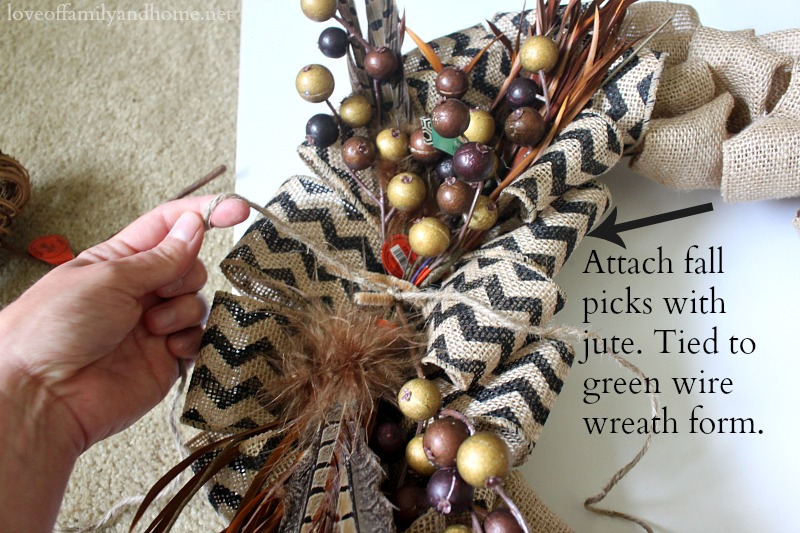 Then I just used a little bit of hot glue to attach the other adornments.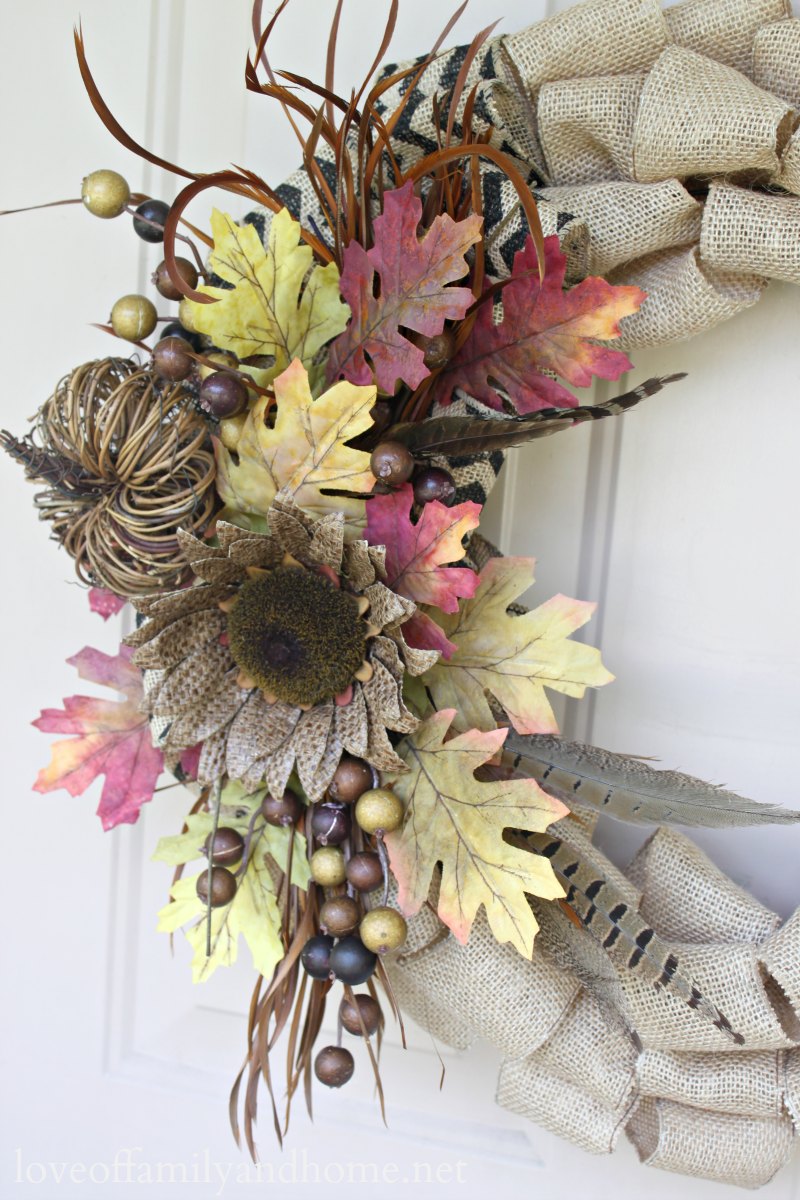 I LOVE how quickly this wreath came together & I pretty darn smitten with the results too! 🙂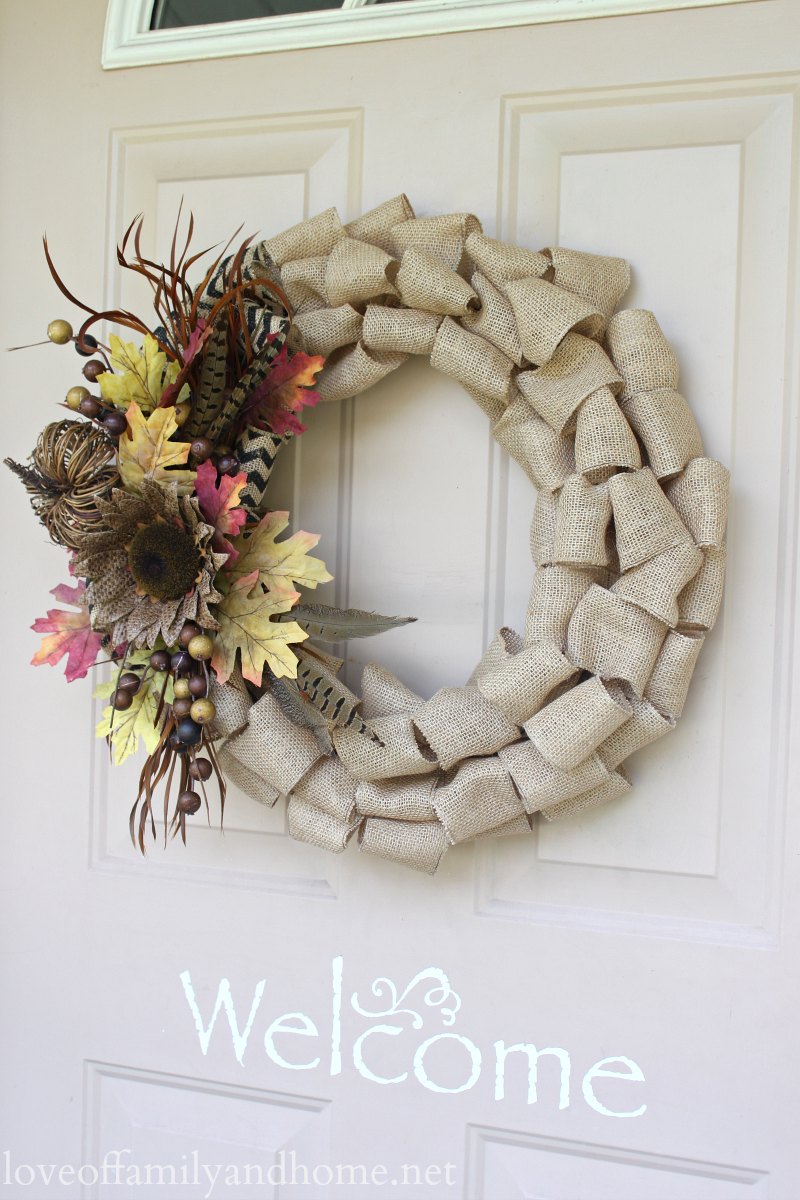 I think this little twig pumpkin & the feathers are my favorite!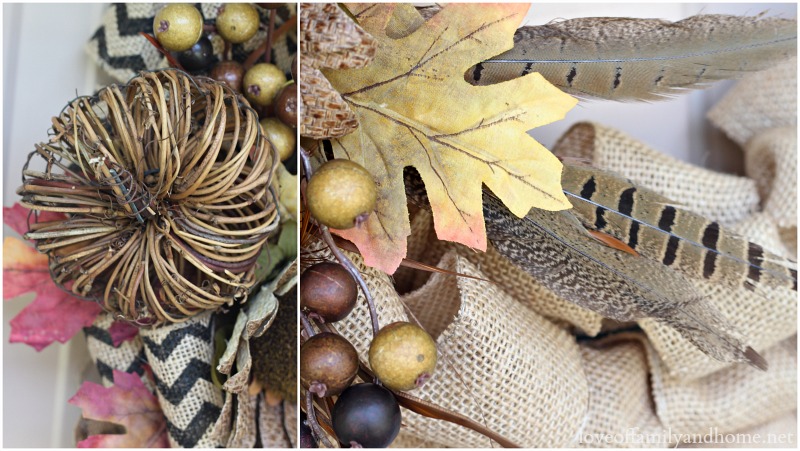 So, that's it! Pretty easy, right?!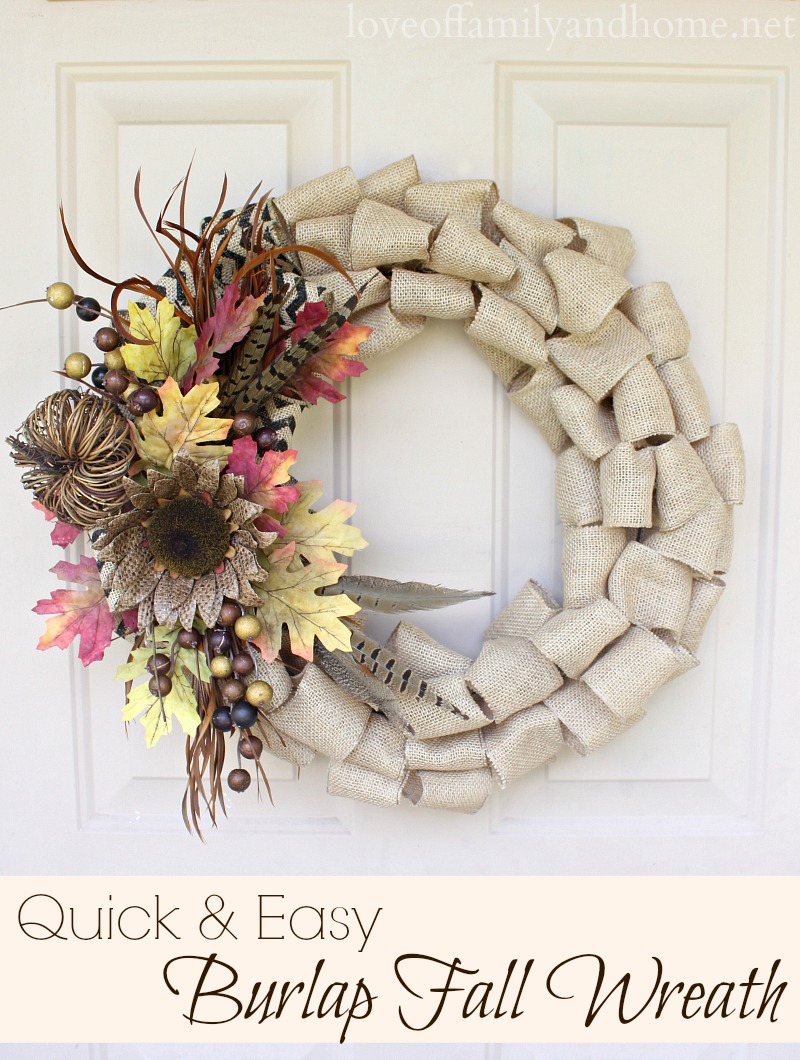 Have you made a fall wreath for your door this year?! 
Are you the type that usually makes a wreath or do you just go out & buy one instead?
As always, thanks so much for stopping by!
I hope you have a wonderful Wednesday!!
Linking up here…
Tutes & Tips at Home Stories A to Z
Fall Crafts Party at The Lettered Cottage
Transformation Thursday at The Shabby Creek Cottage
Fall Outdoor Decor Link Party at Southern Hospitality
Link Party Palooza at Tatertots & Jello