Happy Friday Y'all!
I'm so excited to FINALLY be sharing our Fall Porch with you today!! 🙂
You see, I was planning on sharing this space with you weeks ago……but after a little bit of traveling & a whole lot of procrastination, I kind of had to start all over!
About a month ago, I went and bought a few pumpkins & a few mums. I spruced up my chalkboard with new fall saying….compliments of Nest of Posies.  (If you want a tutorial on how I transfer the printable onto the chalkboard click HERE.) I had things looking pretty festive, and it was almost "Blog Ready."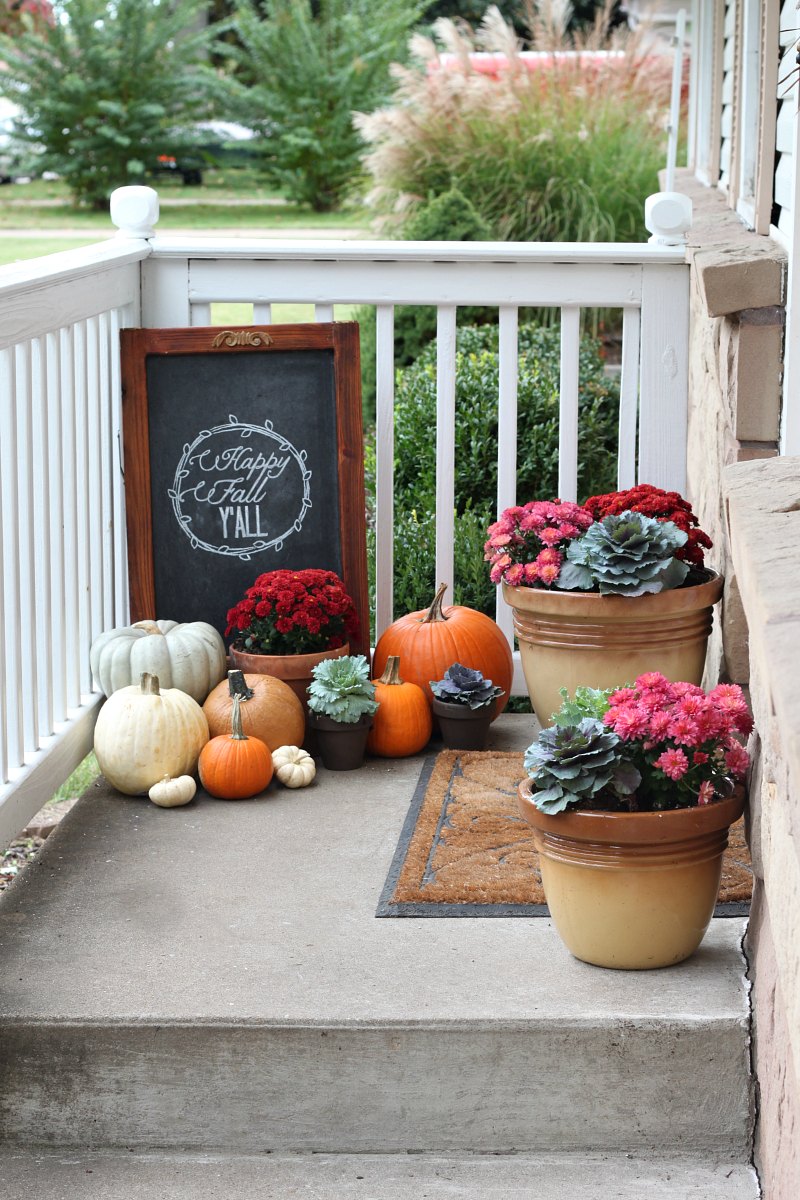 Then I went out of town…..TWO WEEKS IN A ROW. 
First, I went to Indianapolis for the Influence Conference. I was gone for four days, came home….caught up on a few things around the house & then turned around & hopped on a plane to Denver, for an infection control conference….for my other job!
Let's just say that my poor mums didn't get any attention while I was out of town.
And to be honest, they didn't get any attention in the few days that I was home either.
Needless to say, when I got home from Denver, they were looking a little dried up.
I still wanted to take pictures of my porch & share them on the blog, but the way things were looking….my mums were gonna need some serious TLC.
So I watered them….GENEROUSLY. Then I began picking all of the dead blooms off. But, I think I may have underestimated just how dry the mums actually were, because while I was picking….I kind of amputated one of the mums. That's right….and entire section of the mum broke off.
So I had dried up, deformed mums….definitely NOT blog worthy….and I doubt anyone would have pinned them to Pinterest! 😉
That's when I knew it was hopeless. I decided to throw in the towel & just go buy some new flowers!
However, there was one positive thing that came out of my procrastination….turns out that when you wait to buy mums at the end of October, you can get them really cheap!  I scored all of the mums for the front porch for just $1.40 a piece!! Woot woot! 🙂
I decided to jump on the ornamental cabbage bandwagon this year & add them to my fall planters. I really like the way they turned out. The cabbage adds so much! I love the green & purples hues. The texture is really nice too! 🙂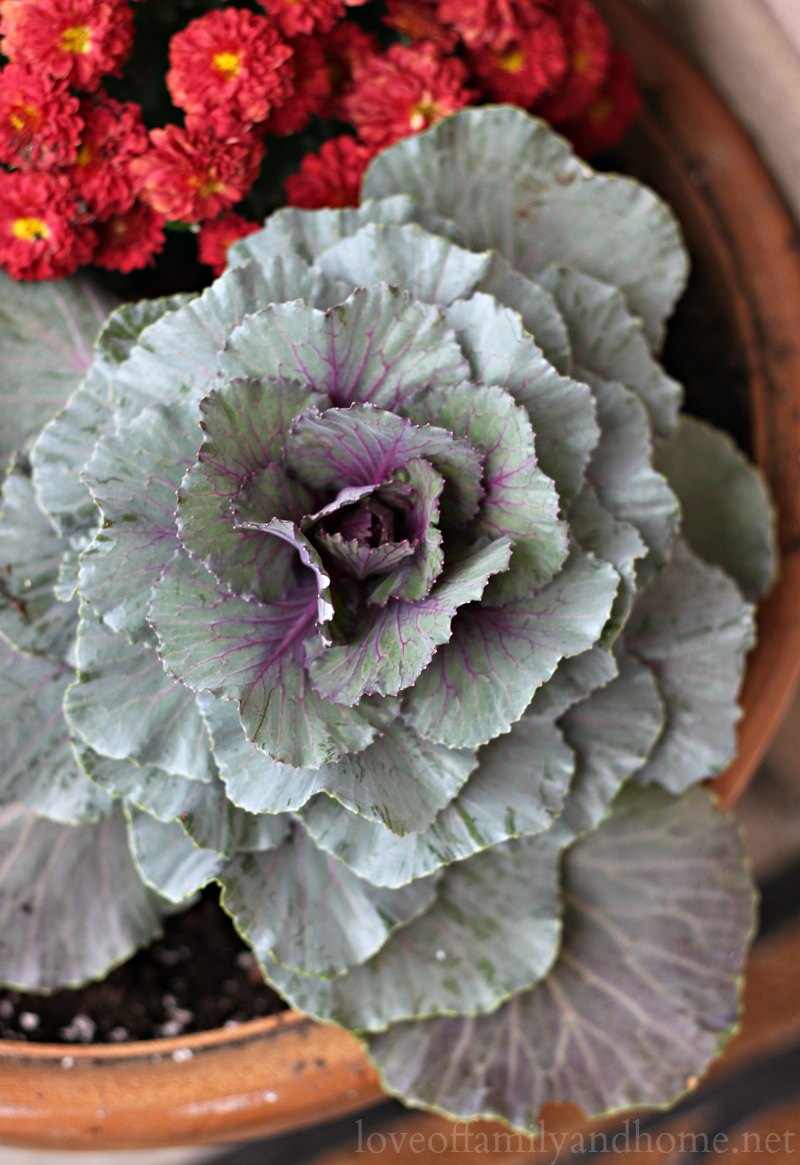 And as much as I wanted to stick with traditional fall colors outside, I just could pass up these "Flamingo Pink" mums. Seriously, how pretty are these?!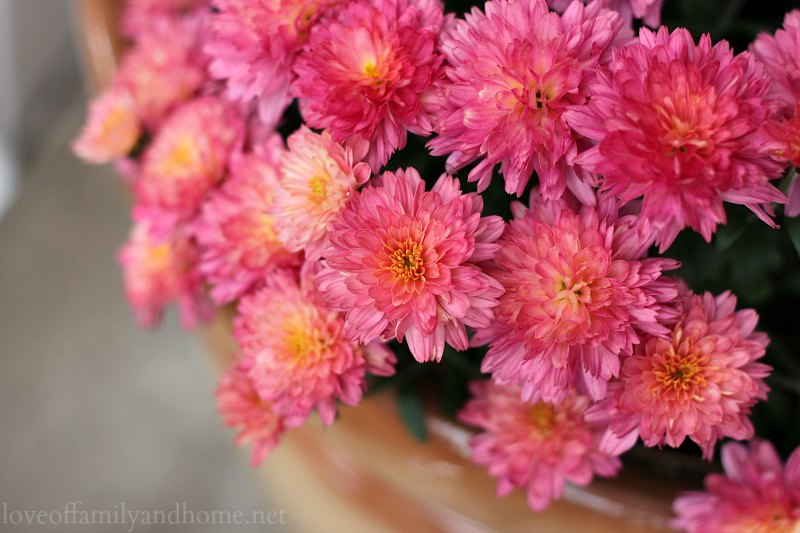 This little chalkboard was a Kirkland's find. I picked it up this past spring. I just love using it on our porch. It makes the whole space cozy & inviting. Again, the chalk art is compliments of Nest of Posies. I just transferred her image to the chalkboard.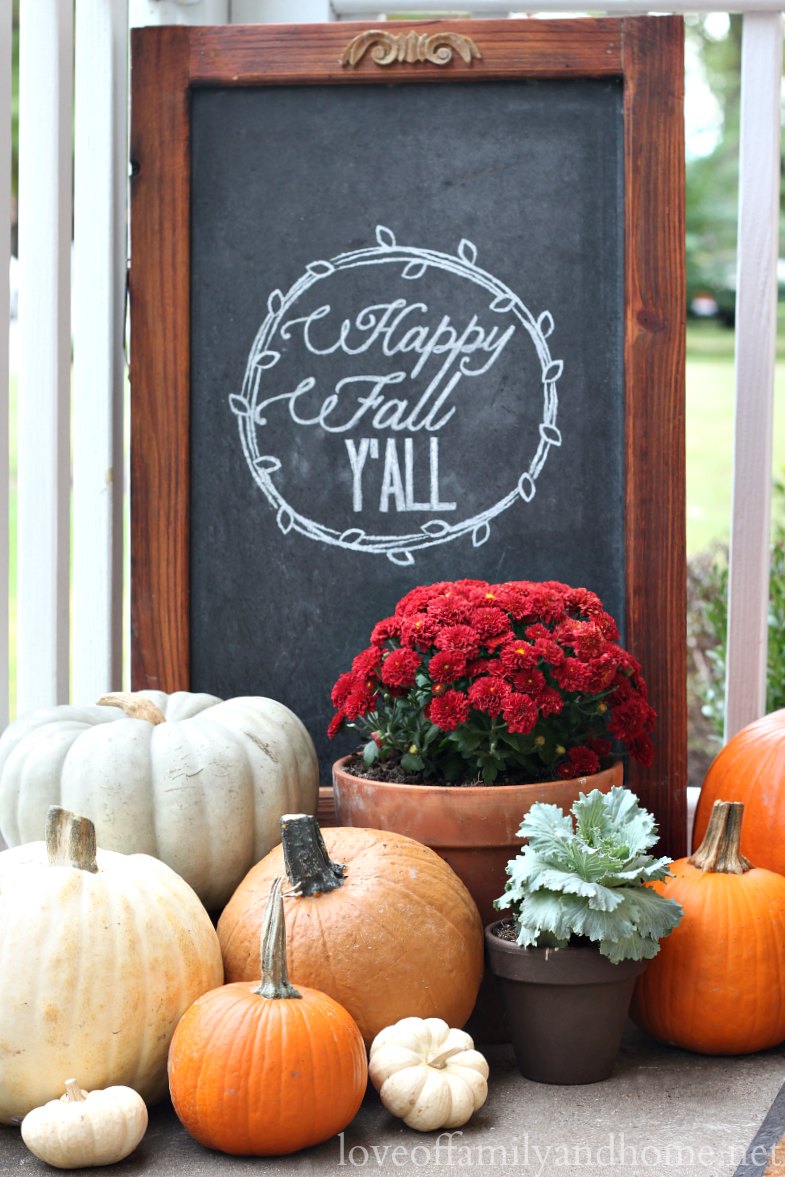 More mums….more cabbage! LOVE!!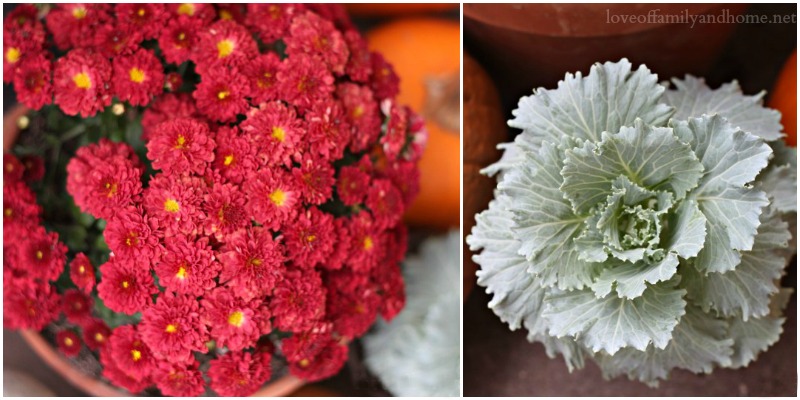 And since I got such a great deal on the mums, I decided I might as well pick up a few more pumpkins too. I love this Cinderella pumpkin….it's my favorite!
You can catch a glimpse of my Burlap Fall Wreath in this photo. I shared the tutorial for it several weeks back. You can check it out HERE.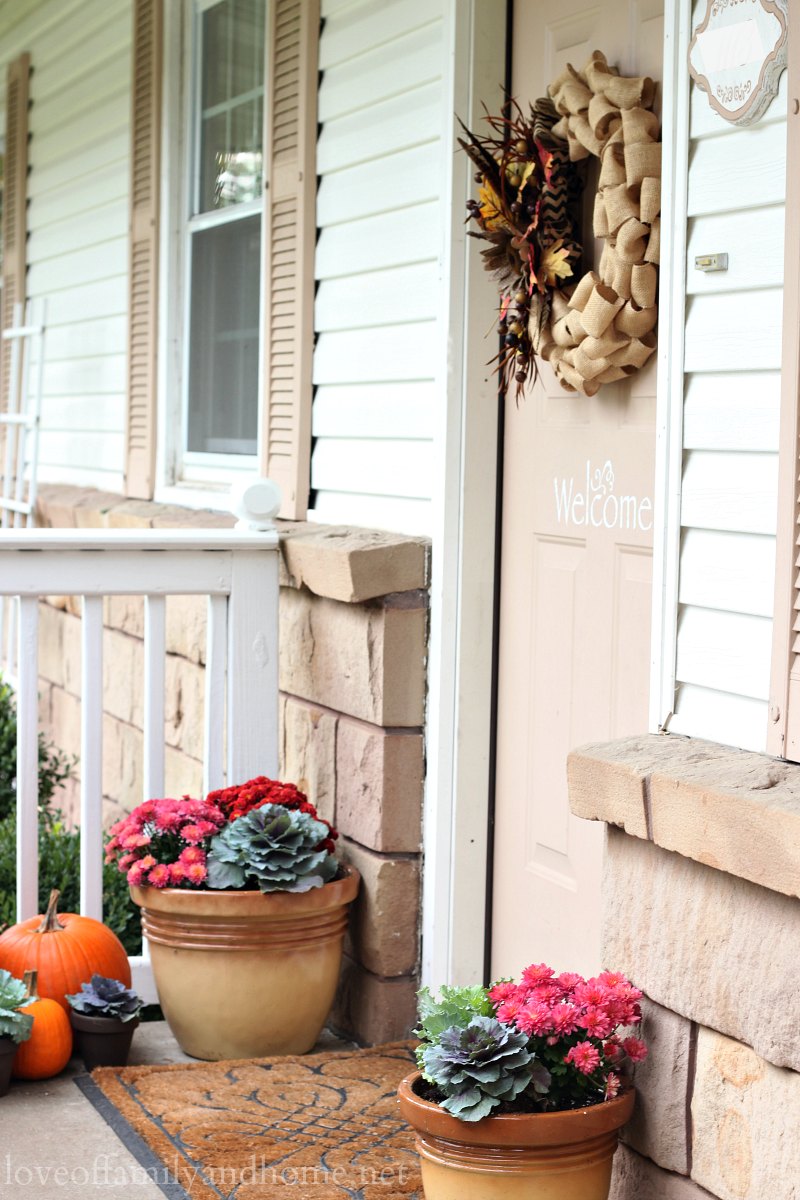 Another look at my chalkboard….because I'm absolutely SMITTEN!! I may or may not have taken 50 photos of it! 🙂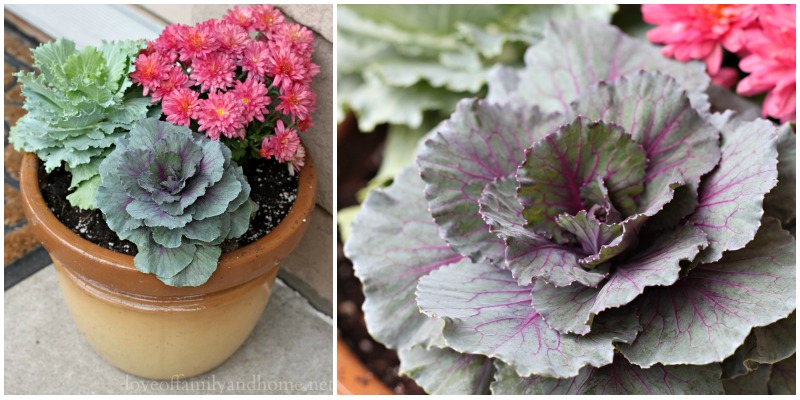 Here is a look at the space as a whole. It's not a very big porch, but that doesn't mean I don't try to make the most of every square inch!  You just gotta work with what you have, ya know?!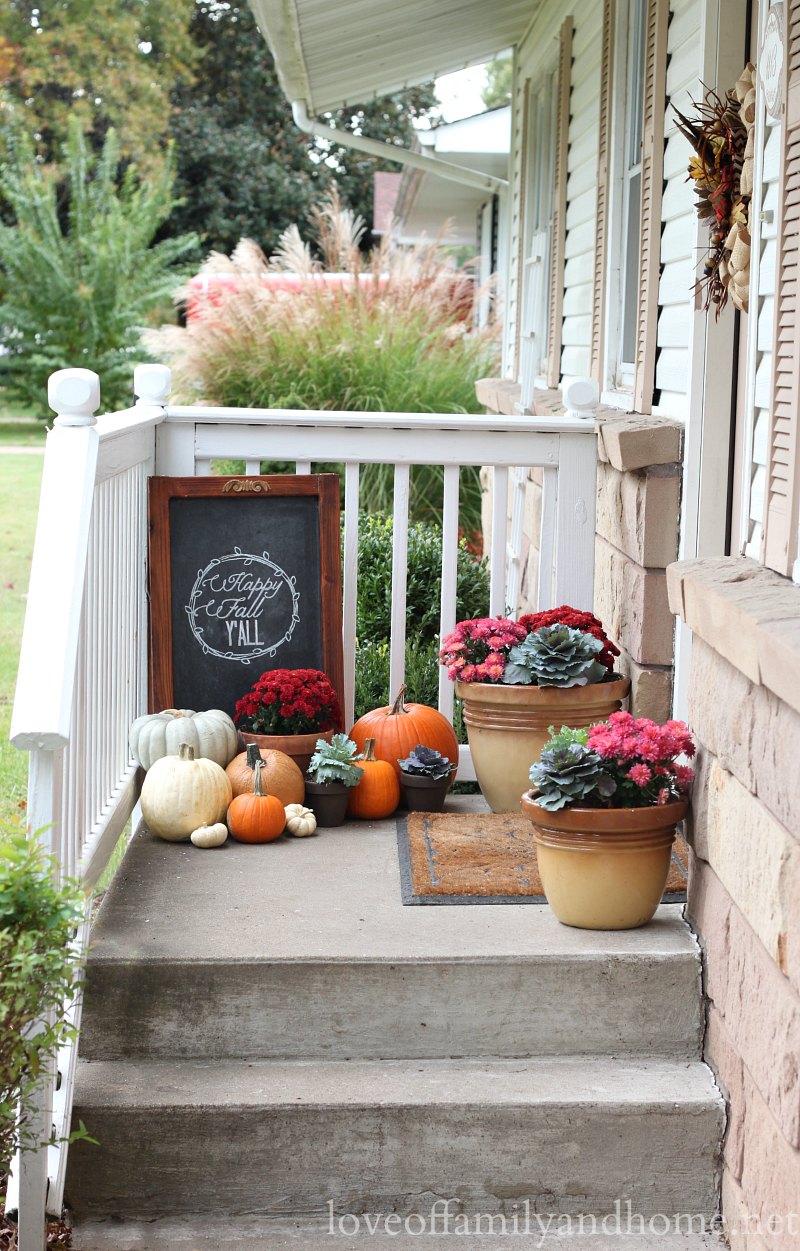 And that pretty much wraps up the tour!!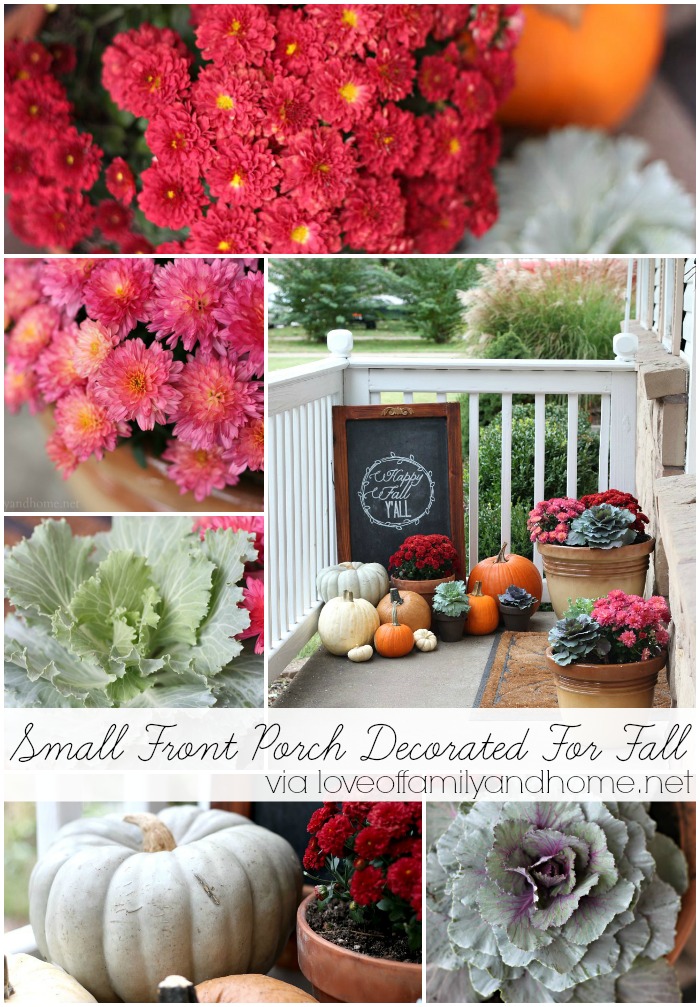 If you're a blogger & you done some fall porch decorating of your own, I would love to check out your space!  Leave a link to your post in the comments section below!
If you aren't a blogger, but would still like to share photos with me, feel free to do so on my Facebook Page! I love interacting & chatting with my readers there!!
You could also snapped a photo on Instagram & tag me! I am @loveoffamilyandhome
As always, thanks so much for stopping by!!
Linking up here…
Link Party Palooza at Tatertots & Jello
I hope you have a wonderful weekend!!