3.3K Flares
3.3K Flares
×
Hey Friends!  Happy Tuesday to all of you!
I wanted to drop in today & share with you a project I completed a couple weeks back! I've been slowly, but surely marking things off our to-do list for the back deck. If you've been reading this blog for a while, you may remember the makeover we did a few years ago & how we added the pergola. The following year we bought some new patio furniture for the area around our outdoor fireplace…..which I never got around to blogging about. This year I convinced my hubby that I needed a new dining table & chairs to match! In between running a business, running a household, and living at the ballfield I MIGHT just have our deck summer ready by August! 😐
First thing on the to-do list was to clean the cushions that go on our outdoor furniture. I don't know about you all, but we are kinda terrible about leaving our cushions out. We were extra terrible this past year & left the cushions out for the ENTIRE winter! ( Sigh 🙁 ) Which is probably why they looked like this at the beginning of the season.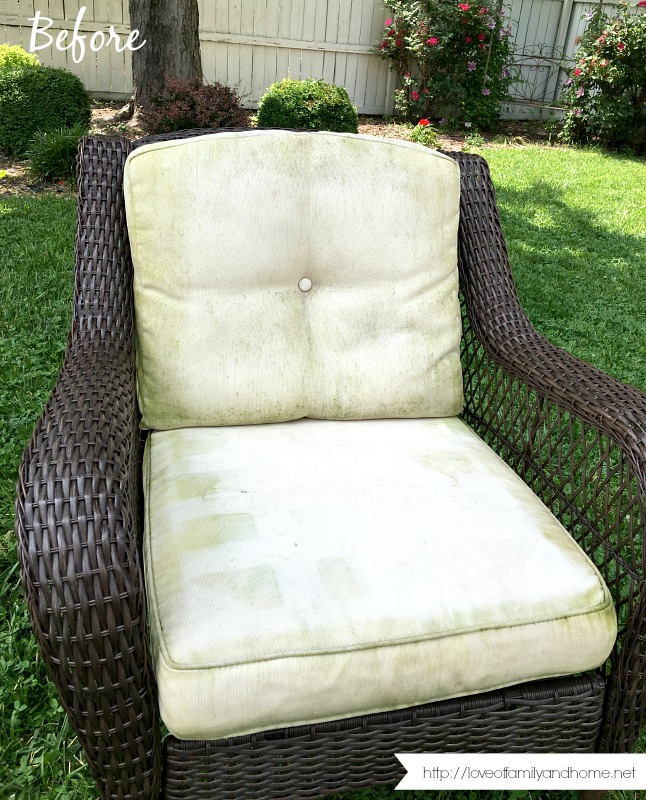 My once beautiful off-white cushions had become a lovely shade of mildew green. Yuck!!
One evening while searching Pinterest, I stumbled across this tutorial for how to remove mildew stains from outdoor cushions, and thought I would give it a whirl. The blogger who shared the tutorial seemed to have really good success and I was all about not having to buy new cushions! I had priced them at a few different places and was going to need to spend a small fortune. One cushion was going to cost me $40-$50. YIKES!
First step, thoroughly hose down your patio cushions!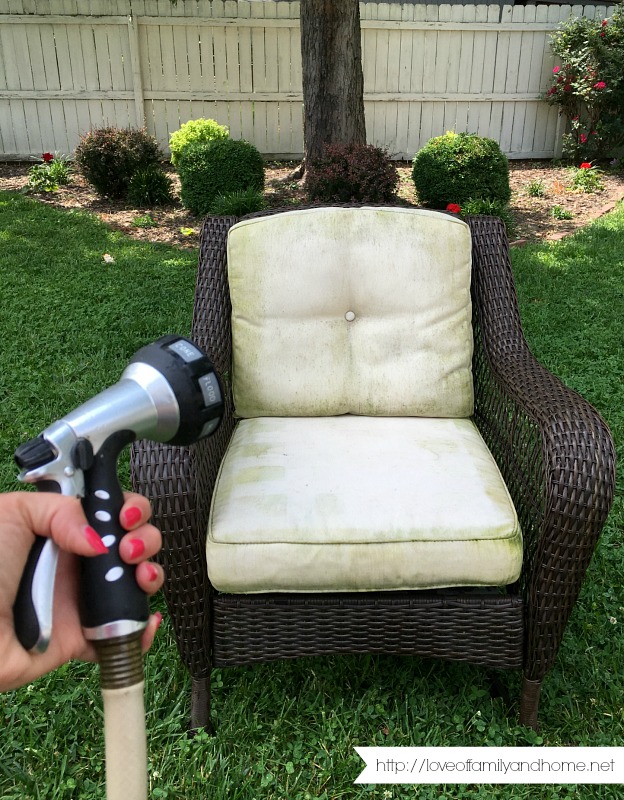 Next step, BLEACH! I took a water bottle & filled it about 3/4 of the way full of bleach & filled it the rest of the way with water.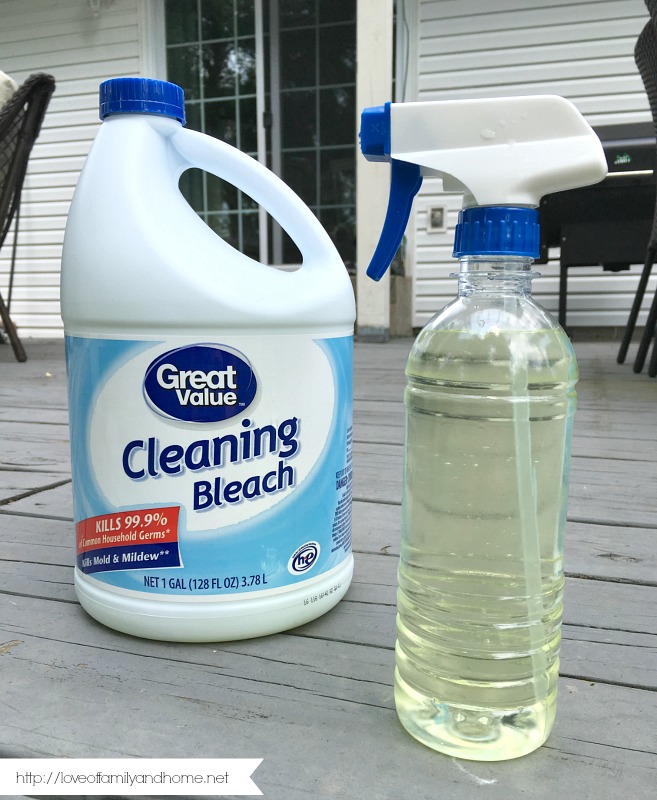 Then I sprayed the cushions down thoroughly with the bleach solution. Heavily saturating the areas where the mildew stains were. Then I let the cushions set for about 10 minutes with the bleach solution on them.
After 10 minutes had passed, I once again, took the hose to the cushions and rinsed them out. The cushions were already looking a TON better. Then I took a bar of Fels Naptha and rubbed it all over the cushions.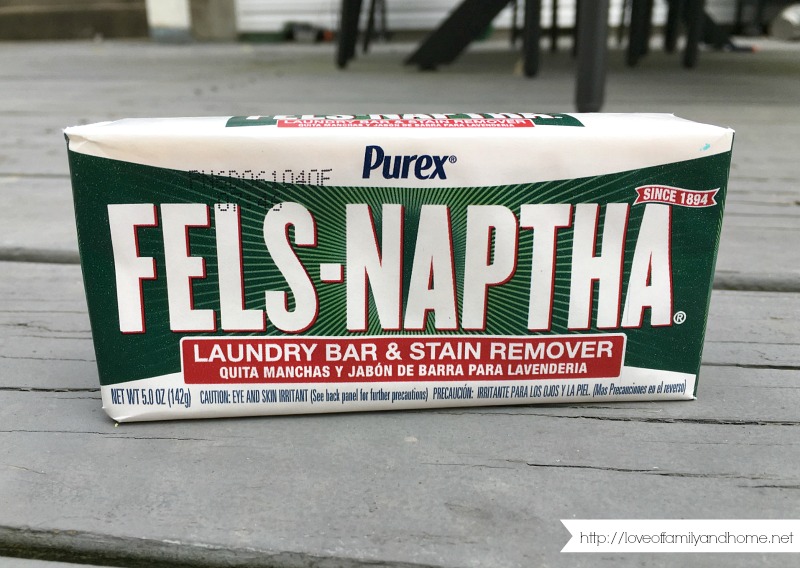 You could use a brush for this part, but I didn't find it necessary. I just took the bar and covered every inch of the cushion with it. Then, once again, took the hose & rinsed the soap out.
This is what the cushions looked like when I was finished….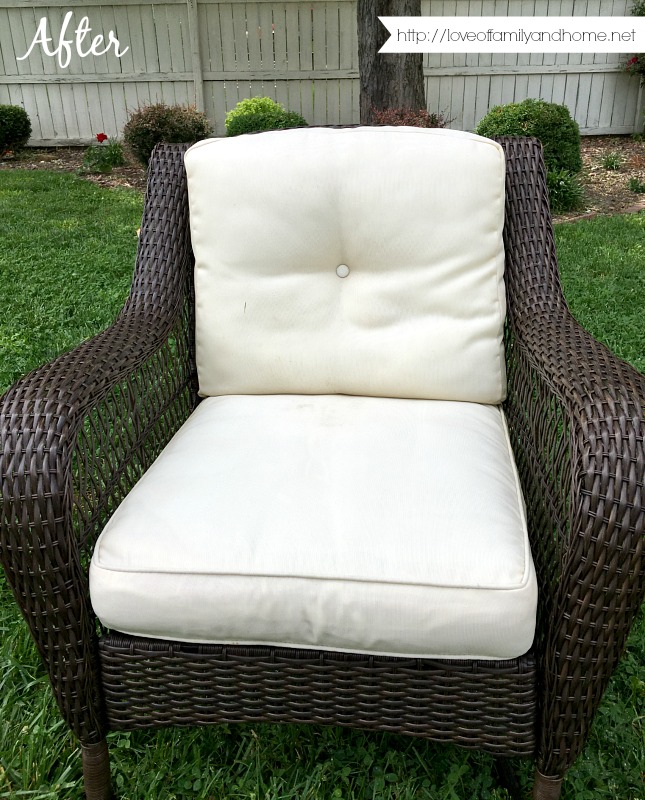 I repeated those same steps on our other chair & the loveseat you see pictured here.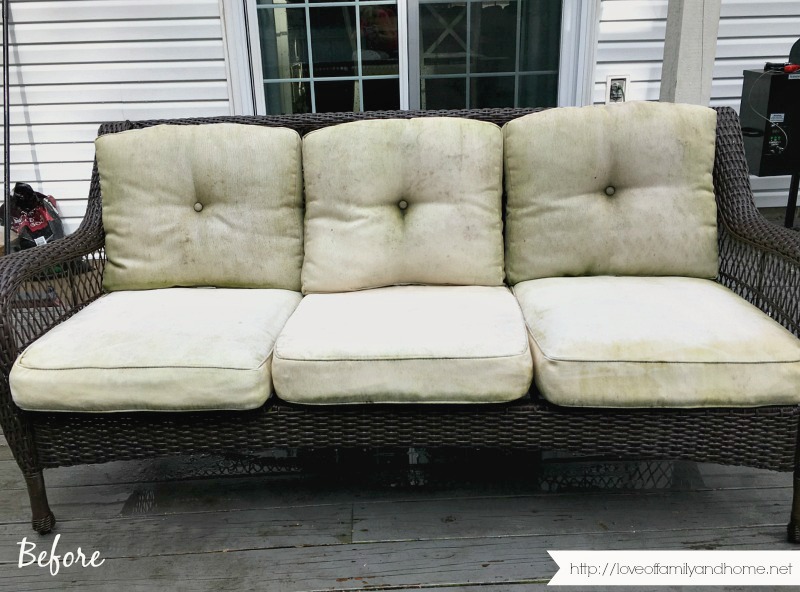 Pretty amazing results!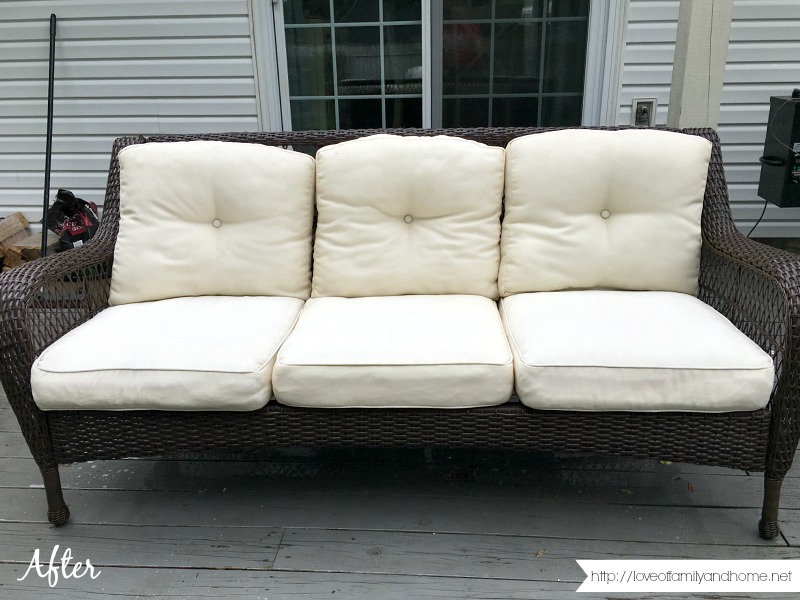 The tutorial also recommended spraying the cushions down with a scotch guard spray for outdoor cushions. I haven't done that yet, but plan to in the very near future. I am also vowing to buy one of those deck boxes this year to store our cushions in when they aren't in use. I'd like to prevent myself from having to repeat this process over & over each year. I also know that storing them will prolong the life of our cushions & prevent us from having to replace them every couple of years!
For now, I am so glad that I stumbled across this tutorial! If any of you are like me & are desperate to bring your outdoor cushions back to life, give this a try! In a matter of one afternoon, I had my old patio cushions back!

I have a few more things that I am wanting to get done on the back deck & hopefully I'll be able to get them completed soon! I'd love to share some updated photos of our outdoor space with you very soon! Even more so, I hope that we can slow down enough this summer to where we can actually enjoy the space too!
I hope you all are having a wonderful summer so far!
Talk to you again soon! 😉