Hey Friends!!
Long time no chat.  Am I right?!
I'm so excited to be dropping in today! Since opening the store, I've had a hard time keeping up with this little ole blog. Although I'm loving every minute of being a business owner, I definitely miss blogging. Lately, I've been missing it even more than usual. I'm gonna try to get back to a somewhat "normal" blogging routine. That might mean one post once a week, or it could mean one post every two weeks. Time will tell. What I do know? I'm going to make a better effort.
I wanted to share with you a quick DIY project I completed for our local Relay for Life event. Our relay is coming up on June 3rd and all parties are busy working & raising money for a great cause! I was asked to paint an adirondack chair which will soon be auctioned off. All money raised by the auction will be donated to the relay. Here is my quick & easy, spray painted adirondack chair!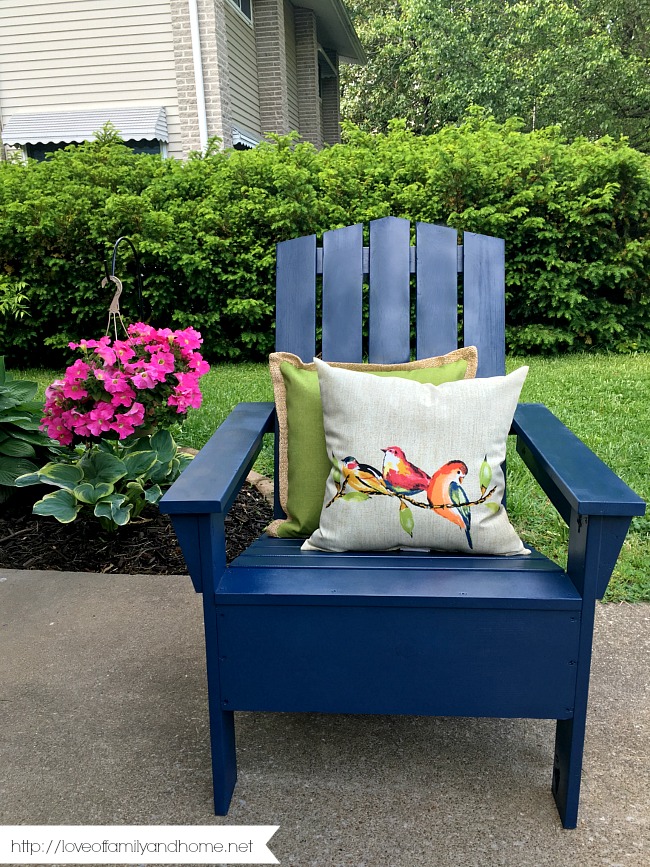 When I was given this blank slate, I began brainstorming and trying to come up with ideas. Like usual, I hit up Pinterest for inspiration. Here's the thing. Most of the really creative, painted adirondack chairs are done be some really artsy people. I stumbled across all kinds of chairs with hand painted designs on them. And if I'm being honest….I'm not artistic in that way. Like I'm definitely not gonna just freehand a gorgeous mural on the back of a chair. Not gonna happen!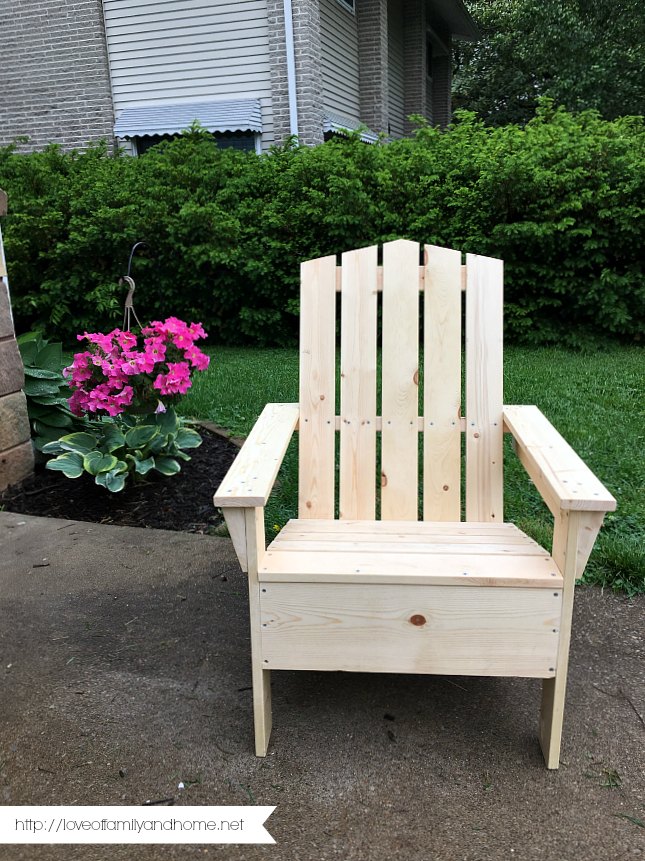 The thing I did find on Pinterest, was that the chairs that appealed to me the most were just painted a solid, vibrant color. So, that's what I decided to do! I went to Lowes to grab my favorite spray paint!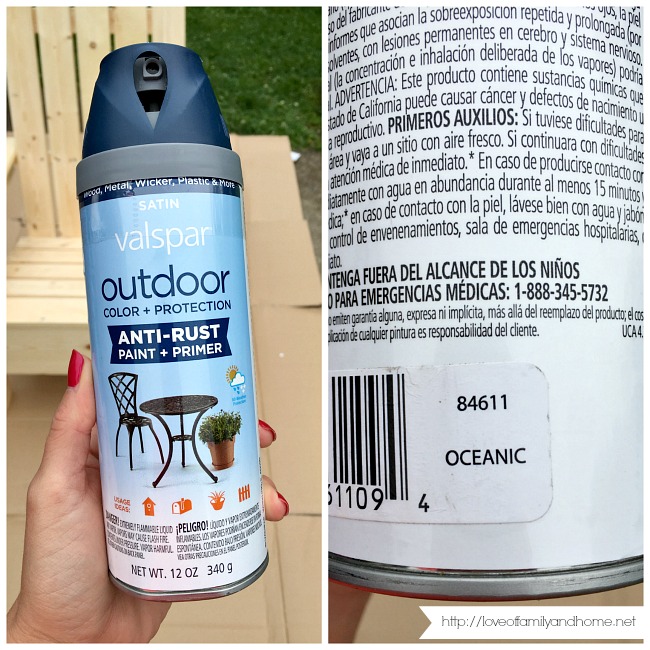 I absolutely LOVE this Valspar spray paint! Not only does it cover extremely well, it also has an easy spray trigger/nozzle at the top! I used this same spray paint to create these gorgeous centerpieces for Mother's Day a few years back and also used to to spray paint the lockers in my boys' shared bedroom.
I went with the color "oceanic" as you can see above. The color was chosen after I picked out these beautiful throw pillows for the chair. I thought the dark navy would compliment them well. The pillow with the birds was a lucky Walmart find for $5.00 and the solid green pillow is from Big Lots.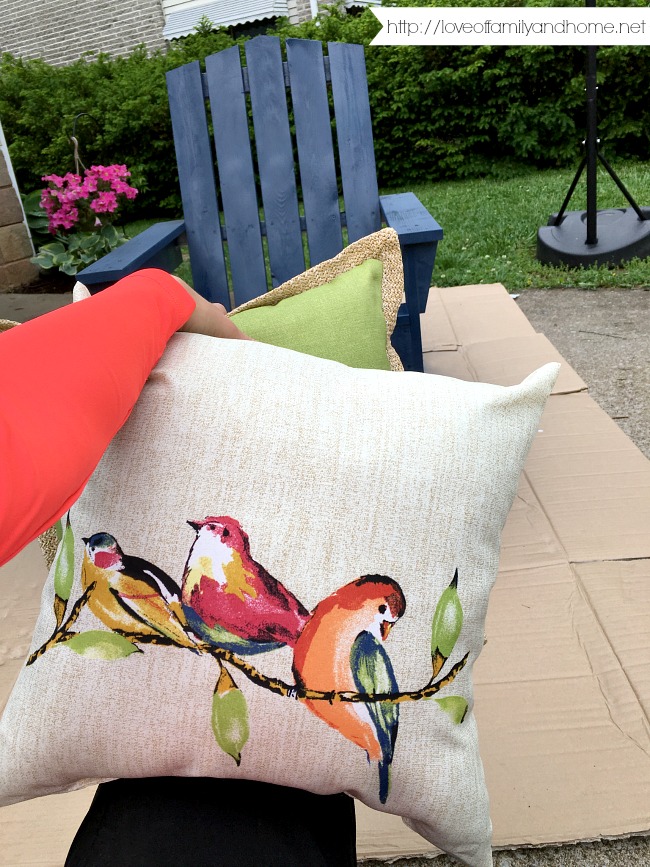 This was the chair after just ONE coat of the spray paint. I was able to fully coat the chair (with the exception of the bottom) with just one can of spray paint. Seriously, GREAT coverage!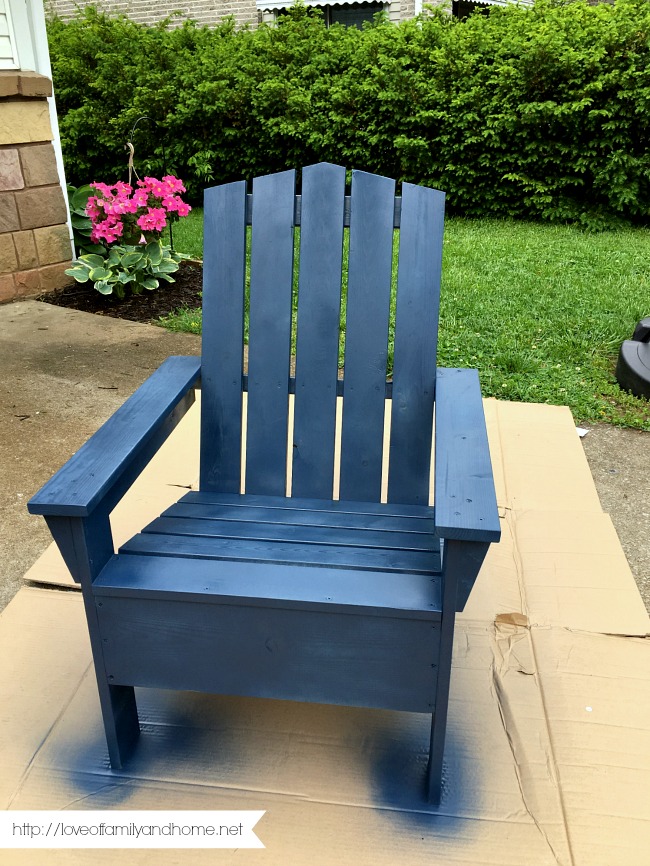 I followed the recommended drying time on the can and then flipped the chair over to spray paint the underneath.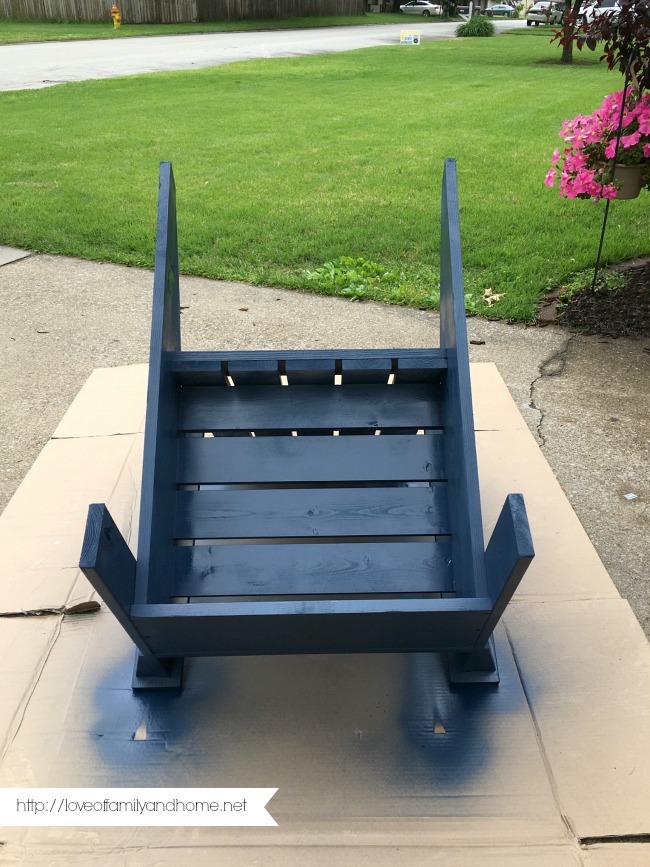 After that dried, I flipped the chair over and gave it one more coat top & bottom. I used almost 3 full cans of spray paint total. Then I did what a blogger does……I took some beauty shots of the finished product! 🙂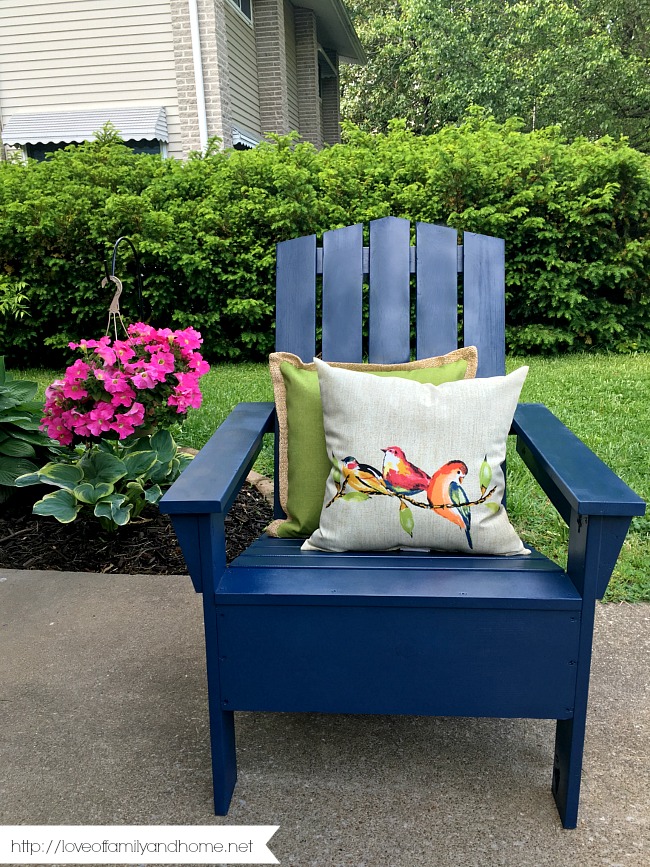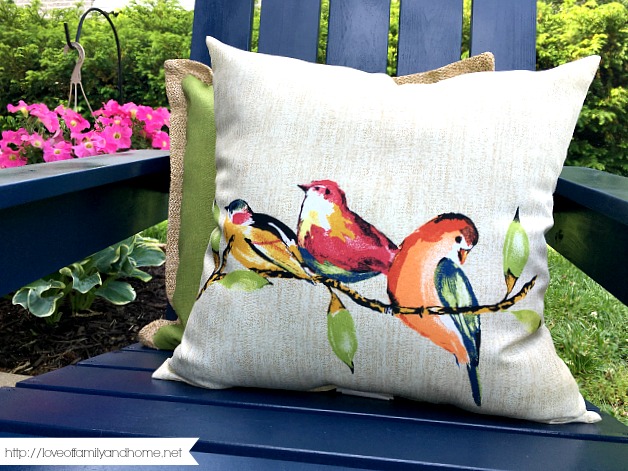 LOVE!!
This was such a quick & easy DIY project! Whether you are painting a new, unfinished chair or refurbishing an old one, you can have a gorgeous, vibrant chair of your own in a matter of a few hours! It really is amazing what a couple cans of spray paint can do! 🙂

Thanks so much for stopping by today!
I hope that we'll be chatting more often!!
Have a great day y'all! 🙂