Hey Friends!!
Happy Tuesday!! I hope you all had a wonderful Mother's Day weekend!
This past Saturday our church hosted a Mother's Day brunch and I had the privilege of making/providing the table decor.  I was pretty much on my own with the project, so I needed something simple. At the same time, the church didn't want to spend a lot of money on table centerpieces, so I also needed to be thrifty.
BUT…. because I am ME…… I NEEDED them to be pretty! 🙂
So, here is what I came up with…..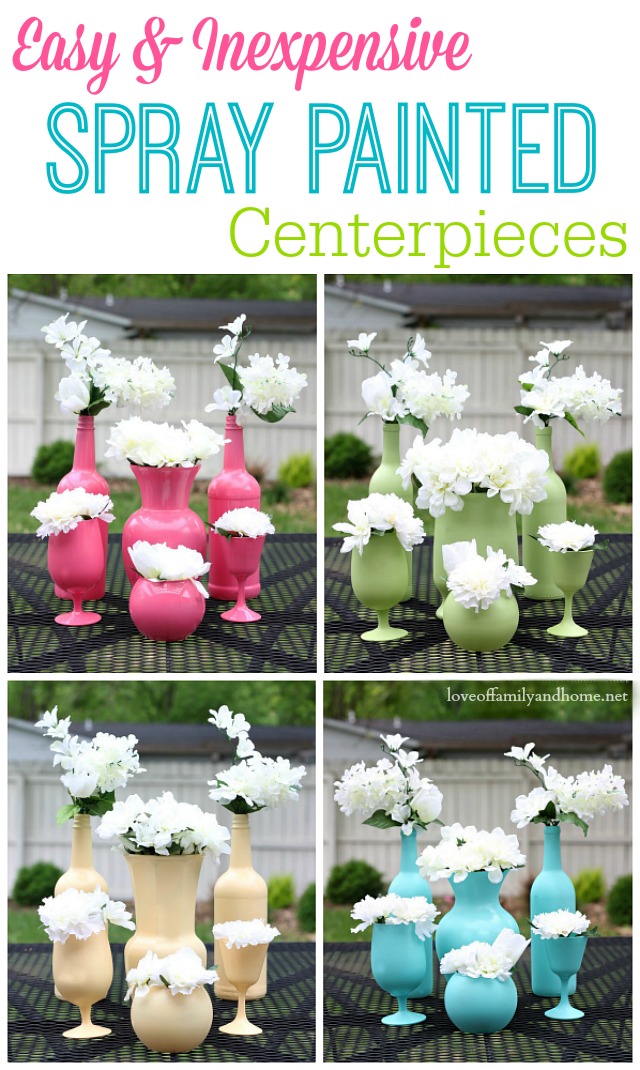 Cute, right?!
Today, I thought I'd show you how I made them! Sound okay?!
The first thing I did, was head to Lowes to check out their spray paint selection. I needed 8 centerpieces in total, so I decided to go with 4 different colors, allowing me to make 2 centerpieces in each color. I knew that I was going to stick with white flowers, so I wanted the vases to be bright & colorful. These colors were so springy!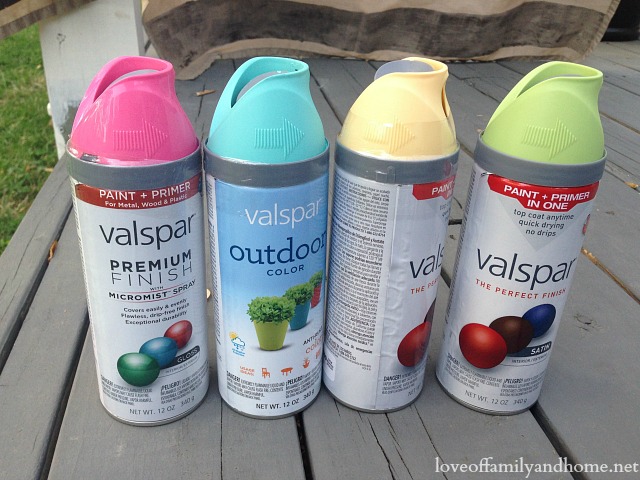 Just a little side note…this was the first time I had ever used the Valspar brand spray paint and I have to say, I was really impressed with it!  As you can see in the photo, the paints are a paint + primer in one. They covered really well! The can also claimed that the spray paints had a "drip free" formula. If you've ever spray painted before & went a little too heavy with a coat, you know that drips can be a total pain! I experimented a little bit on some of the glassware & went a little heavier with some coats, and NEVER had any drips! Needless to say, I'll definitely be using Valspar spray paint again! 🙂
After I found my color palette, I needed to find glassware. My dad is retired, but works part-time at our local Elks Lodge. He does all of the cleaning there. I had him scope out the trash to see if he could find me some wine bottles. As luck would have it, he dropped off an entire box of empty bottles to me the next day!! SCORE!! 🙂  I used two wine bottles in each centerpiece. The rest of the glassware was a mixture of vases I found at Goodwill and/or The Dollar Tree.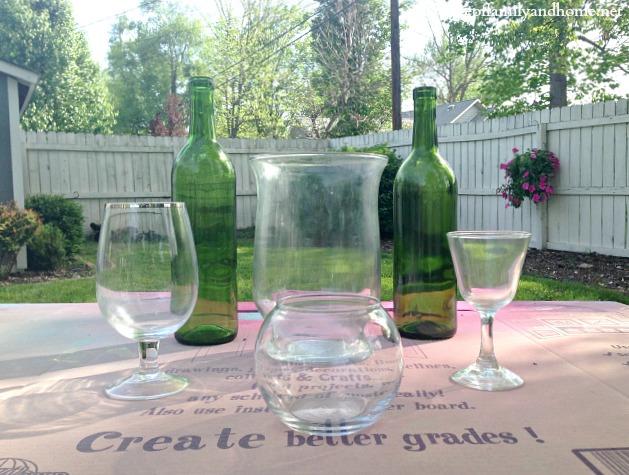 I gave each centerpiece 2-3 coats of spray paint and let them dry well.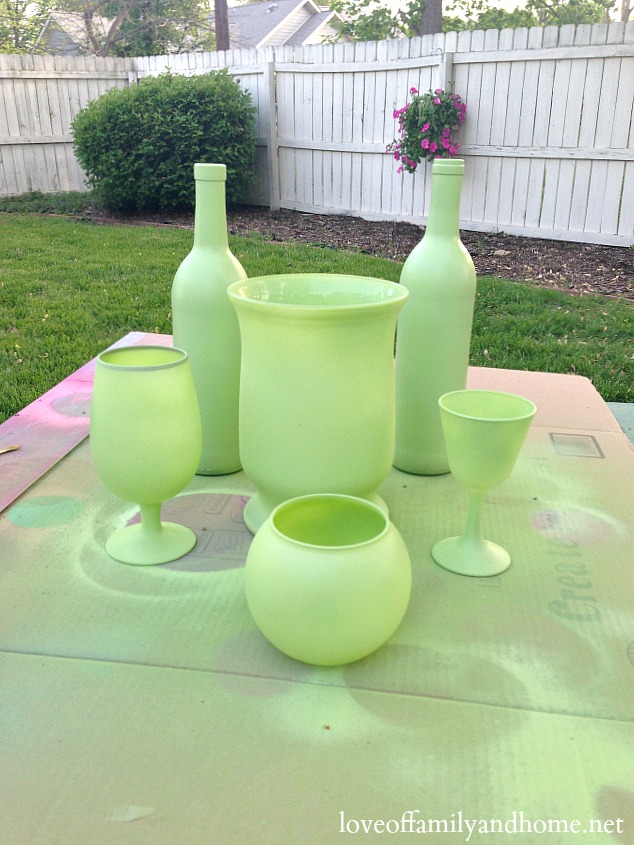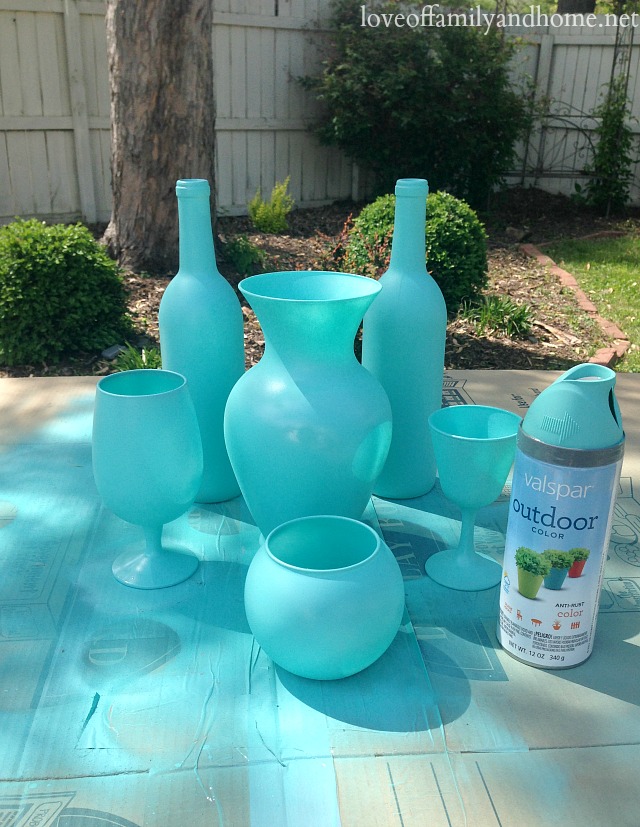 Even before I got the flowers inside the vases, I was loving how they were coming together!  The colors looked so pretty together!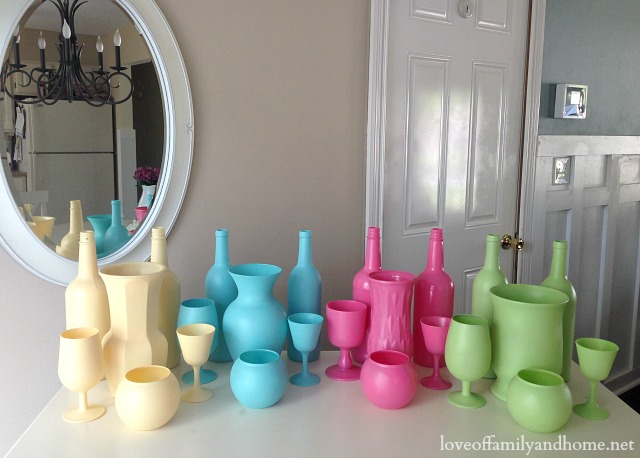 Because we were on a budget, I had to go with artificial flowers for the vases. To my surprise, I was able to find some really pretty artificial white flowers at The Dollar Tree. I was able to buy them in bushes, which gave me 7-8 stem on average for only $1.00! Talk about a deal! But, because they didn't have enough flowers to fill the number of vases I had, I also had to buy from Big Lots, Dollar General, & Walmart. The largest part of my budget when toward flowers. All in all, I was able to buy all of the glassware, spray paint, & flowers for 8 tables for right around $100. That put me at $12.50 per centerpiece. Not too shabby! 😉
The best part about it was the fact that the centerpieces didn't look cheap at all. They were large enough to really make a statement at each table and although they were simple, they looked quite pretty. There was just something about the all white flowers that made the centerpieces elegant, but the bright, colorful vases kept them fun! I was really happy with how they came together & I received tons of compliments on them over the course of the weekend.  Here are a few shots of each color individually….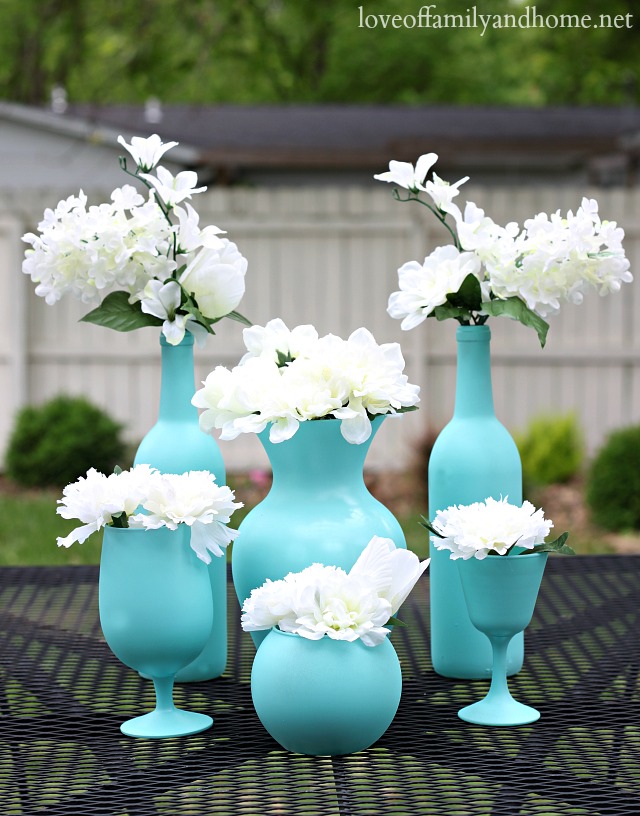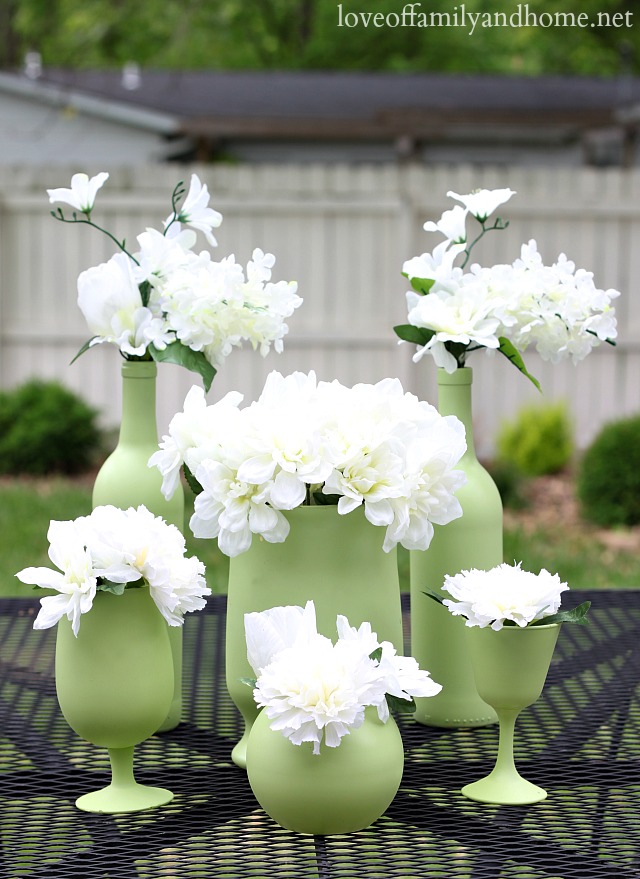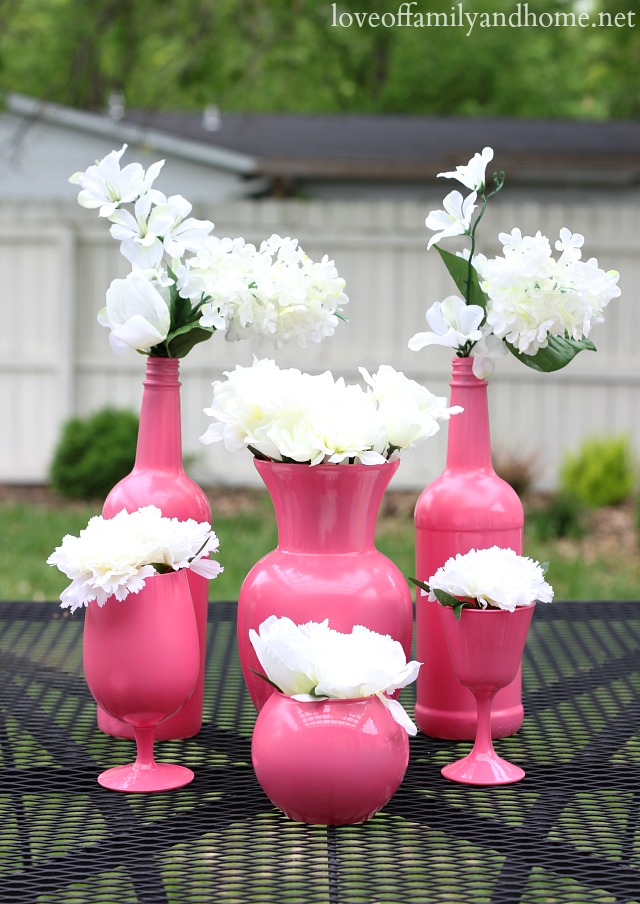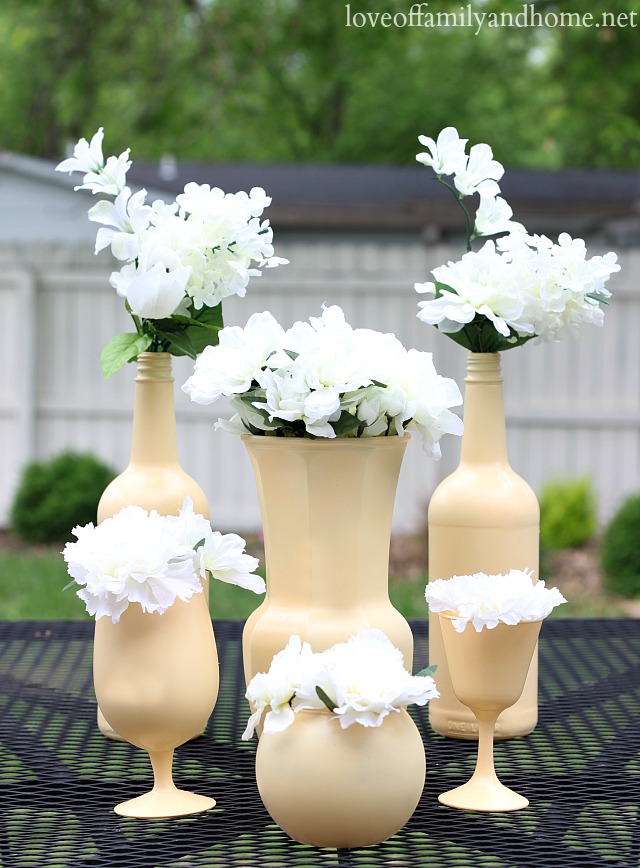 Which color is your favorite?!
So the next time you are looking for centerpiece ideas, definitely consider this project!
Whether it's a birthday party, bridal/baby shower, or even a wedding, these centerpieces are really perfect for any occasion!
What type of easy inexpensive centerpiece ideas do you have?!  I'd love for you to share them with me in the comments section below!
As always, thanks so much for stopping by!!
I hope you have a great day!
Linking up here…
Tutorial & Tips Tuesday at Home Stories A to Z
Wow Us Wednesday at Saavy Southern Style
DIY Projects & Party Time at The 36th Avenue
Link Party Palooza at Tatertots & Jello
Inspiration Gallery at Design, Dining, & Diapers
Sunday Showcase Party at By Stephanie Lynn