Hey Friends!!
How the heck are ya?!
I know it's been a little hit & miss around here lately. To be honest, I probably won't be blogging on a regular basis throughout the summer months. I've decided that I am just going to enjoy the summer with my kiddos as much as possible and I'm not going to worry about or feel guilty if I don't have regular, scheduled blog posts. If I have something to share, then I'll post about it, but I am not gonna be forcing or coming up with blog material for the sake of having posts. Summer vacation always seems to pass faster than I'd like, so I'm gonna try to focus on enjoying the time with my kids & family as much as possible instead.  With that being said, I do have something fun to share today! 🙂
This past Saturday was Parker's 7th birthday and we celebrated…….Cowboy Style!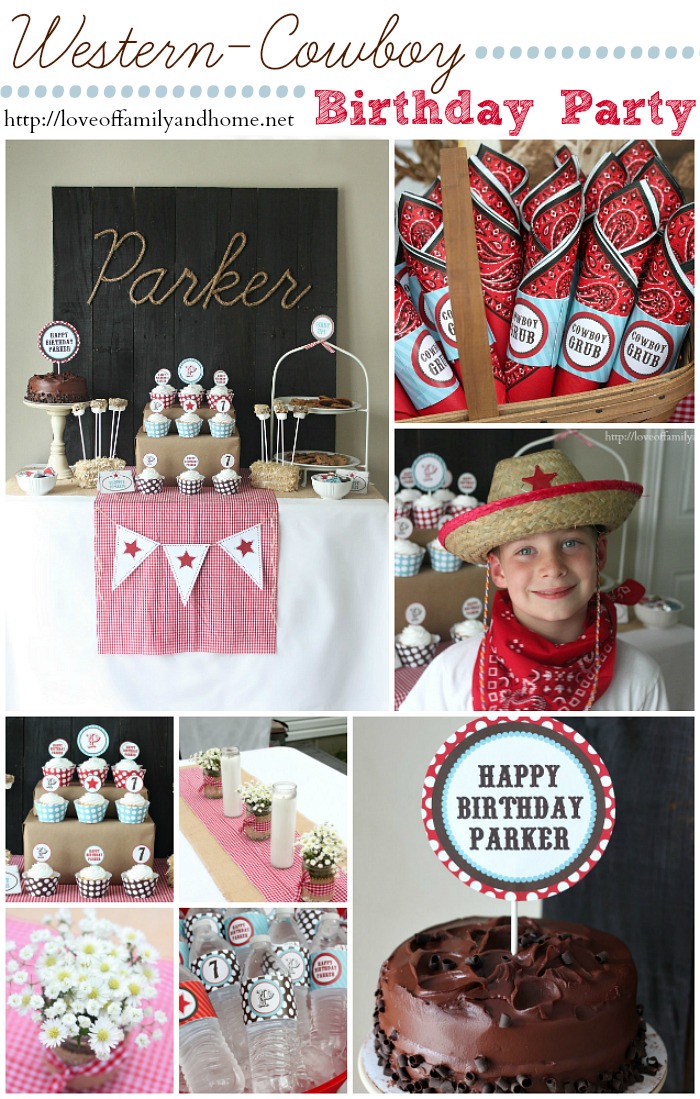 After throwing 9 boy-themed birthday parties, this momma was starting to run out of ideas. I searched for boy-themed, birthday party packages on Etsy and narrowed it down to a few that I liked. Then, I asked Parker for his opinion & without hesitation, he said…
"Oooh! I wanna cowboy birthday party!"  
And just like that, our party theme was set!
I came across this adorable cowboy party package via Lauren Haddox Design.  She created this custom, personalized invitation for the party and all of the other printables you'll see in the photos below.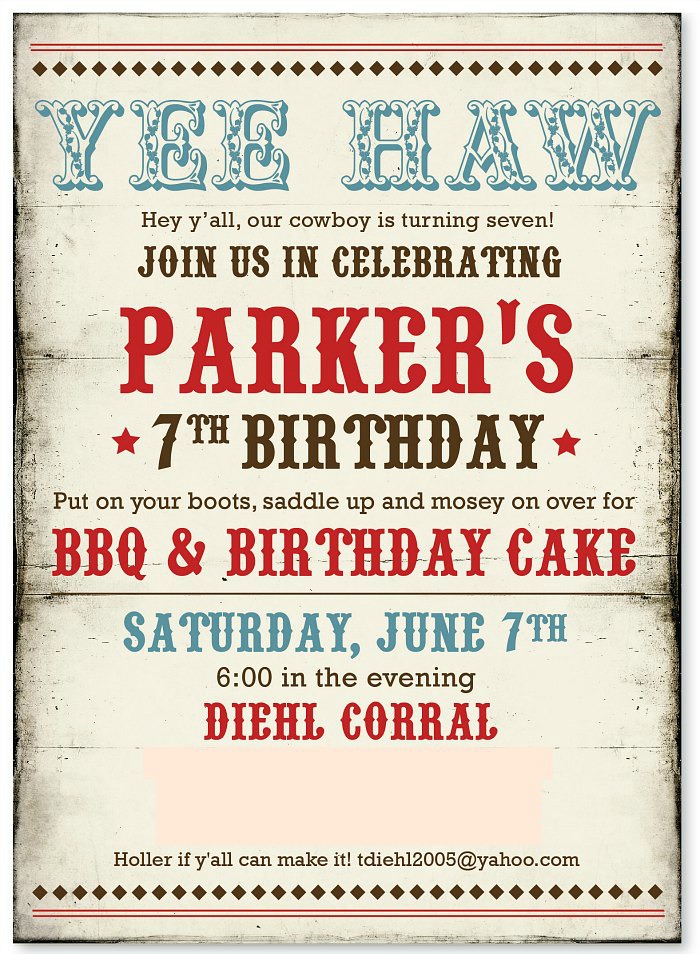 Here is a look at the cake & goodies table I had set up in our kitchen. I was so happy with how it came together!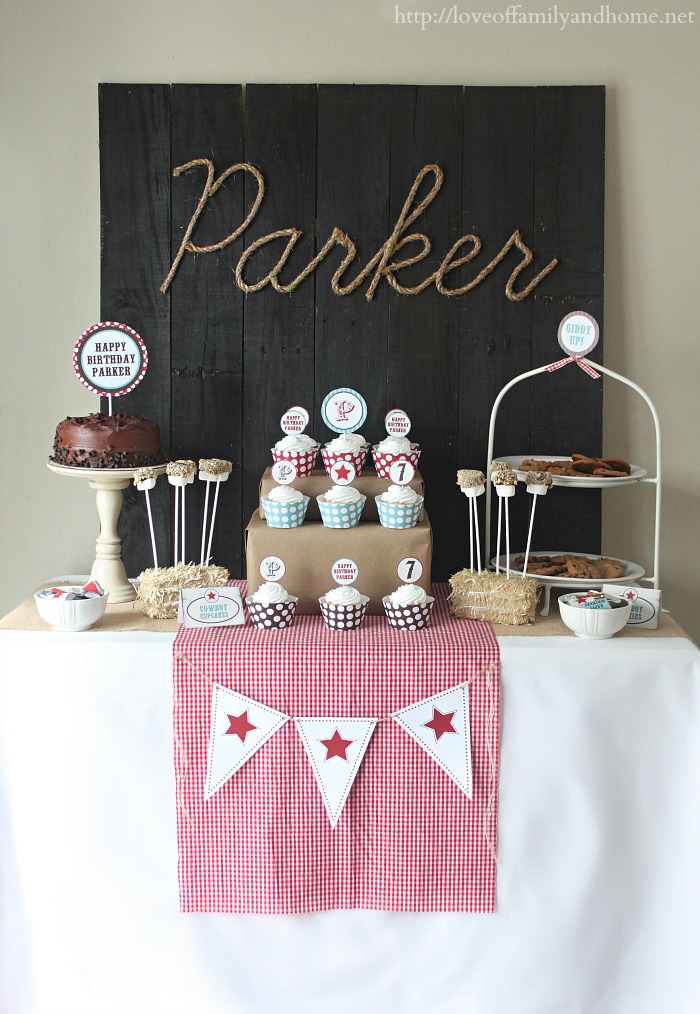 We had cupcakes for our guests & also a small cake for Parker. I had originally just planned on cupcakes only, but I found that delicious looking fudge cake while waiting in the check-out at Aldi's for just $6.99!  I just couldn't pass it up!  From what I heard, it was pretty tasty too!  Again, all printables are courtesy of Lauren Haddox Design.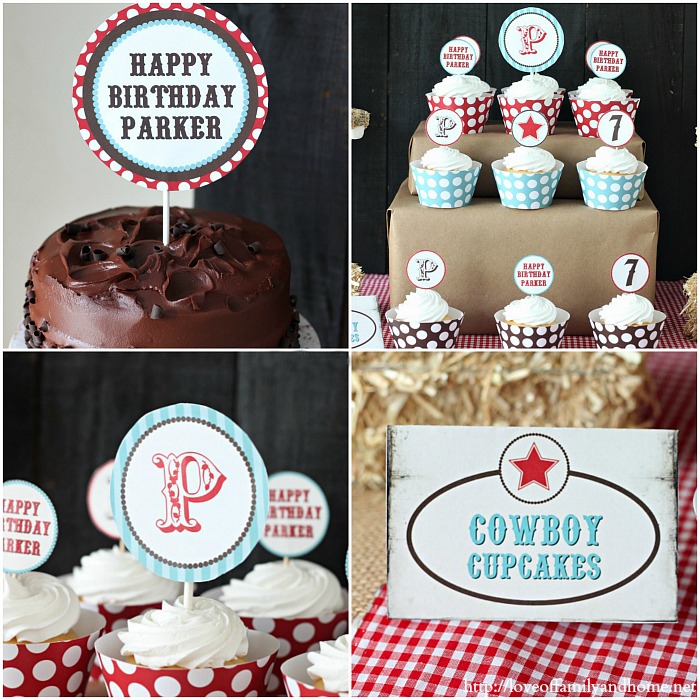 Probably one of the biggest hits of the party, were these s'more pops that my sister & I made.  They were super easy to make & really yummy too! Griffin even asked if he could eat them for breakfast the next morning!  LOL! Probably not the best idea, kid!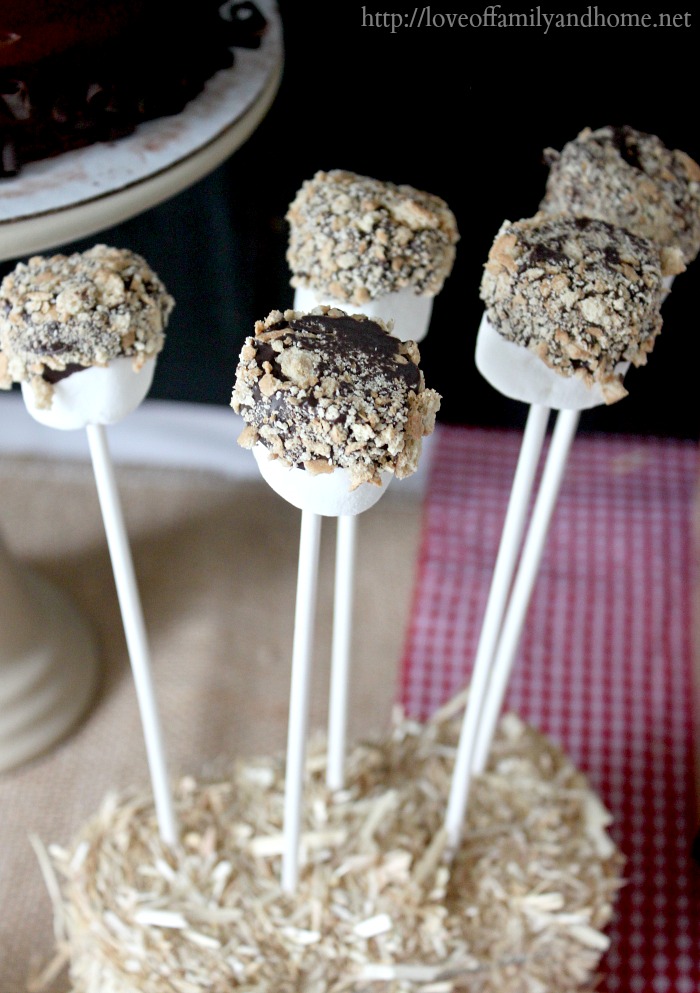 We used the favor tags that came with the party package to create the adorable (& delicious) party favors you see below. In addition to the cupcakes & s'more pops, there were also chocolate chip cookies & hershey miniatures (complete with coordinating wrappers) for our guests to snack on. Needless to say, the children were on sugar overload! 🙂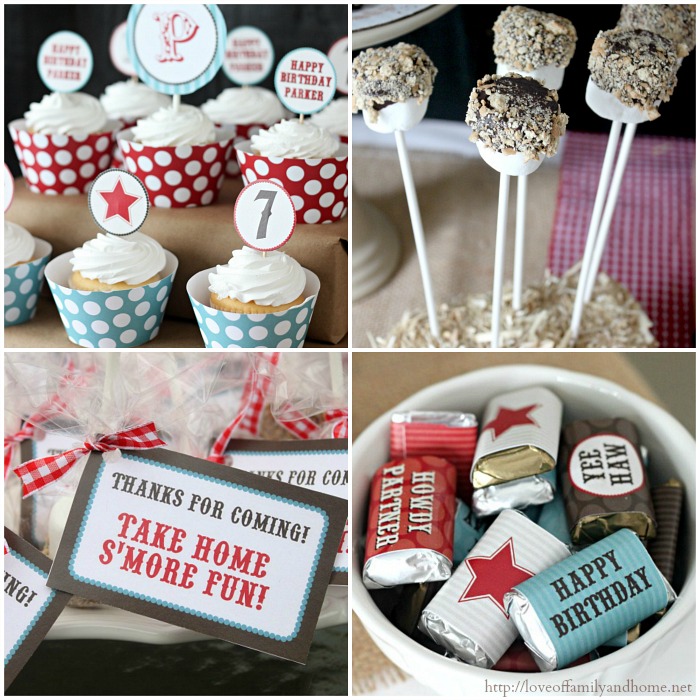 One of my favorite things about the cake table was the personalized pallet that I made for the backdrop. My dad built the backdrop using some recycled pallet wood we got from a friend. I stained it & spelled out Parker's name using rope. The rope was attached to the pallet using hot glue. (You can find a step-by-step tutorial HERE.) I just had to get some pictures of the birthday boy in his cowboy gear in front of the table before the party started….cutest little cowboy I've ever seen!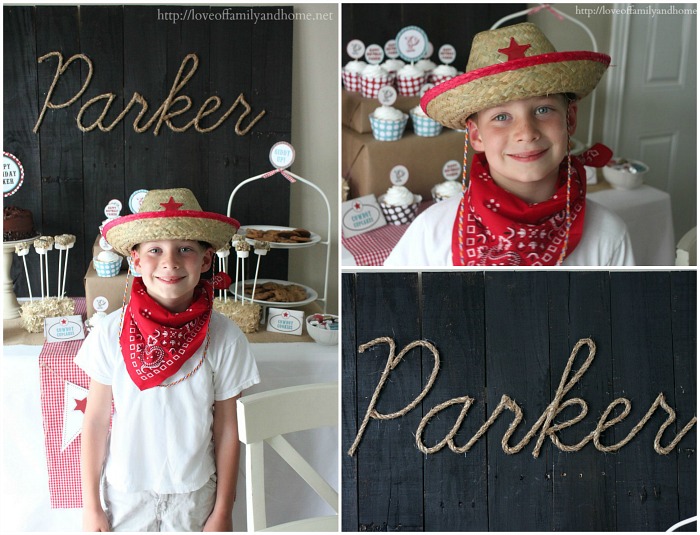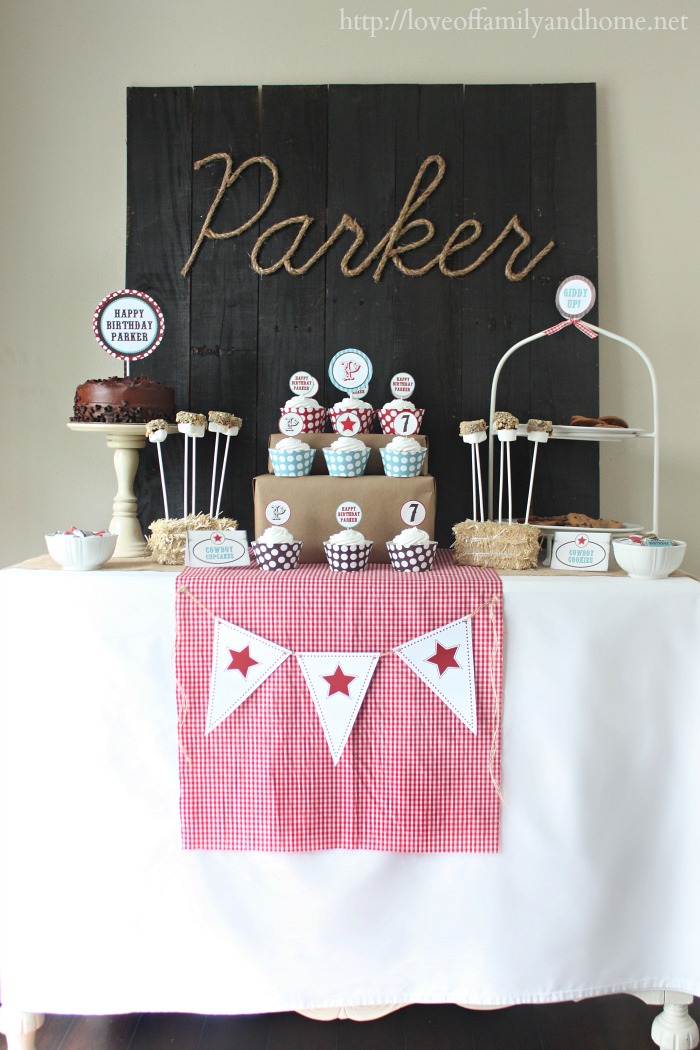 I also added a bandana to my kitchen table along with a couple flower arrangements and cupcakes to make it more festive for the party!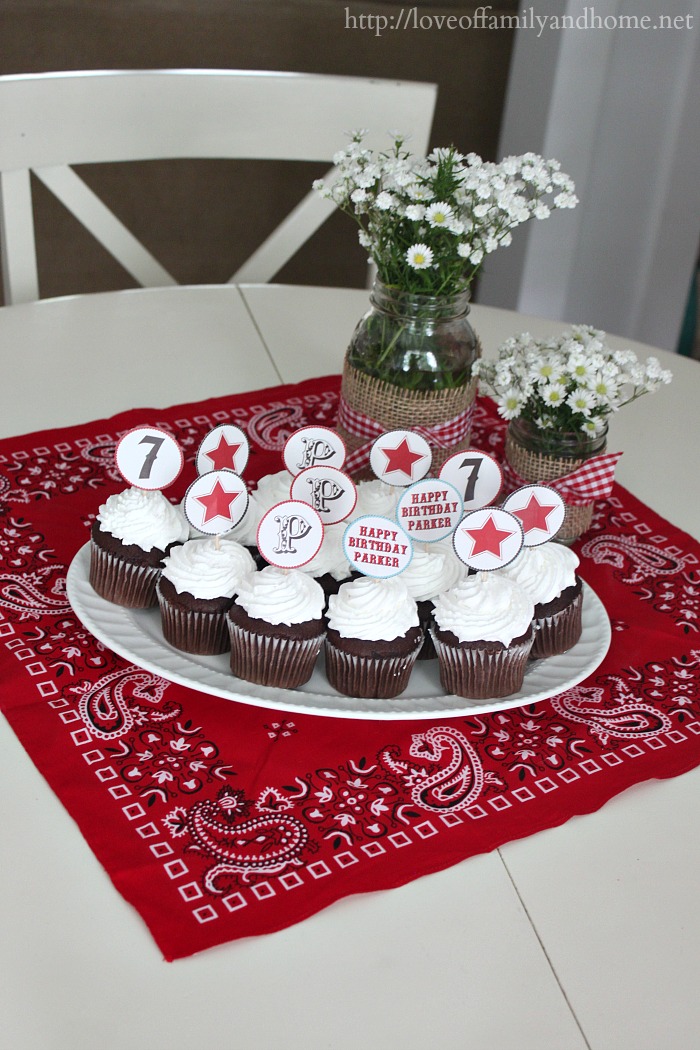 That pretty much wraps up the indoor decorations. Let's take a look outside, shall we?! 
More adorable printables via Lauren Haddox Design & another mason jar centerpiece adorned our outdoor coffee table.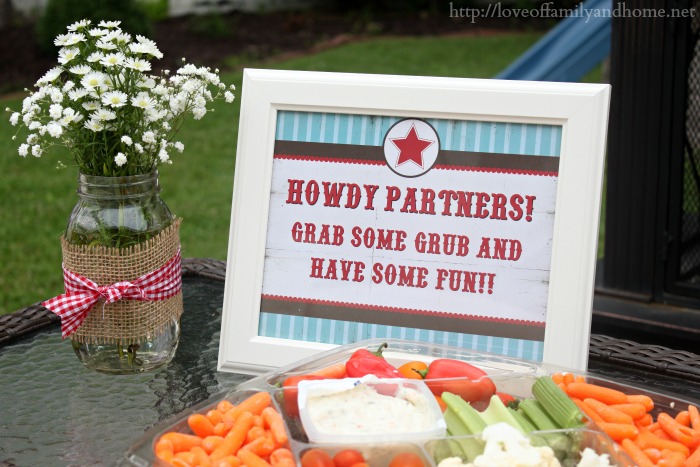 The food table was pretty much my mom's handy work! Isn't it adorable?!?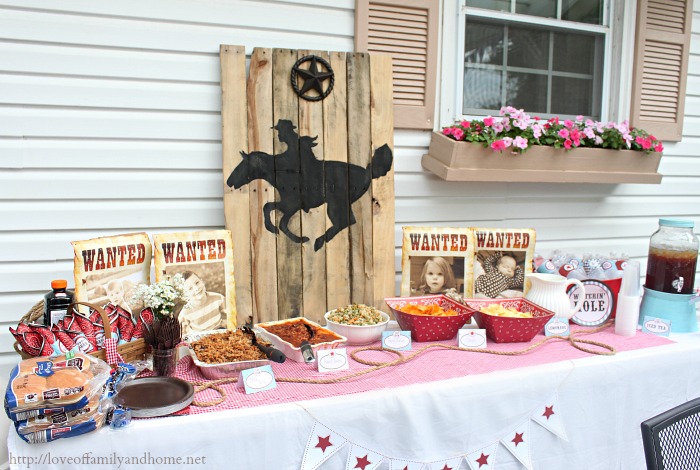 I picked up these "WANTED" posters from Hobby Lobby. They came in a package of 4 & then we just added the pictures of the kids to them. I edited the photos in PicMonkey & changed them to sepia color. Then, I printed the photos on regular printer paper, & attached them to the posters using a glue stick. Super easy to do & they added so much to the party decor! After the party was over, we sent them home with our guests as part of their party favors.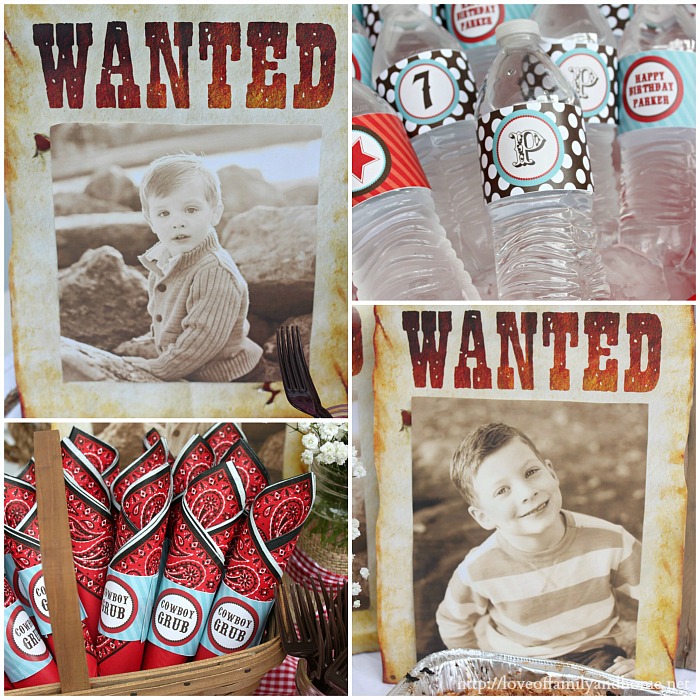 This fabulous cowboy silhouette was compliments of my mom. My dad built the pallet using the recycled pallet we got from a friend & then my mom used her projector to project the silhouette onto then pallet. Then, she simply traced it & filled it in with paint. So cute!!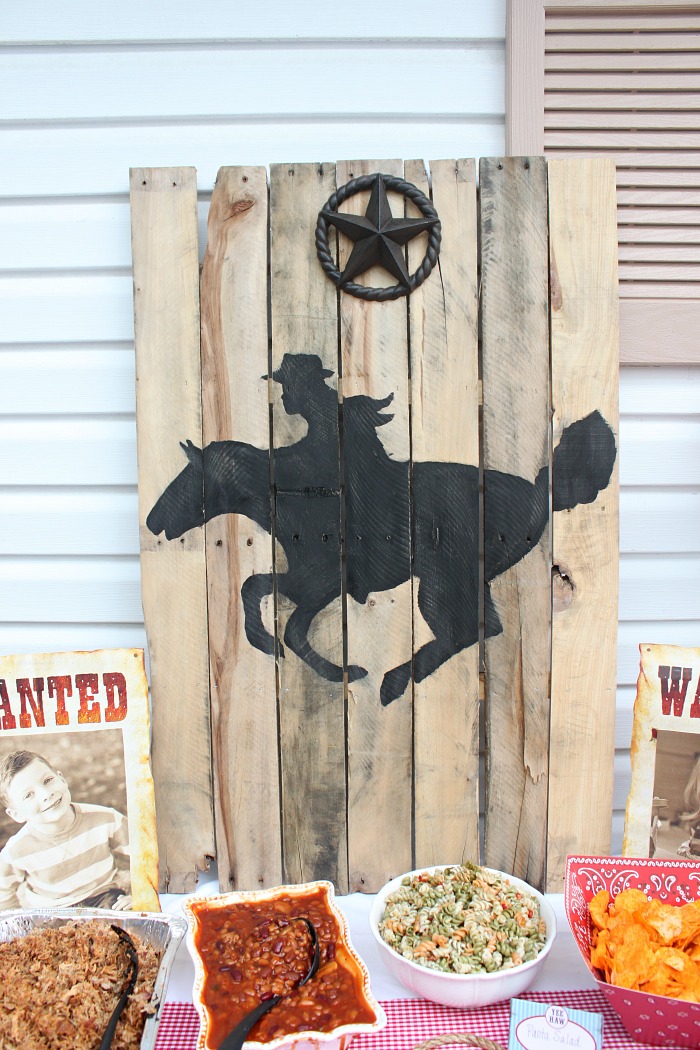 More party printables and one FABULOUS beverage dispenser!  I picked that baby up at Kirklands just a couple days prior to the party! I HAD to have it!!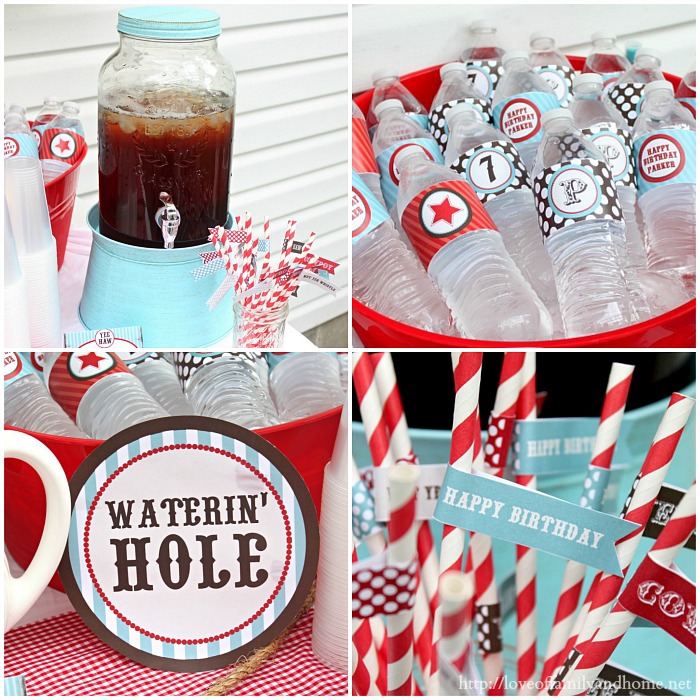 We decorated our outdoor dining table with more mason jar flower arrangements & candles from the dollar tree. All of the white "tablecloths" are actually twin size, flat, white sheets from Walmart. You can buy them for $5.00! This was a tip that my mom gave me a couple years back. We continue to use them for different occasions. I absolutely LOVE them!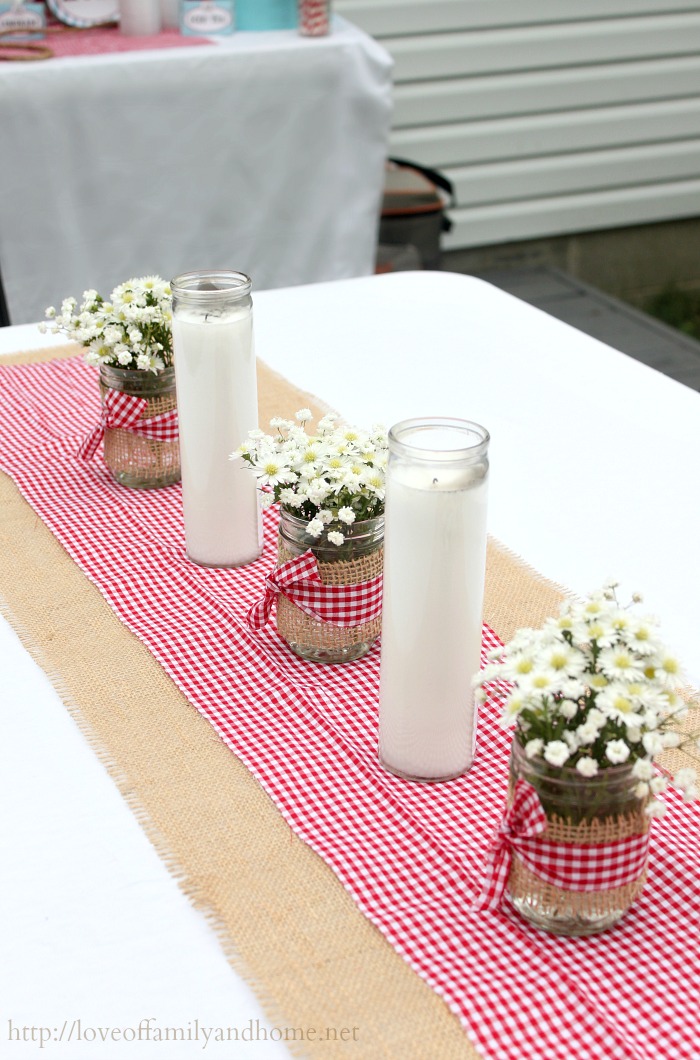 The birthday banner was hung from our pergola….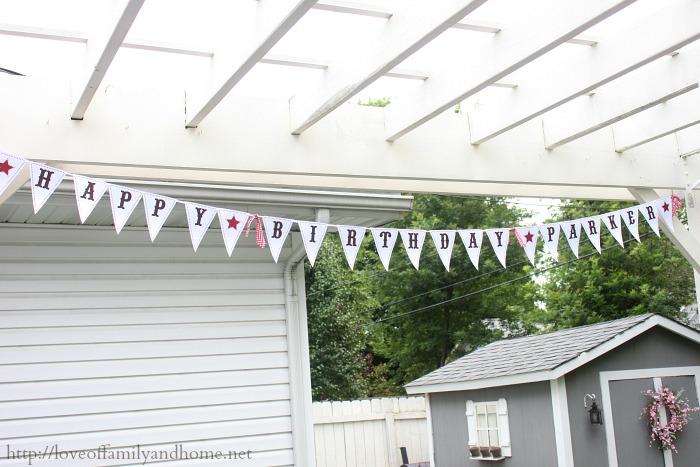 A close-up of the flower arrangements….because I just couldn't pass it up the cuteness!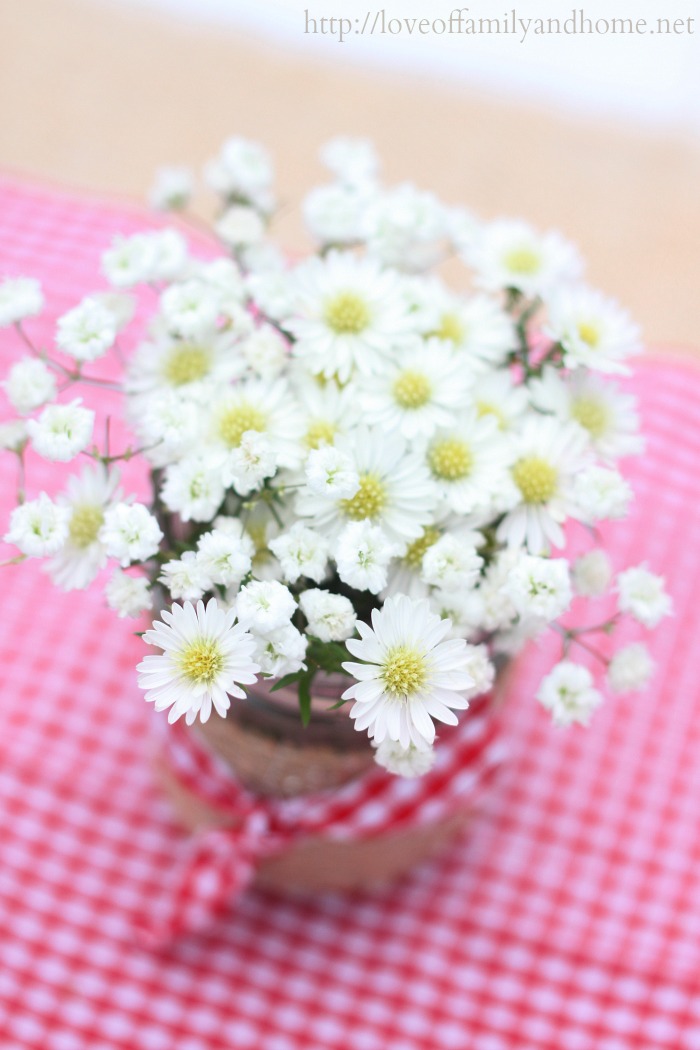 The birthday boy….well, he was one happy little cowboy! A few of our family members went in together & bought him a big, inflatable water slide for the backyard. We figured he (and his brother) would get WAY more use out of something like this versus buying a bunch of toys that he would likely forget about in a couple weeks. This will keep them cool ALL summer long & for many summers to come!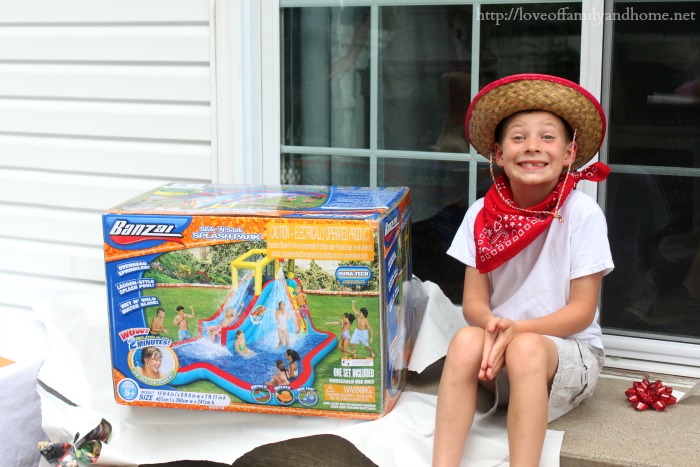 And of course, he still got a few toys too…..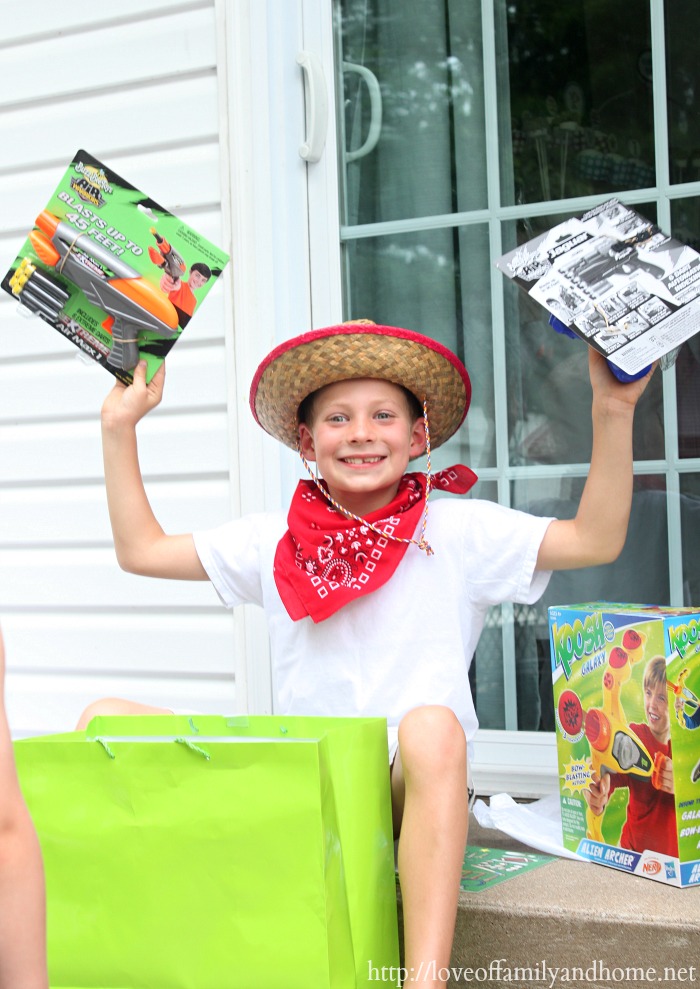 Also….he is the most enthusiastic gift opener ever! He even got excited about clothes….can't say that about most 7 year old boys!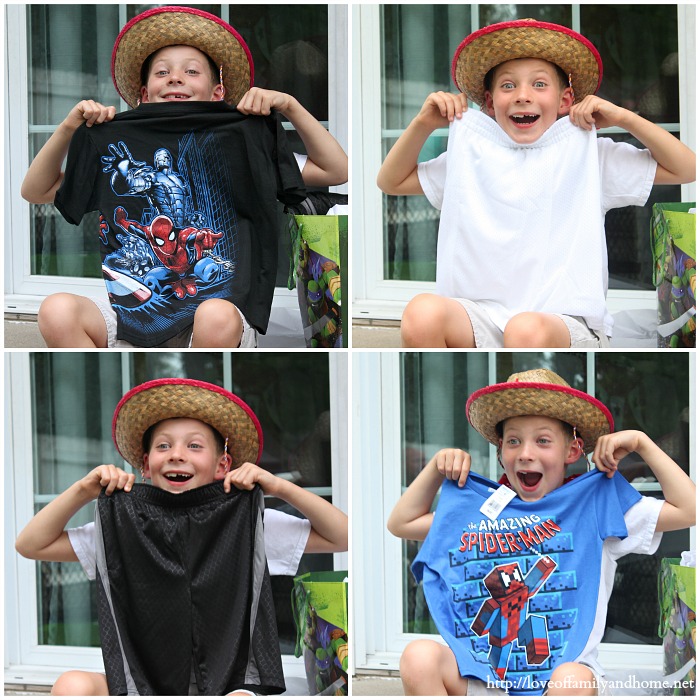 After gifts, there was cake….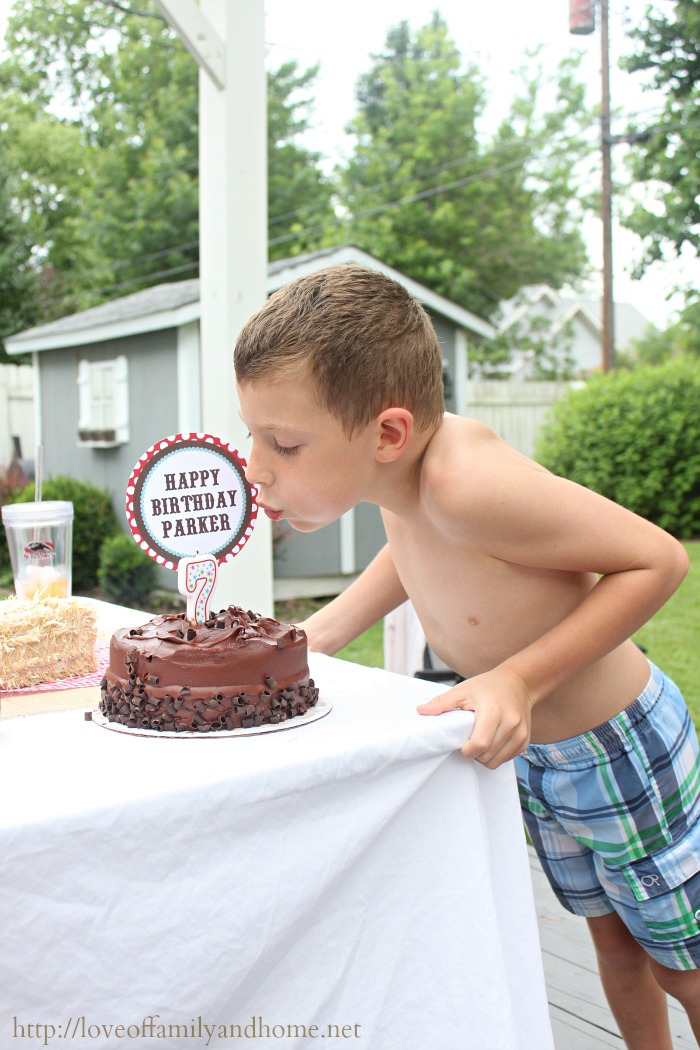 And faces covered in icing….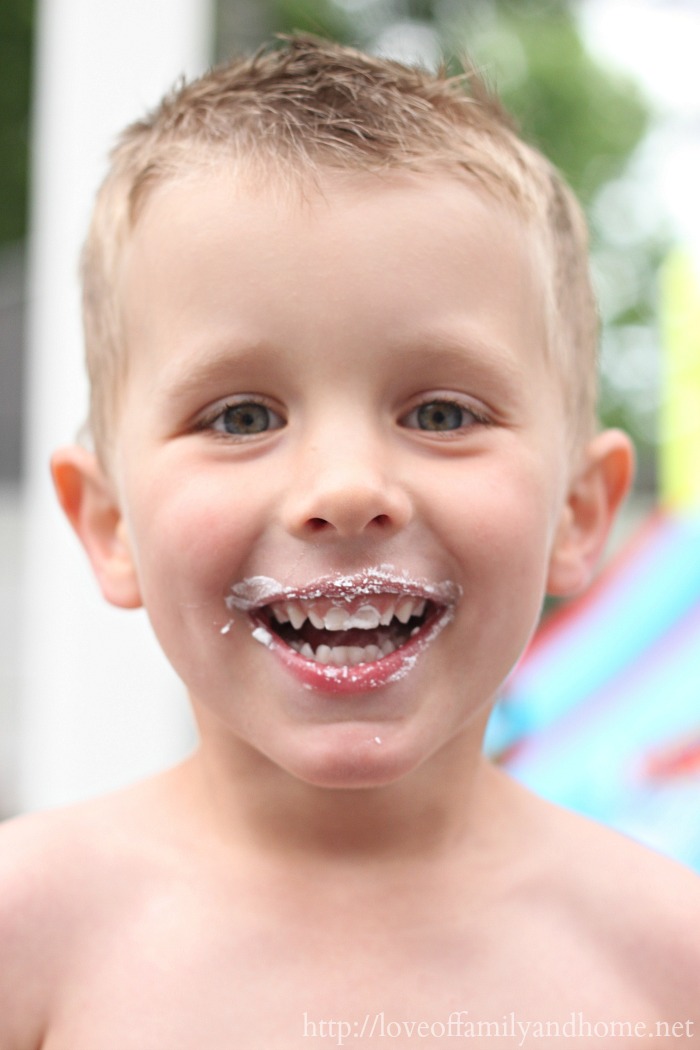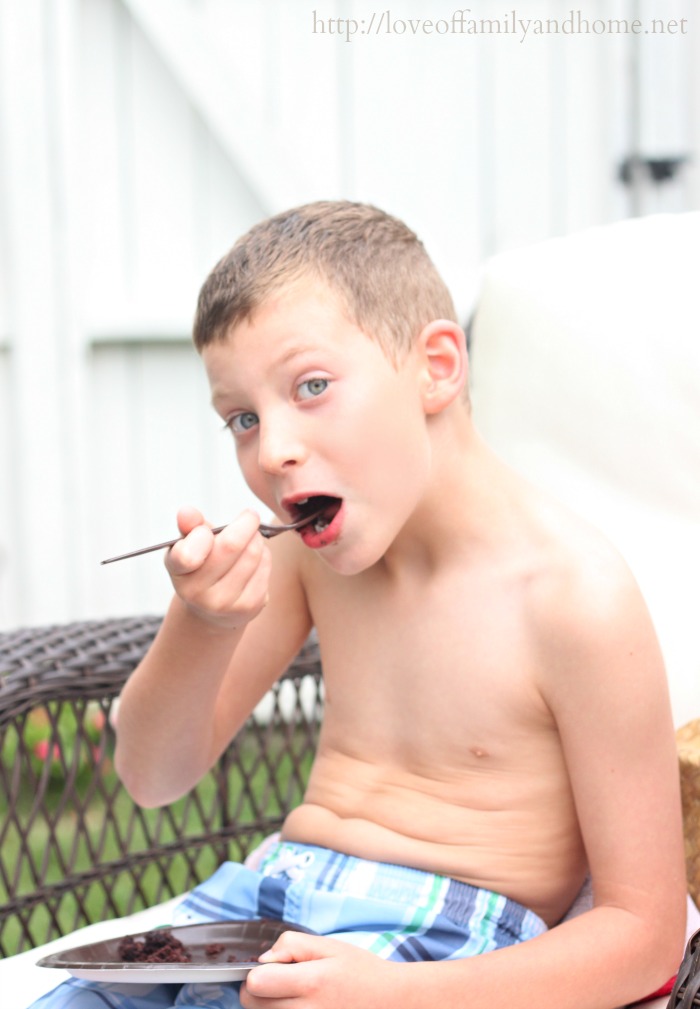 I also couldn't help but steal a few shots of this little cutie….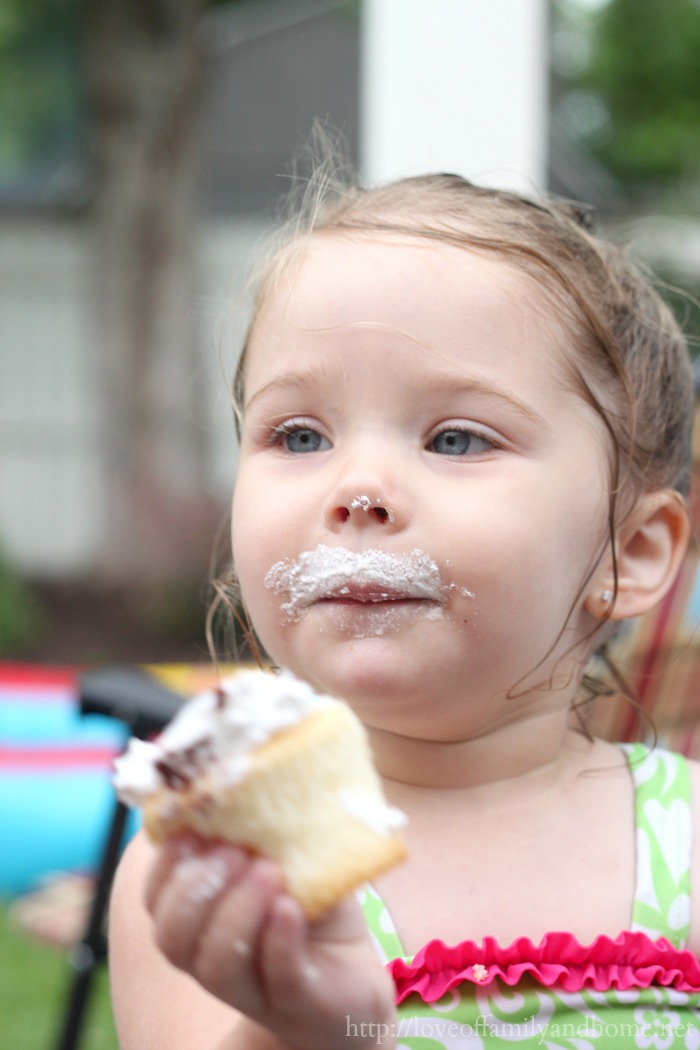 If you follow my friend, Emily's blog, "Bonfires and Wine", then you've probably seen her sweet face before.  She even posed for me holding her s'more pop! 🙂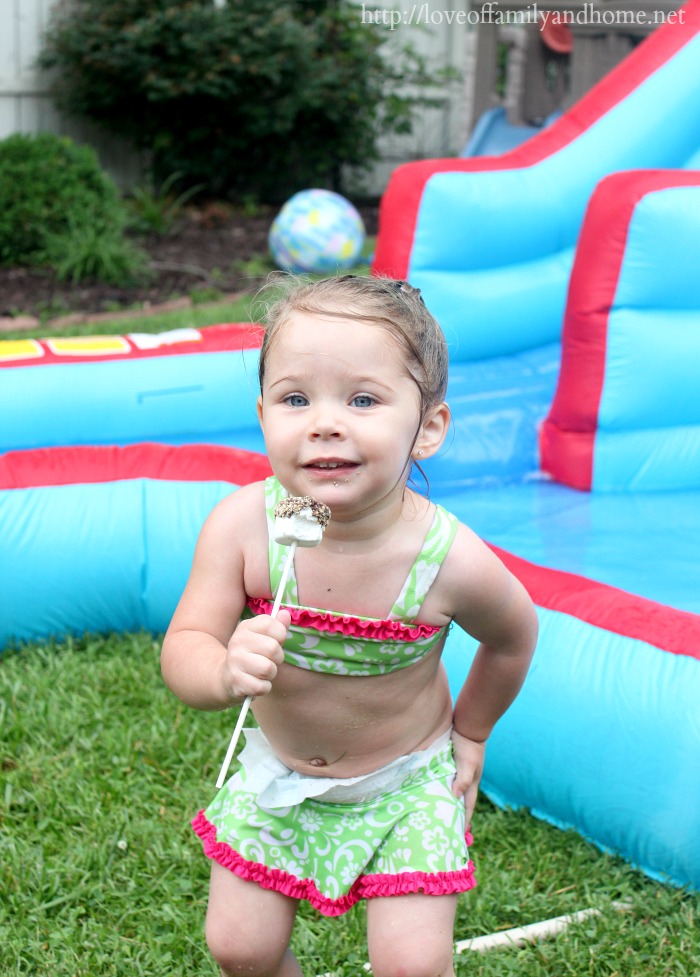 The kids had tons of fun on the water slide despite the fact that the weather was a little on the cool side. And don't forget the water coming out of the faucet was FREEZING!  Blue lips & chattering teeth….they kept on going!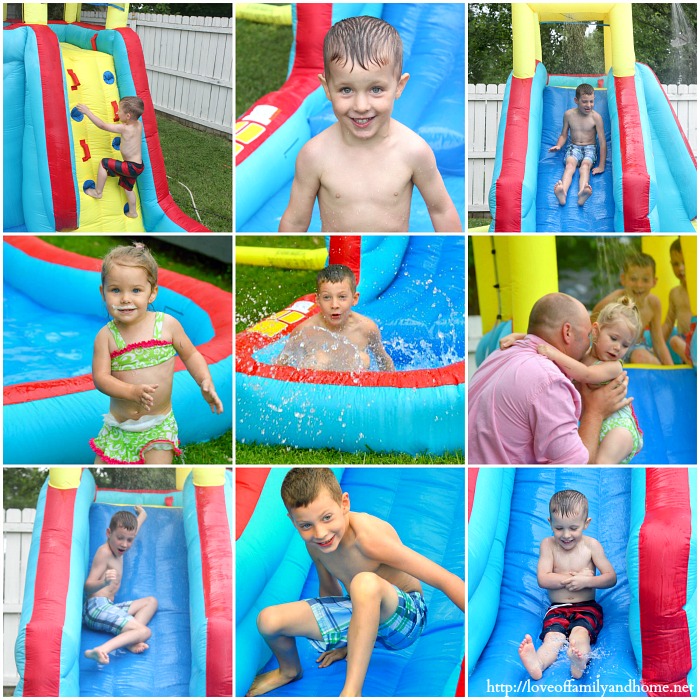 It was a fun-filled afternoon & evening with our friends & closest family. Definitely a party I will never forget!
It's so hard to believe that Parker is now  7 years old. I know I say it every year, but SERIOUSLY, where does the time go?!
The days are long, but the years are SO SHORT!
Just another reason why I am gonna enjoy every minute with my babies this summer!
As always, thanks so much for stopping by!
I hope you have a wonderful Wednesday!!
Linking up here…
Tutorial & Tips Tuesday at Home Stories A to Z
Wow Us Wednesday at Saavy Southern Style
DIY Projects & Party Time at The 36th Avenue
Link Party Palooza at Tatertots & Jello
Inspiration Gallery at Design, Dining, & Diapers
Sunday Showcase Party at By Stephanie Lynn