Hey Friends!
I hope y'all had a wonderful weekend!
Our weekend was fabulous, but super busy!
If you follow along on Facebook and/or Instagram, you know that I was in full party planning mode on Friday for Griffin's 3rd birthday! His actual birthday was yesterday, but we celebrated on Friday night because my sister & her fiance were in town for the weekend and of course, they wanted to get in on the celebrations! We were so happy that they were able to make it down for the party & Griffin sure was excited to see his Aunt "Cee-Cee".
Because Griffin has turned into a pretty big Mickey Mouse fan over the last few months, we decided to use that as our theme for this year's party. I had so much decorating….everything came together exactly how I had envisioned it! I'm so excited to share his Mickey Mouse Birthday Party with you today!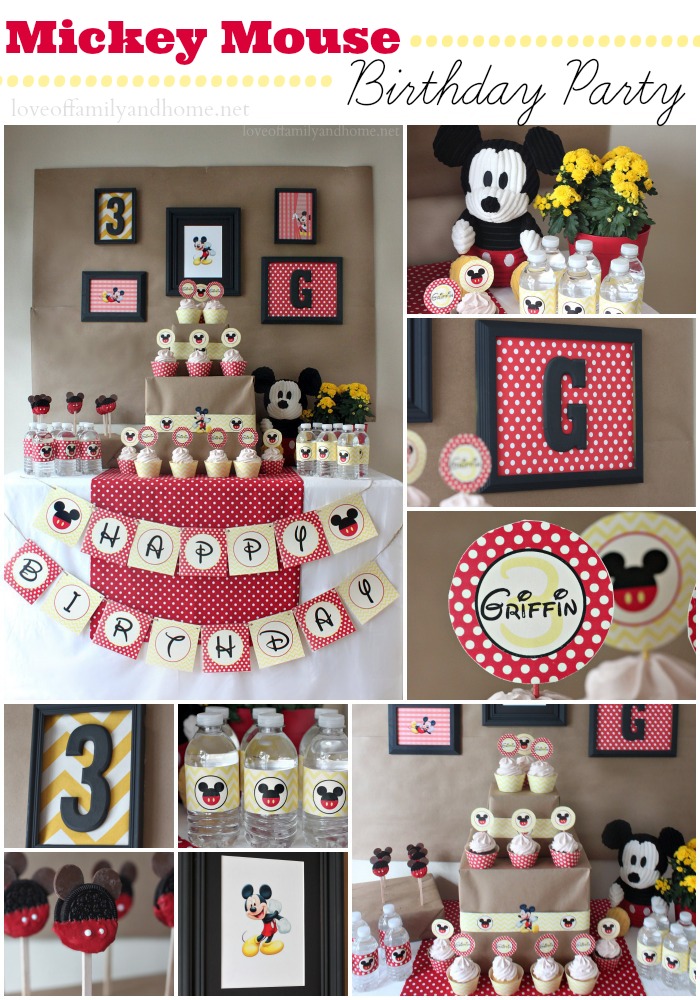 Here is a full shot of the cake & goodies table…..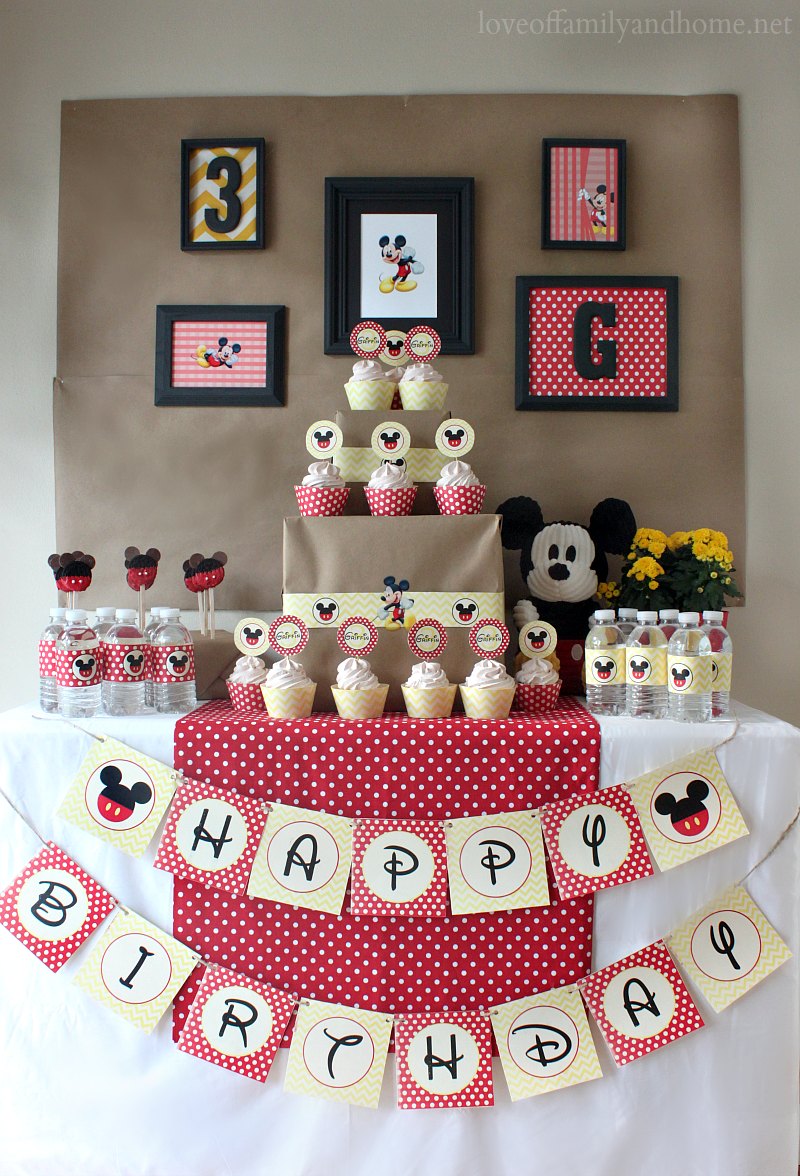 So cute, don't you think?!
I just loved the combination of the polka dots & chevron!
Here is a close-up of some of the details…..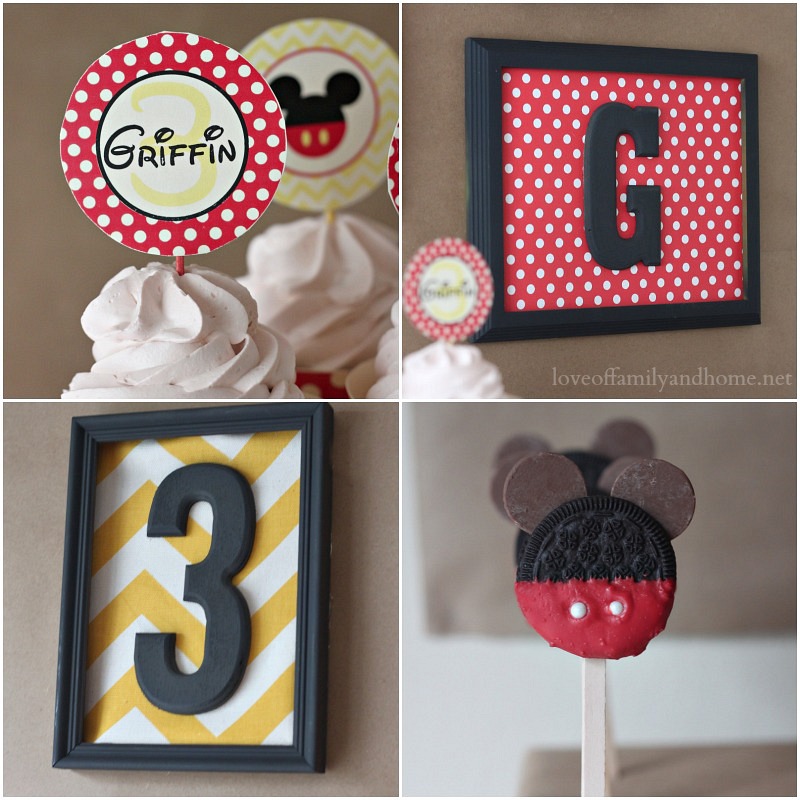 I bought a handful of wooden frames from Goodwill a couple weeks back. The morning of the party, I gave them a few coats of black spray paint & then framed a few different items to create a gallery wall back-drop for the cake table. I just love the way it turned out! I bought a wooden letter "G" and a number "3" at Hobby Lobby and spray painted them as well to personalize the gallery a little bit more. The "3" was hot glued to a piece of yellow chevron fabric (also from Hobby Lobby) and the "G" was hot glued to a piece of red & white polka dot scrapbook paper. In addition to cupcakes, we also served the Mickey Mouse oreo pops that you see in the photo above. I found a tutorial on how to make them HERE. Just a little tip….if you want to make some for yourself, use double stuffed oreos!!
All of the printables that you see in the photos are from Melissa at 5M Creations. I purchased the cupcake wrappers, toppers, birthday banner, & water bottle labels from her shop. We printed everything ourselves on cream cardstock. The cupcake display was created using a couple of cardboard boxes, wrapped with brown shipping paper, and then stacked on top of each other. I added a little flare by using some leftover water bottle labels & Mickey Mouse stickers that I had picked up at Hobby Lobby.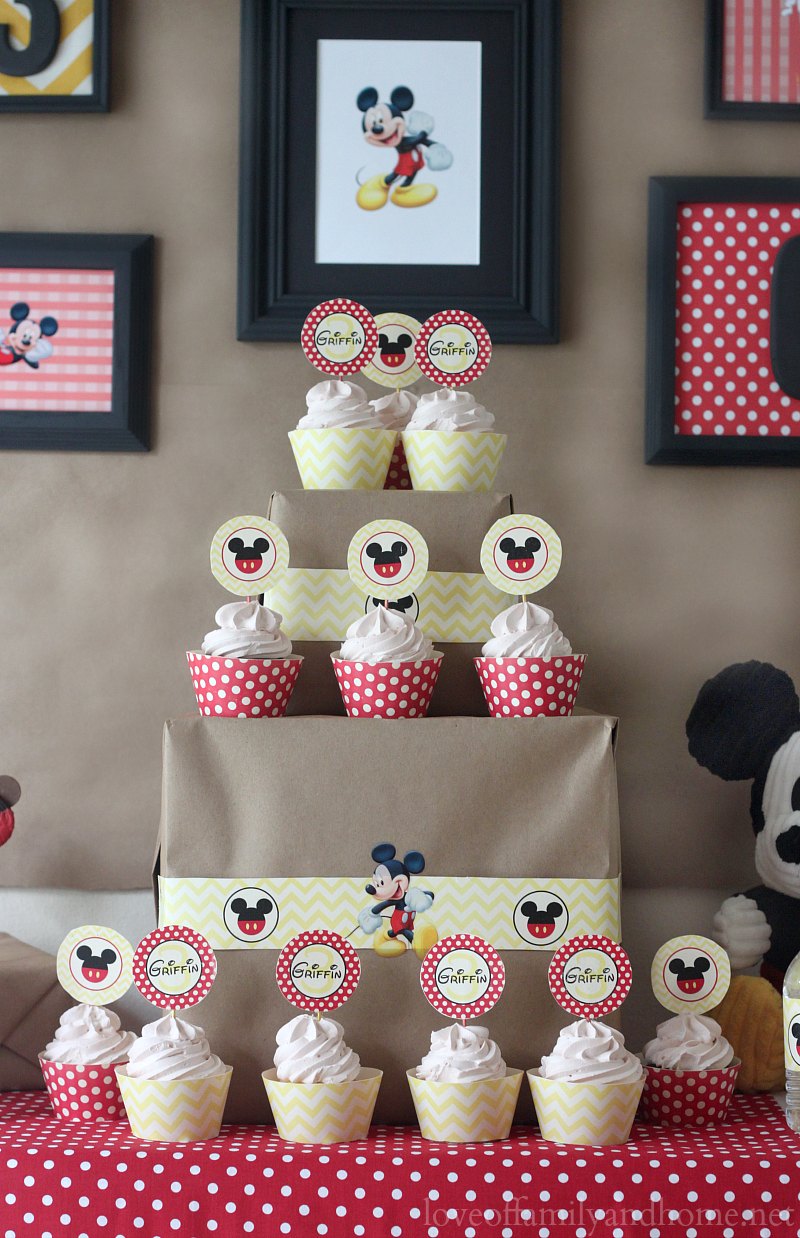 The framed Mickey Mouse photos that you see in the gallery wall were also created using Mickey Mouse stickers from Hobby Lobby. I just attached the stickers to white cardstock and/or scrapbook paper & framed them.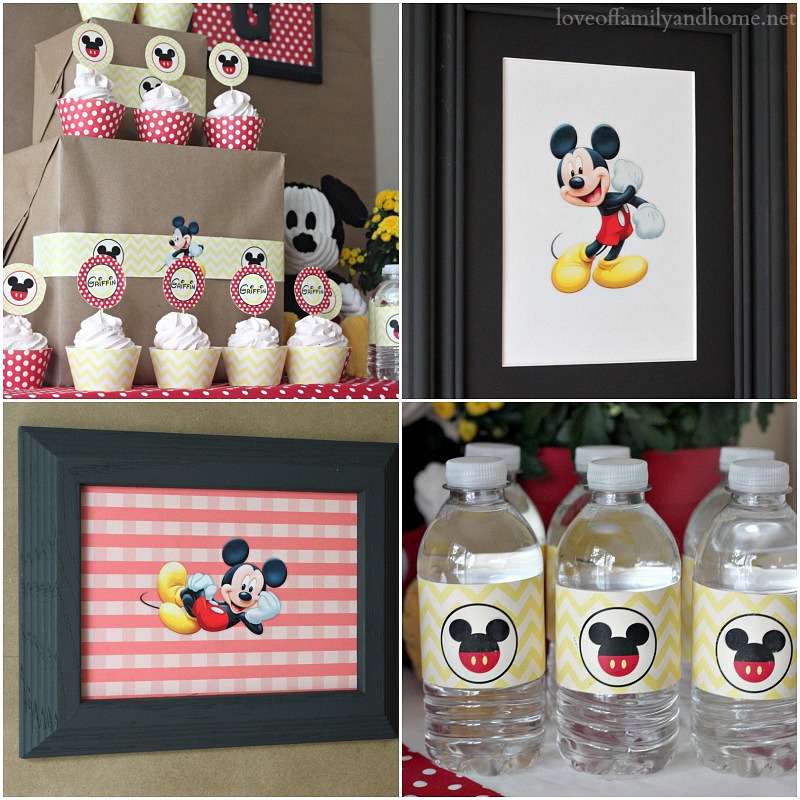 Another look at the table from a different angle…..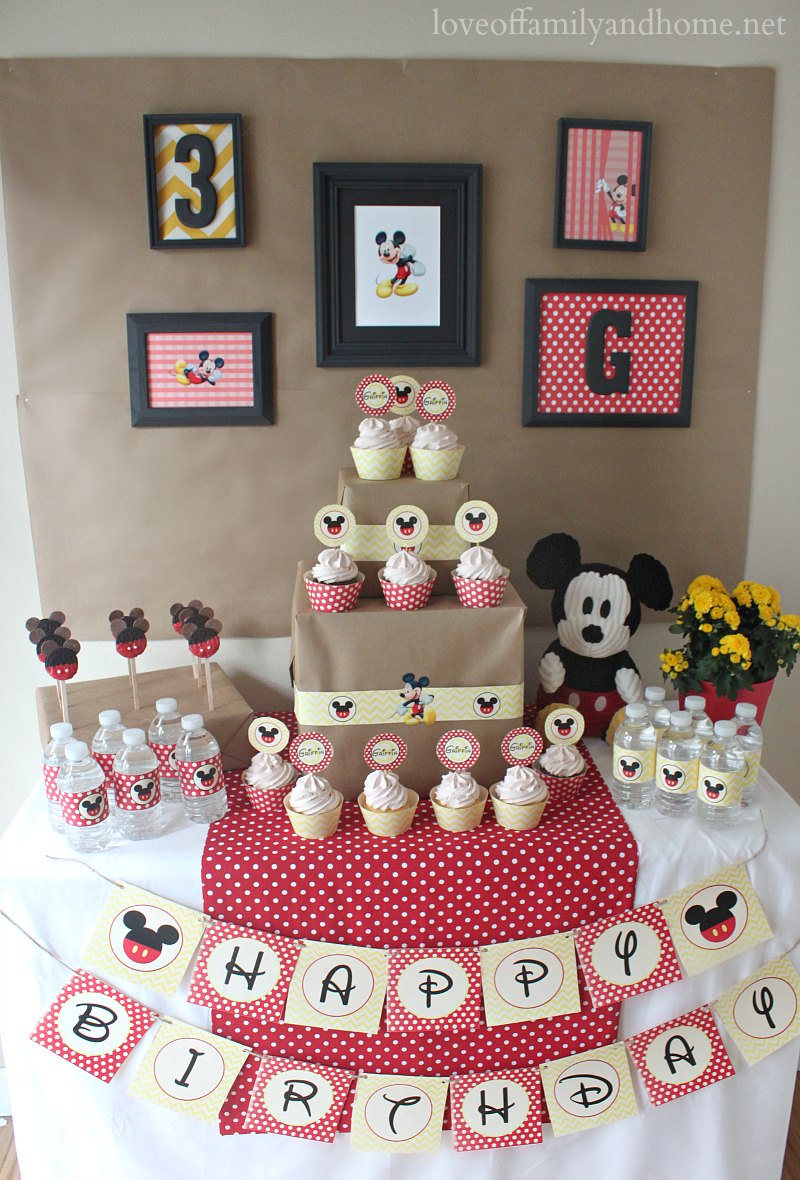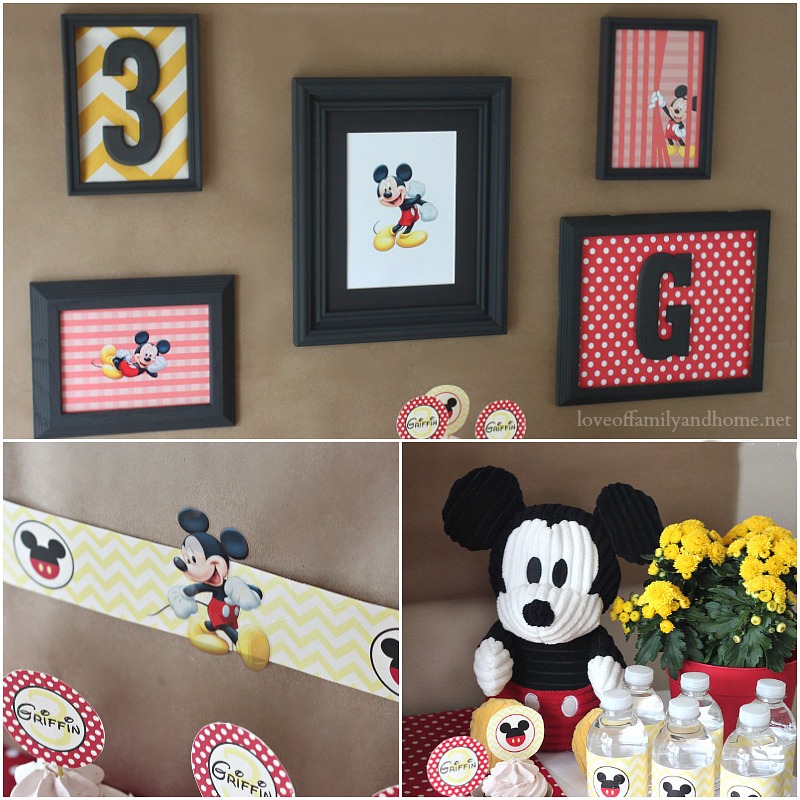 The stuffed Mickey Mouse on the table was borrowed from a family member. I added a little more color to the table by adding a yellow mum & placed it inside a cheap plastic red pot I purchased from Walmart.
To say that the birthday boy was excited about the party would be an understatement! He had been talking about his birthday party for the last two months…..ever since Parker celebrated his 6th birthday in June! 🙂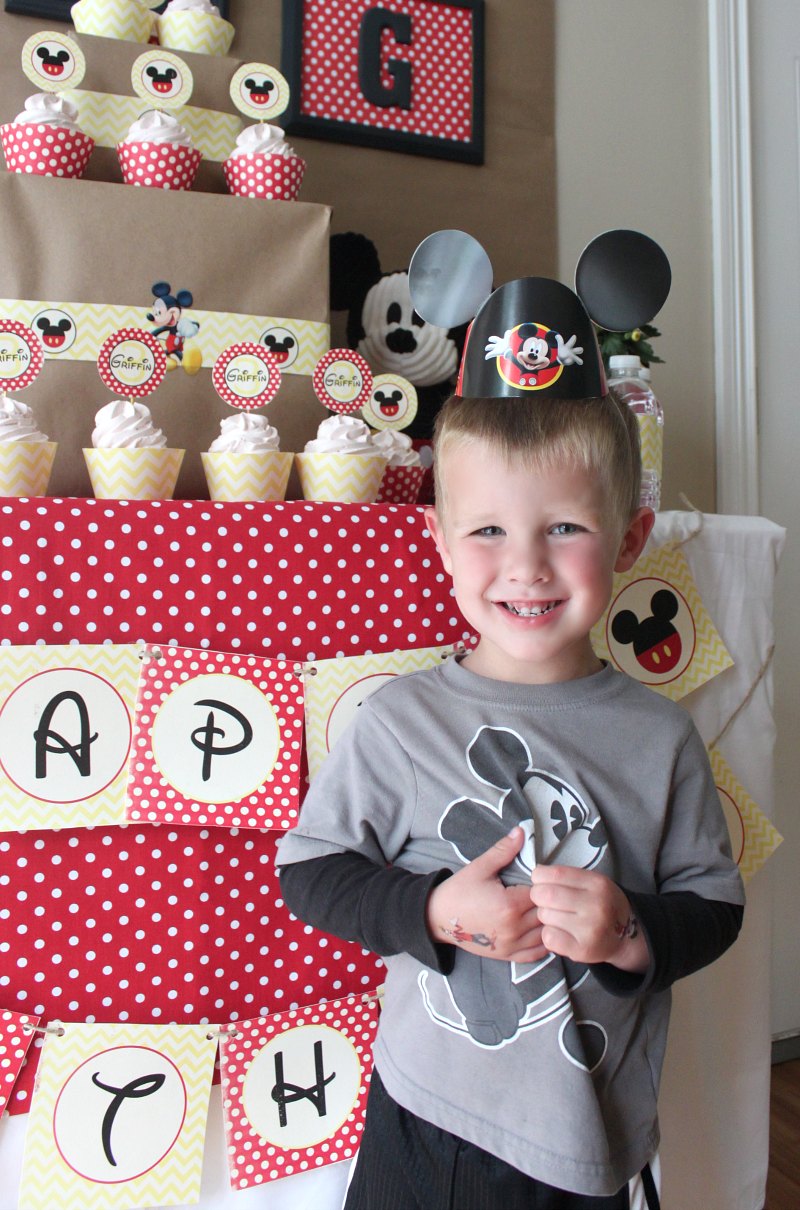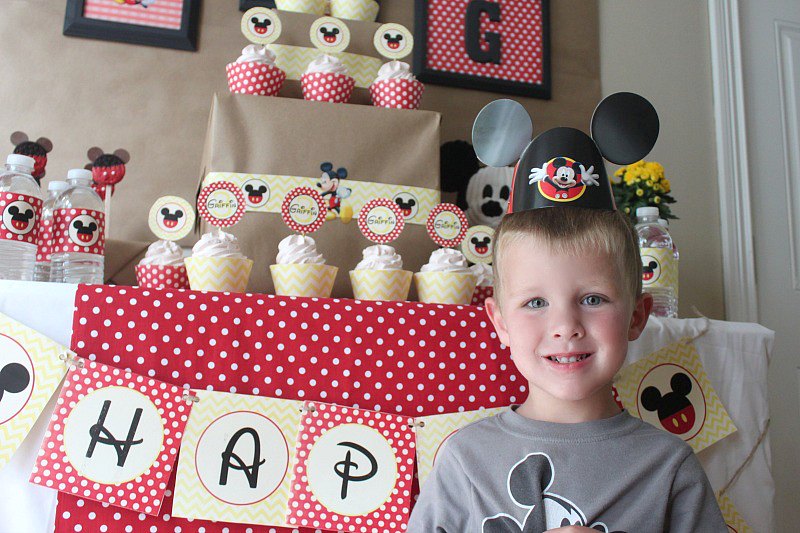 My mom had picked up the Mickey Mouse shirt you see him wearing in the photos above at Goodwill just a couple days prior to the party. We kept telling him that it was his "party shirt" and that he couldn't wear it because we needed to keep it clean, but he pretty well insisted on wearing it anyway. He wore it for a couple days leading up to the party & even wore it to bed a couple nights! LOL!
We celebrated with our immediate family only. I kinda like to keep things low key! We grilled hot dogs and brats for our guests & had a variety of delicious side dishes for everyone to enjoy! Griffin opened his presents & got everything he wanted (and then some!)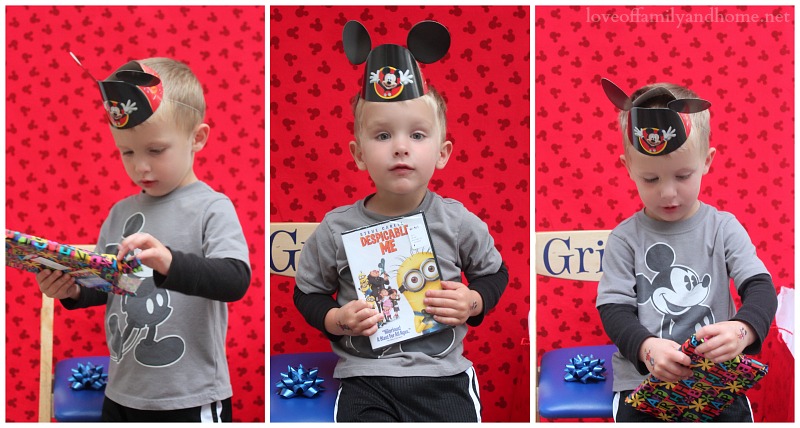 Although he was super excited about his "Mr. Tata Head" and had been talking about it for a week leading up to the party, I think the biggest hit was his "Wreck-It Ralph" toy. The boy has carried that thing everywhere with him for the last 3-4 days. He has even slept with it every night!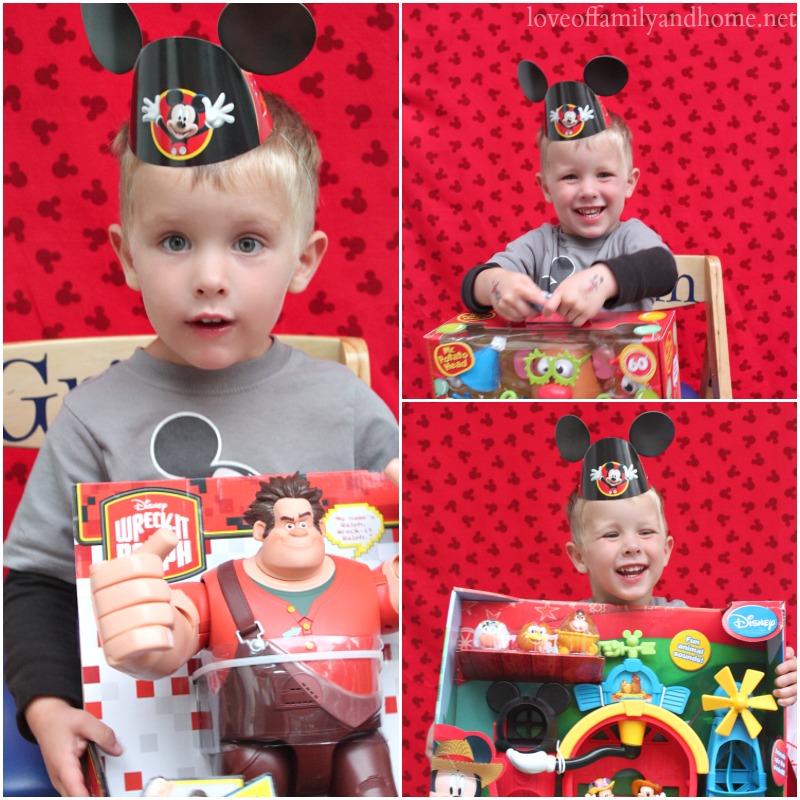 The Mickey Mouse print that you see in the background is fabric that I purchased from Hobby Lobby. I just bought a yard & hung it up on the side of our house in our backyard. It worked great for photos. I love this picture of Parker, Griffin, & Becca that I snapped before the party got started. Griffin's face absolutely cracks me up!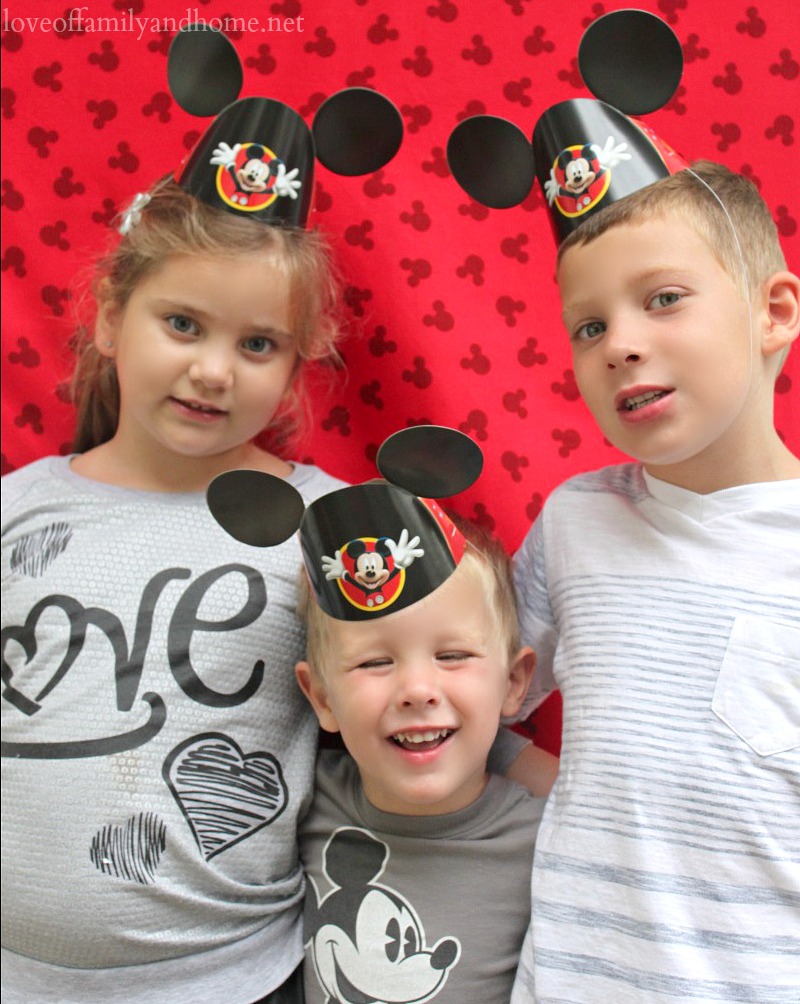 So, that was Griffin's party in a nutshell….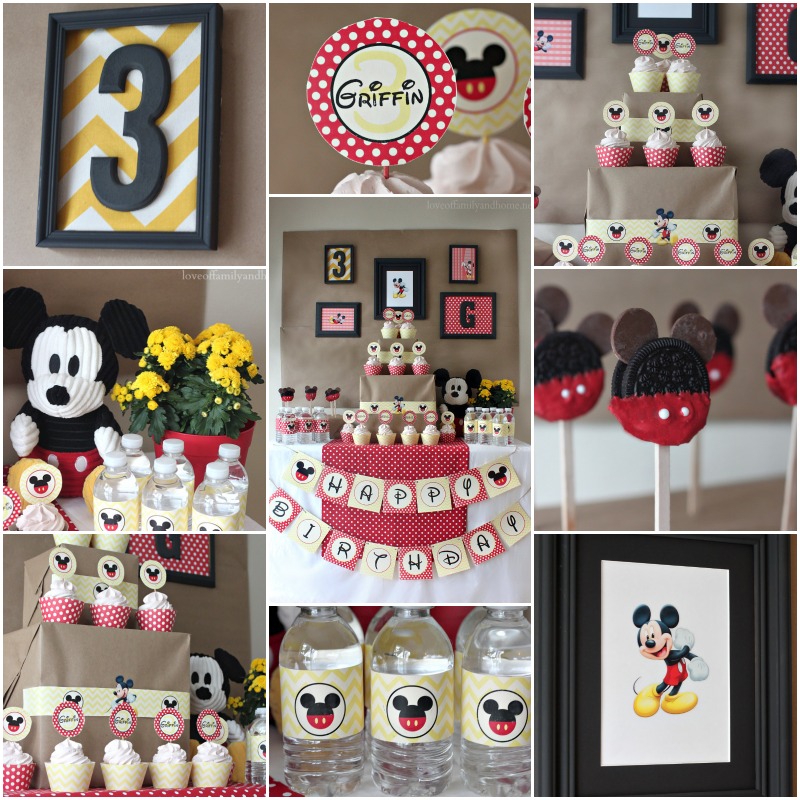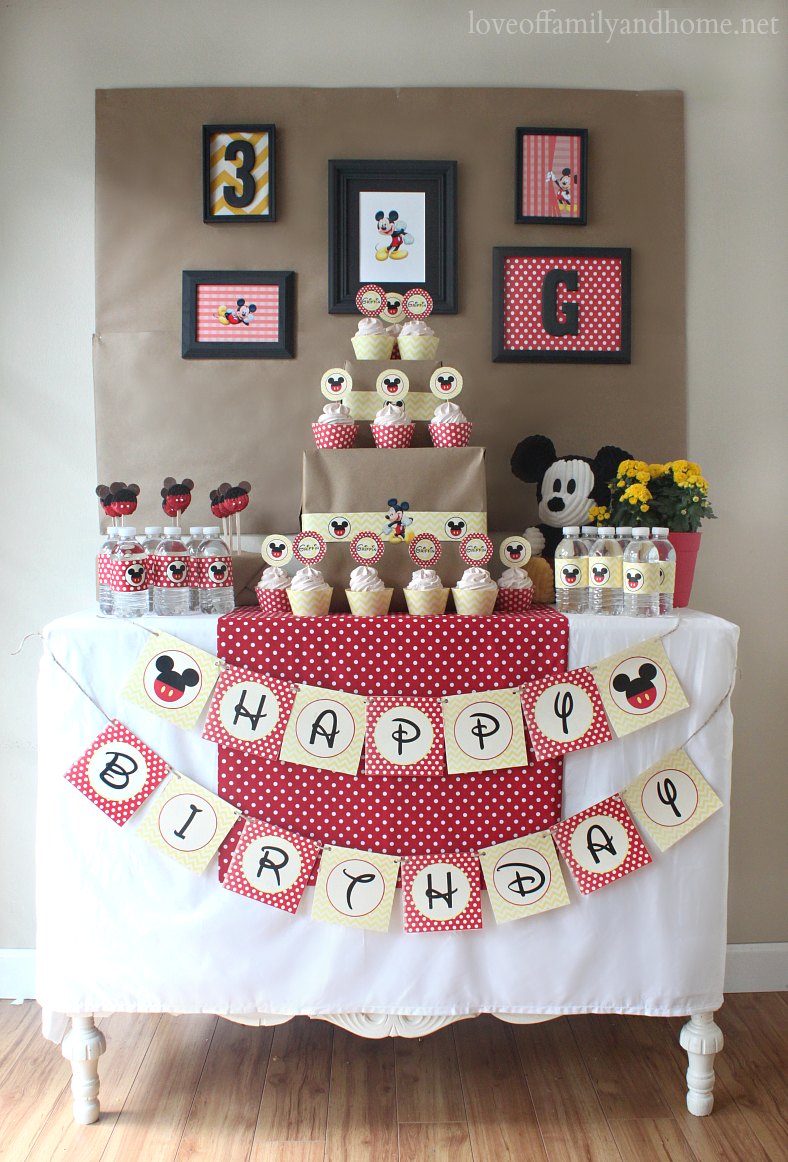 Since both of my boys were born in the summer, it looks like I'm finished planning parties for another year or so!
My sister however, is getting married next spring, so there will be a lot of party planning for that just around the corner!  I'm sure I will be sharing wedding details on the blog, as we plan to DIY our way through most of it! We'll also be planning a bridal shower too! I can't wait!
Did you celebrate any birthdays this summer?! 
If so, what was your party theme?! 
Gotta link you would like to share? Leave it in the comments section below!
As always, thanks so much for stopping by!! I hope you have a wonderful day!
Linking up here….
That DIY Party at DIY Show Off
Weekend Wrap-Up Party at Tatertots & Jello