I know I have already posted a before & after of my new kitchen buffet I found, but I thought I would do a post to tell you the story behind this adorable piece of furniture including more pics & an explanation on how I transformed it!
I think for now…its my favorite piece in the whole house!
And if that isn't reason enough….
Thrify Decor Chick is hosting a Before & After linky party & I wanted to participate! 🙂
So many of you know I recently remodeled my kitchen by painting all of the cabinets, replacing my countertops, and installing a new kitchen sink & faucet. After finishing this huge project, I wanted to also wanted to re-vamp my dining area. I purchased a new round pedestal dining room table & chairs on craigslist for $100 & found the CUTEST buffet at a local resale shop in our little hometown.
And there is sat in all of its LOVELINESS…
Outside on the sidewalk in front of the resale shop
 Even with all the other furniture beside it & piled on top of it I knew…
IT.HAD.TO.COME.HOME.WITH.ME!!!
The only problem….there was no price listed on it!
And I was scared…REALLY scared..because this resale shop is known for its high prices!
What would I do if the owner wanted hundreds of dollars for it?
 I wanted it sooo bad!
So I got up some courage & went in to inquire…
I almost fell over dead when he replied…
"Sixty dollars!"
WOO HOO!!…Momma's got a new buffet!!!
It was 5 minutes before closing & I wanted to go home and do some measuring to make sure this little beauty was going to fit in the space I had in mind…I asked the owner if he would hold it for me til the next morning & he said "Yes!"
 So after some measuring & some assistance from my dad's
pick-up truck…it now sat in my kitchen!
 I heart all the details on this buffet….all of the curves & cut-outs, the hardware, and I sooo LOVE the feet!
Here is an up close of the cut-outs & hardware on the drawers. The finish looks a little rough in this pic, because I had already started sanding at this point. I hadn't had this thing home an hour and was already sanding & getting it ready for it first coat of primer.
So I sanded all of the surfaces of the buffet with an all-purpose sandpaper.

Removed all of the hardware, and gave it one coat of KILZ2 primer.

I then used 3 coats of a semi-gloss latex paint to finish the project (this is the same primer & paint I used for my kitchen cabinets.)  

I used a 3 inch foam paint roller to do the biggest part the painting on this piece, but did have to use a brush to do the feet & cover some of the smaller details of the buffet.
After a little bit of paint & some good ole fashion elbow grease, my buffet now looks like this…
 I just LOVE it!
What do you all think? I would  love to hear your feedback! You can leave a comment underneath this post or contact me by email!
So, that's my "Before & After" post…hope you enjoyed!
You can check out more "Before & Afters" at the Thrify Decor Chick Linky party…
Also linking up at Finding Fabulous for their Frugalicious Friday linky party…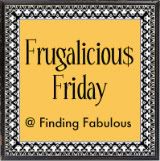 http://decormamma.blogspot.com/
and one last link up….