Hey Friends!!
If you've been following me over the weekend on Facebook and/or Instagram, then you probably saw my posts about the upcoming Michaels & Hometalk Pinterest Event that is taking place next Sunday!
If you didn't see my posts, then let me just say that I am SO THRILLED to be representing the Hometalk team at the Michaels Store in Shiloh, IL!!

The party is this Sunday, February 16th from 1:00-4:00pm and I would LOVE for you to join me!!
You can RSVP to my local event by clicking HERE. 
Not in the Shiloh, IL area, but would still like to attend?!  NO WORRIES!  You still can!
There are 100 Michaels Stores & bloggers participating in the event throughout the United States & Canada.
For a full list of participating locations, click HERE.
Today, I would like to share one of my projects for the event…..this DIY Layered Burlap Monogram wall hanging: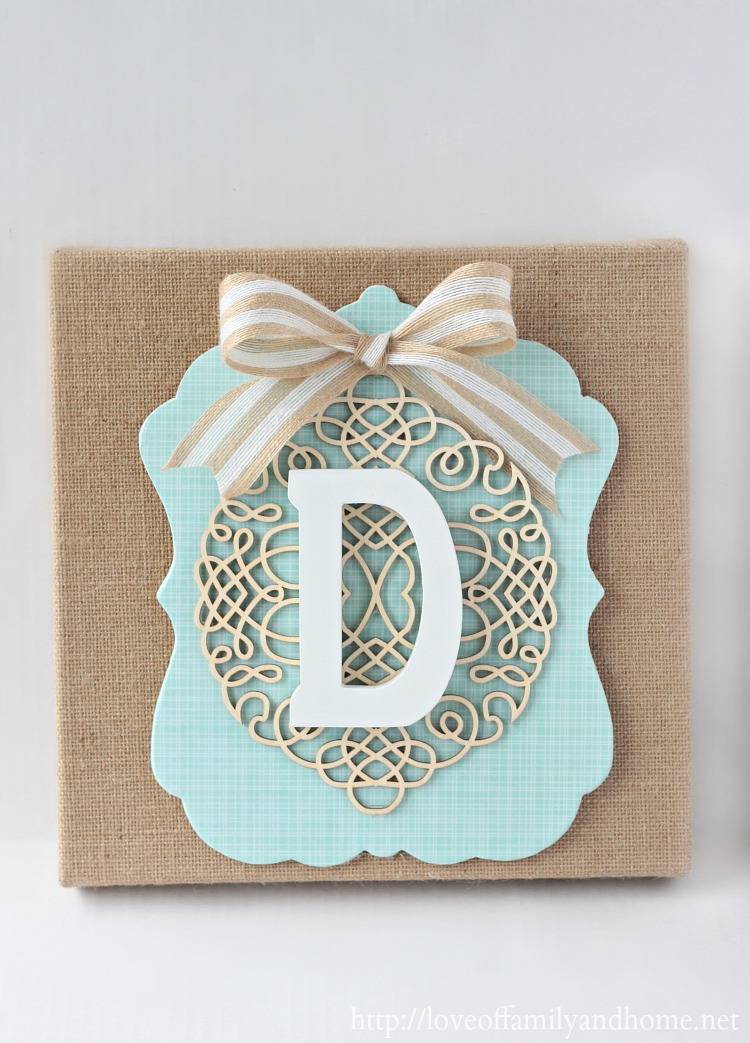 Isn't it cute?!  
I'm hoping that it will soon find its home in my master bedroom…hints the color choices! 🙂 Eventually, I would like to have a small gallery wall in the master & would love to incorporate this burlap monogram!
This project was super easy & inexpensive to make! Aren't those the best kind?!
My mom & I headed to Shiloh this past Friday afternoon to check out the Michaels store & gather my supplies for this event. (I actually bought a whole other set of supplies for a separate craft that I hope to be sharing tomorrow and/or Wednesday…stay tuned for that!)  Before we left I downloaded the Michaels Store app.  By doing so, I was able to score some killer coupons! Here is what I bought for this particular project: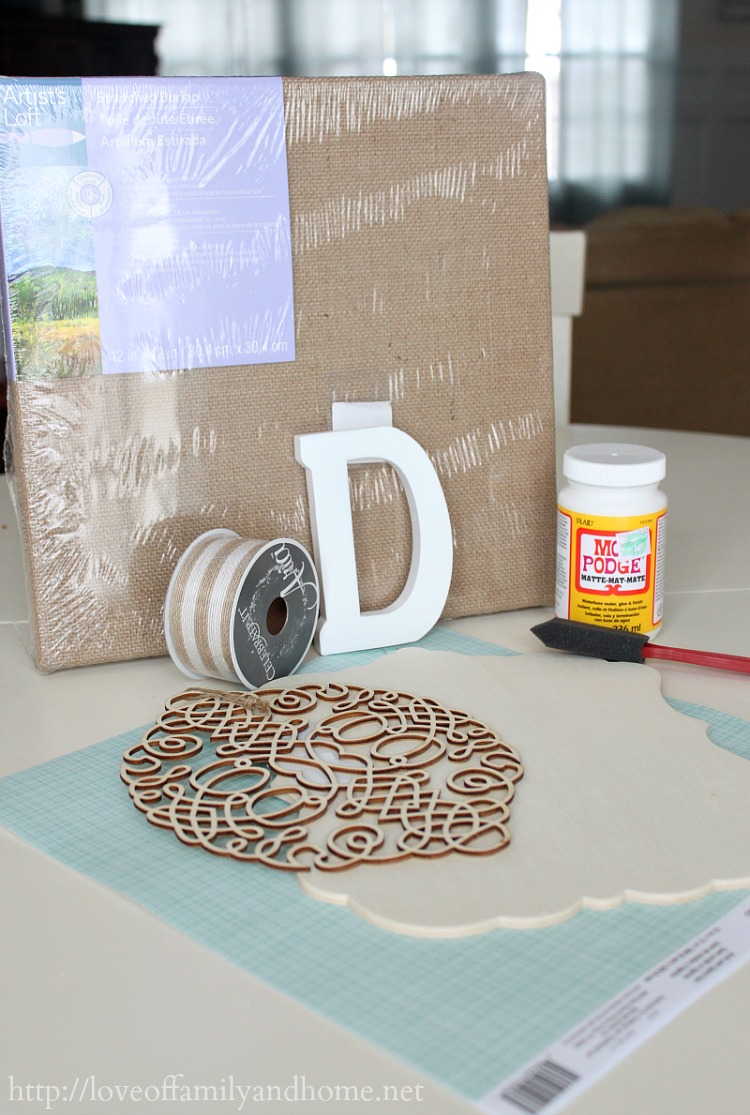 **Side note: I already had the Mod Podge at home from previous projects, but it is available at Michaels. You will also need a hot glue gun & glue sticks in addition to the supplies you see above.
I first began the project by tracing out the shape of wooden plaque on the scrapbook paper. Once it was all traced, I cut it out with scissors.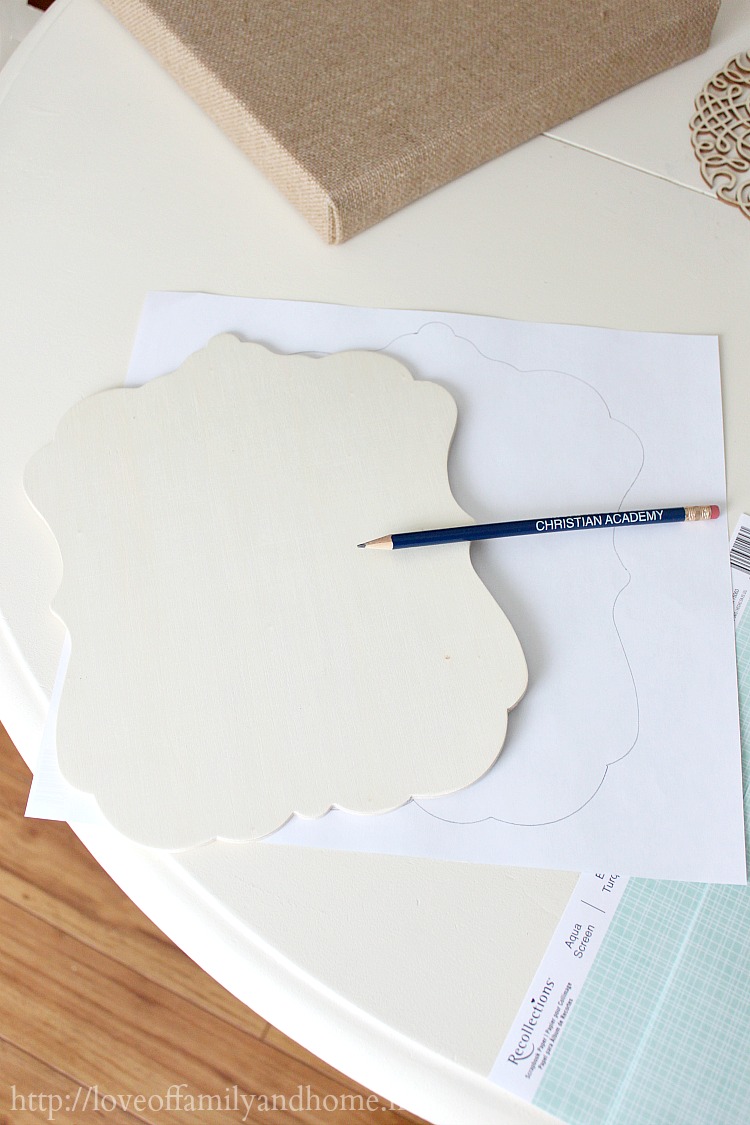 To adhere the scrapbook paper to the wooden plaque, I used Mod Podge.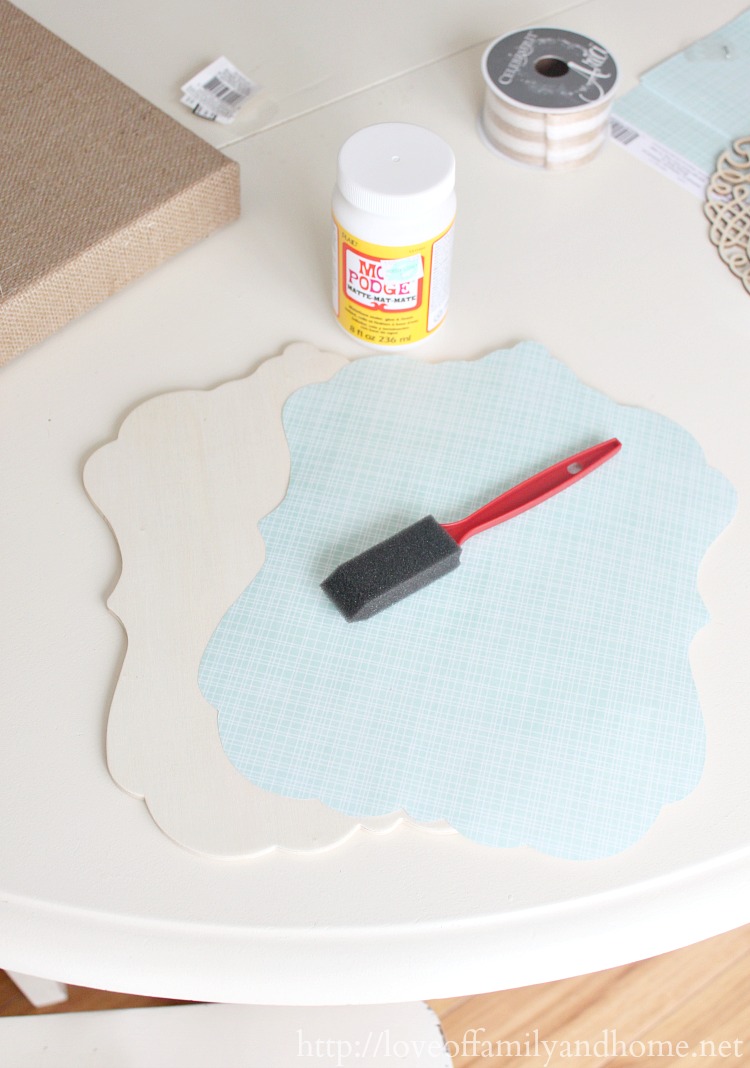 For those of you who have never used Mod Podge before, here is a brief overview of how I did it. I first brushed a layer of Mod Podge over the surface of the wooden plaque. I placed my scrapbook paper cut-out on top of the plaque & smoothed it out with my hands to get rid of any air bubbles.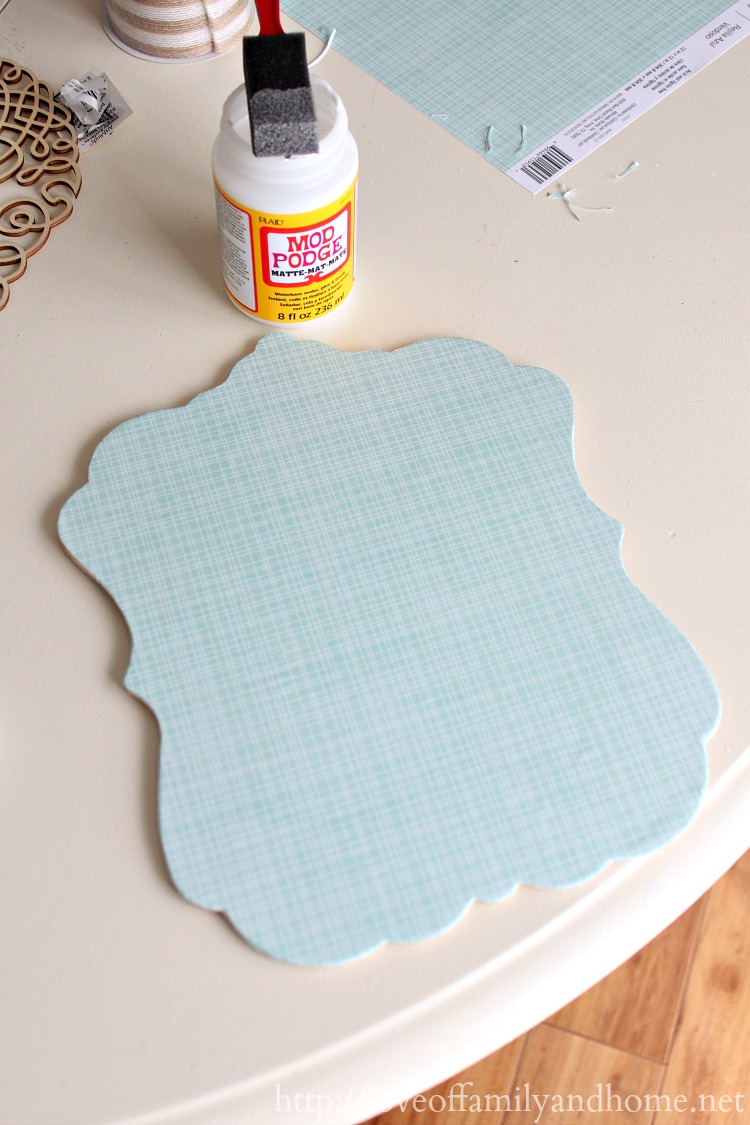 Once it was dry, I then brushed a layer of Mod Podge over the top of the scrapbook paper to seal it in place. The Mod Podge goes on white, but dries clear. I actually repeated this step for a second time to ensure a good seal. It is important to let it dry well between coats.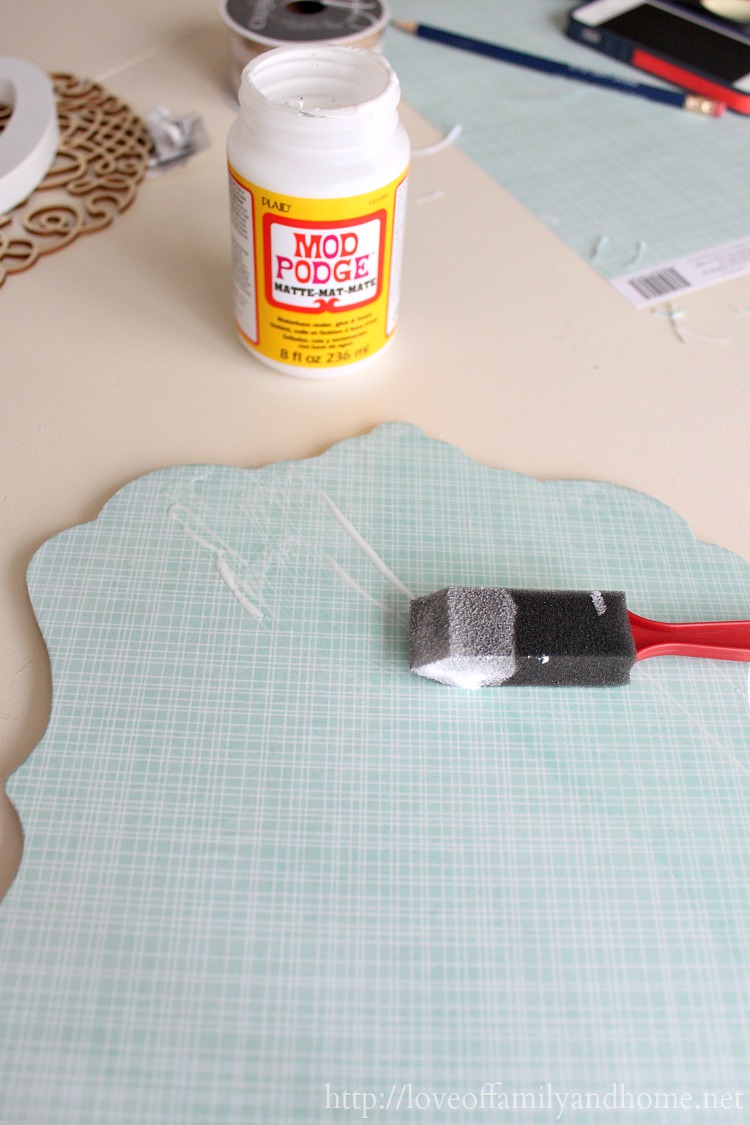 Once that was done, the only thing left to do was to layer all of my goodies onto my burlap canvas. I first attached the wooden plaque to the burlap canvas and then added the additional layers you see below. Everything was attached using hot glue.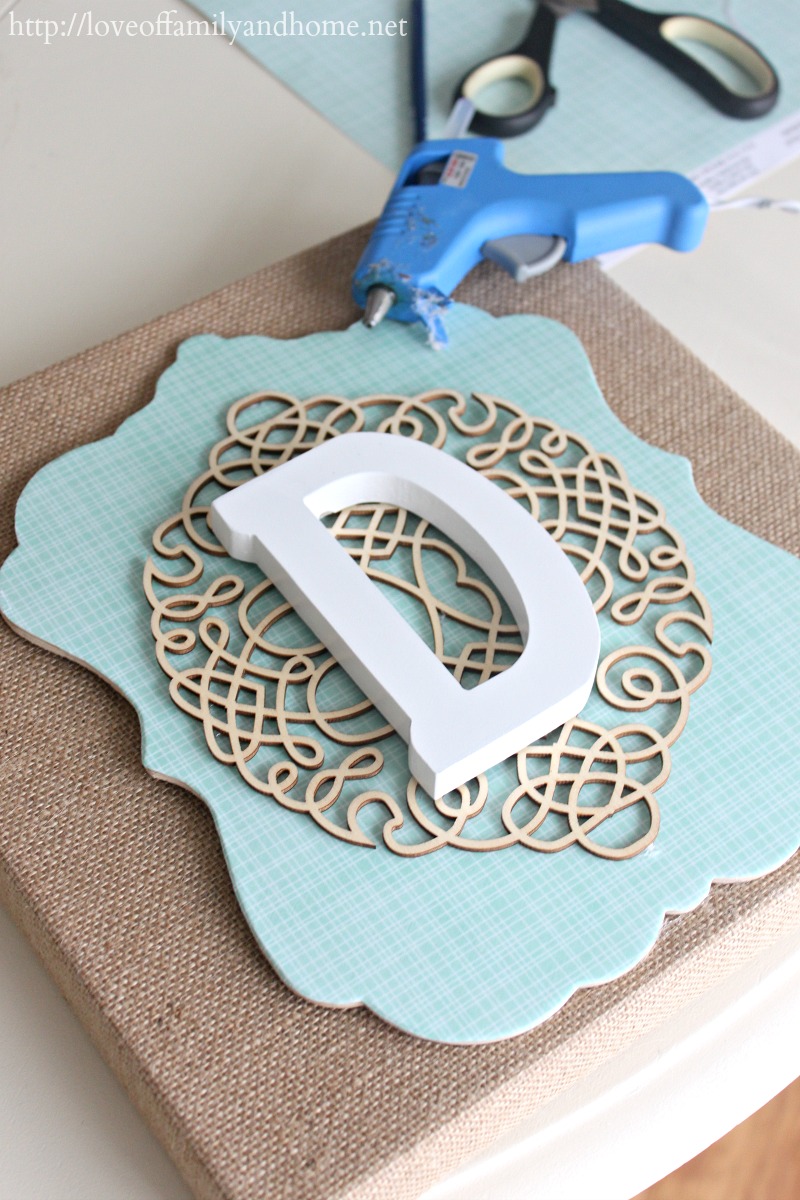 And here she is in all her glory! 😉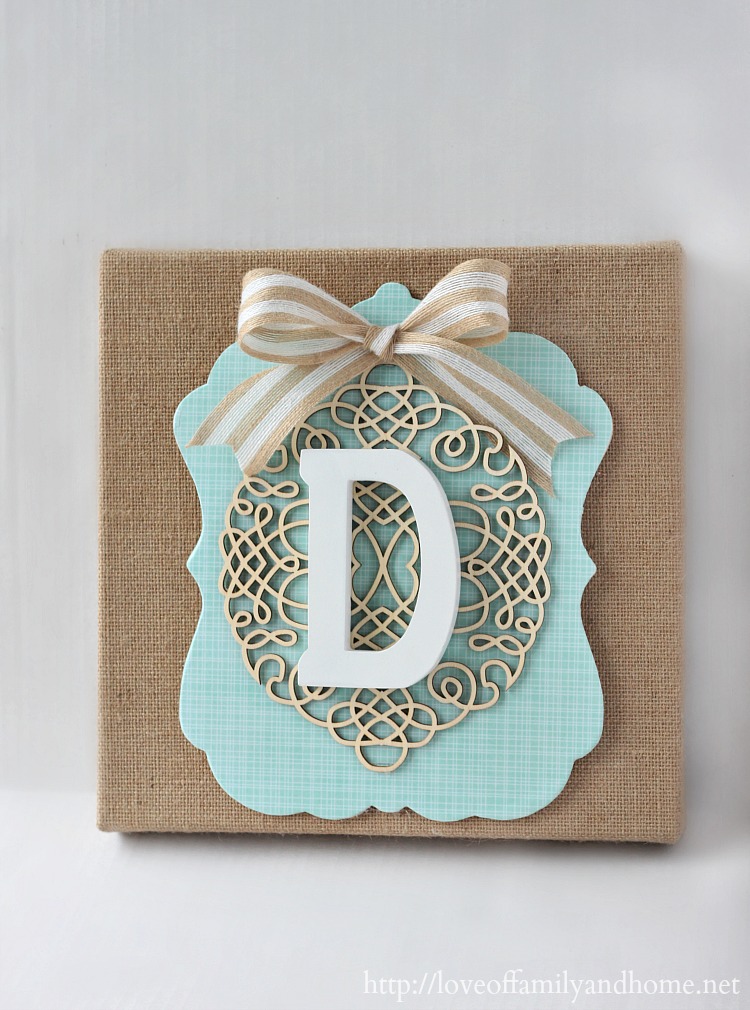 I absolutely love the laser wood cut-out that sits on top of the wood plaque. Isn't the detail just fabulous?! Michaels had so many of these in the store…all equally beautiful!!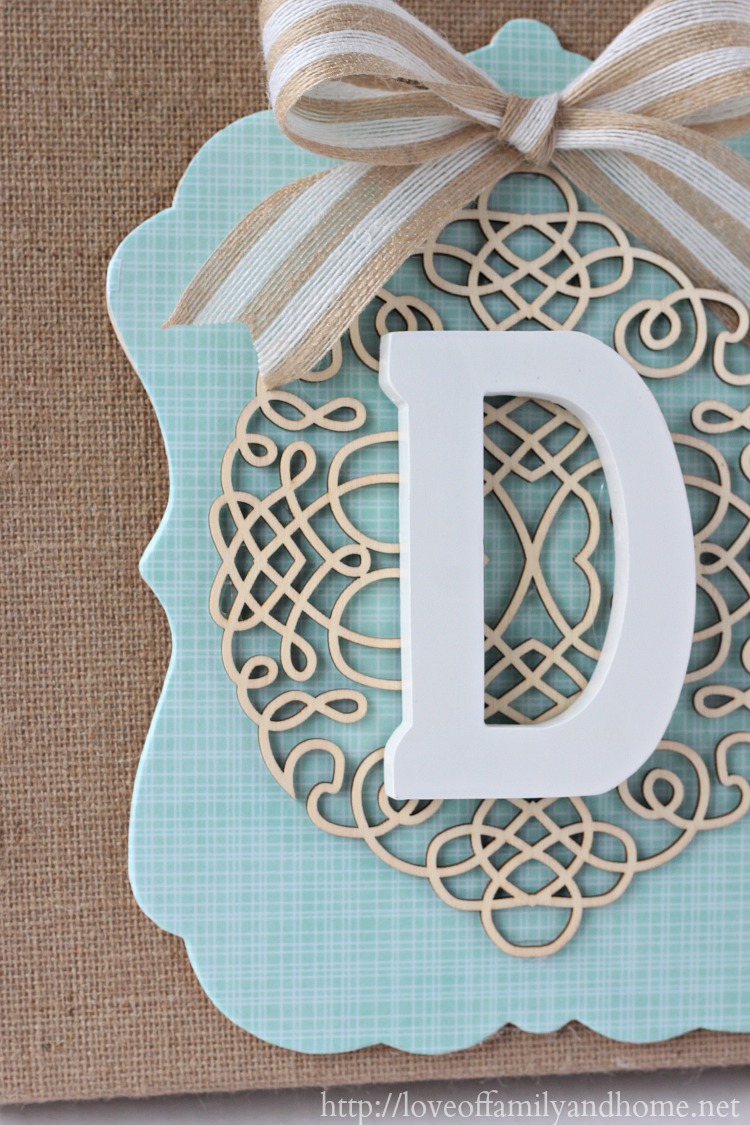 Is this something you would like to make?! 
If so, please join me (or another blogger, at a different Michaels location) on Sunday, February 16th from 1:00-4:00pm for the in-store Pinterest Party event!!

Be sure to visit your local store, check out all of the Pinterest-inspired displays, buy your supplies & meet us in the classroom that afternoon to create your own pin-worthy project!! Another side note, I would encourage you to visit the store a few days before the event if at all possible…I spent well over 2 hours browsing the store & trying to make a decision on which projects I wanted to tackle…so many wonderful things to see & choose from!
So, if this DIY burlap monogram isn't your thing, stop by the store anyway to check out all the other possibilities! You may even have a Pinterest project in mind that you've been wanting to make for sometime now…..why not make it this Sunday at the Michaels/Hometalk Pinterest Party Event?!  Don't just pin it, MAKE IT!!!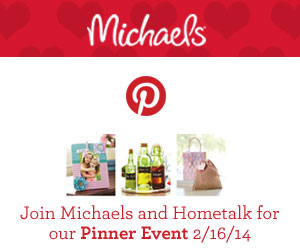 I mentioned that I will be representing Hometalk at the event.  Are you familiar with Hometalk?!
Hometalk is a home & garden social network where you can share your projects, as well as learn from professionals, for free!  You can Visit My Profile HERE to see how it's all layed out.  It's also a great place to upload your own projects without needing a blog!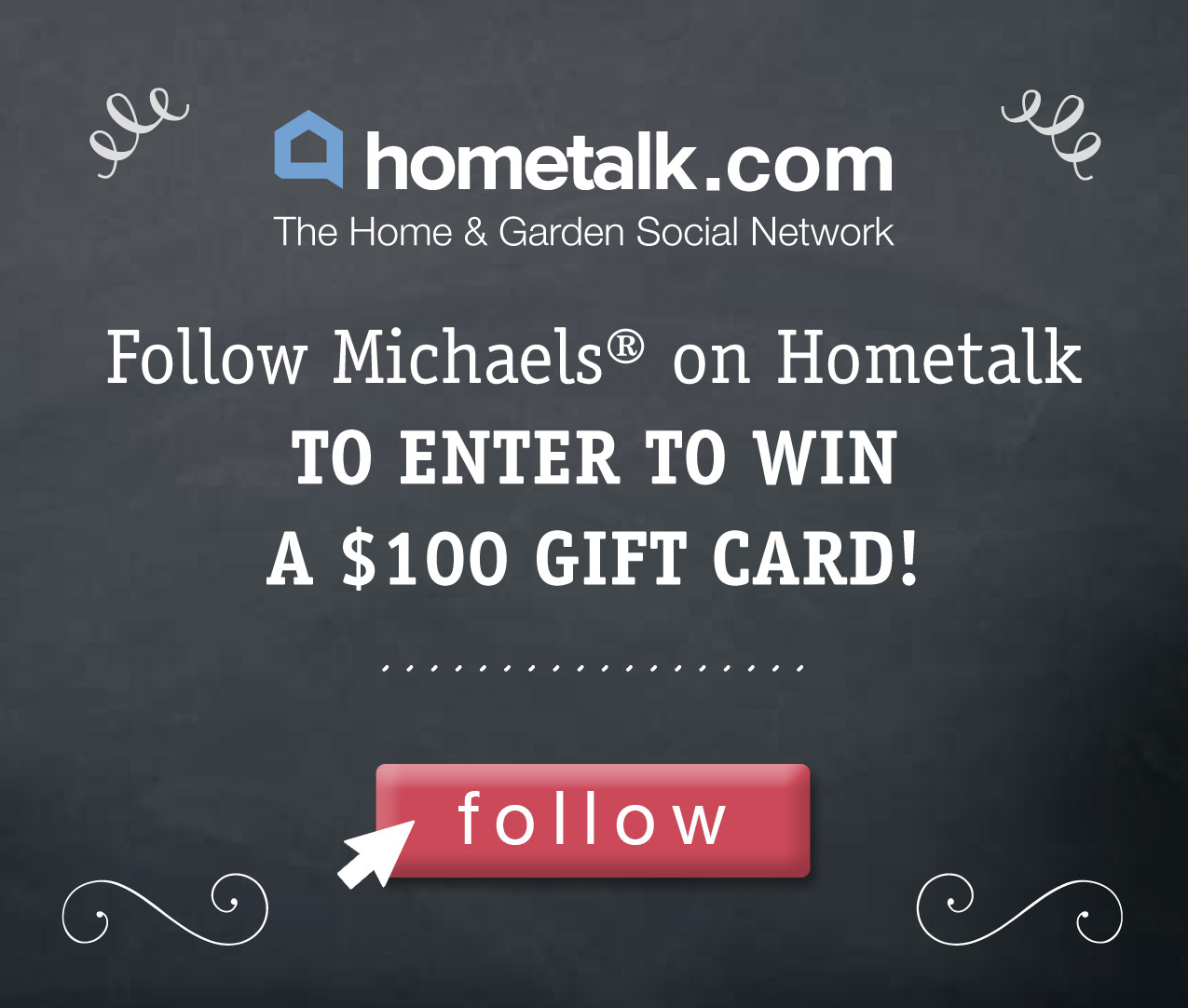 And one last thing!!! Be sure to Follow Michaels on Hometalk today to be entered for your chance to win a $100 Michaels gift card!  Five winners will be announced on Hometalk's Facebook page on Monday, February 17th!  Don't miss your chance to win!!
As always, thanks so much for visiting me today!!
I hope to see some of you this Sunday at the Michael's store in Shiloh, IL!!! It's gonna be FUN!!!
Linking up here…
Tutorials & Tips Tuesday at Home Stories A to Z
Show Me What Ya Got at Not JUST a Housewife
Wow Us Wednesday at Saavy Southern Style 
Inspiration Exchange at City Farmhouse