7.4K Flares
7.4K Flares
×
Hey friends!!
Can you believe it?! I'm back with another post! And it's only been a week! 🙂
Today's post is one that I've been wanting to share for quite some time. In fact, I don't think I've ever blogged about this space! You've seen our guest bathroom, but you've never seen the master bath! This room is one that didn't exist when we first bought our house. It was added on back in 2008. All of our friends were buying newer, bigger homes at that time. Some of them even building their forever homes. We just weren't ready to make that move. So, in order to save money, and make our little ranch home last us for several more years, we decided the best thing to do, would be to add a 2nd bath on to our current home.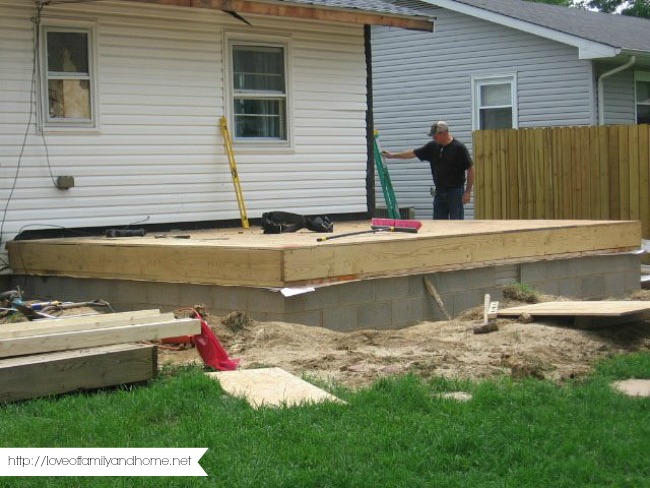 My dad was basically our contractor. He did most of the work along side several family & friends. We added on to the back, corner bedroom. In addition to the extra bath, we also built a large walk-in closet.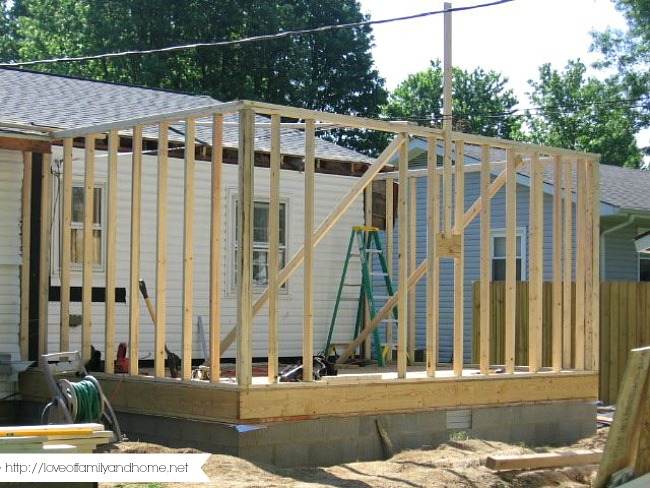 Looking back on it, we should have made the bathroom a little smaller & the closet a little bigger, but all & all we are so happy with how the addition turned out! It has definitely added a huge amount of value to our home and has allowed us to stay here much longer than we originally planned.
Here is a look at the master bath right after completion…..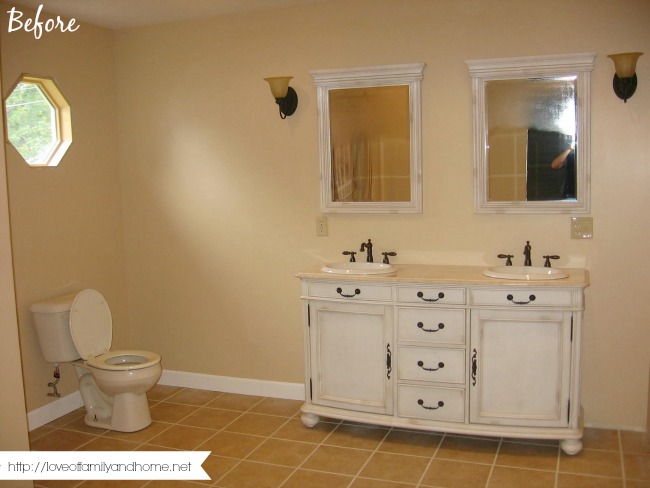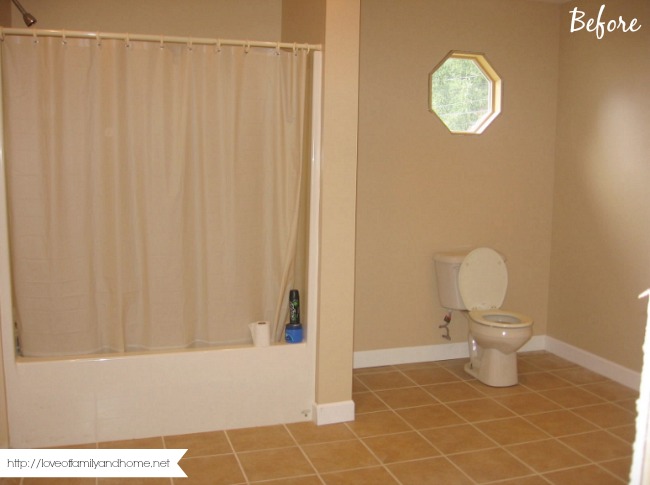 You can see, it's a pretty big space! I added a shower curtain, some wall decor, and a small shelving unit beside the toilet and called this space DONE. However, I wasn't happy it. Every time I walked into the room, it just felt like it wasn't finished. Then, some time late last summer/maybe early fall, I was just completely OVER the bathroom. I was tired of the wall color and I really just wanted to brighten up the room.  I knew I needed to find a shower curtain, or some sort of wall decor as a starting point, but just wasn't having any luck.
Then, on a random trip to TJ Maxx, when I wasn't even looking for bathroom decor, a shower curtain hanging out on an end cap quickly caught my eye! And after that, a storage cabinet, and after that, some wall decor. Have you ever had a shopping trip like that? They don't happen very often, but when they do, it's seriously magical! Usually I have to make 95 trips to 95 different stores before I find all the pieces I need to makeover a space!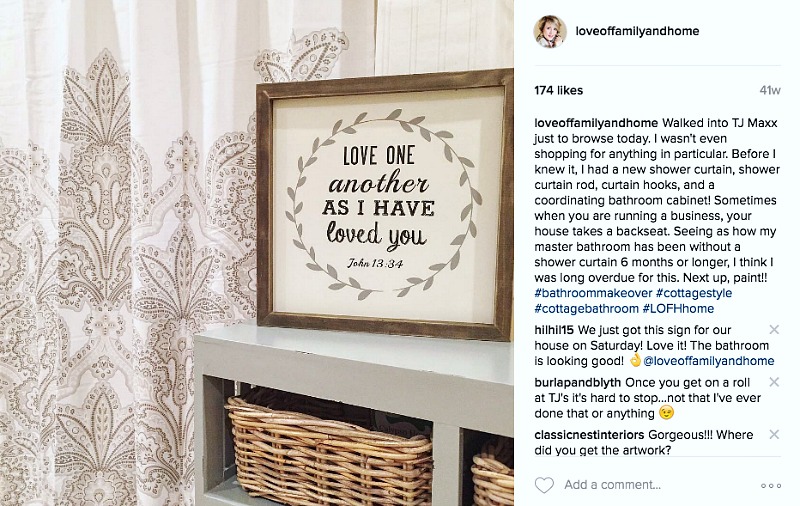 Notice that Instagram post is from 41 weeks ago? I'm seriously the slowest decorator in history! I would say that I'm still not completely done with this space, but I'm close, and if I wait until everything is just perfect, it might be another 41 weeks until this post is done. So, without further, ado, here is a look at our "new" farmhouse style master bathroom. 🙂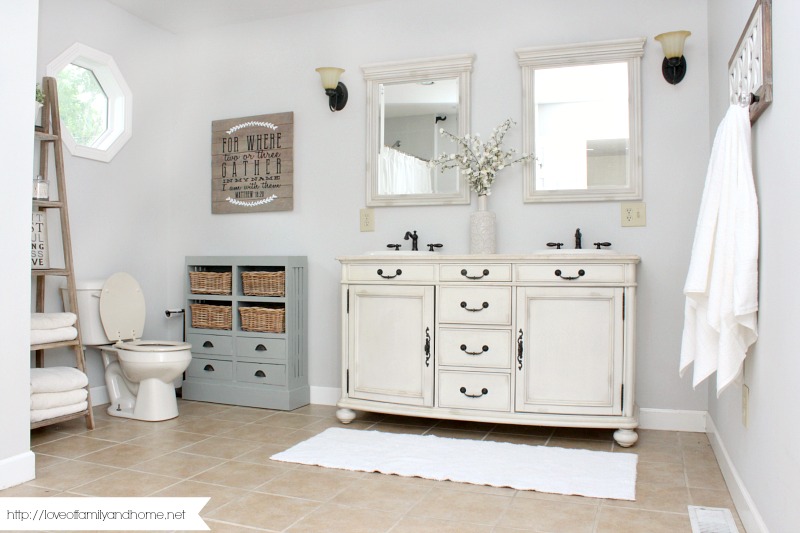 So much lighter & brighter than that before shot, am I right?! It really is amazing what a little paint and some white linens can do!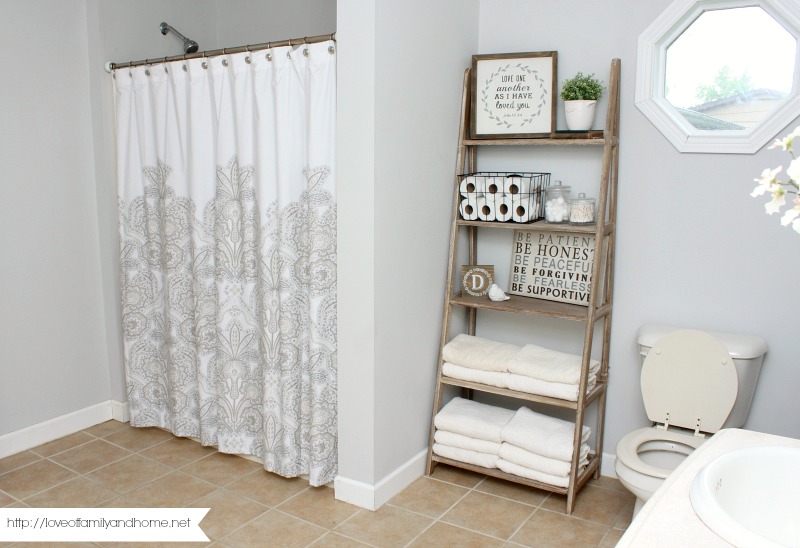 Like I said before, the shower curtain is what inspired this bathroom makeover. I knew I wanted a lighter colored shower curtain, and also knew that I wanted to go more light gray with the paint color. The problem was the floor. Trying to find a shower curtain that would allow me to go the direction I wanted to with the wall color, but also tie in the floor color wasn't easy. In the beginning, I was even contemplating new tile, but not wanting to deal with the expense nor the mess, I kept looking for something that would work. Then, again, when I wasn't looking, I found the curtain you see above at TJ Maxx. It had different shades of gray, blue, and just enough tan to tie into the floor.  It was just what I was looking for!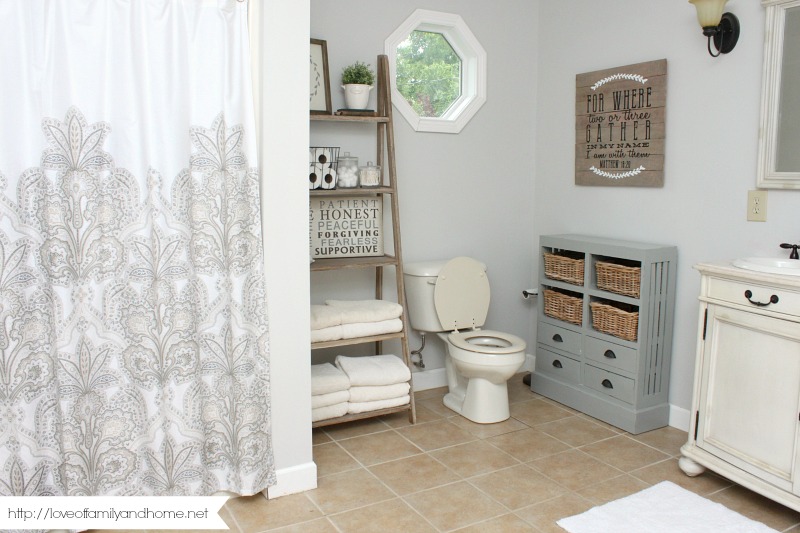 After throwing the shower curtain in my cart, I then stumbled upon the little blue storage cabinet you see beside the toilet, also at TJ Maxx. The wall between the vanity & the toilet was always a hard space to decorate. Knowing that it needed something, but never being able to find anything the right size, color, etc. that would fit. This cabinet was the perfect solution!
Then, after having good luck at TJ Maxx, I headed to Hobby Lobby, hoping that my luck would continue. That is when I found this print and also what started the weathered wood trend throughout the room.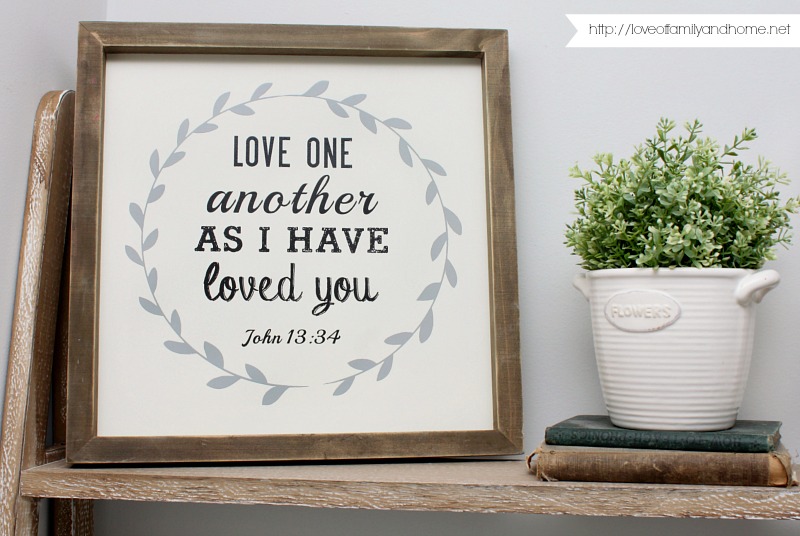 Which is also how that beautiful ladder shelf made its way home with me. 🙂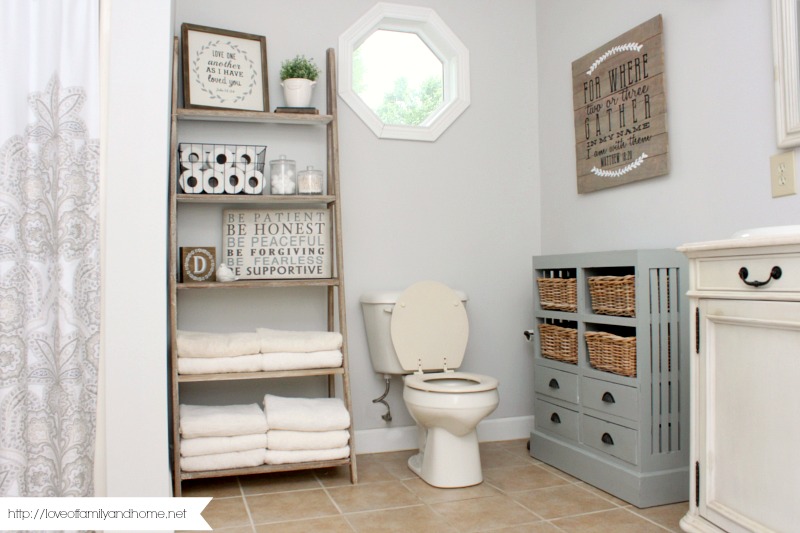 And this beautiful wood sign.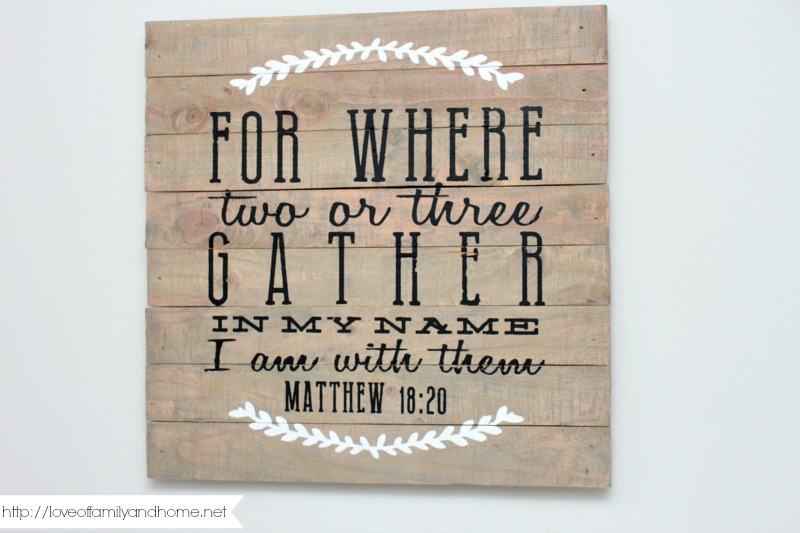 I mainly decorated the ladder shelf with linens, some older items I already had lying around the house, & some newer items as well, like this canvas print I picked up at Big Lots.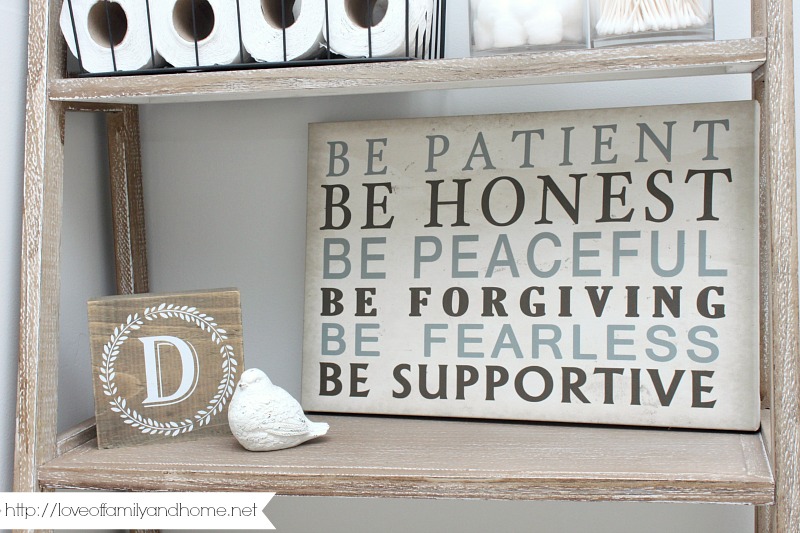 The bathroom vanity & mirrors have always been one of my favorite things about this space. Ideally, when switching things around in the bathroom, a traditional styled vanity is the easiest type to decorate around. Because ours is so taste specific, I originally wasn't sure how it was going to work in the room, but to my delight. It ended up working just fine. I also love all of the dark hardware. One of these days, I'd like to swap out those light fixtures with some farmhouse style fixtures, but again, all in due time.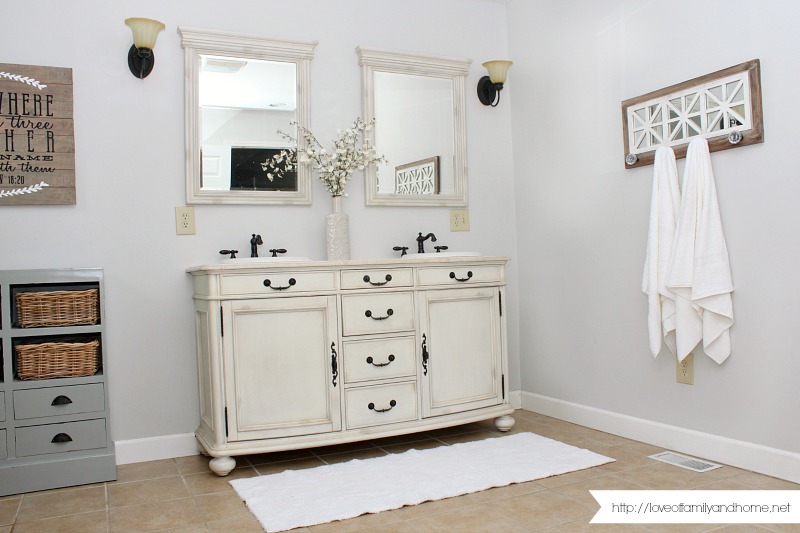 Our vanity decor is very limited. Ideally I'd like to add a bit more. Maybe a cute little tray between the two sinks with some white washcloths and some decorative bottles. I don't know. I'll come up with something. For now, just a simple ceramic vase & some white airy dogwood bloom branches that I pick up at Pier 1 will have to do.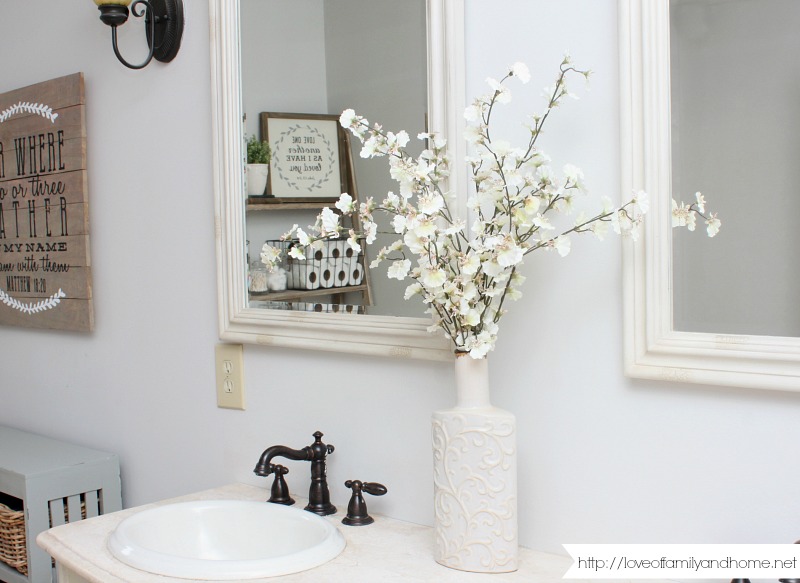 Like I said before, if I waited until the space was perfectly staged & every little detail was like I wanted it to be. This post probably wouldn't happen for several more months. Did I mention how slow I am?!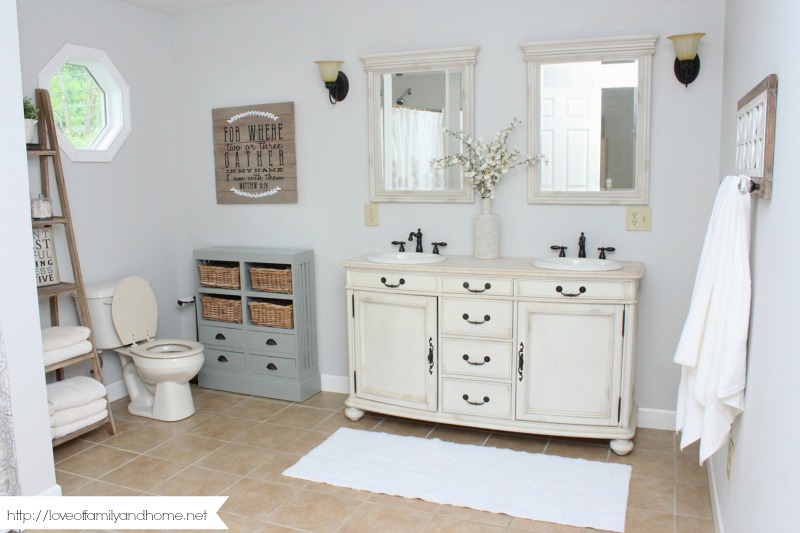 This weathered wood, mirrored towel hanger was something that I picked up at Kirkland's. I love how it ties in with the other pieces in the room. I also love the simplicity of the white towels hanging from it. Is there really anything better than bright crisp white linens?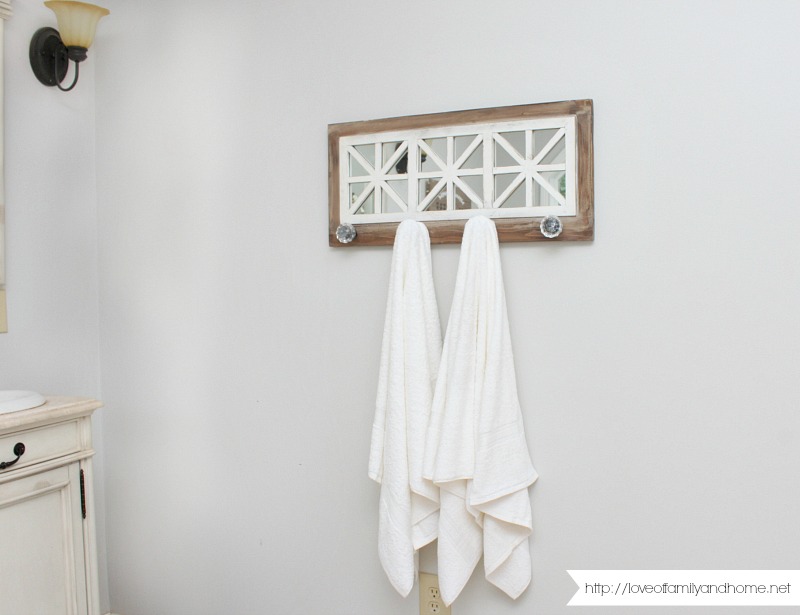 So, that's a look at our bathroom makeover in a nutshell. I'm really loving how it turned out! I hope you enjoyed the tour! For a full source list, including paint color information, please see the list below! 🙂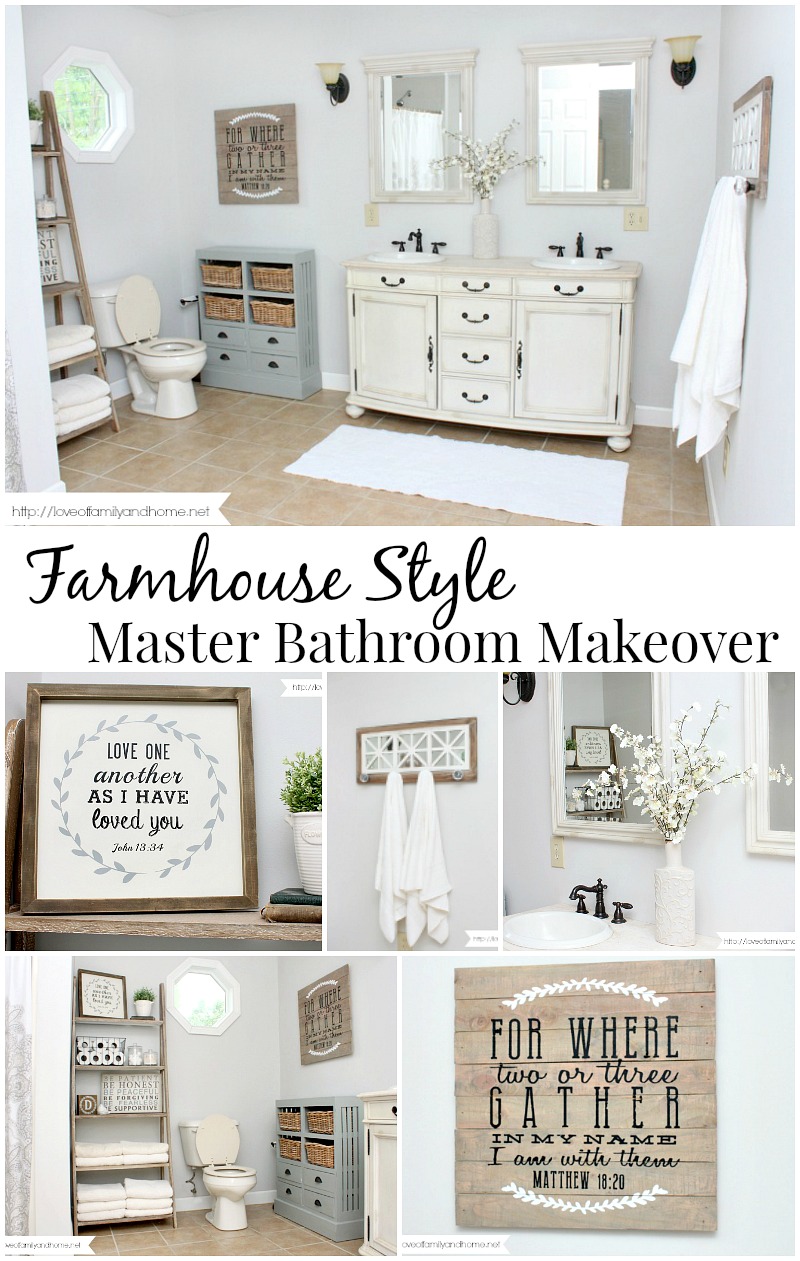 I'm actually in the middle of updating our guest bathroom as well. Hopefully, I can get it completed soon & share some pictures here on the blog!!
No promises though….you saw how long this makeover took me! 😉
As always, thanks so much for stopping by!
I hope you have a wonderful day!!
To see more of our home, CLICK HERE.
Source List: 
Paint Color: Seashell Gray by Valspar (mixed our locally owned Home Improvement Store)
Shower Curtain: TJ Maxx
Ladder Shelf: Hobby Lobby
Blue Storage Cabinet with Baskets: TJ Maxx
Matthew 18:20 Wood Sign: Hobby Lobby
John 13:34 Print: Hobby Lobby
Be Patient, Be Honest Print: Big Lots
Bathroom Vanity & Mirrors: Lowes
Dogwood Bloom Branches: Pier 1
Ceramic Vase: Hobby Lobby
White Rug: Target (Nate Berkus Brand)
Weathered Wood, Mirrored Towel Hanger: Kirklands
Monogram "D" Wood Block: Hobby Lobby
Black Wire Basket: Walmart
Linking up here….
Before & After Party at Thrifty Decor Chick