Hey Friends!!
Happy Tuesday to you all!!
Thank you for all of your kind feedback regarding the Boys' Shared Bedroom! I'm glad you all love it as much as I do!  I had several inquiries on Facebook and Instagram regarding the large prints above the boys' beds. Many of you asked if they were canvases. They in fact are not!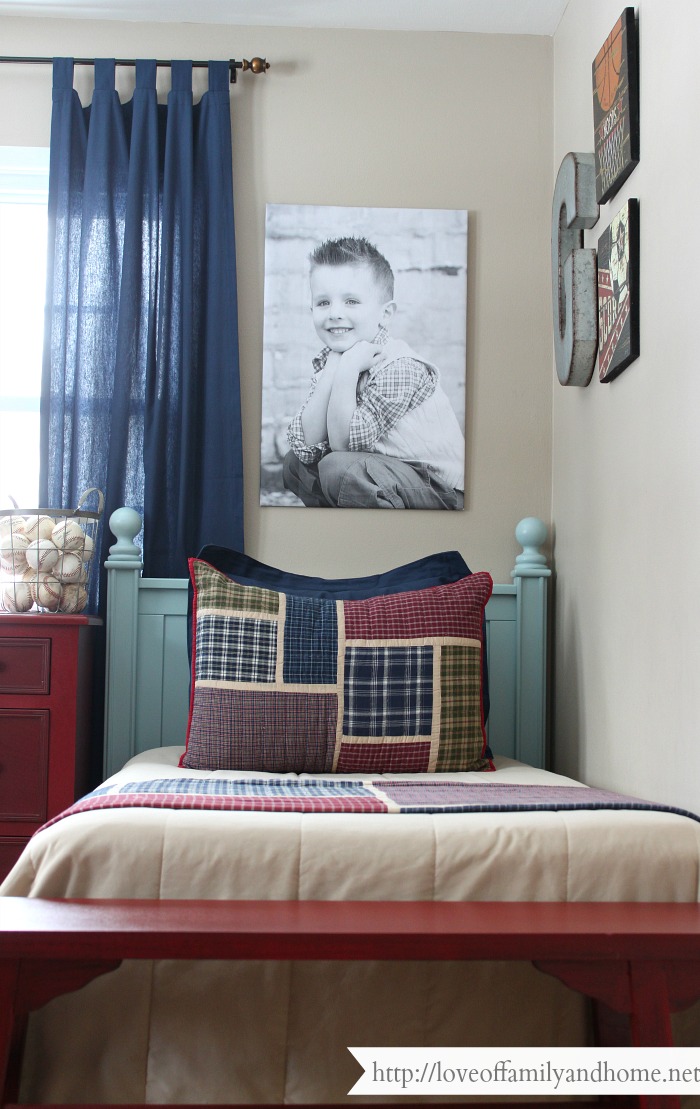 Would you believe me if I told you that they are just oversized prints, printed on regular copy paper and then wrapped around a piece of foam board?!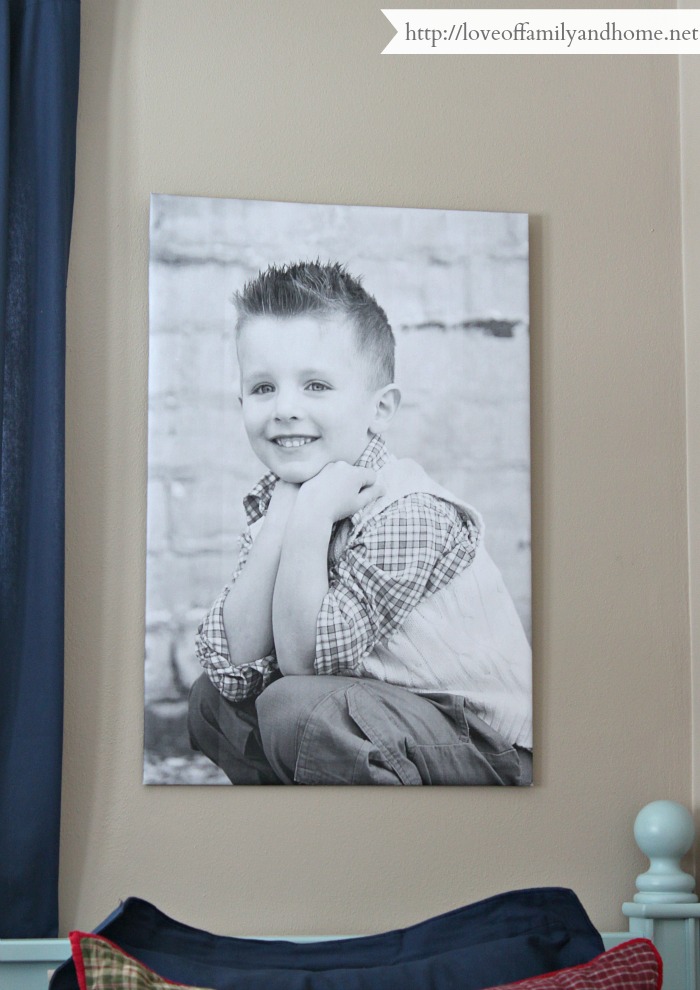 Amazing, right?! 
You can get the same impact on your walls that you would get with a large canvas print….for merely a fraction of the cost!
And best part about it?! When you are tired of that particular photo (or maybe you just want to swap it out with a more updated photo), all you have to do it tear the piece of paper off the foam board & replace it with a new print!
I wish I could take credit for this genius idea, but I'm afraid there are people on the internet that are much smarter than I am! This idea actually came from one of my most favorite bloggers, Jen from Dear Lillie blog.
And as if things couldn't get any better, this project was probably the easiest "craft" I have ever done!
Seriously….it's so easy, your kids could it with ease! I was able to make 4 of them in about 30 minutes.
Create Your Own DIY Faux Canvas Print:
24″ x 36″ Engineering Print
20″ x 30″ White Foam Board
1 package Self-Adhesive Sawtooth Hangers (optional)
Scotch Tape
We had family pictures done with the very talented, Sherry Reichert of Imagine Photography back in December. She was able to capture some amazing shots of our boys that I will cherish forever! When I first saw our proofs, I immediately knew I wanted to make some of these faux canvases. So, I took the flash drive with our photos on it over to our local Staples and asked them to print out 4 engineering prints (24″x36″) for me. They were $3.89 a piece.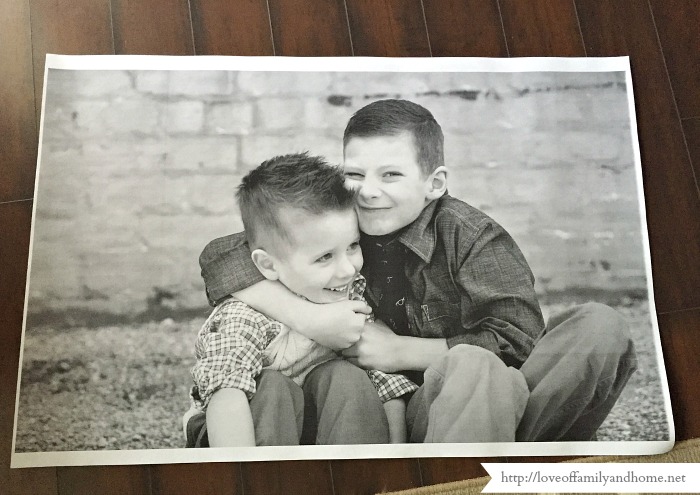 Then, I went to our local Hobby Lobby & picked up four 20″x30″ white foam boards. They just so happened to be 30% off the week I was there, which made the boards about $2.00 a piece.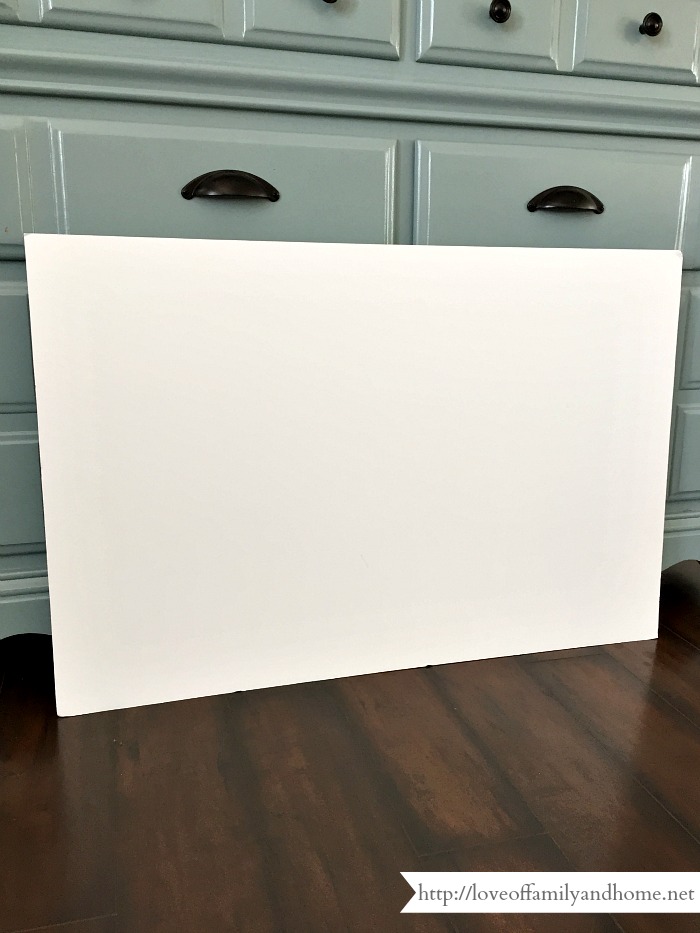 Since the engineering prints are larger than the foam boards, you must center the photo on the board the way you want it. That being said, there will be plenty of excess that you can wrap around the edge of the board. Then just simply wrap & tape it down!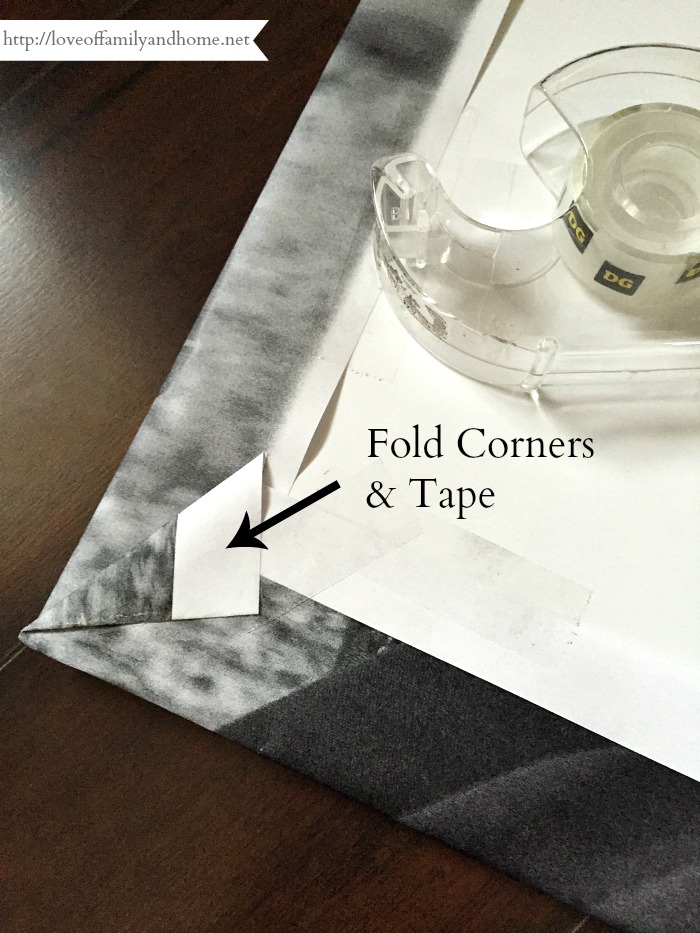 I also picked up a package of these self-adhesive sawtooth hangers while I was at Hobby Lobby. They are in the framing department near the posters. They are great for hanging lightweight items.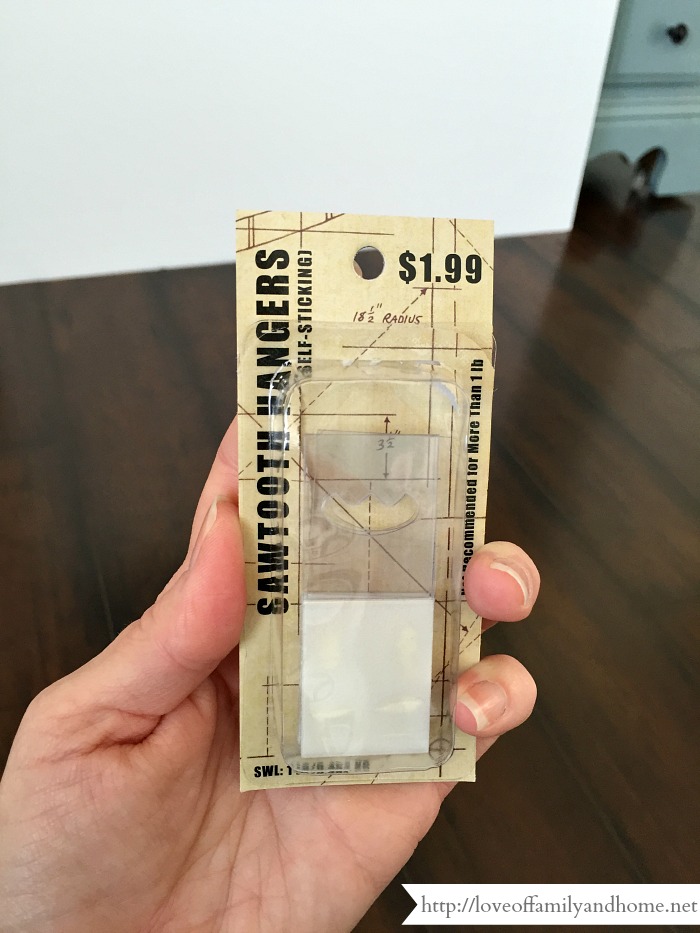 You just simply pull the adhesive tab off the back & attach it to the foam board the way you want it. If you don't want to spend the extra money on these hangers, check out Dear Lillie's tutorial for another hanging option.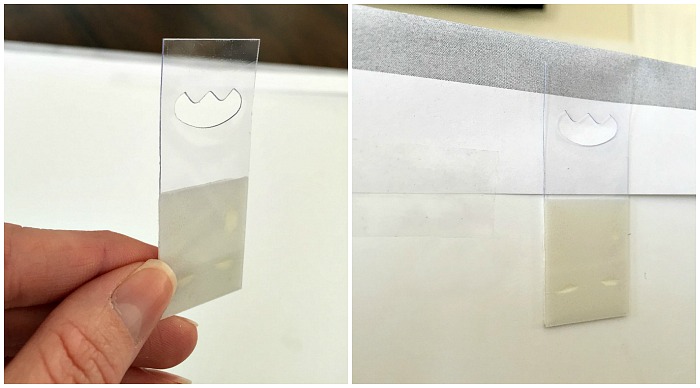 After that, it's time to hang your photo on the wall! This particular print was one that I put together for the boys' playroom.  I hope to share some updated photos of that room very soon! 🙂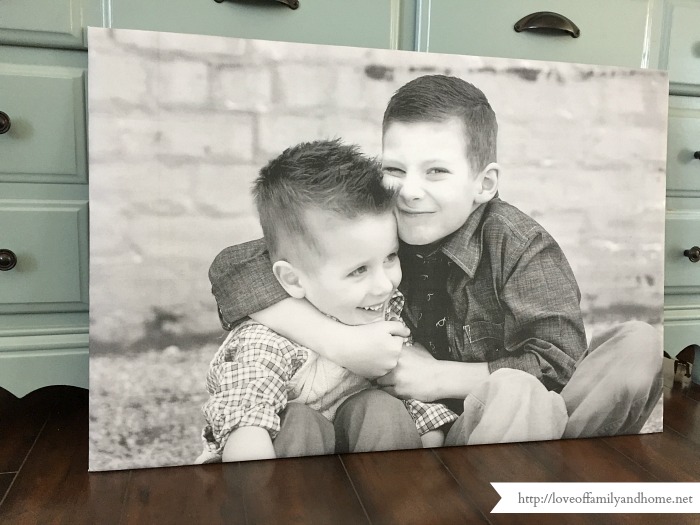 Until then, just a few more shots of the prints I did for the boys' bedroom instead!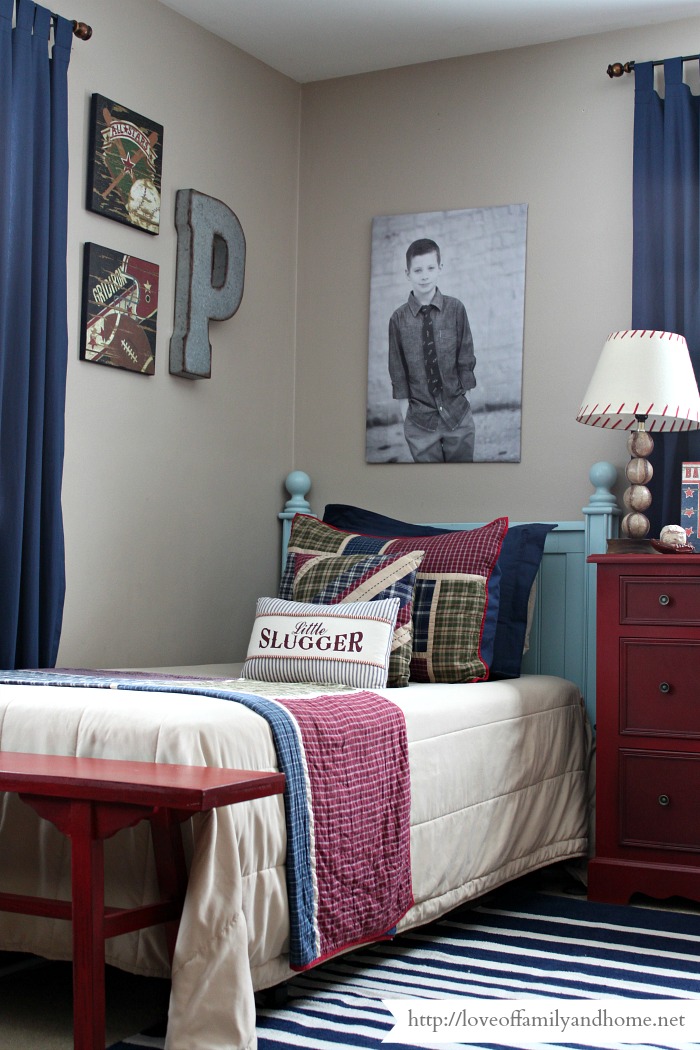 I'm not gonna lie….I'm kind of in love with them. So much so, that I am trying to come up with more places that I can hang them in my house! I thinking a few family photos for the living room & maybe a couple for our master bedroom as well.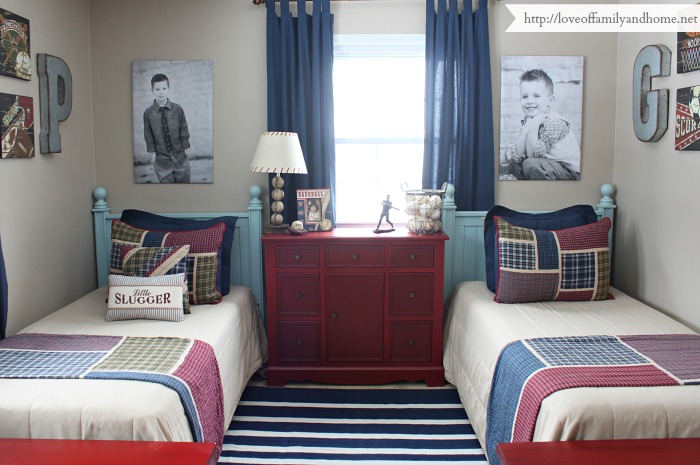 And let's face it, for $6.00 a piece, you just can't go wrong!
It's been a while since I priced canvases, but I know that a 20″x30″ canvas would cost you a whole lot more than that!
I hope you enjoyed this tutorial, and I hope that those of you who were inquiring are now inspired to make some DIY Faux Canvas Prints of your own! 🙂
Thanks so much for stopping by! Have a great day!
Linking up here…
Tutorial & Tips Tuesday at Home Stories A to Z
Wow Us Wednesday at Saavy Southern Style
DIY Projects & Party Time at The 36th Avenue
Link Party Palooza at Tatertots & Jello
Inspiration Gallery at Design, Dining, & Diapers
Frugal Friday at The Shabby Nest
Sunday Showcase Party at By Stephanie Lynn