Hey Friends!
Happy Hump Day!  I hope you all had a wonderful weekend!
One of the very first DIY projects I completed for this little ole blog was back in 2011. Three years later, it is still one of my most favorite makeovers to date! After starting the blog just a few months prior, I decided that I really needed a home office space. The problem was, I didn't have a spare room to make myself an office. So, I decided to get creative! I took our very cluttered coat closet in the living room & turned in into a small, but very functional home office space.
In a matter of just a few days, the closet went from this:
to this:
To see how I transformed this space & learn more about the project details you can CLICK HERE.
This project is also one of my favorites, because it landed me my biggest blogging opportunities to date….a feature in Woman's Day Magazine!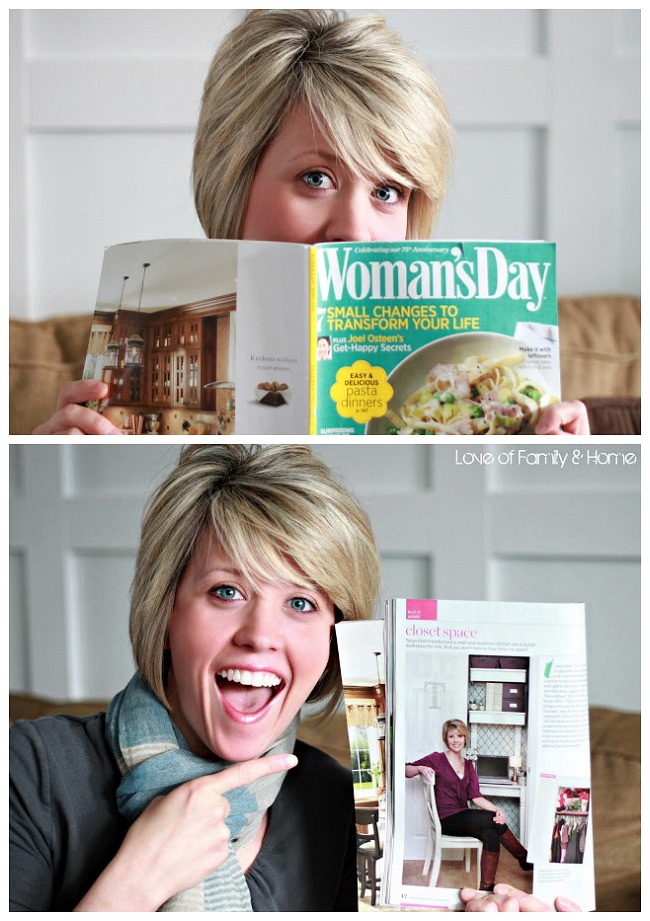 That experience is still SO SURREAL to me, but one of the coolest things I have EVER gotten to do!
You can read more about that opportunity HERE and HERE.
One of my FAVORITE places to share my FAVORITE projects is on Hometalk!
Are you guys familiar with Hometalk?
Hometalk is a lot like Pinterest, but is devoted to Home & Garden topics only….which I LOVE!!  You simply create different boards for different topics & clip your favorite projects to those boards accordingly. I recently started a new board for Closet Office Inspiration & clipped a bunch of closet office ideas to the board. Check it out HERE.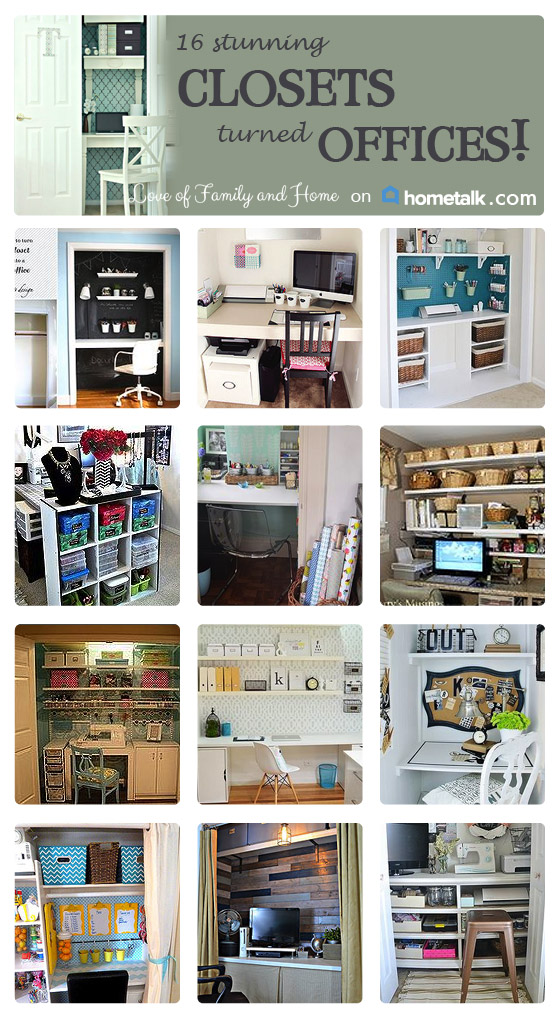 If you are in need of a home office space, but don't have an extra room to spare, I would encourage you to take a look at the inspiration on my board!  I think you will definitely find the inspiration you need!!  Even the smallest spaces can make a functional office space for you and your family!  Sometimes you just have to have an imagination! 🙂
If you haven't created a Hometalk account, I would strongly encourage you to do so today!  Not only can you find & research some really cool projects on the site, but you an also share your own! Just upload photos of your latest projects and creations to your profile & share them with the Hometalk community….you don't have to have a blog or a website of your own!  Also, if you are working on a project and have a home or garden related question, you can post it on the Hometalk site & get professional advice for free! What a great resource to have!!!
Wanna follow me on Hometalk?  Check out my profile HERE!
Already a member? Leave a link to your profile in the comments section below! I'd love to follow you too! 🙂
As always, thanks so much for visiting me today!
I hope you Wednesday is blessed!