Hey Y'all!
Did you have a good weekend?!
We had a pretty busy weekend, so as weird as it may sound, I was actually glad to see Monday roll around!  I just needed a day at home to recuperate from a full, but very FUN weekend with the boys.  Now that I've had a day off to relax, it's time to get back into the swing of things!  So, with that being said, I have a easy & delicious soup recipe to share with you today!
A couple weeks ago, my parents offered to keep the boys overnight so that my husband & I could go out on a date.  We went to the movie theater & ate at one of our favorite local restaurants.  The "soup du jour" that night was Stuffed Pepper Soup and I decided to give it a whirl.  Oh my, it was DELICIOUS!!  For days afterward, I couldn't stop thinking about it.  So….I immediately turned to the internet to see if I could recreate the yummy goodness I had at the restaurant that night.  I found several different recipes (all of which were pretty similar) to come up with this version I am gonna share with you today. I hope you enjoy!!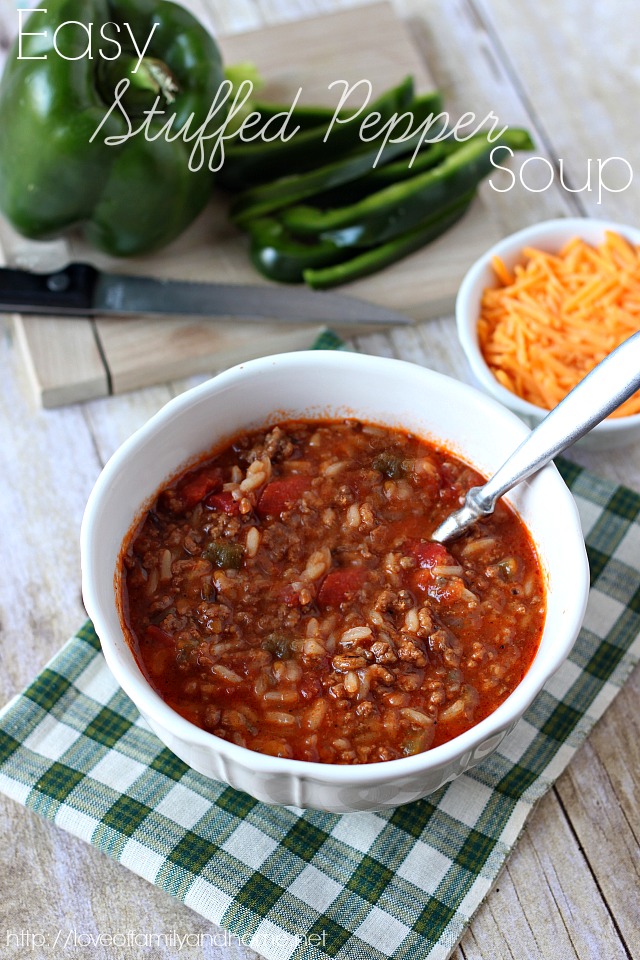 This recipe adapted from The Country Cook & Taste of Home

Stuffed Pepper Soup
Author:
Love of Family & Home
Recipe type:
Lunch/Dinner
Prep time:
Cook time:
Total time:
Ingredients
2 lb. Ground Beef
1 Small Onion - Diced
2 Green Peppers - Diced
1 Can (29 oz) Diced Tomatoes (undrained)
1 Can (29 oz) Tomato Sauce
4 Cups Water
4 Beef Bouillon Cubes
2 Tbsp Brown Sugar
2 Cups Cooked Rice
1 Tbsp Salt
½ Tbsp Pepper
1 tsp Garlic Powder
Instructions
In a large pot, combine ground beef with diced green peppers & onions. Cook over med-high heat until hamburger is brown.
When hamburger is brown, drain excess grease and then place back into pot.
Add diced tomatoes and tomato sauce to pot. Continue cooking for a few minutes over medium-high heat, stirring well.
In a separate bowl, combine beef bouillon cubes with 4 cups hot water. Stir until cubes are dissolved then add to pot. Follow with rice, sugar, & seasonings.
Let simmer on low-medium heat for about 20-25 minutes before serving. Top with shredded cheese and/or a dollop of sour cream (optional).
I personally
LOVED
adding in a dollop of sour cream to my bowl. It made the soup just a little bit creamy & oh so good! However, if you're like my husband & not a fan of sour cream, the soup is delicious just as is!
We have yet ANOTHER winter storm rolling in today, so I think I'll be warming up a bowl of this soup for my lunch today!  Nothing goes better with a winter storm then a big bowl of yummy soup!  Am I right?!
Is your area being hit with more winter weather today?!  If so, I hope you stay warm!!
As always, thanks so much for visiting me today!
I hope your Tuesday is BLESSED!!
Linking up here…
Tips & Tutorials at Home Stories A to Z
I'm Lovin' It at Tidy Mom
Inspiration Gallery at Design, Dining, Diapers