Hey Y'all!
I hope you guys had a great weekend! Ours was busy, but fun!
I thought I would drop in today & show you the progress I've made on the playroom. If you have been reading & following along, you know that I moved the boys into a shared bedroom this summer. I haven't shared any photos of their shared space yet (as I am still working on it), but I did do an inspiration post & shared my ideas for the space HERE.
One thing I realized AFTER we moved them into a shared space was that there was no way both beds, all of their furniture, clothes, and toys were gonna fit in the new room. The toy situation was completely out of control & I knew that my dreams of an office space/craft room were gonna have to wait. Griffin's old room was gonna have to serve as a playroom instead. We needed a space to house all of the toys & they needed a room in which they could play with them. With the addition of the playroom, I am hoping that we will no longer have to deal with toys being sprawled out all over the living room and that we can keep their bedroom nice & tidy. Whether or not that actually happens is yet to be seen, but it sounds good in my head, NO?
Once we moved the boys into their new room, we immediately moved all of the toys into Griffin's old bedroom. We spent an afternoon going through their individual toy boxes and trying to make sense of the chaos. We threw away the toys that were broken and/or had pieces missing, we donated a large amount of toys to our church for the the kiddos in the nursery, and kept everything that they still played with. Once I felt like we had things organized, then I was ready to start thinking about how we would use this new room & most importantly, how I would decorate it! 🙂
So, I stopped at Hobby Lobby one day & began looking for fabric. I needed some color inspiration! These were the fabrics I decided on.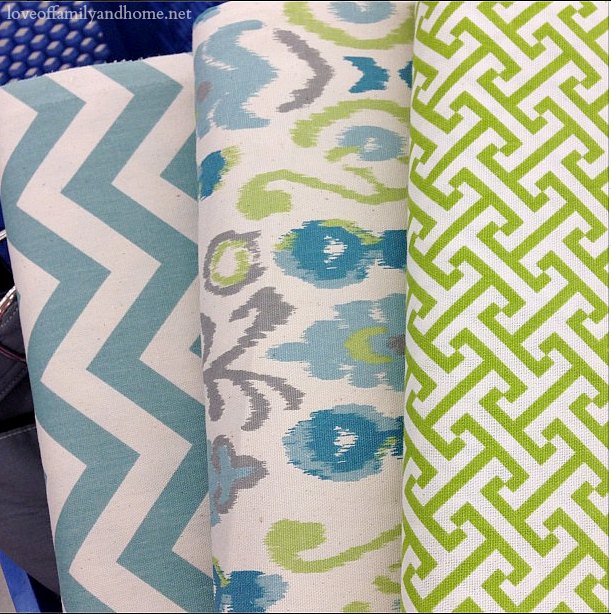 Cute, right?! 
I knew that the fabrics would provide plenty of color for the space, so I wanted to go somewhat neutral with the wall color. I already knew that I wanted to paint the beadboard in the room white and since there was some gray in the ikat fabric, I decided to use it for the upper wall color.
The gray color that I chose for the room is called "Route 66" and is made by Dutch Boy paints.  If you have been following along for awhile you know that the name of the paint color is kind of ironic since Griffin's nursery was decorated in a Route 66 theme. I think it was fate! 🙂 The white color that I used for the beadboard is called "Ultra White" and is made by Olympic brand paints.
Here are some before & after's of the space…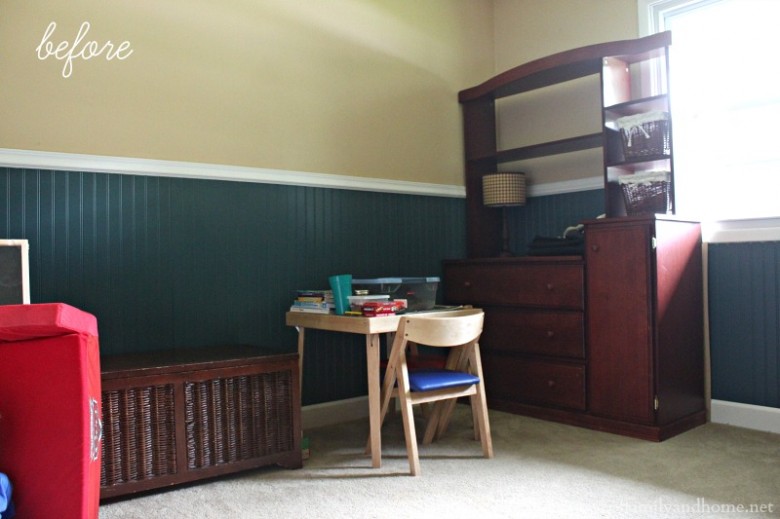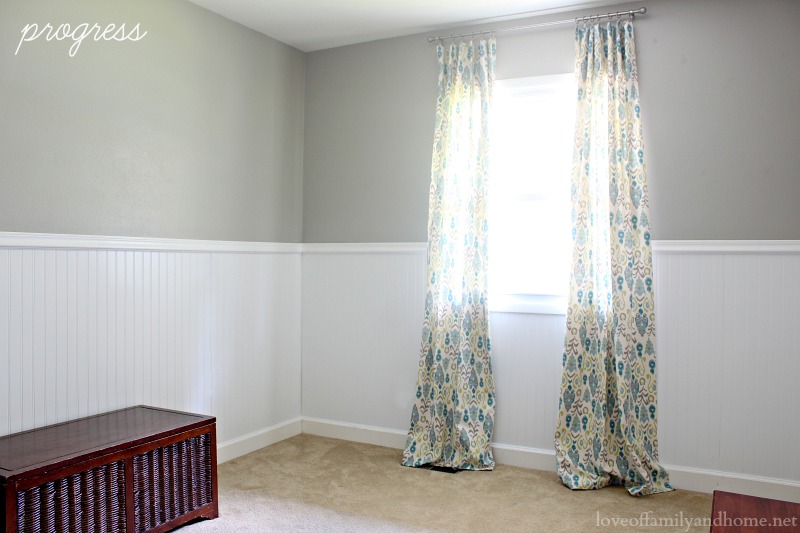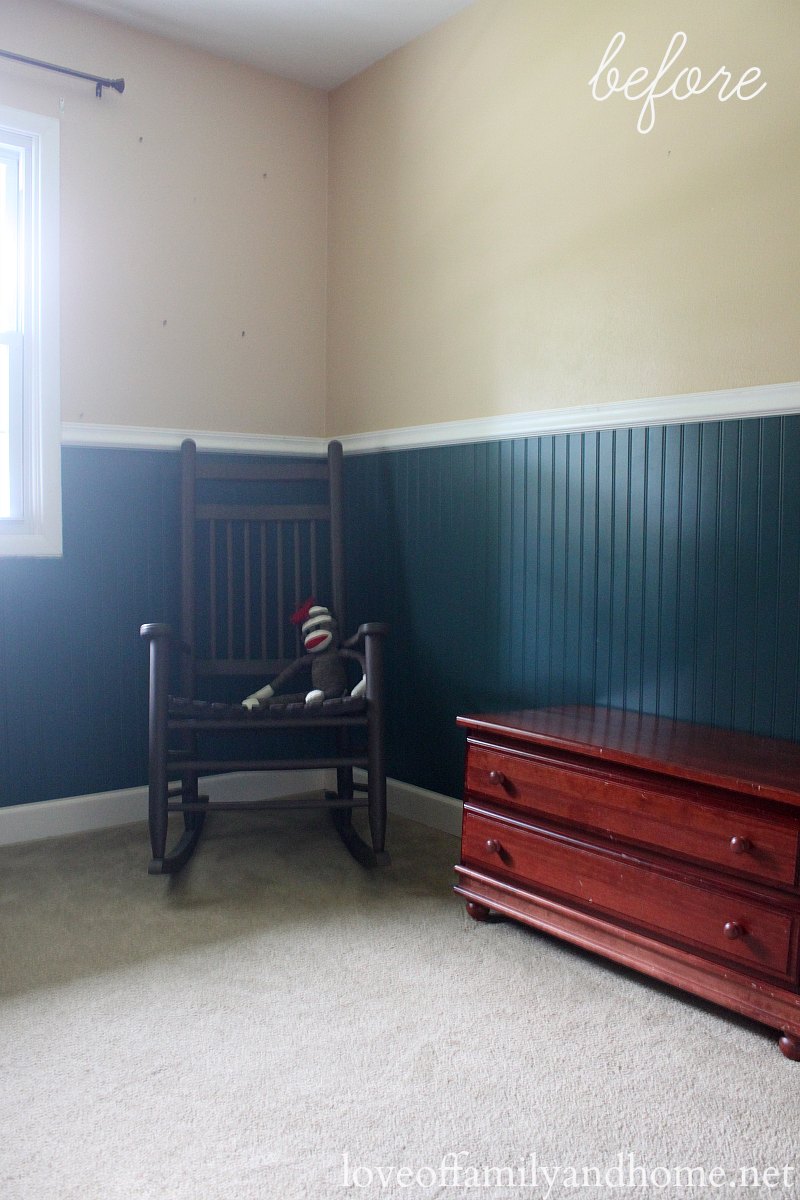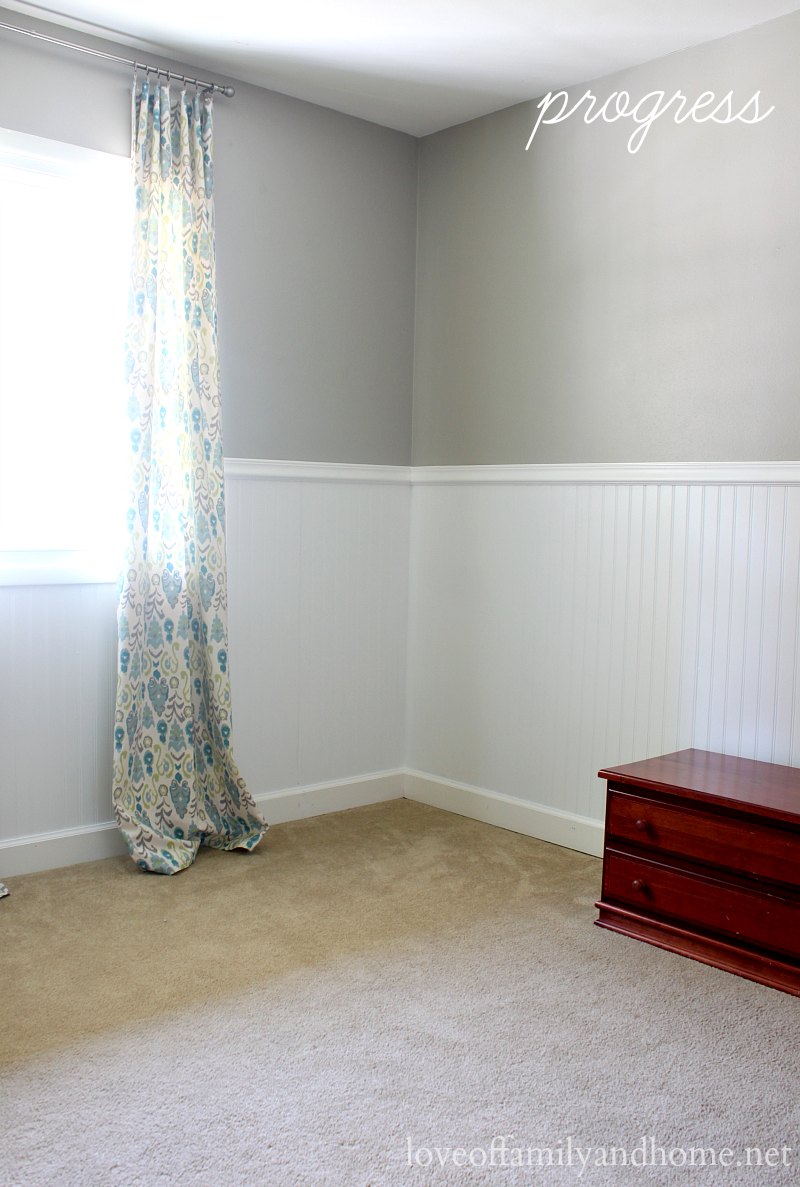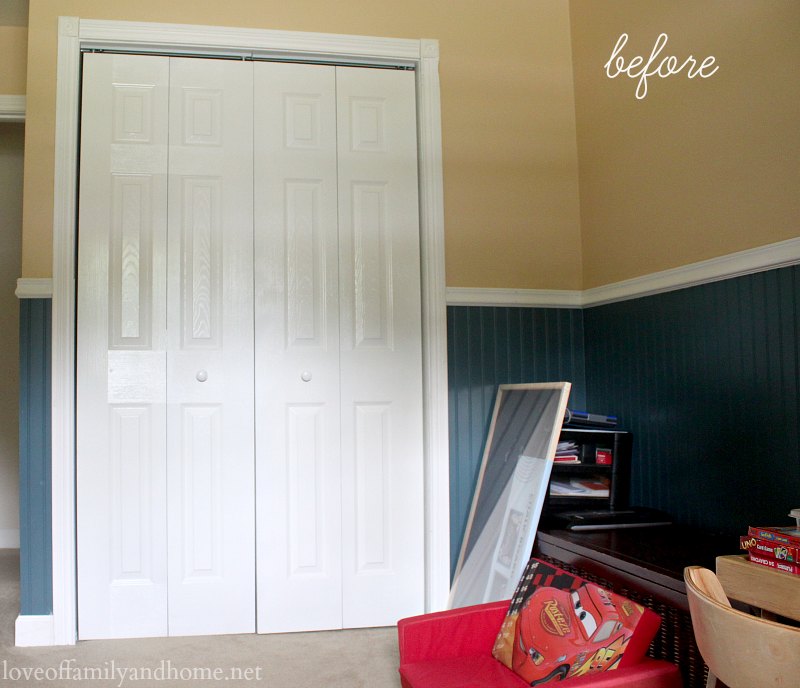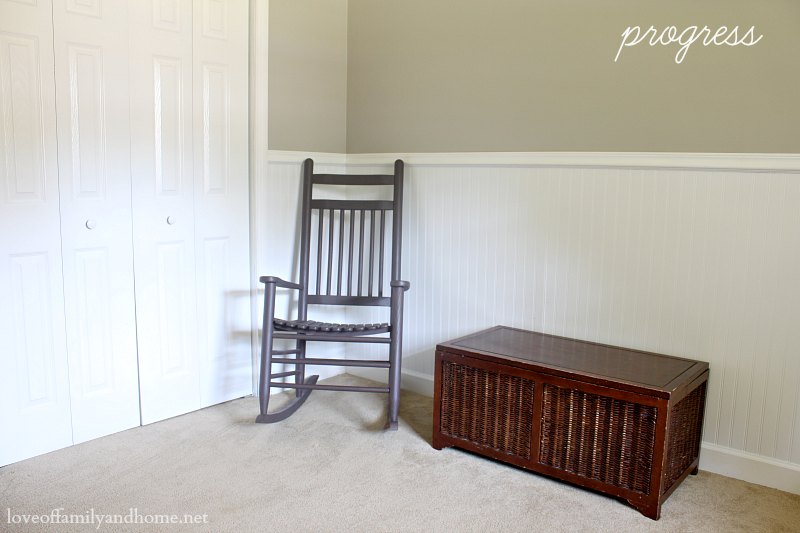 I just love how the new paint colors brightened up this room!! I know I have said it a million times, but I am always amazed at what a little paint can do!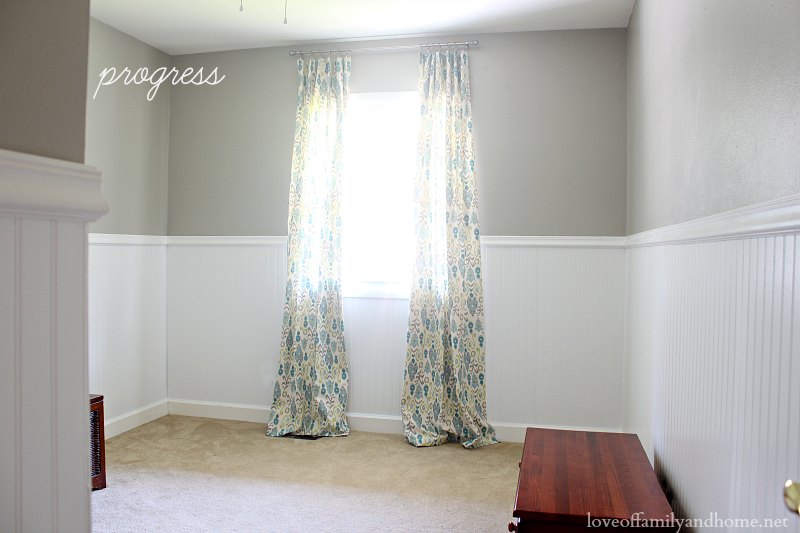 I'm also loving the ikat curtains!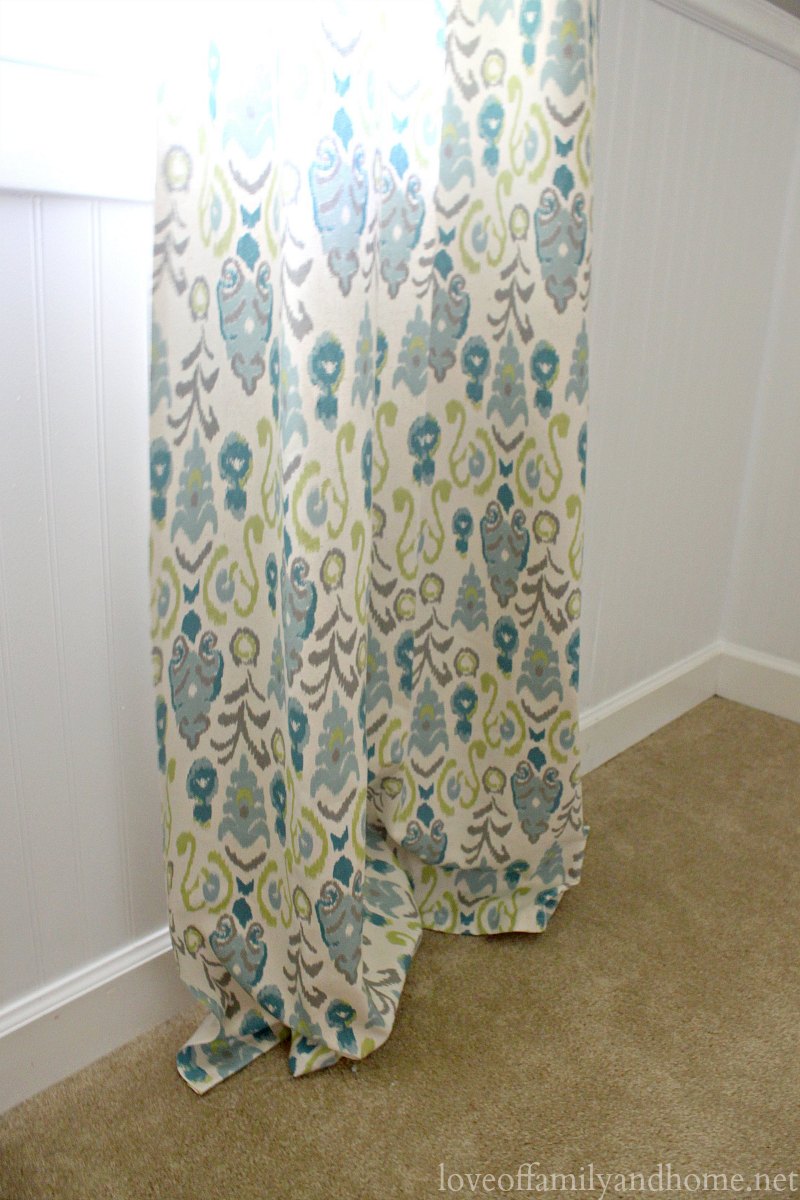 I can't wait to bring in the other fabrics & add even more color to the room!
I wanted to share a couple of inspiration photos for the room with you today as well. This first picture is from I Heart Organizing blog. I am in LOVE with every detail of this playroom!
I especially love the corner bench with all of the cubbies in it! I am wanting some similar, but on a much smaller scale for our playroom. I love how she was able to organize most of their toys in those little green storage totes, but also how functional the bench is in this space! The boys have a train table that has been in storage for months because we just haven't had room for it, but after seeing this photo, I am planning on getting it out of storage & bringing it into their new space and using it the same way you see here.
In the past couple of months, Griffin has turned into a coloring machine! Because of that, I am wanting to incorporate an "art center" similar to Carmel's at Our Fifth House blog.
I love the idea of having an area for the kids to create! We have so many crayons, colored pencils, markers, & paint supplies, but have never really had a place to organize them. Until now, I have always just kept everything shoved into a cabinet in our living room. Every time Griffin asks to color, I have to drag everything out. I think by making an art center in the playroom that we will not only have a way to organize everything, but by having these items out of the cabinet & accessible to the kids that they will be more likely to use them & BE CREATIVE!  Parker has never been a big coloring fan, but I am hoping that an art center will encourage him to explore his creativity a little more!
In addition to these plans, I am also wanting to create a little reading corner in the room. Parker has a small chair that has been in storage for sometime now and I plan on bringing it into the room (possibly reupholstering it) & creating an area for reading. We will probably add some shelving to the wall to hold their favorite books as well. I'm thinking something along these lines…
So, those are my plans!
What do you think?! Is there anything I am missing?! Those of you who have playrooms in your homes, I would love for you to add your two cents in the comments section below!
I'm hoping to share each of these smaller spaces as I finish them and then doing a big reveal post of the room when its completed.
How do y'all feel about that? Do you like seeing progress photos or would you rather wait and see the whole room once it is done? Let me know!
As always, thanks so much for stopping by!
I hope you have a terrific Tuesday! 🙂