Happy Friday!!
I'm so glad we have reached the end of this week! My work schedule was so much different this week in comparison to other weeks and it has really thrown me off my schedule! I'm so glad to have it behind me & I'm looking forward to getting my groove back next week!
I'm so excited to share another yummy recipe with you today! I mentioned in my last recipe post, that I've been trying to cut out processed foods lately….some days I do better than others! Anyway, in my efforts to eat healthier, I have found a new love…..Zucchini!
You may have seen the recipe I posted a few weeks ago for the beef enchilada zucchini boats.  Since making the zucchini boats, we have also tried zucchini lasagna (also super yummy…I hope to share that one with you soon) and just this week, I made these moist & delicious Zucchini Brownies!  I actually found the recipe HERE. The original recipe came from a paleo site (HERE), so I guess that makes these paleo approved as well!! SCORE!!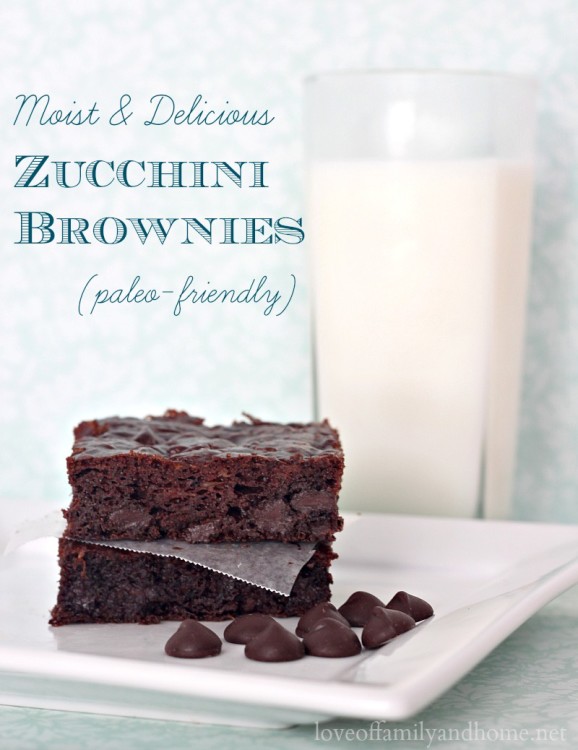 I did make a few adjustments in the recipe, but I'm pretty sure they are in keeping with the paleo guidelines!

Moist & Delicious Paleo Zucchini Brownies
Author:
Love of Family & Home
Recipe type:
dessert, paleo
Prep time:
Cook time:
Total time:
Ingredients
1½ cups grated zucchini
1 cup almond butter
1 tsp vanilla
1 egg
¼ cup organic honey
1 tsp baking soda
1 tsp cinnamon
½ tsp all spice
1 cup dark chocolate chips
2 Tbsp cocoa powder
Instructions
Preheat oven to 350 degrees.
Mix all ingredients in a large bowl.
Pour mixture into a greased 9x9 baking dish.
Bake for 35 minutes or until a toothpick comes out clean.
These brownies are seriously SO GOOD!!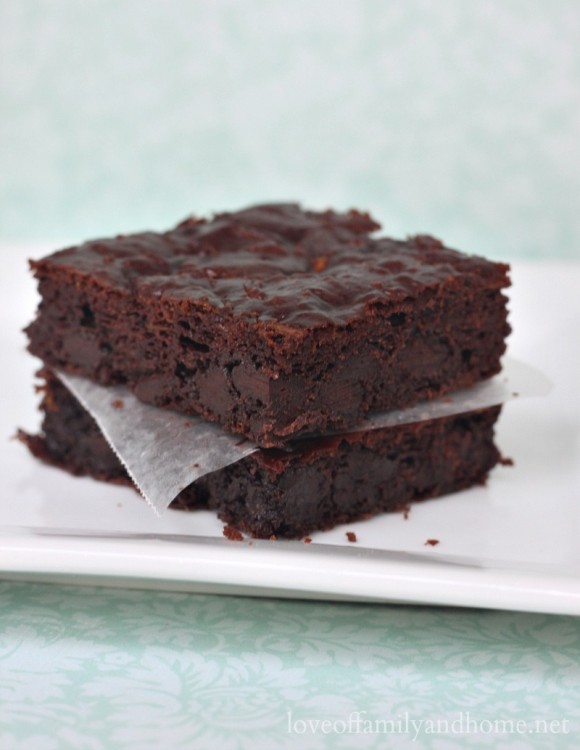 But, I must admit I was a little skeptical when I mixing all of the ingredients!
I was thinking to myself….
"there is no way these are not gonna taste like regular brownies."
But I have to tell you, I couldn't have been MORE WRONG about that!
If I didn't know any better, I would have totally thought these brownies were just like any other brownie I'd ever eaten! And I would have never known that there was zucchini in them! They were moist, delicious, and oh, so chocolate-ey! They even got rave reviews from the hubby AND the kiddos!! And if your kiddos are like mine when it comes to eating….that speaks VOLUMES people!
Have you ever made Zucchini Brownies before?!
What is your favorite Zucchini recipe?
I hope you'll give this recipe a try!
As always, thanks so much for stopping by! I hope you all have a wonderful Labor Day weekend!
Linking up here….
That DIY Party at DIY Show Off
Link Party Palooza at Tatertots & Jello