Happy Sunday Y'all!!
Tomorrow kicks off Round 2 of our "Dog Days of Winter" project challenges & linky parties!! I hope that you will join us!
The challenge this week is "Paint It." Feel free to link up ANY project that involved painting! You could have painted an entire room or just spray painted a small item. Seriously….. ANYTHING GOES!! 
I wanted to take an opportunity of this week's challenge to share my mom's newly painted & made over dining room space…..

Gorgeous, right?! 
must say, I'm just a tiny bit jealous of this room!
My mom changed out her wall color, reupholstered her chair cushions, and then added new curtains & accessories throughout. But, my favorite part of the room is DEFINITELY the board & batten treatment that my dad installed. I love it's classic cottage look! And it's such a great way to lighten & brighten a room! You'll see what I mean when you see the before & afters at the bottom of this post! But for now, I'm just gonna let you enjoy all the pretty photos!!
How fabulous is this gigantic cloche my mom found at TJ Maxx?!

LOVE it!! 
She has a couple little birds underneath the cloche as well as a miniature birds nest.
The urn with the hydrangeas in it was a Goodwill find as well as the candlesticks on the table. My mom just painted & distressed them to match her decor.

I adore this corner of the room you see here…..
So pretty!! You can catch a glimpse of the small table on the other side of the room & some handmade items my mom made to spruce up the space.
Like this monogram tray……
This was another Goodwill find. It was a dark wood tray that my mom painted white. Then she added a tea-stained doily to the center & painted the monogram in the center.
She also made this little plaque….

It was just an unfinished wood plaque she bought at Hobby Lobby. She painted it and then added some fabric to the center. Then she finished it off with a little lace trim & the accent piece you see at the top. The oversized fork & spoon were then hot glued on. Those were also Goodwill finds. I love both of these pieces because they are unique, handmade, & things that you probably wouldn't find anywhere else.
Here is a look at some small frames & an oval mirror she has hanging on the wall.
Another one of my favorite things about this room is in the background of these next couple photos…..
I LOVE this corner hutch!
I love how it is decorated in creams & whites, but I also adore the tarnished copper pieces throughout that add a little color & incorporate the beige walls. The square plates you see in the back of the hutch are from TJ Maxx as well as a couple of other pieces you will see in the next few photos. However, the majority of the decor came for Goodwill.
The little "Milk" container is from TJ Maxx. The small vase with the hydrangeas & the round plate are from Goodwill.
The "Butter" dish is also from TJ Maxx. The tarnished copper pieces are from Goodwill & local antique stores.
The curtains were made from out of a tan & white "ticking fabric" that my mom purchased at Walmart.
The chairs were reupholstered using osenberg fabric from JoAnn's.
Here is a a before & after of the chairs…..
And here is the before & after of the room…..
Definitely an improvement!! I LOVE this space!!
What do you think? What is your favorite thing about this room?
My mom has also made some changes to her kitchen that I will be sharing at later date! Stay tuned!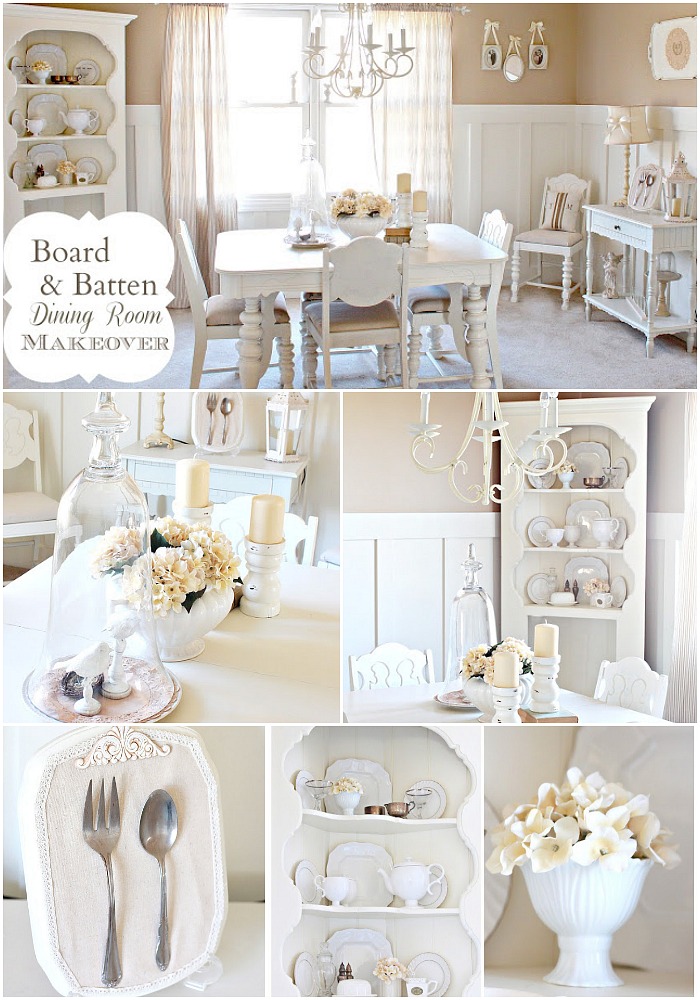 Don't forget to come back tomorrow for our "Paint It" Linky Party!! Come share your painting projects with us & be inspired by others!!
We can't wait to see what you've been working on!!
If you link up on just ONE of our blogs, your project will be see on all NINE sites!! So, get those projects completed & get your posts ready!!
If you don't have a blog, I would still LOVE for you to join in!! Share a picture of your project with me on my Facebook Page! I will be sharing some of my favorites over the course of the week!
I hope you all have a beautiful Sunday!!
Linking up here….
Monday Funday at Uncommon Designs
Tutorials & Tips Tuesday at Home Stories A to Z
Fabulously Creative Friday at Jennifer Rizzo
Link Up With Me at Liz Marie Blog
Inspiration Gallery at Design, Dining, & Diapers
Overflowing with Creativity at It's Overflowing 
Weekend Wrap-Up Party at Tatertots and Jello