Hey Everyone!!
I hope y'all are having a great week!
I have a little Christmas craft to share with you guys today!
Mod Podge Photo Ornaments anyone?!

I just love the way these ornaments turned out!! I first saw a similar project on Pinterest & was inspired to make some of my own. They were so quick & easy to do and add a bit of sentiment to our Christmas tree this year! I'm gonna walk you how I made them!
First, your supplies….
 Wooden Tags from JoAnn Fabrics
Sponge Brush
Mod Podge
Computer Printed Photos
Book Pages
Ribbon or Twine
Drill (not pictured)
First, grab a book page & a wood tag. Trace the wood tag onto the book page.
You don't have to use book pages if you don't want. I made these book page ornaments (that my mom made last year) for my tree this year & just wanted to coordinate the two. You could use scrapbook paper if you prefer.
Once you have your traced image cut out. Mod Podge it to the wood tag. For those of you who aren't familiar with Mod Podging, you brush on a layer of Mod Podge to the wood tag, add the paper & then brush on another layer to the top of the paper.
While the Mod Podge is still wet, add your photo to the top of the paper. Wait for that to dry, then brush a layer of Mod Podge over the top of the picture.
Let the ornaments dry well.
Once they are dry, using a power drill & small drill bit, drill a hole into the top of the tag.
Then add your ribbon or twine by pushing it through the hole.
And you are DONE!! With the exception of drying time, this project literally took me about 5 minutes total!
The above pictures were taken at night. Here is a better look at the ornaments in the pretty (natural) daylight…..
I just LOVE this photo of Griffin. I tried to only use pictures of the kids from previous Christmases. This was a photo I snapped of him eating his breakfast last year on Christmas morning. I just adore the expression on his face! 🙂
This picture was taken of Parker on Christmas Eve last year. He was wearing a Santa hat & playing with his new Leapster Explorer!
All of the photos were printed on regular printer paper. Some of them I printed straight off of our family blog & some I had on our hard drive. The ones that were on our hard drive had to be resize to fit on the wood tags. If you have resize, try sizing the photo to around 50KB to get them to fit on the tags. If you are looking to resize your photos, PicMonkey is a great resource.
So, that it! Pretty easy, right?!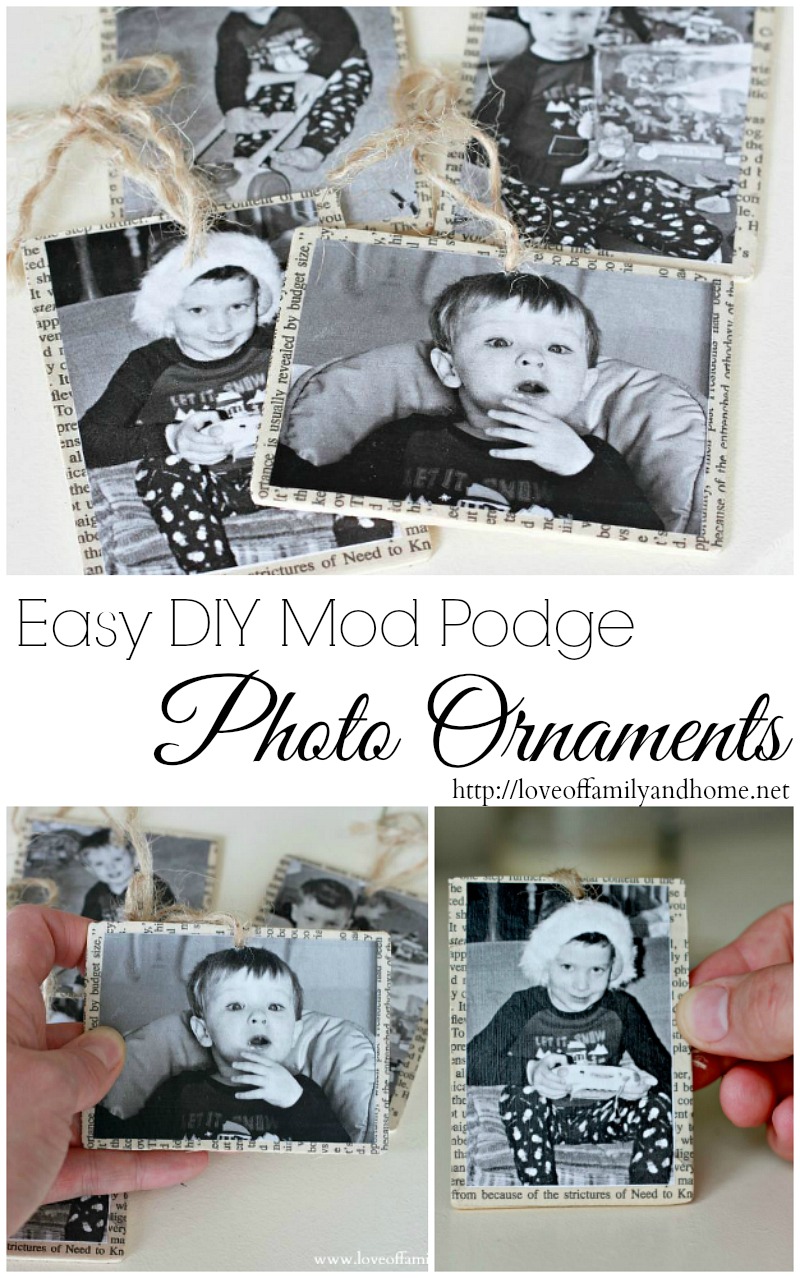 I hope you enjoyed this little tutorial!
Next week I plan on sharing some full shots of our Christmas tree! I made a few changes to it this year & I'm really enjoying them!
Is your tree up?

Did you make any of your ornaments?

Thanks so much for stopping by!! Have a blessed day!!


Linking up here….
Christmas Crafts Holiday Home Party at Centsational Girl
Link Up With Me, Liz Marie at Liz Marie Blog
Quick & Easy Christmas Decor at Inspired By Charm
Don't Miss Out – DIY projects, home decorating, crafts & more by checking out my subscribe page
Wanna check out more of my Christmas projects?!