Hey Friends!
I hope you all had a wonderful weekend!!  Since the beginning of this year, I have been wanting to make some changes to our master bedroom….


It just occurred to me while planning this post, that I've never show you pictures of our master bedroom! That's probably because I am not really satisfied with this room!! We've had this bedroom set for 7 years now. It was a wedding present from my grandmother. I love our bed, but starting to grow tired of our dresser, nightstand, & armoire (not shown here.) Looking back now, I wish we wouldn't have purchased a bedroom "set" and instead picked our pieces out separately, BUT you live & you learn, right?! My friend Carmel, at Our Fifth House talked about this recently in THIS POST & shared pictures of how just switching out the hardware on her furniture made a huge difference! Thinking that may be an option for me as well. The current knobs on the furniture definitely aren't doing it for me!


Things I don't like about this room…..
1. The fact that the furniture is so "matchy-matchy."
2. Is it just me or is everything the SAME COLOR?!
3. I have never figured out any type of display or vignette for my dresser.
4. The furniture was somewhat recently moved so that the bed would be in front of the window…now the vinyl on the wall is not in the right spot, but I've yet to take it down! 🙂
5. I don't feel like the room reflects my personal taste & style anymore.
One of the sessions I attended at Haven was "Design Studio" & a portion of it was taught by the fabulous Darlene, from Fieldstone Hill Design. She talked about defining your personal style & choosing pictures out of magazines, from Pinterest, & DEFINING the things you like about them and also analyzing their commonalities. I had started a master bedroom inspiration board on Pinterest long before I attended her class, but after listening to her talk, I think it's easy to determine my personal style!! Most of my pins scream "cottage" style.
Today, I thought I would share some of my favorite bedroom "pins" with all of you  & kinda share my vision for our master bedroom makeover. I hope you enjoy these 10 Cottage Style Bedrooms!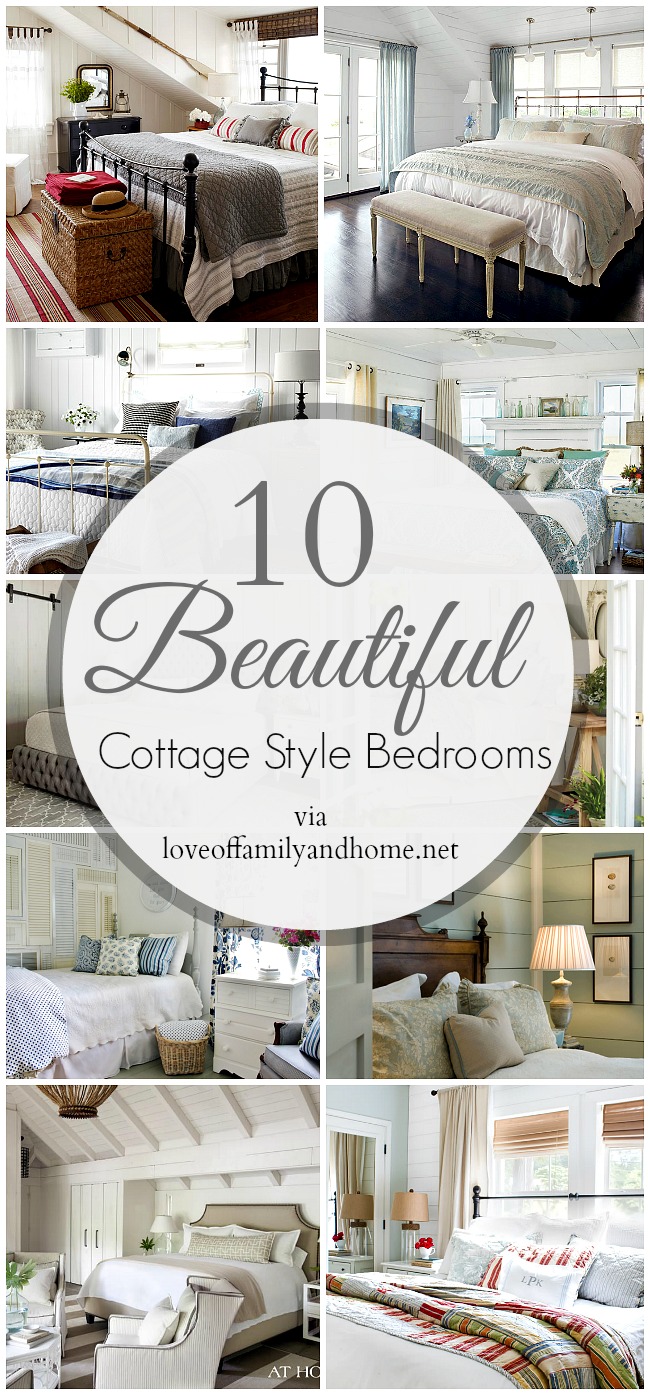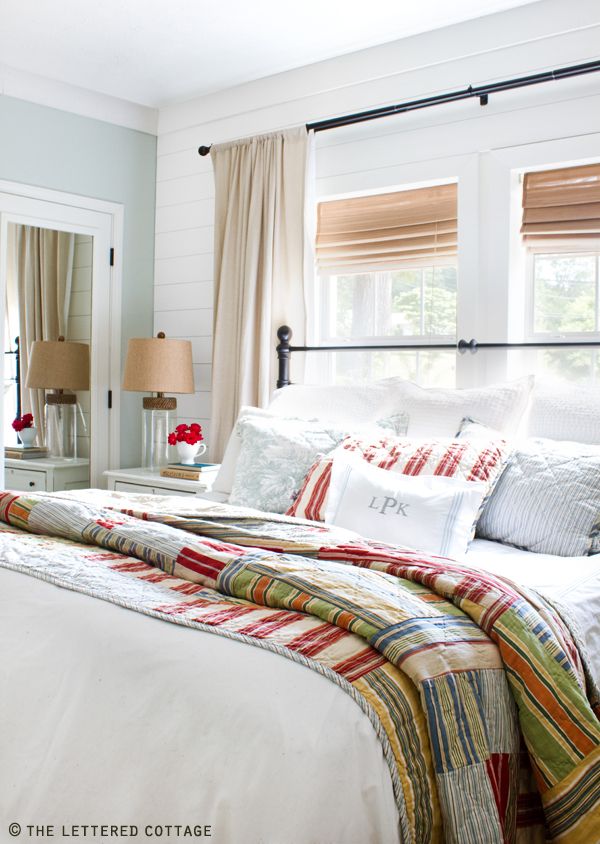 Do you see the commonalities?!
1. All the rooms have some type of wall treatment….plank walls, beadboard, board & batten, etc.
2. A lot of the rooms have the same type of treatment on the ceiling as well.
3. They all have a very "light & airy" type feel to them with most of them using a white wall color.
4. Most of the rooms have chosen a very neutral bedding, with just one or two accent colors.
Are there any others that you can identify?!
Looking at YOUR pins, can you DEFINE your personal style?!
Wanna follow me on Pinterest?!
You can do so by clicking HERE.