Hey Everyone!
Have you noticed I've been away for awhile?!
We did some traveling over the Thanksgiving holiday & I decided to spend a little time unplugged for a bit. Although I missed blogging, I do have to admit, it was kinda nice to have some time off!
Now that Thanksgiving is over, I am in full Christmas swing! I had never done an Advent Calendar before, but after seeing all the cute ideas around blogland, I decided to try my hand at one of my own this year!
What do you think?!
This calendar was so fun & easy to put together & I love that it adds to my decor for Christmas as well!
I started with a cheap frame ($4) and some foam board ($2) from Walmart….

Then I found these cute little cards for $1.00 at Walmart as well! There are 8 cards in a packages & I bought 2 packages for this project.
Then I cut the foam board with a knife to fit inside the frame….
After I got the foam board cut to the size I needed, I took it out of the frame & wrapped it in brown paper.
Then I took the cards that I purchased & cut them in half….
After cutting the cards, I then had to decide on a layout to figure out how to fit all 25 cards into the frame.
Once I got the cards arranged the way I wanted them I secured them to the foam board using white thumbtacks that I got at Walmart as well for $1.00.
I cut my numbers out with my Cricut machine using white cardstock. Then I just used a craft gluestick to secure the numbers to the cards….
Because the cards are flat, I had to brainstorm for ideas of what I could put inside them…
A lot of Advent Calendars use candy & ornaments, but neither of those would work with the small cards…
So I decided on Christmas stickers….
Overall, I'm pretty happy with the way it turned out!
And I love that the cards match my decor!
Thank you Walmart for your cheap & cute little blue cards! 🙂
I'm looking forward to using the Advent Calendar with Parker this year! I think he is really going to enjoy it! And now everytime he asks me when Santa is coming (trust me, he has already asked a 100 times), I just tell him to look at the calendar!
Are Advent Calendars part of your Christmas tradition?!
Have you made one this year?!
If so, I would LOVE to see it!!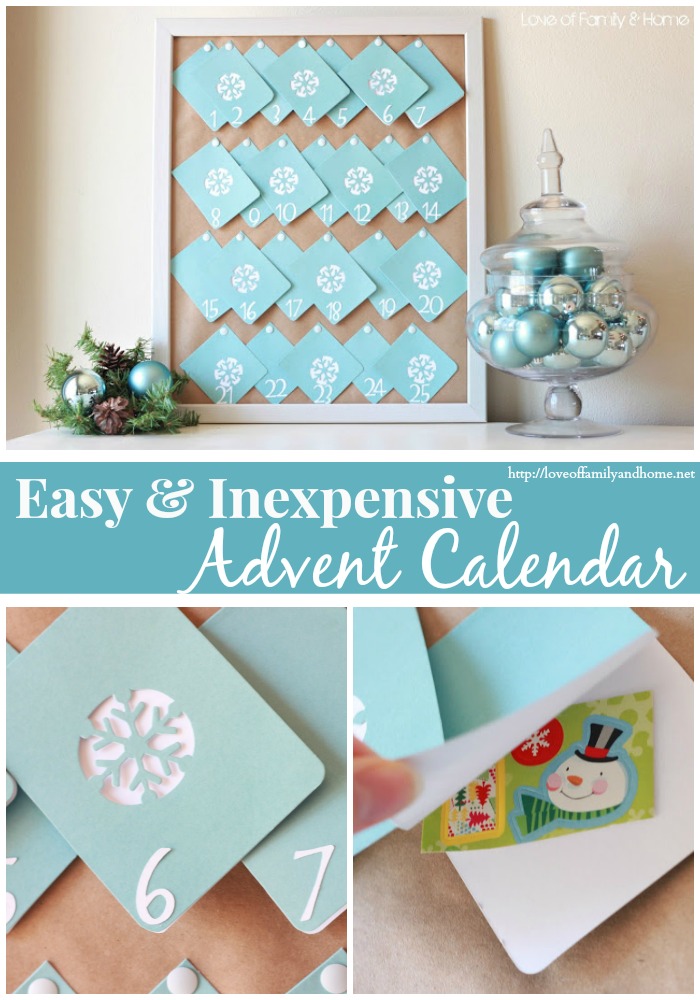 Thanks for stopping by!
Linking up here….