Happy Friday Y'all!
I hope you guys are having a great week!
I've been kind of hit & miss the last few weeks with my Happily Ever Before & After series. Things got a little off schedule with the holidays, especially since I decided to take some time off! 🙂 Today, I wanted to jump back into our regular schedule & share another fabulous room makeover with you all!
This room comes courtesy of the Myra, at My Blessed Life. I had the privilege of meeting & rooming with Myra at Blissdom last year. She is such a sweet person & her talent is unmeasurable! I'm thrilled to be sharing her breakfast room makeover with you all today! It is one of my favorites!
Let's take a look at the "Before."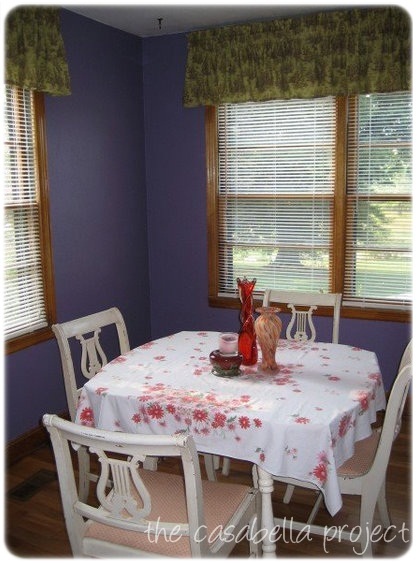 Wow! The room is so dark with those purple walls……just begging for a makeover!!
Are you ready for the "After?"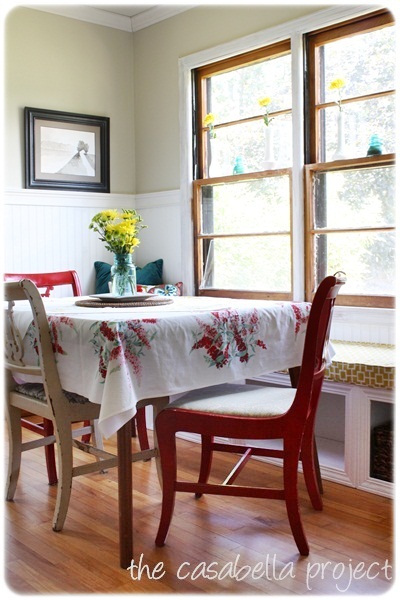 GORGEOUS!! I just adore this space!
Things are SO MUCH brighter with the new paint color & the added beadboard wainscoting! Don't you agree?! I'm also loving ALL of the cheerful colors Myra used! The red, aqua, & yellow are perfect & just what this room needed!
And how about that awesome new window seat?! 
And the fabulous red chairs?! 
This list goes on & on….I'm just smitten with this space!! There is lots more to see in Myra's reveal post!! You'll want to make sure you hop on over to her site to see the room in its entirety!
To see more beautiful photos of Myra's breakfast room, be sure to click HERE. 
Looking for more room makeover inspiration?! 
Be sure to check out my "Happily Ever Before & After" Page.

Gotta makeover that you would like to see featured in this segment?!
Email me: tdiehl2005 (at) yahoo (dot) com
Thanks so much for stopping by!! I hope you all have a great weekend!!
Don't Miss Out – DIY projects, home decorating, crafts & more by checking out my subscribe page