Happy Friday Y'all!!
So, I know I have been a little hit & miss lately with the blog. My apologies!
I feel like I've kinda lost my bloggy mojo and to be honest, there really hasn't been too much going on round here in the terms of DIY and/or crafting. I did have a yummy recipe to share, but unfortunately we ate all of it before I was able to photograph it for a post! #epicfail 
Maybe, I'll get around to fixing it again soon & I'll share it with you guys then! 😉
I thought I would do a little "InstaFriday" post to kind of give you an idea as to what I've been up to lately. I realized that it had been a few weeks since my last Instagram recap, so there is a lot I need to fill you guys in on! 🙂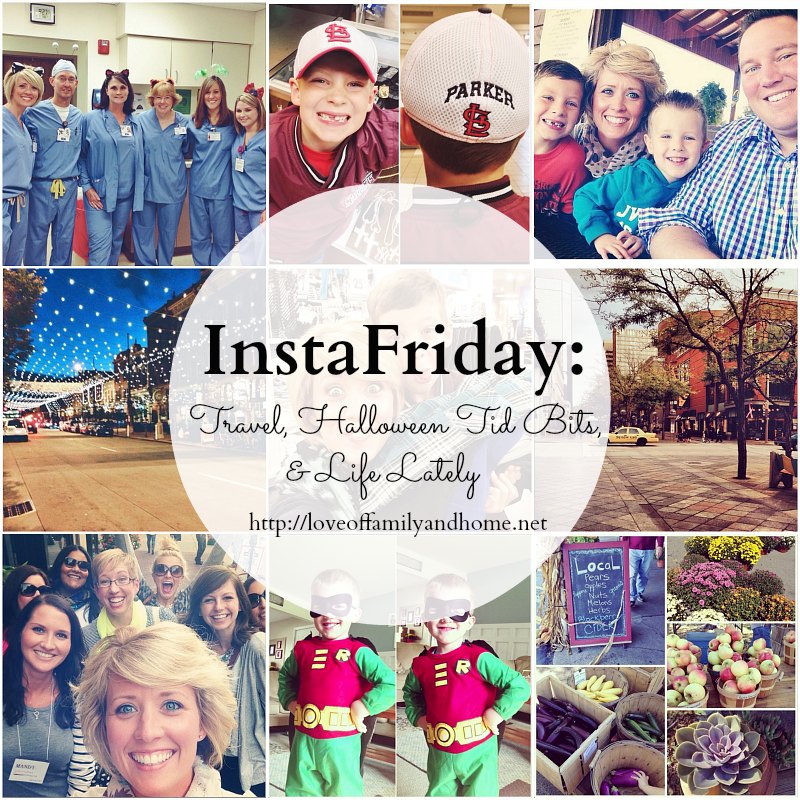 I know I've mentioned several times that I attended the Influence Conference…..that was back in September y'all & I still haven't done a recap post!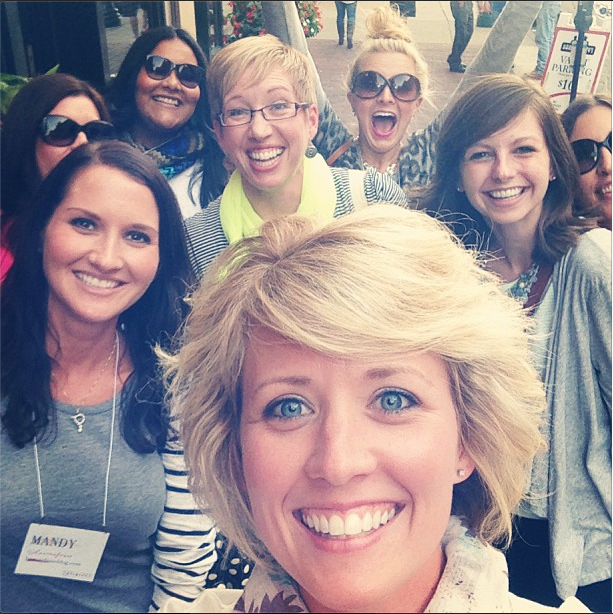 I met lots of wonderful women & was inspired by so many of them. Here is a photo that we took on our way back from dinner the first night of our trip. I am only posting this one photo with the hopes that maybe next week I can share the rest!
I was home from Influence for all of 3 days & then I jumped on a plane & flew to Denver, CO for an Infection Control conference for my other job. For those of you who don't know, I work part-time as a nurse! 🙂 Although the days were kind of long & the conference was a little dry, we did manage to escape the hotel in the evenings & explore the city a bit.  Larimer Square was my favorite.  They have the street lined with these twinkle lights every night!  The whole street is full of restaurants & shops.  So fun!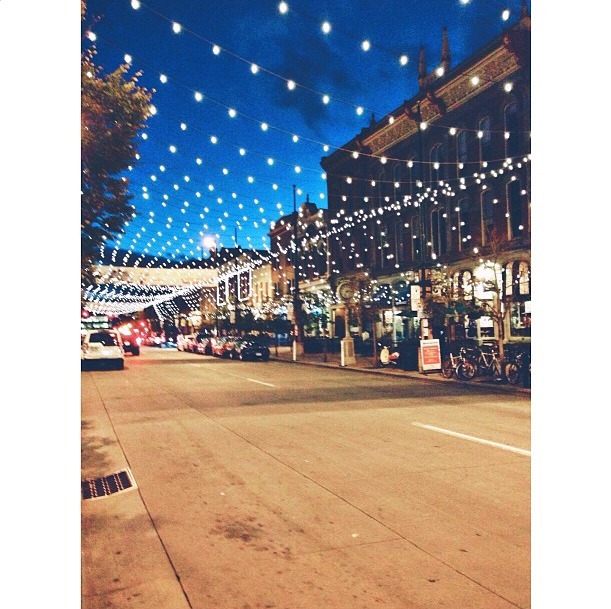 This was a shot I took one afternoon while we were out doing a little shopping at 16th Street Mall.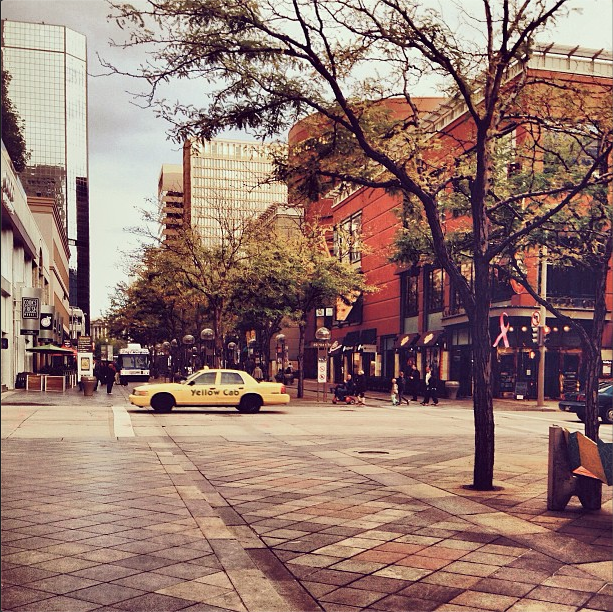 And when I mean the conference was a little "dry", what I mean is it was unbelievably boring! You can catch a glimpse of what my day looked like by checking out the photo on the bottom left. That's some deep stuff right there!! The photo on the right is a shot that I snuck under the table. It was towards the end of the day & I needed a little pick-me-up, so I snuck a PayDay candy bar in. Desperate times call for desperate measures!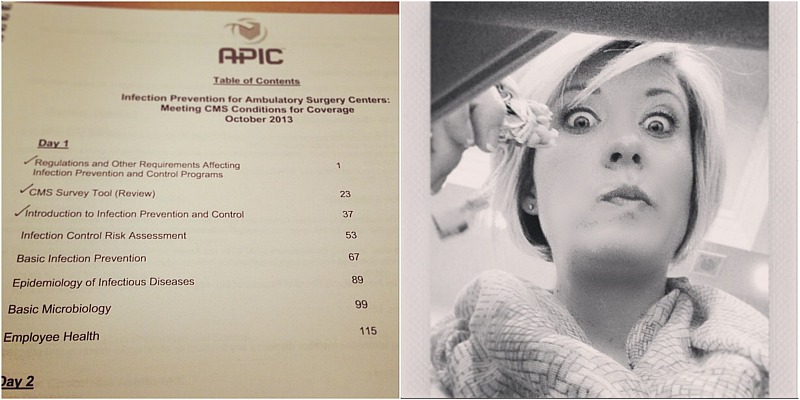 After three long days in Denver, I flew back to St. Louis & landed late Saturday night. I attended the conference with my boss & had originally planned on riding back to Southern Illinois with her, but instead I got a brilliant idea & convinced the hubby to meet me in St. Louis instead! He picked me up at the airport & took me out on a late night date. We grabbed some dinner, talked for a couple of hours without any interruptions & enjoyed some much needed time alone! It was heavenly!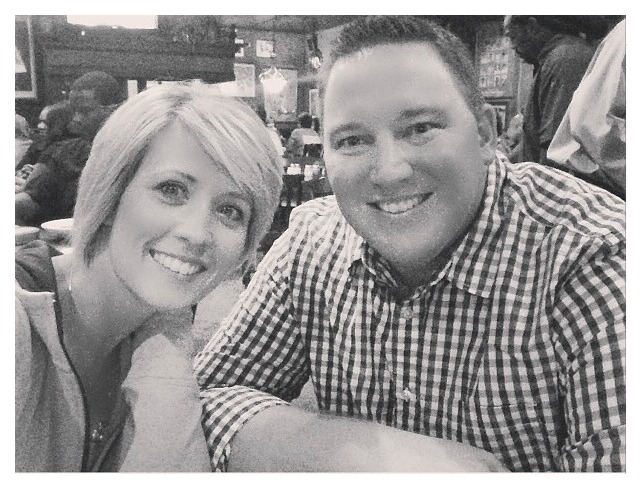 The next morning we slept in until 9:30….again, HEAVENLY!! We also decided to attend the St. Louis Rams football game while we were in town! My hubby got some pretty cheap tickets & I think we even managed to bring them some good luck, as they actually WON while we were there!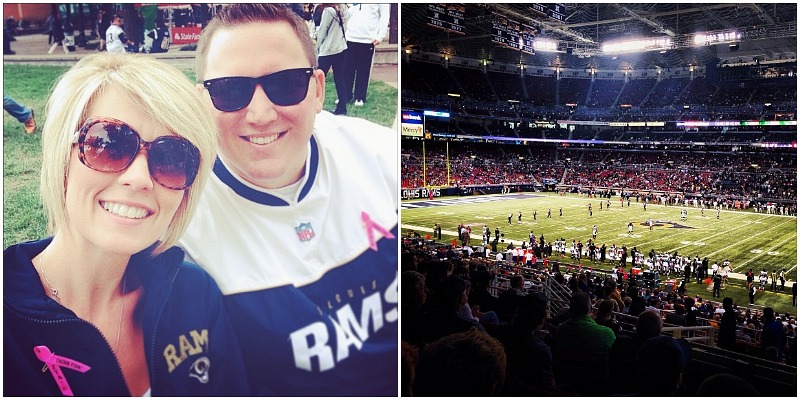 In other sports news, Parker wrapped up his second soccer season just a couple weeks ago. His team was so fun to watch this year! All of the kids on his team had a season (or two) under their belts before this season started, so they seemed to actually understand what was going on this year! Parker had a great season & scored several goals. I'm really looking forward to the spring season!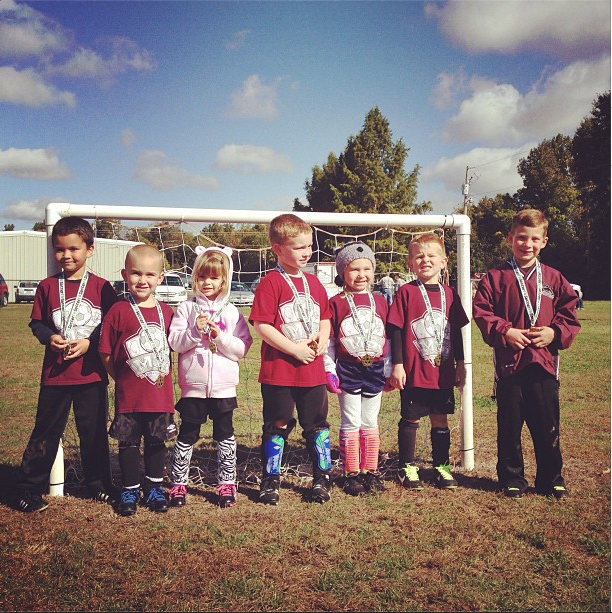 After one of his soccer games, the boys & I hit up our local Farmer's Market. It was a gorgeous fall day, we had some delicious fall treats, and of course I couldn't help but snap a pic or two! So many beautiful things, so many beautiful colors!  I don't know if I've mentioned it before, but I seriously love fall!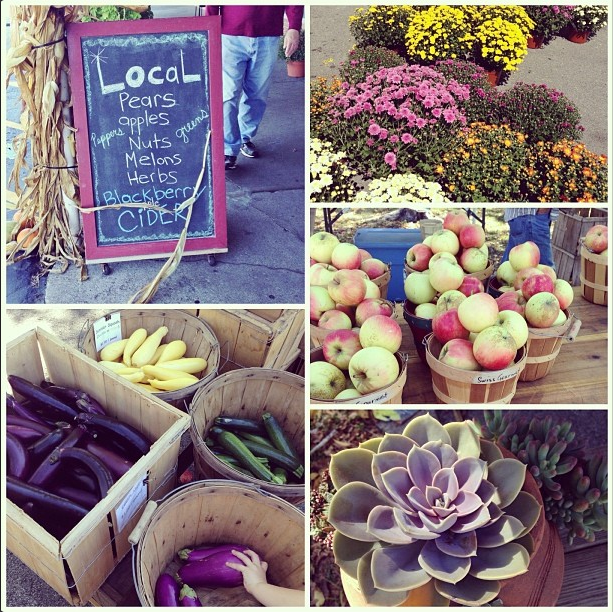 I've also been snapping some photos while out for my evening walks. The leaves are all so pretty right now and you just never know when you might stumble upon some wildflowers just begging you to take their picture!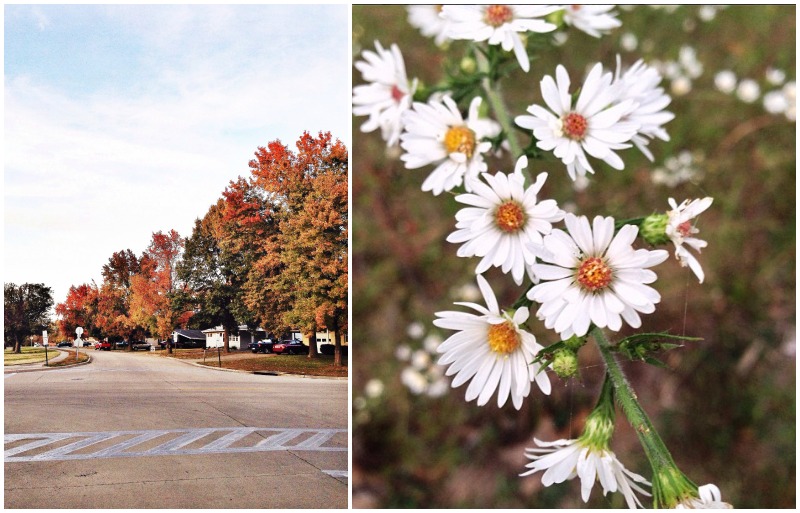 We've also been getting into the fall spirit at work lately. We do quite a few pediatric ENT surgeries where I work & we decided to make things a little more fun & a lot less scary for our little people by wearing Halloween ears these last couple of weeks. The kiddos love them!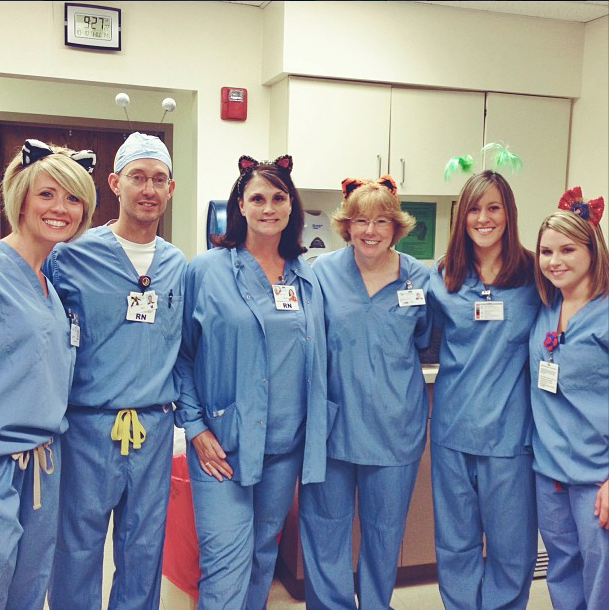 Speaking of Halloween, we made a trip to Target last week for a few last minute items. They had these awesome foam wigs. It was a total Instagram moment that I absolutely couldn't pass up. We got a kick out of trying them on. Griffin, however, did not want anything to do with them…..hints the reason why there are no photos of him. He's such a party pooper sometimes!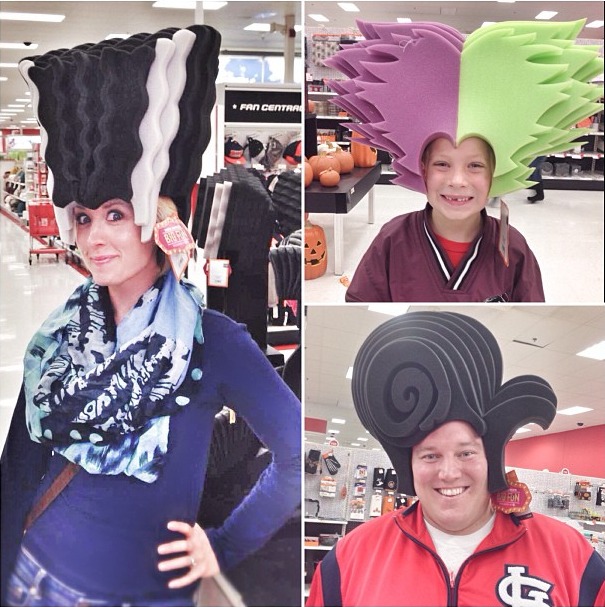 He's also been a little indecisive this year regarding his Halloween costume. First, he wanted to be Robin…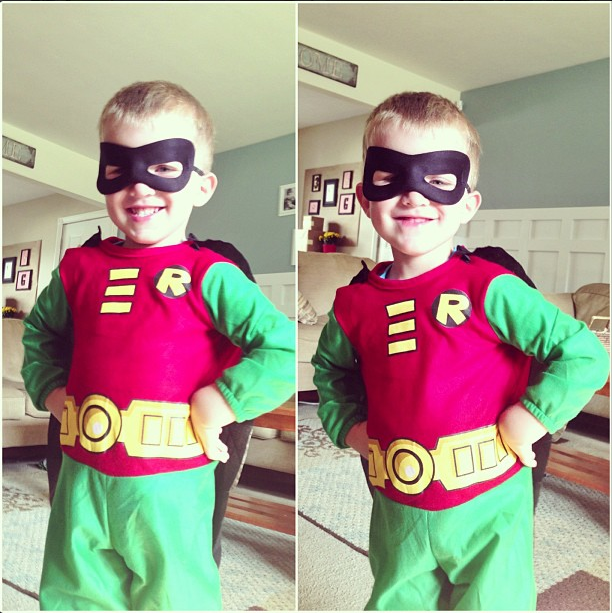 My sister had gotten him this costume for his birthday, so I thought I was good to go.
Until, he changed his mind & wanted to be "Blue Iron Man." We went to four different stores this past weekend trying to find the costume, until we finally hit up Target & found one for $8.00! Score!
Again, I thought I was good to go!
Later that night the boys were going over to grandma & grandpa's house & they wanted to wear their costumes. Bobby & I went out for dinner & they ended up spending the night with their grandparents. The next morning we picked them up & my mom informed me that Griffin tore up his costume while they were playing the night before & that he had changed his mind as to what he wanted to be AGAIN.
Long story short, he is gonna be "Red Iron Man" now! 🙂 Luckily, we had most of what we needed at home to make that one work!
Then he asked me a question I wasn't expecting….
Griffin: "Mommy, what are you gonna be for Halloween?"
I take a minute to think about what he just said, because I really hadn't planned on dressing up. But now that I think he wants me to dress up, I try to come up with something….
Me: "I don't know, I guess Mommy could dress up like a witch." (It seemed like an easy costume to throw together)
Griffin: "No, mommy. You need to be a princess!"
Me: "Mommy doesn't really want to be a princess, Griffin."
Griffin: "C'mon MOM. You NEED to be a princess. It will be FUN!"
It was pretty much the most adorable thing I had ever heard! And because he continued to bring it up several times after that, I knew I was gonna need to be a princess for Halloween. So I called my mom to find out if she still had my senior prom dress. I didn't know if it would still fit, but I did know that it would make the perfect princess dress! To my surprise, IT DID FIT!!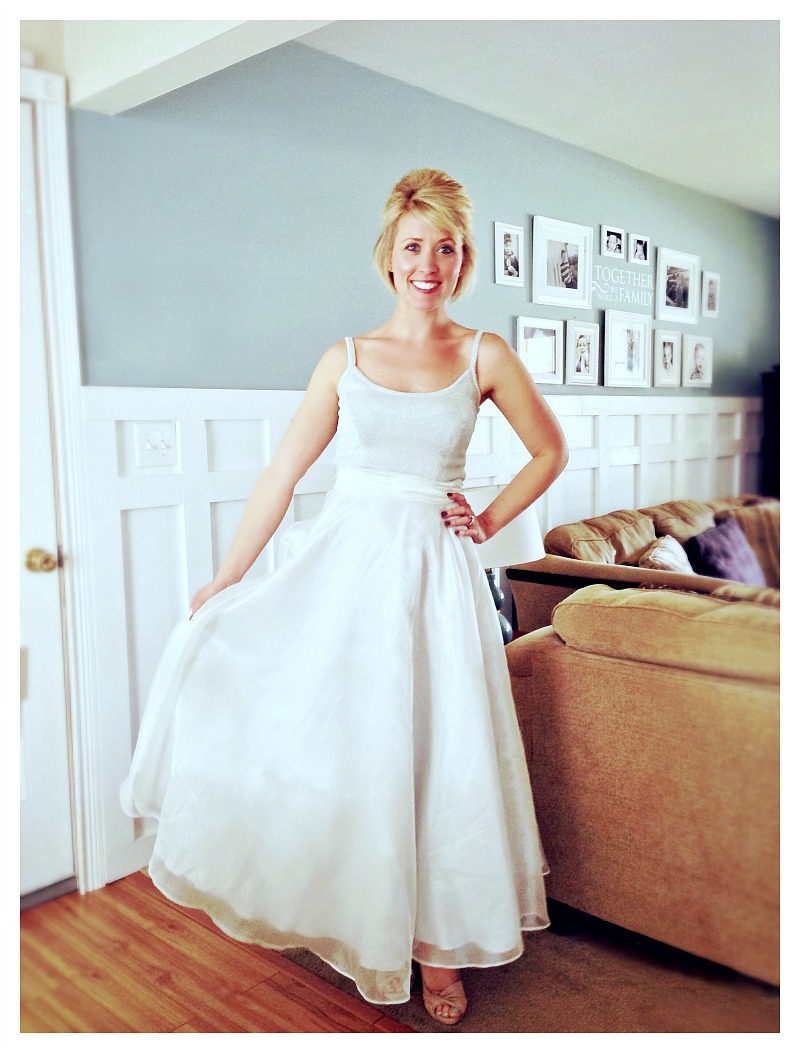 Seriously, this moment made my entire day! Maybe my entire month!
(I may or may not have rewarded myself with a half a bag of chips afterward!)
And let me tell you, Griffin was SO HAPPY!!
He looked at me & said "See….I told you that! I told you you needed to be a princess!"
Oh this boy….how I LOVE HIM!!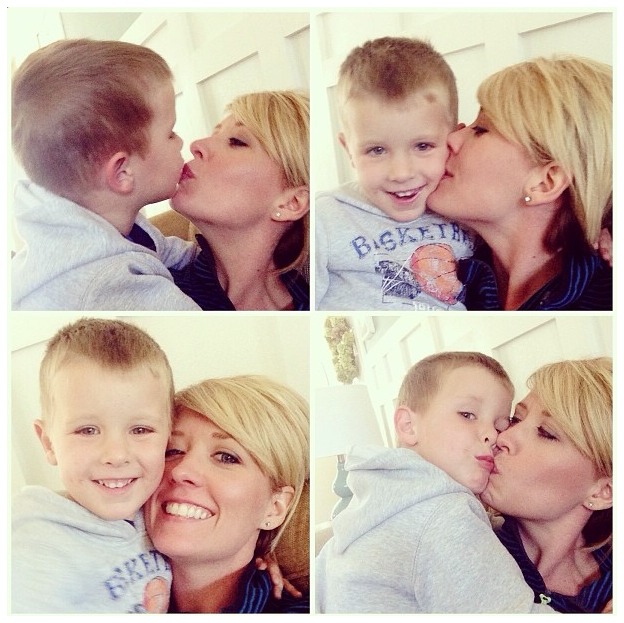 I also adore this crazy kid…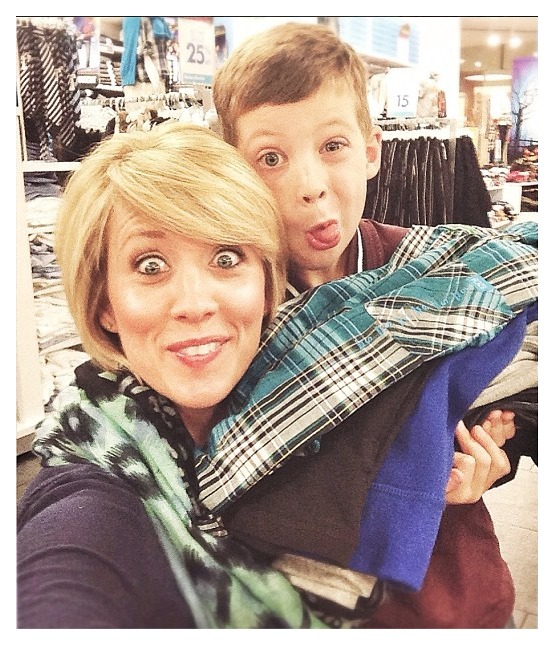 He & I had a "date" last Saturday. The weather had turned extremely cold & he had absolutely nothing to wear! Thank God grandma had scored a couple of jeans on clearance last year & also a few Goodwill finds. They got him through the week, but I knew that it was time for a shopping trip. We scored some major loot at The Children's Place & Old Navy and then had lunch together. We celebrated with a "crazy face" pic….Parker's favorite!
He also convinced me that he needed a new St. Louis Cardinal ball hat! He picked it out & we had it personalized with his name on the back. So cute!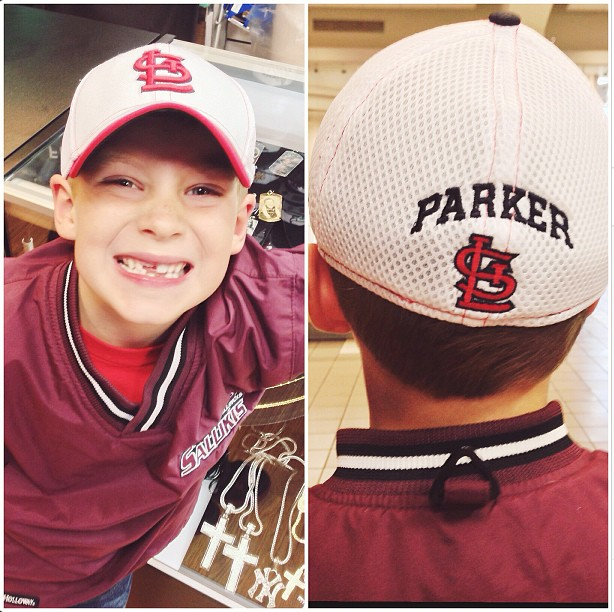 I also had the pleasure of attending his class field trip a couple weeks ago to Begg's Family Farm in Sikeston, MO. We had so much fun! The petting zoo was by far my favorite! I love the photo of Parker & the camel in the upper left hand corner. It kinda looks like they are having a moment, huh?!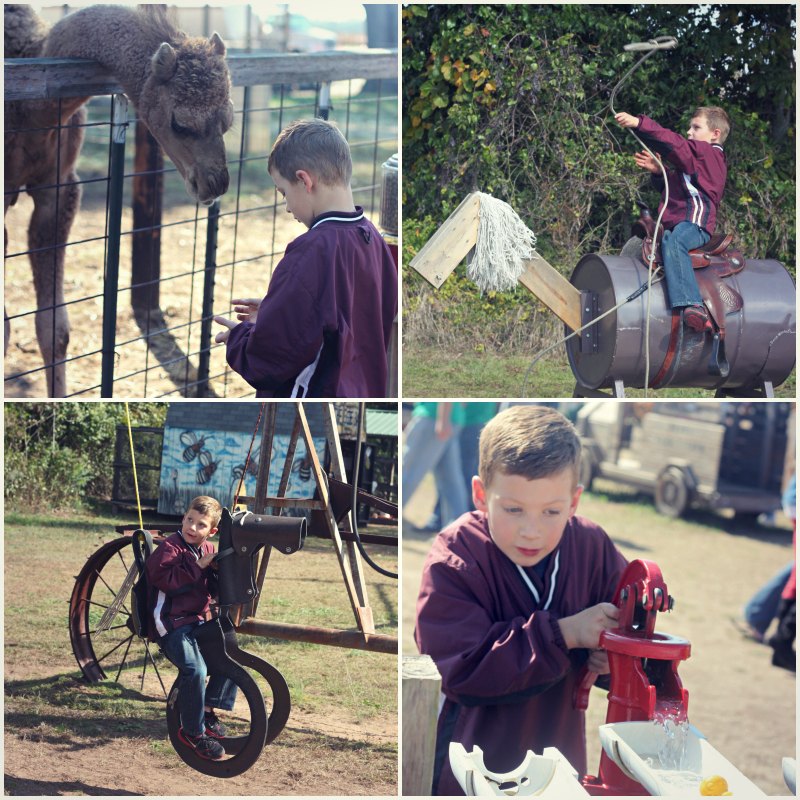 Overall, I've just been spending some much needed time away from the computer & soaking up a little more time with these three….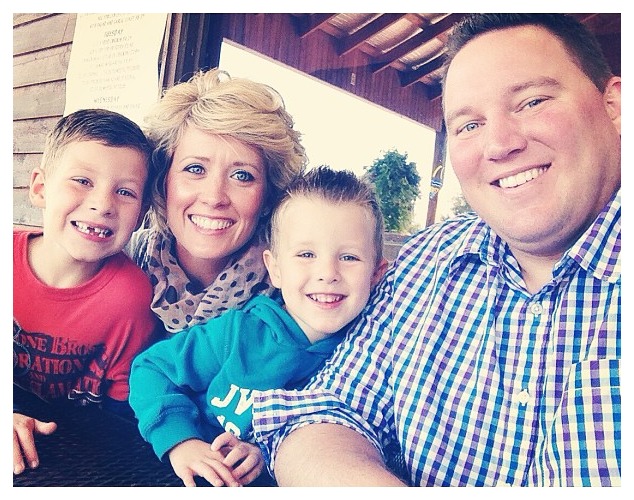 Even though my days are crazy & I'm completely exhausted by bedtime, I wouldn't have it any other way!!
These boys bring so much joy to my life & I feel so blessed to be their mommy!
What have you been up to lately?! 
Are you staying busy this fall season? 
As always, thanks so much for stopping by!
If you want to follow along on Instagram, I am @loveoffamilyandhome
Linking up here….
InstaFriday at Life Rearranged