Hey Everyone!!
Hope you are having a fabulous Tuesday!!
Did you know that today is the first official day of Spring?! Woo Hoo!!
I was going to work on my Spring Mantel this past weekend & have it all read to go for Layla's party today at The Lettered Cottage, but because of my decorating ADD….I started another project in the kitchen instead. That left my scrambling just THIS MORNING to get something thrown together!!
This is what I came up with…..

What do you think?! I'm actually quite pleased with it!!
I am usually terrible about putting together a mantel display!! I think its because I never have enough things on hand at home & always have to make a few trips to the store to get it looking the way I want. Even though I did still have to make a few trips, this one came together a lot easier than others I've done in the past…
There is something about the turquoise & pink color combo that always makes me happy!!
I got these pink tulips clearanced down for $1.69 a bunch at Kroger this morning!! Booyah!! I love the way they look in the turquoise Bell jars!! 🙂
I bought this little bird at JoAnn Fabrics this morning, but he wasn't this color to start with!! He was actually blue with a little bit of yellow & brown. I gave him a coat of cream paint when I got home to help him coordinate a little better with my color palette! 🙂
I bought this little wooden birdhouse at JoAnn's this morning as well. I gave it a coat of pink paint that I already had on hand & lined the front of it with a piece of scrapbook paper that I already had as well!
This boxwood wreath I just threw together using a small grapevine wreath I purchased (again, at JoAnn fabrics for $1.00) and some boxwood clippings off my bushes outside. The fabric bow was from a piece of fabric that I had purchased at well. I just tore the fabric the width I wanted & then created a little bow to hang my cute new wreath!
The fence panel that I have the wreath hanging on is just made from some thin scrap wood that I had and I had my dad assemble for me using a staple gun.
This little apothecary jar is full of Spanish moss, a couple boxwood clippings, & some eggs that I dyed blue to match my decor. I used this item in last year's mantel as well.
Another shot of my pretty tulips….because nothing says "Spring" like a bright cheerful tulip, am I right?!
A couple more shots of the mantel display as a whole…..
I love my new display…..it's bright, cheerful, & makes me smile every time I walk past it!!
Hope you all enjoyed it as well!!
Thanks for stopping by!!
Linking up here….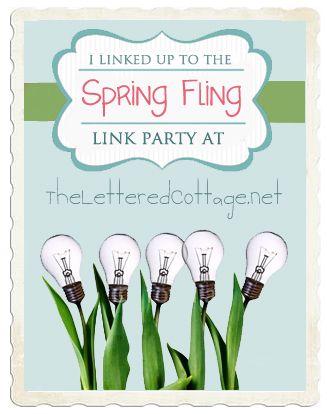 20 Below Thursdays at Christina's Adventures
Delightfully Inspiring Thursdays at Delightful Order
Weekend Wrap-Up Party at Tatertots and Jello
Overflowing with Creativity at It's Overflowing
Sunday Showcase Party at Under The Table & Dreaming
Transformation Thursdays at The Shabby Creek Cottage
Don't Miss Out-DIY projects, home decorating, crafts & more by checking out my subscribe page