Okay ya'll….
I think I'm finally ready to show you my closet makeover!
This was such a big project, and one that I am so glad to finally have it behind me! If you have missed any of the posts leading up to this reveal, you can check them out here, here, & here.
Before I show you all the new & improved Master Bedroom Closet, let's first look back at where we started…
A drab closet, with zero organization, a narrow walk-way, mismatched hangers….

Two different shoe racks, an outlet that had never been finished….
On the back of the door…scarfs, purses, necklaces, & is that a wedding dress?! Oh yeah, and the door had never been trimmed out!
Functional dresser which housed the hubby's t-shirts & shorts, but lacked in cuteness!
And after a little bit of purging, some painting, & a whole lot of elbow grease, this is what are closet looks like now….
The dresser got a fresh coat of paint & new glass knobs…
And every newly made over room deserves some fresh flowers for its big reveal, right?!
New shelving installed for shoes & storage containers….
These shelves were originally in my dad's garage. He wasn't using them anymore, so he gave them to me for my closet makeover! Isn't he a good Dad?! He even installed them for me. I just gave them a fresh coat of paint to match the rest of the decor.
I cutesified (that's a word, right?!) the top shelf with things that I already had around the house….

I just mod podged some scrapbook paper to these shoe boxes & got the "Keep Calm & Carry On" printable here. The frame I already had on hand.
The pink tub was in our laundry room before it had its makeover. It was originally a cream color & I just gave it a couple coats of pink spray paint & then added the word "Miscellaneous" to it using my Cricut machine.
I also utilized my Cricut machine to make labels for our new storage baskets as well….
I love that the new shelving is large enough to accommodate both mine & my hubby's shoes. So much better than the mismatched shoe racks we were using before! I'm also loving the fact that they are off the floor!
I love the stenciling on the wall….even though it took a little bit of work, I think it was totally worth it!
I think it really "makes" the space!
The white storage totes were purchase at Walmart. They were $5.00 a piece.
The chalkboard above the dresser is actually made from a mirror that I bought at Goodwill for $5.00.
I will be posting a tutorial on it later this week.
The mirror was something I already had on hand. I just painted it to match everything else & hung it on the wall. I needed a place to store my necklaces (they used to be on the back of the door with everything else), so I purchased these wooden oval medallion things at Hobby Lobby for just 50 cents a piece, painted them, & had my Dad attach the glass knobs to them to hang the necklaces from….
I couldn't find a chandelier at any of our local thrift stores, so I splurged on this cute little lamp at Hobby Lobby. It was originally $60.00, but I got it 50%, so I paid $30.00 for it. I like the way it ties in with the glass knobs on the dresser & those that are now holding my necklaces.
I purchased this little wooden tray at Hobby Lobby for $2.50, painted it white & then mod podged a piece of scrapbook paper to the bottom to add some color. It holds all of my bracelets. The little glass perfume bottles were some my mom had laying around, that I just added to the tray to add some cuteness!
Sorry for all of the million tulip pics…I kinda love them, so I had to get pics from every angle 🙂
After two trips to Goodwill, we minimized on the amount of clothing that filled this closet. We also switched to all white hangers to give make the space a little more unified.
Now that the shelving is off the right wall, it definitely opens up the space as well.
The scarfs stayed on the back of door. I just got rid of all the other stuff that was on there, so that the hangers are used for scarfs only now. My dad also trimmed out the door along with the rest of the closet!
And that pretty much wraps up the tour folks!!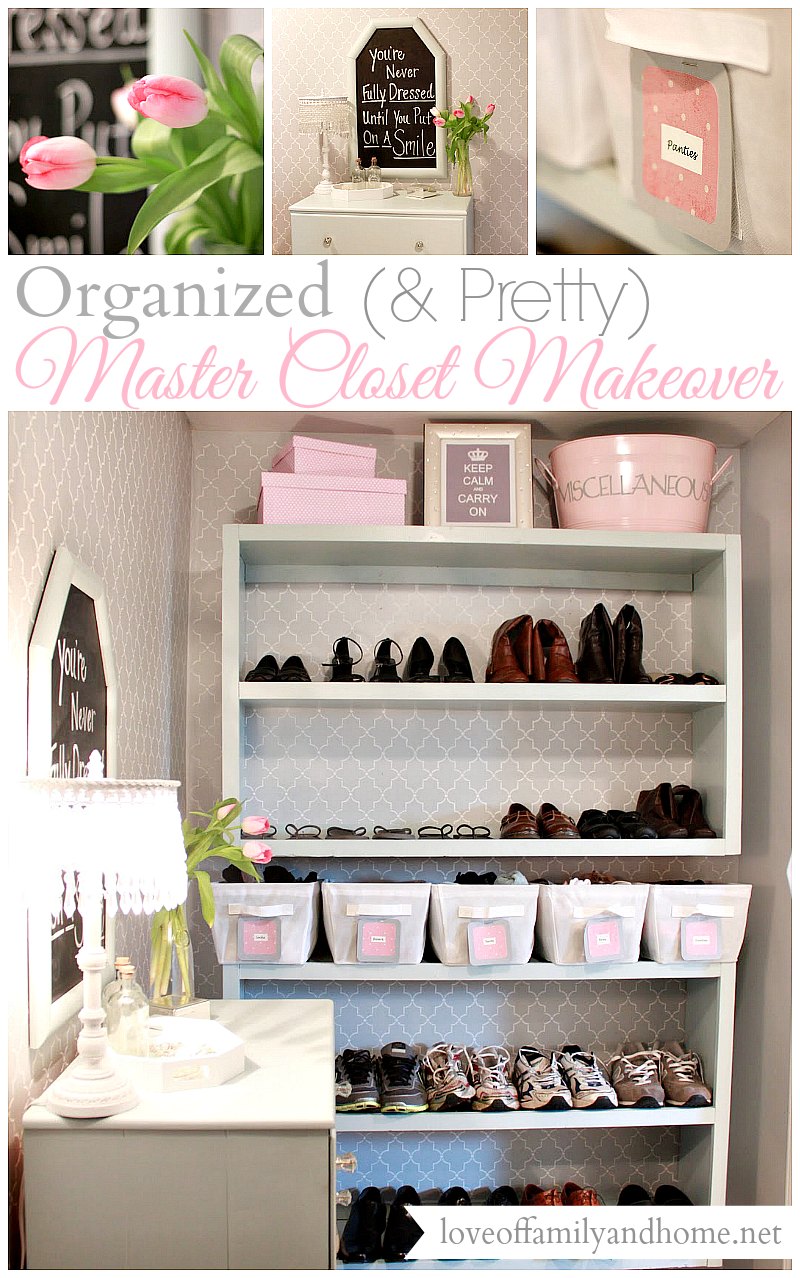 Hope you enjoyed my new little space as much as I'm enjoying it!
And believe it or not, even though the closet has a definite feminine feel to it….my hubby kinda likes it too!!
Shhhh…don't tell! 🙂
Linking up here….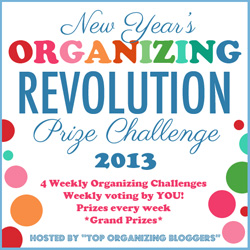 1st Project of the Year Party at Whisperwood Cottage
Best DIY Projects of January at Beneath My Heart
Before & After Party at Thrifty Decor Chick
Just Something I Whipped Up at The Girl Creative
Metamorphosis Monday at Between Naps on the Porch
Closet Linky Party and Cottage and Vine Make it Yours Day at My Backyard Eden
Tuesday Treasures at My Uncommon Slice of Suburbia
Tips & Tutorials Tuesday at The Stories of A to Z