My mom just recently remodeled her laundry room and I have been looking forward to sharing it all with you…
It turned out just darling!
But first, let me just say that this project was inspired by this lovely lady…
For those of you who don't know…this is Sarah Richardson
She has a couple of shows on HGTV called…
Sarah's House & Design, Inc.
My mom & I… we kinda love Sarah's designs…like A LOT!!
Her stuff is really, really great!
We also heart her trusty sidekick…Tommy!
These two make a great team & they are hilarious…
If you have never watched their show…you must!! (Just Sayin')
ANYWAY…
On to the Laundry Room Makeover…
My mom had seen an episode of  Sarah's house (farmhouse) and saw where Sarah had decided to paint some doors blue. My mom loved the way the blue door looked with the white trim around it! This prompted my mom to want to try this color in her laundry room!
She painted her closet doors blue & then designed the rest of the room around this color!
I just love how it turned out!
(You will have to forgive the quality of some of these photos…there aren't any windows in this room…which means there is no natural light…which means not the greatest pics ever! Sorry!)
My mom got this little cabinet from my grandma & she decided to paint it blue as well….
Not only does it have a decorative purpose in the room, but it also has an organizational function! It houses her laundry detergent, fabric softener/dryer sheets, and lost socks…
I am loving this "LAUNDRY" sign she made for the room. It was a quick & easy project that made a big impact on the room! I will be posting a tutorial later next week to show you how to make one of your own!
Stay tuned!!
Shelf she already had & painted blue. Then added the mirror & a few decorative accessories!
Loving this little chair she bought at a thrift store & repainted! Again, it turned out just darling! Love the color & love the distressing! And that fabric flower pillow she made adds the perfect touch!
My mom has this "closet" area which my dad made for her. She hangs clothes up here before taking them & putting them away, but she also uses this area to house clothes that are out of season so that they don't take up space in their bedroom closet. This space also houses her laundry baskets, ironing board, etc. The baskets on the top hold various odds & ends. My mom said one of the basket actually holds her christmas dishes & she stores them in this closet between the holidays.
To hide this area, my mom made a curtain to coordinate with the room and to serve as a door to this "closet" area.
So that's the end of the laundry room tour!
What did you think?
Could you do laundry in a space like this?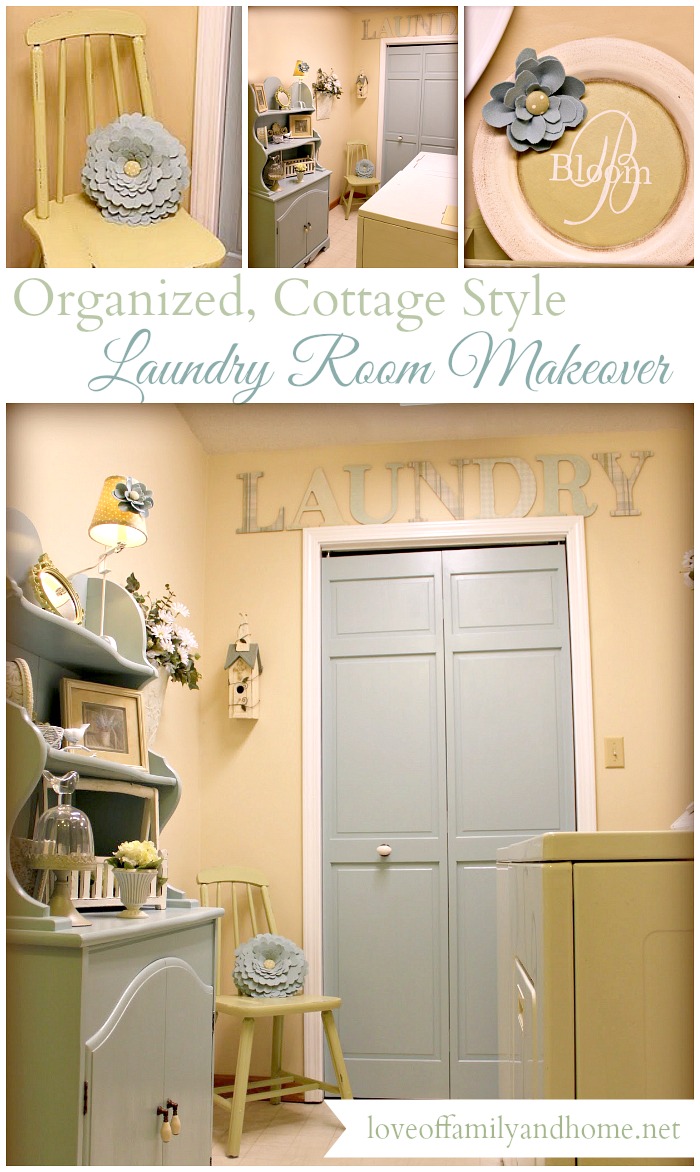 As much as I despise laundry…
I think maybe, just maybe…
I could do some laundry in this room! 🙂
I'm linking up this room at….
Linking up to…
 Transformation Thursday at The Shabby Chic Cottage
Frugal Friday at The Shabby Nest
Flaunt it Friday at Chic on a Shoestring Decorating
Feature Yourself Friday at Fingerprints on the Fridge
Amaze Me Monday at Dittle Dattle
Make It for Monday at Cottage Instincts
Motivate Me Monday at Keeping It Simple
Weekend Wrap Up at Tatertots & Jello
Sunday Showcase Party at Under The Table & Dreaming
Organize It at Thrifty Decor Chick