Happy Friday Friends!! 
I'm happy to report that things are moving along with the bathroom makeover!! In fact, the new flooring should be installed & finished today!! Woot woot!!

I will give you guys a full update on that space towards the beginning of next week, but for now, I thought I would share another
FABULOUS bathroom makeover
with you! This lovely space comes courtesy of my friend
Myra
, from
My Blessed Life
. When this makeover first began, I think
Myra
was mainly wanting to remove the vanity & replace it with a new pedestal sink, paint the walls, put up a new shower curtain & add some fun new accessories. However, when her dad came over to help her take the old vanity out, they kind of opened a giant can of worms! 
You can read more about that by clicking
HERE.
Needless to say, they soon found out that they were going to have to put in a little more work into this bathroom than originally anticipated! Isn't that how it always works?! 
Let's take a look at what the room looked like before….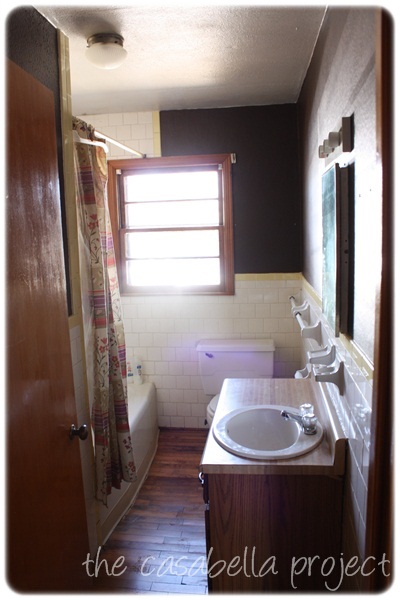 The room was dark & dated and the bathroom vanity took up so much space!!
Now let's take a look at the after…..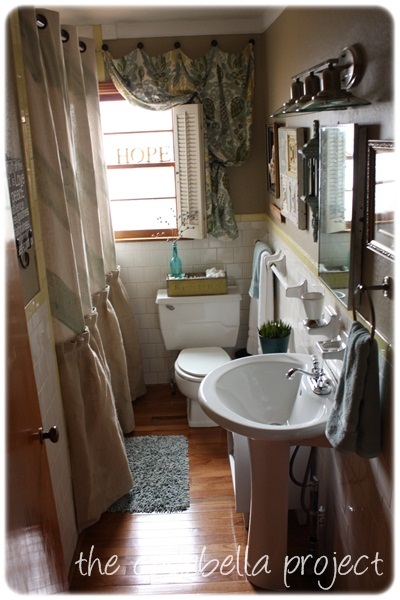 I think it's plain to see that all of their hard work paid off! Isn't it beautiful?! 
The pedestal sink makes such a big difference & really opens up the space! I'm also in
LOVE
with that beautiful
chevron shower curtain
and it's feminine burlap ruffle!

 Can you believe that
Myra
made it?! You can view that tutorial
HERE.
You'll definitely wanna see the more detailed shots on her blog! There are SO MANY details packed into this small space! You won't want to miss them!

Looking for more room makeover inspiration?! 
Gotta makeover that you would like to see featured in this segment?!
Email me: tdiehl2005 (at) yahoo (dot) com
Thanks for stopping by and I hope you all have a great weekend!!
Don't Miss Out -
 DIY projects, home decorating, crafts & more by checking out 
my subscribe page